Last Updated on October 25, 2021 by Lori
Have you visited beautiful Minnewaska State Park? Located just 1.5 hours away from New York City, this New York State Park has miles of hiking and biking trails, beautiful lakes, swimming, and much more!
Plan a visit to Minnewaska State Park where you will find easy day hikes that all ages will love!
This post contains affiliate links which means if you click on a link and make a purchase, I will earn a commission at no additional cost to you. Please see our Disclosure Policy for more information.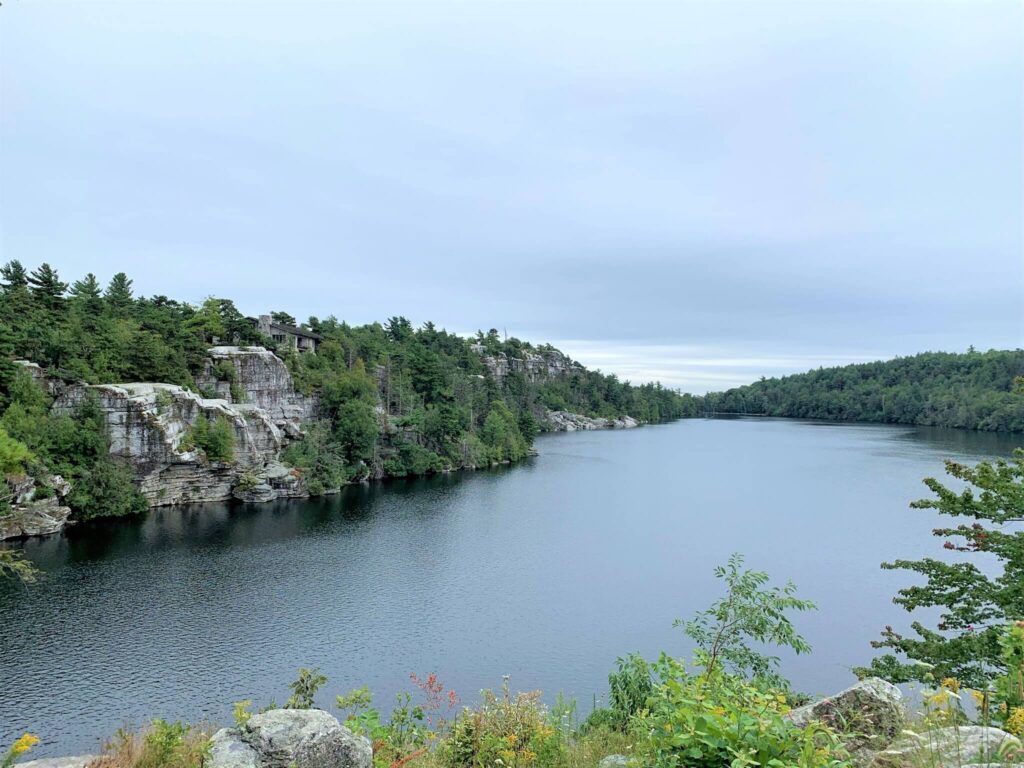 Minnewska State Park Preserve – Kerhonkson, NY
Minnewaska State Park Preserve is located on the Shawangunk Mountain Ridge in Ulster County, New York.
The park features numerous waterfalls, three crystalline sky lakes, and rock climbing.
The park also has 35 miles of carriage roads and 50 miles of footpaths where you can bike, walk, hike, and picnic alongside beautiful views overlooking Lake Minnewaska.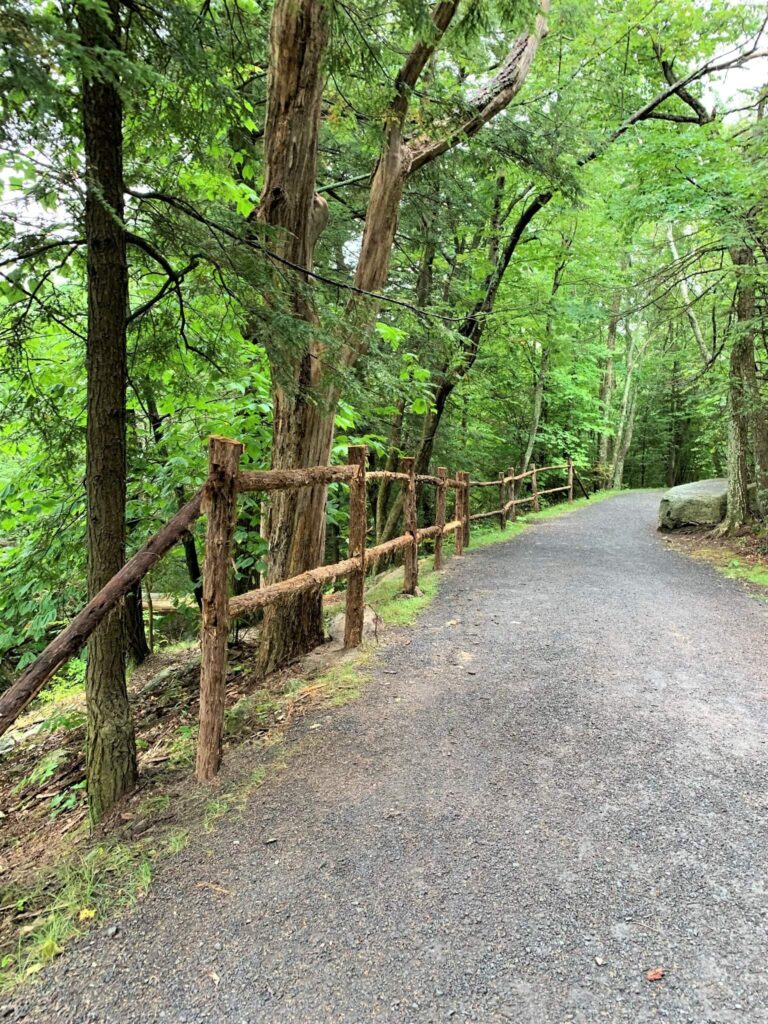 Does Minnewaska State Park Allow Dogs?
Minnewaska State Park welcomes dogs on a leash of not more than 6 feet on all trails.
Dogs are not allowed, however, in buildings, beaches, camping, picnic or bathing areas, or on walkways.
We wanted to check out the hiking trails at Minnewaska State Park and were happy to see that the park allowed dogs on the trails, so we made our camping reservation at a nearby campground and headed to the park!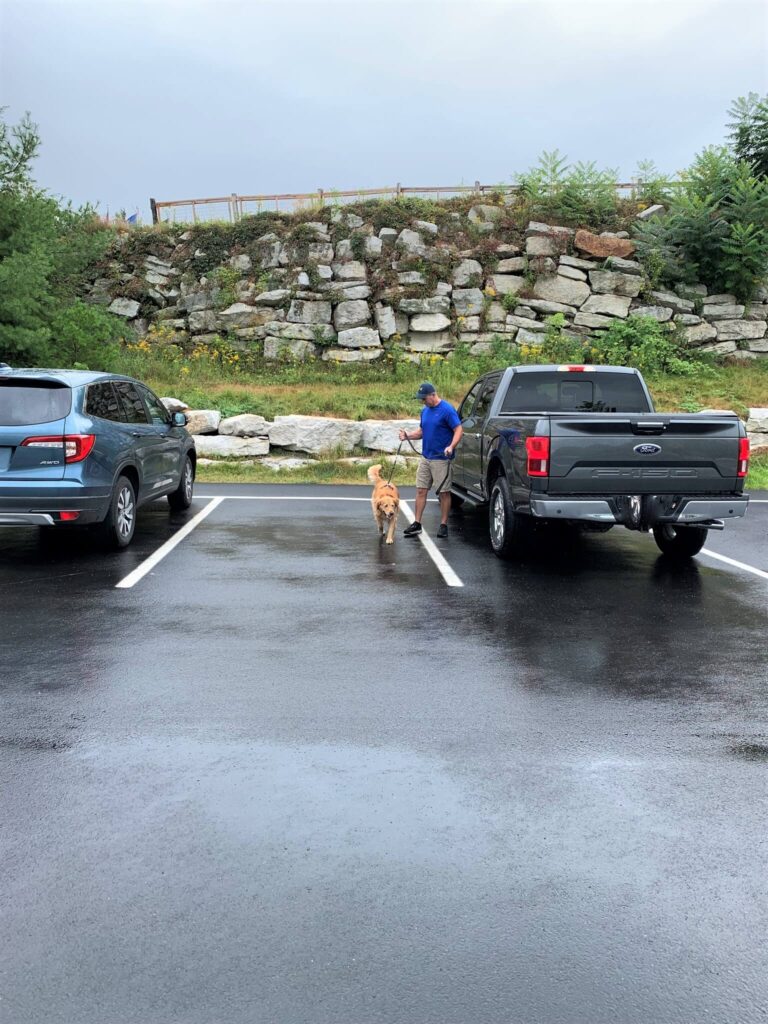 Best Time To Visit The Park
While Minnewaska State Park Preserve is beautiful any time of year, it is a very popular destination, so you want to make sure to get to the park early!
A couple of years ago, we attempted to visit the park on a busy Memorial Day weekend and saw the Park Ranger motioning the traffic past the entrance because the parking areas were full.
Parking is limited so you want to be sure to arrive when the park opens which is 9:00 a.m.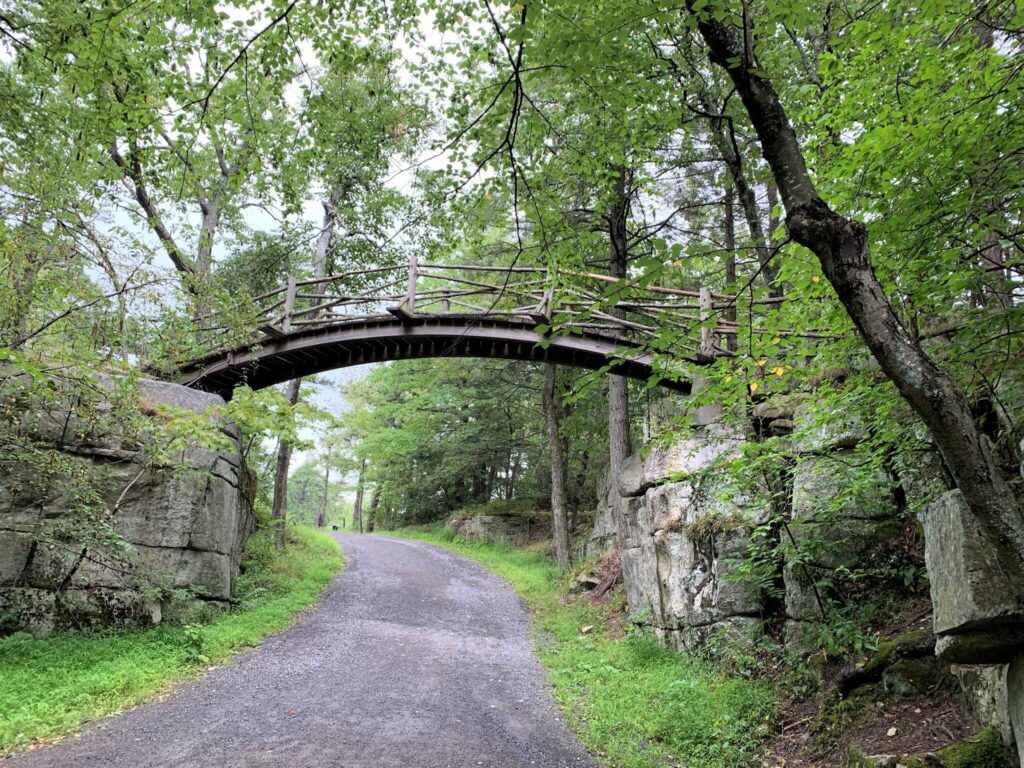 Pro Tip – Get To The Park Early!
Minnewaska State Park Hours Of Operation
Park Preserve Hours: The current operating hours are 9:00 a.m. – 7:00 p.m. Gates lock at 7 pm and all visitors must be out of the park.
Swimming Hours: June 19-Labor Day (Pets are not permitted on beaches)
Minnewaska Beach: 11:15 a.m. – 6:45 p.m.
Awosting Beach: 11:00 a.m. – 5:30 p.m.
Swimming is permitted at designated lifeguarded beaches only
Entrance Fee & Parking
There is a $10 per vehicle entrance fee to enter the park.
After entering the park, there is a lower-level parking area where you can take the trail to Awosting Falls, or you can park by the Visitors Center.
We decided to head to the Visitors Center to find the Lake Minnewaska Loop Trail.
There was ample parking near the Visitors Center.
The Visitors Center is state-of-the-art with charging stations, a place to store valuables, and a bike repair station.
The bathrooms were clean and well-maintained.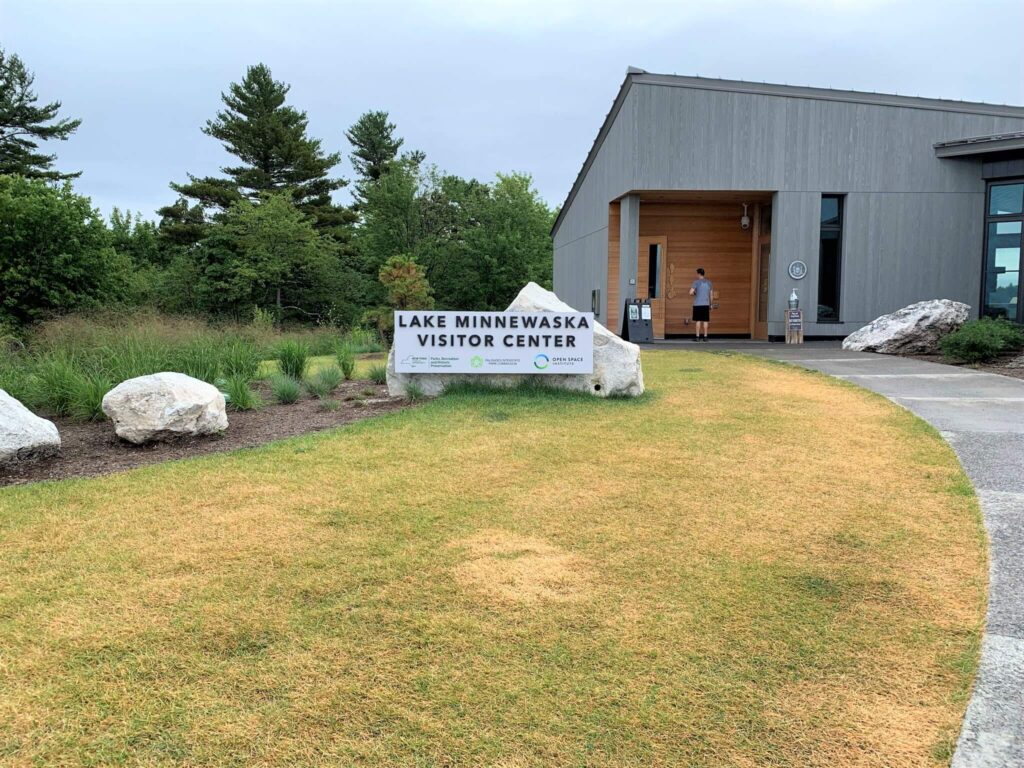 How Large Is Minneswaska State Park?
Minnewaska State Park Preserve is more than 24,000 acres. The park entrance is located on Rt 44/55, five miles west of the intersection with Rt 299 in Gardiner, New York.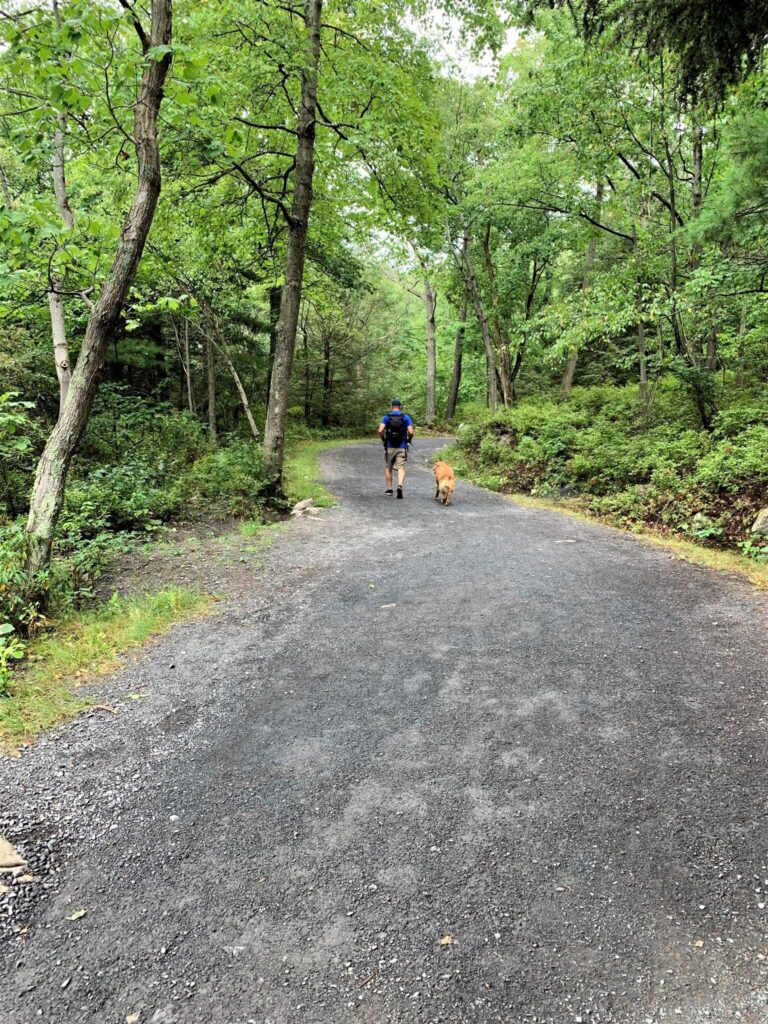 Minnewaska State Park Hiking Trail Map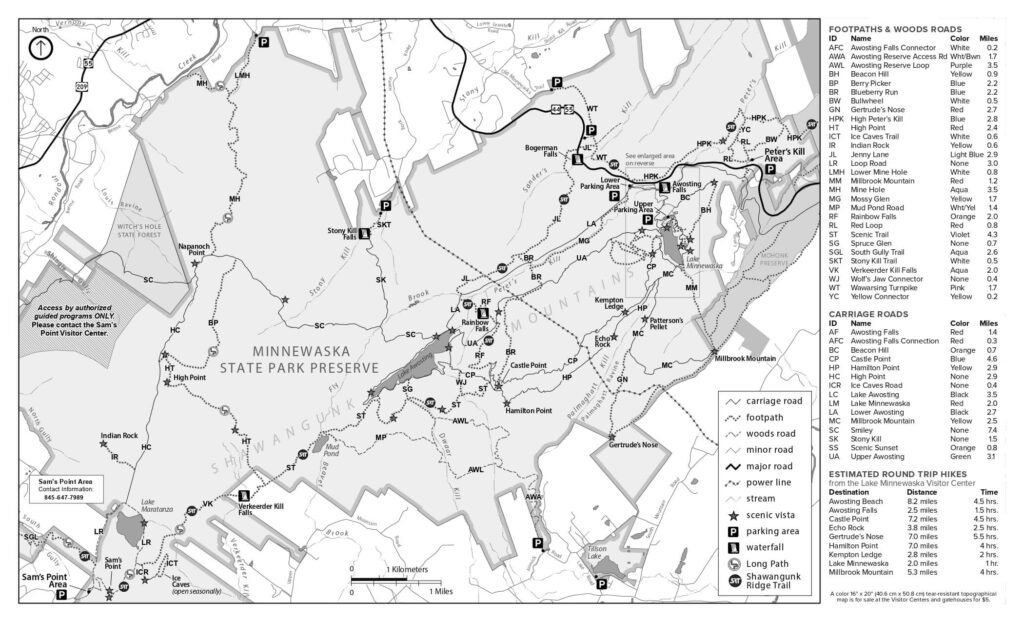 Round Trip Hikes And Estimated Hiking Times From The Lake Minnewaska Visitor Center
| | | |
| --- | --- | --- |
| Hiking Trail | Miles | Time |
| Lake Awosting Beach | 8.2 Miles | 4.5 hours |
| Awosting Falls Trail | 2.5 miles | 1.5 hours |
| Castle Point | 7.2 miles | 4.5 hours |
| Echo Rock | 3.8 miles | 2.5 hours |
| Gertrude's Nose | 7.0 miles | 5.5 hours |
| Hamilton Point | 7.0 miles | 4 hours |
| Kempton Ledge | 2.8 miles | 2 hours |
| Lake Minnewaska | 2.0 miles | 1 hour |
| Millbrook Mountain | 5.3 miles | 4 hours |
Round Trip Hikes and Estimated Times from the Lake Minnewaska Visitor Center
We started the 2.0 mile Lake Minnewaska Loop Hike from right behind the Visitors Center.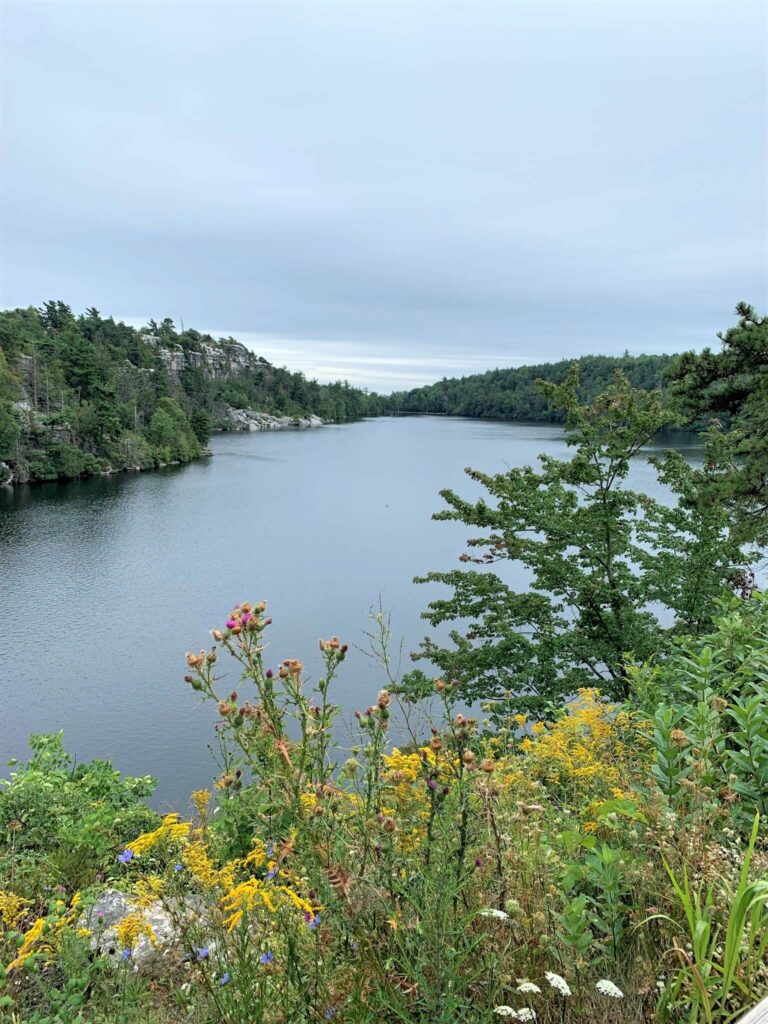 History of Lake Minnewaska
The 34-acre Minnewaska Lake is one of five glacial sky lakes located on the Shawangunk Ridge.
From the Carriage Road around the lake, you can see Lake Minnewaska, the Hudson Valley, and the Catskill Mountains.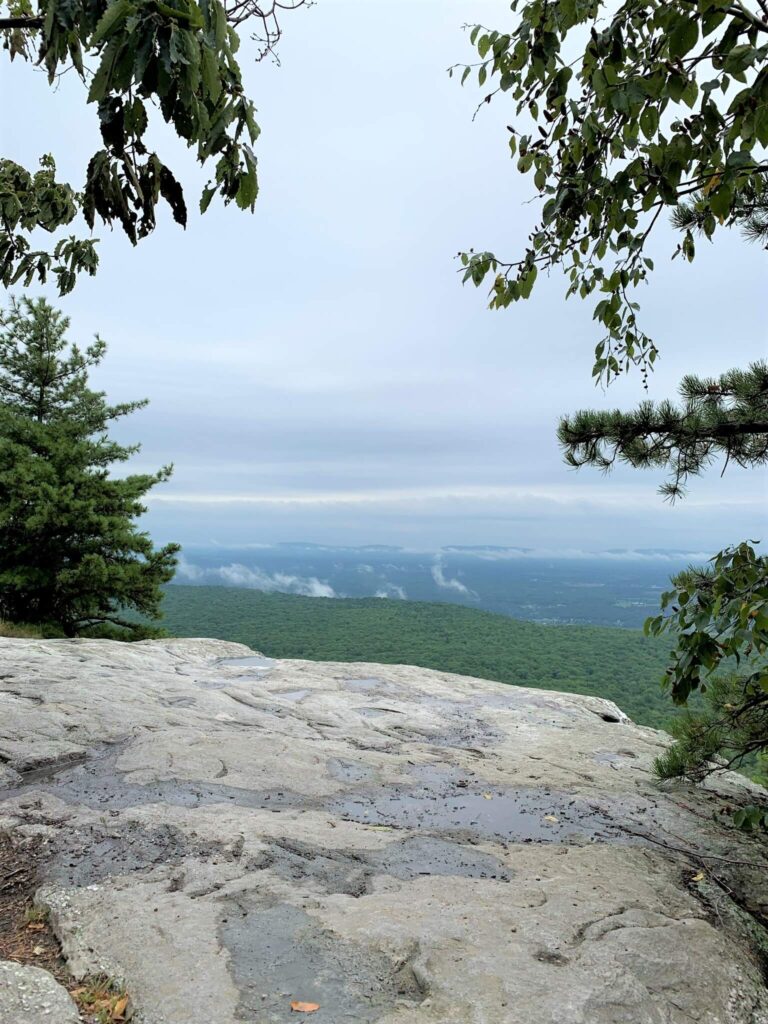 The Lake Minnewaska Loop is an easy and beautiful hike (walk) around the lake on gravel paths. It is a fun hike for all ages!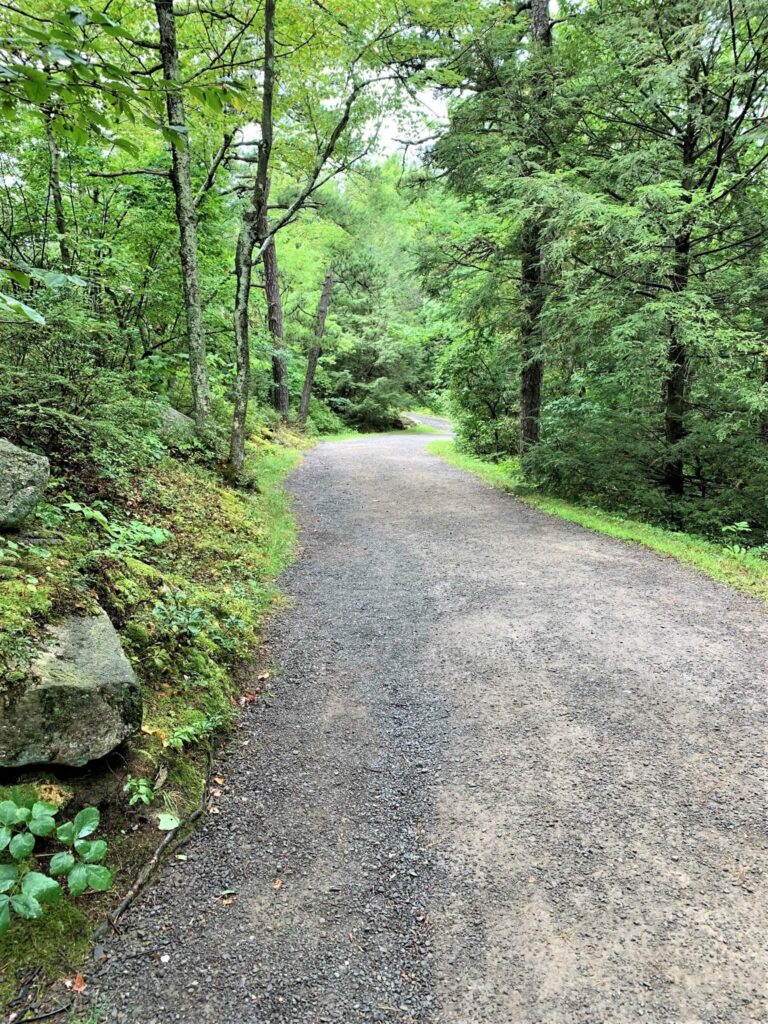 Be aware the trail is not totally flat. There are some hills that may get your heart pumping. But the views you will see are totally worth it!
In addition to the bathrooms available at the Visitors Center, there are bathrooms near the swimming beach.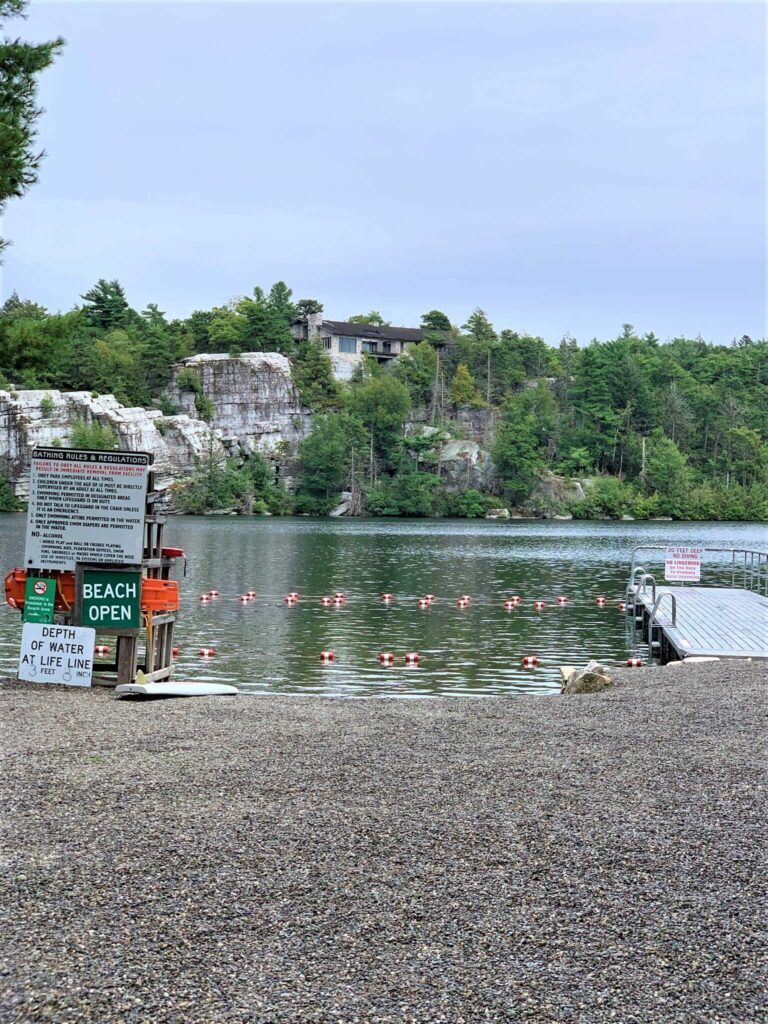 There is a picnic area overlooking Lake Minnewaska where we enjoyed taking a break and the beautiful views and a large field area where kids can play frisbee.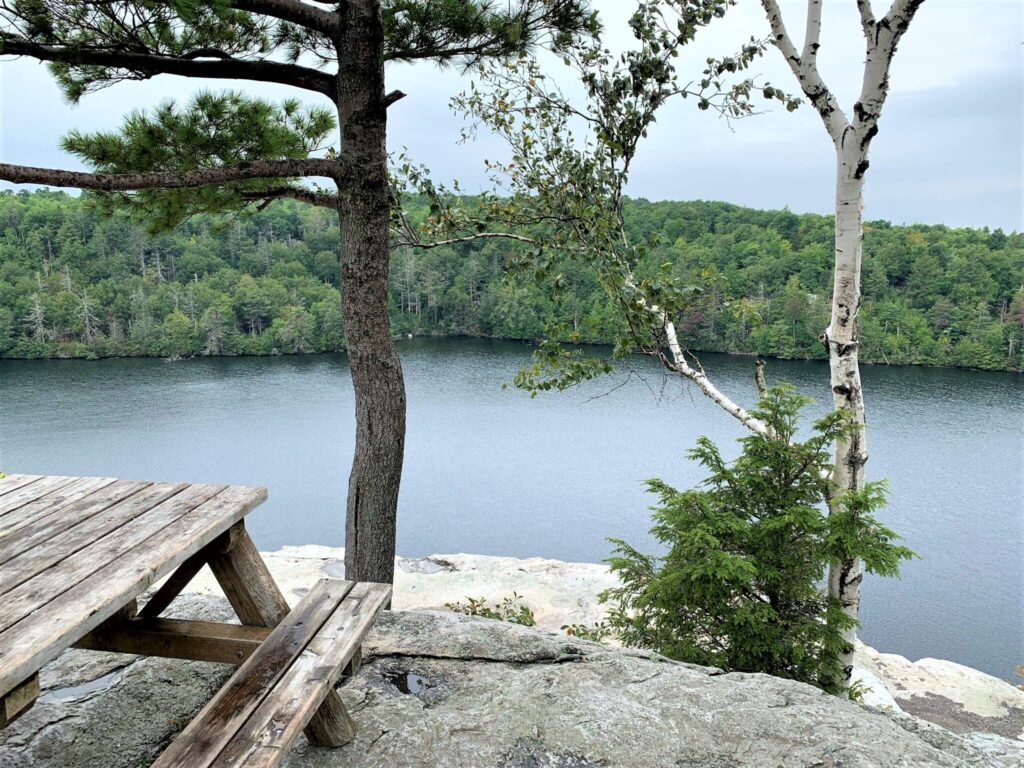 While the suggested time said 1 hour to walk the Lake Minnewaska Loop Trail, we took our time and it took us almost two hours.
I highly suggest Bug Spray.
Minnewaska State Park Waterfall
After returning to the parking area, we decided to drive to the Awosting Falls parking lot near the park entry booth to see if there was parking available so we could walk to the falls.
Although you can walk along a footpath from the Visitors Center to Awosting Falls, we decided to drive.
There was plenty of parking on the day we visited but this is a smaller parking area, so be sure to get there early!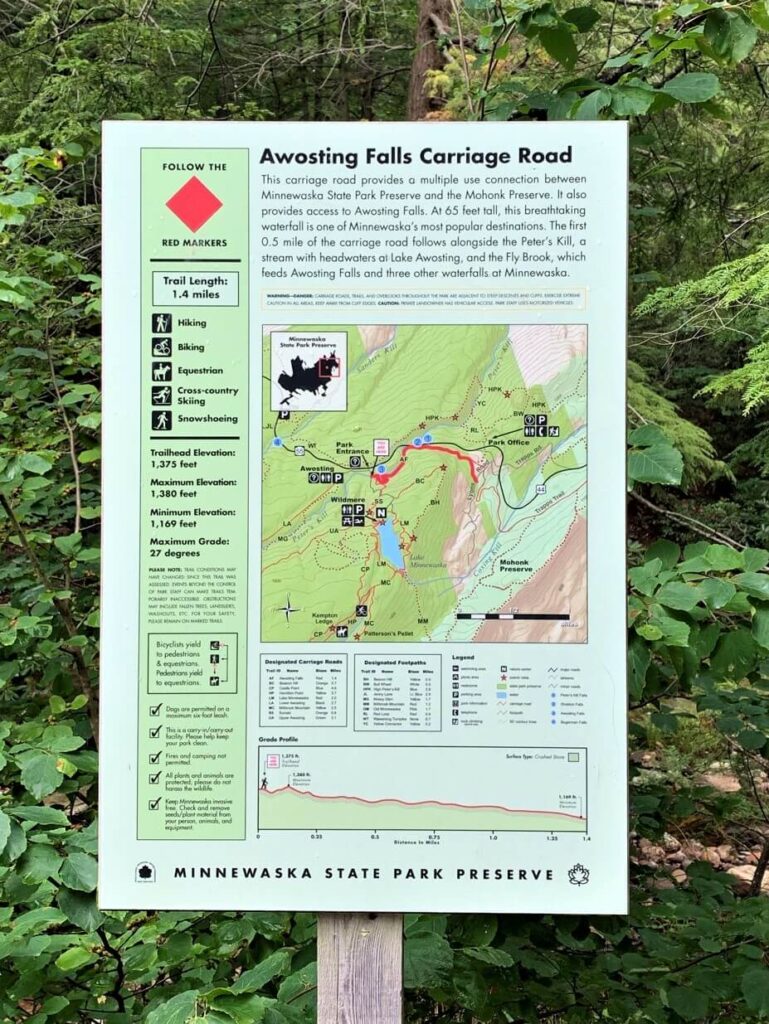 After parking, you will follow the Carriage Road across the street to the other side. Look for the trail sign for Awosting Falls Connection Trail.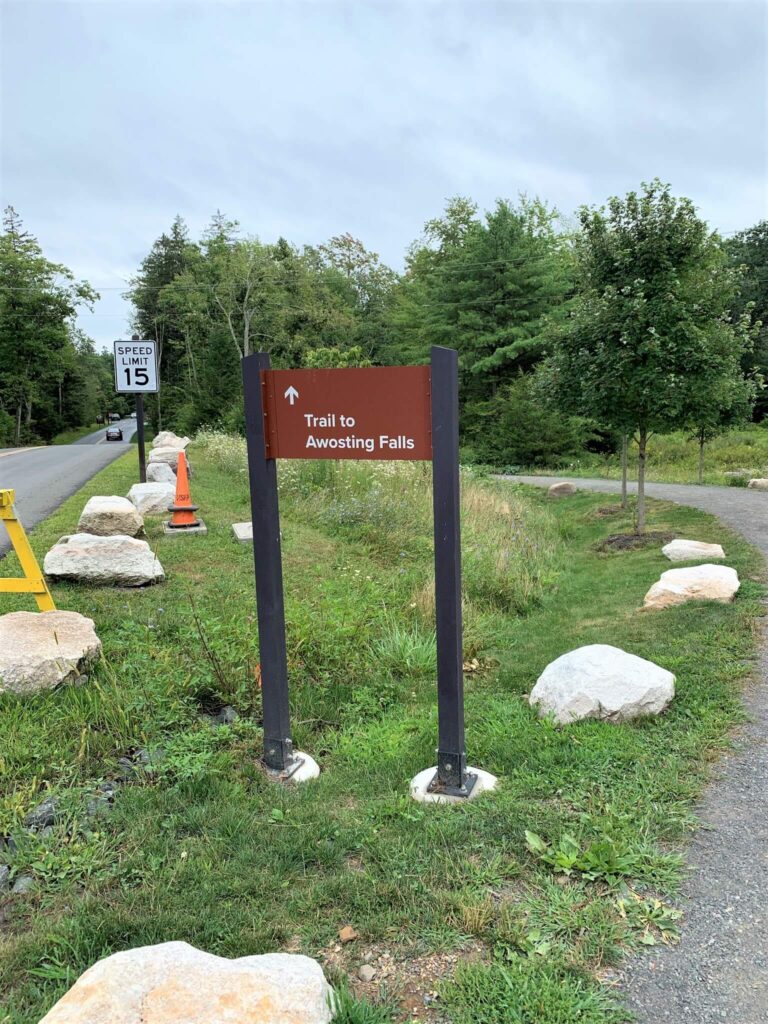 Awosting Falls is a 65-ft waterfall in Minnewaska State Park Preserve and is the most popular destination in the park.
Unfortunately, we visited at a time when it hadn't rained in a while so the falls were just a trickle. Still, the views were very pretty and we enjoyed our day!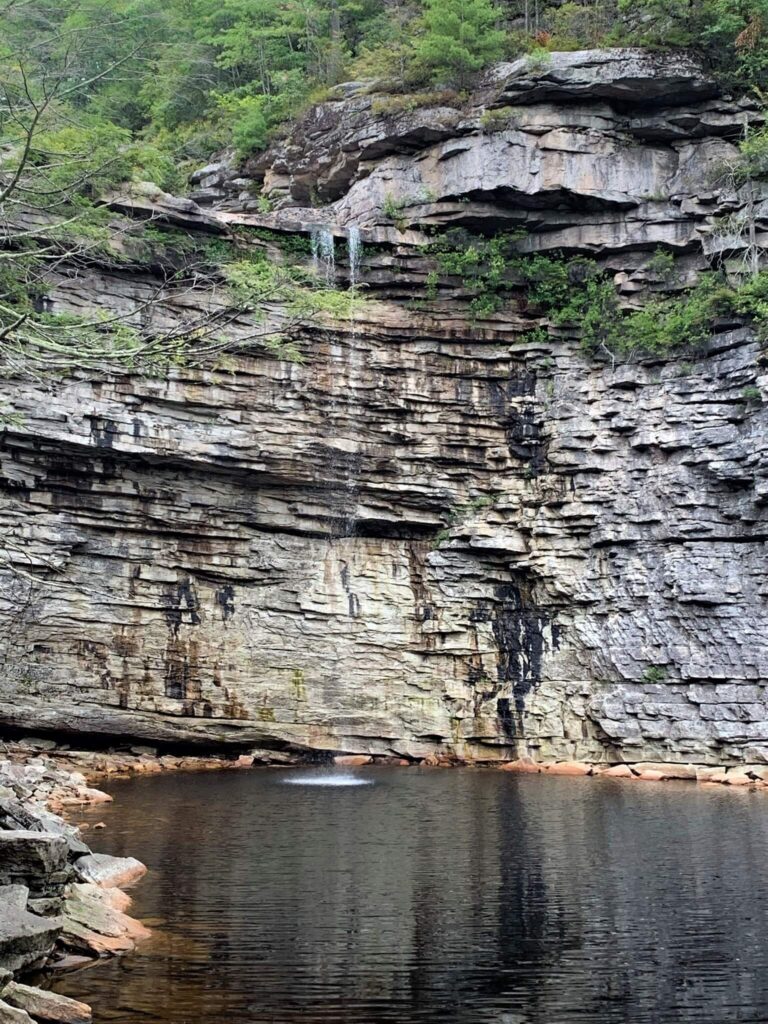 Most say this is an easy walk to the falls.
However, we are not hikers per se, and after walking the two-mile Loop Trail around the lake, then walking down to the bottom to see the falls, then back up the hill to the parking lot, even Buddy, our Golden Retriever was tired!
Other Popular Trails at Minnewaska State Park Preserve:
Moderate Hike
Approximate Time: 5 hours
7.5 miles round trip. Beautiful cliff views, lake overlooks
Rainbow Falls Trail
Moderate Hike
Approximate Time: 4 hours
6.5 mile heavily trafficked loop trail that features a waterfall
Easy Hike
Approximate Time: 1 – 1.5 hours
1.5 mile moderately trafficked out and back trail that features a waterfall and viewing platform
High Peters Kill Trail
Hard Hike
6.5 mile moderately trafficked out and back trail features a river and is rated as difficult
Thoughts About Minnewaska State Park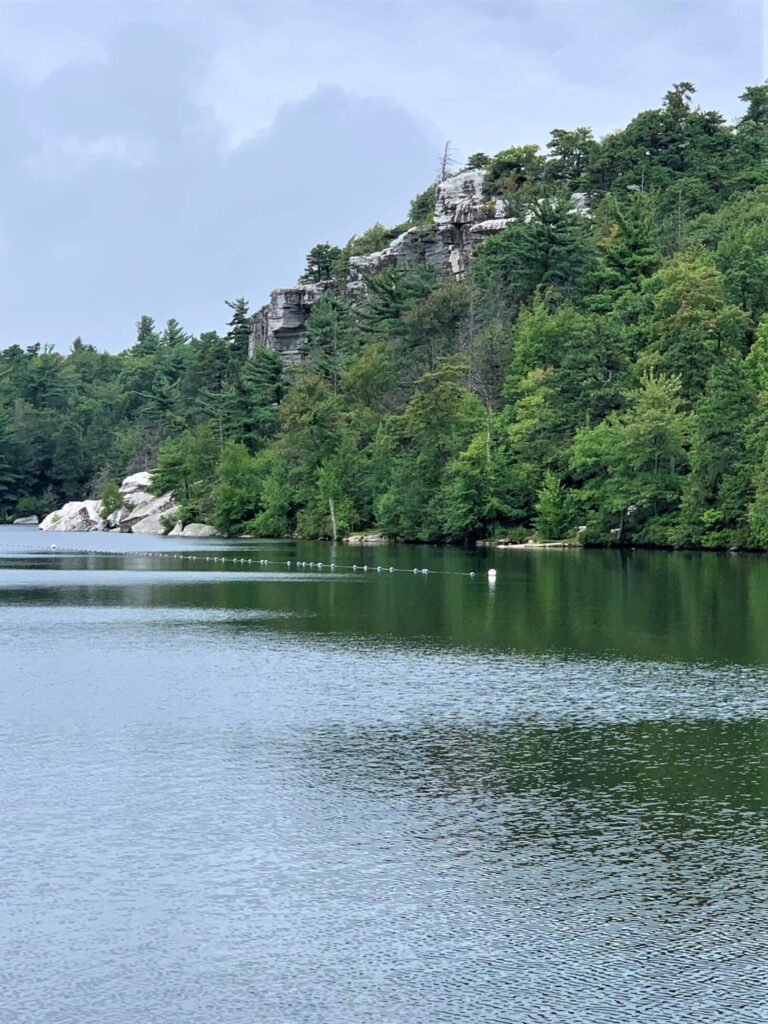 Minnewaska State Park is one of the most popular parks in New York State – and for good reason!
The carriage roads and pathways are well-maintained and trails are well-marked. Pick up a Minnewaska State Park Map at the Entry Booth or you can download a digital trail map for your IOS and Android device.
Arrive early to have a better chance for entry into the park during the summer and on holiday weekends. The park doesn't open until 9 a.m. so plan accordingly!
We loved spending the day at the park – but there is so much more to see!
We will be planning a return trip very soon to Minnewaska State Park Preserve!
More Hiking Trails In New York State You Will Love
Best Things To Do In Letchworth State Park
Hiking The Overlook Mountain Trail – Woodstock, NY
Hiking Waterfalls & Fun At Minekill State Park
Best Hikes In The Catskill Mountains For Beginners
Easy Hiking Trail To Kaaterskill Falls – Catskill Mountains
Beautiful Views At The Ashokan Reservoir Trail