Last Updated on September 22, 2021 by Lori
One of our favorite places to camp and hike is in the Catskills of New York. We love to explore its natural beauty and have found several easy hikes leading to beautiful Catskills scenic trails with views of waterfalls and the Hudson River.
Here are some of our favorite Catskill hikes including Kaaterskill Falls and the Catskill Mountain House at North-South Lake in Haines Falls, NY that you won't want to miss!
Easy Catskills Hiking For All Ages In The Catskill Mountains
We are not considered hikers – by any means! But…we DO like to take EASY hikes which usually lead to some incredible views of waterfalls, mountains, lakes – you name it!
So, I've put together this post to let you about two of our favorite hikes!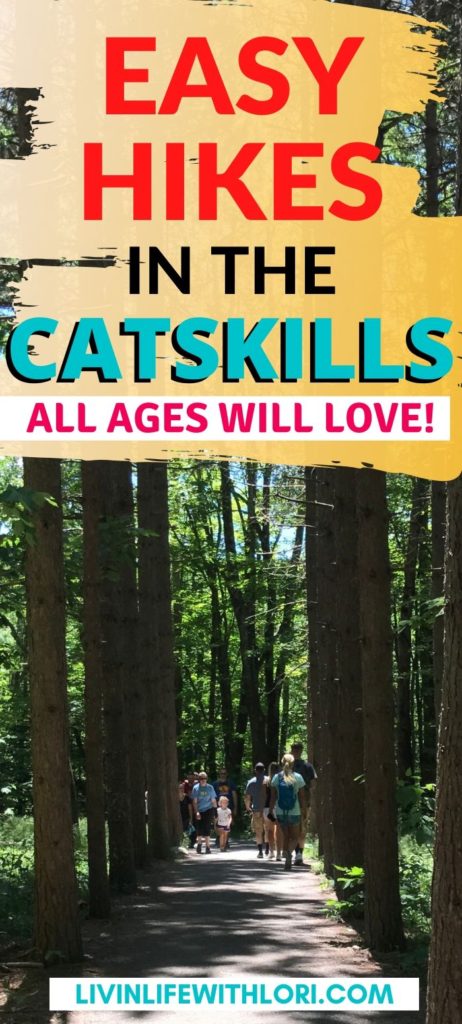 This post may contain affiliate links which means if you click on a link and make a purchase I will earn a commission at no additional cost to you. Please see our Disclosure Policy for more information.
Hiking To Kaaterskill Falls Catskills Observation Platform
There are seven hikes along North-South Lake and Kaaterskill Wild Forest which are rated Easy, Moderate, and Difficult.
Last summer, we took one of the easy hikes to Kaaterskill Falls Observation Deck which led to a viewing platform with a beautiful view of Kaaterskill Falls and the Catskill Mountains.
You can read more about the easy hike to Kaaterskill Falls Observation Platform below.
Related Reading: Easy Hiking Trail To Kaaterskill Falls – Catskill Mountains
This is the view from the Observation Platform at Kaaterskill Falls.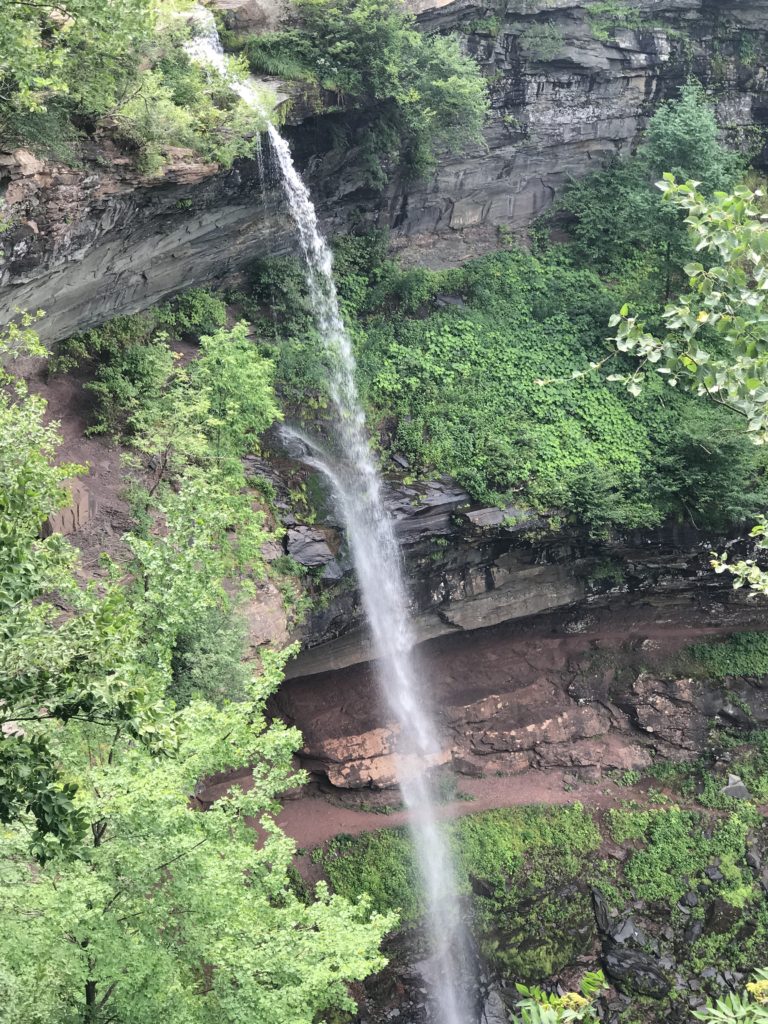 And here's a photo of the Catskill Mountains from the Kaaterskill Falls viewing platform.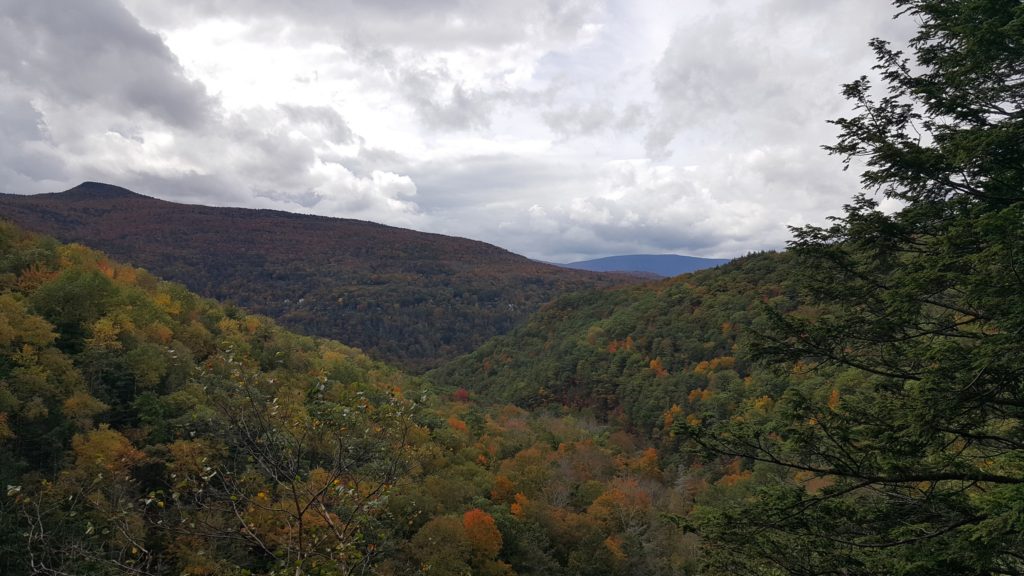 Since we had already been to the viewing platform twice, we decided to find another easy hike which would also allow us to bring along our Golden Retriever, Buddy.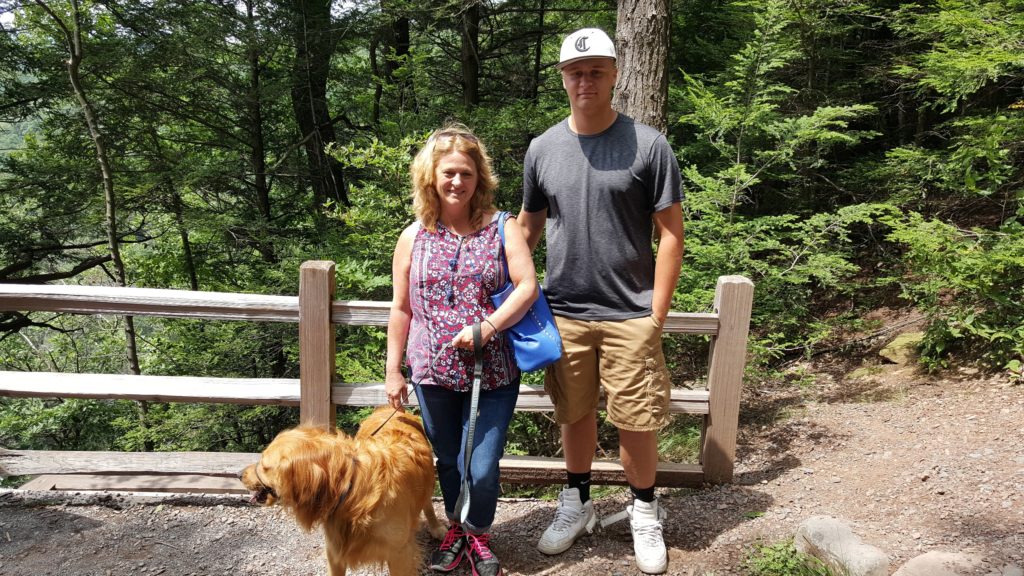 That's when we found an easy hike for all of us!
Easy Hiking Trail to The Catskill Mountain House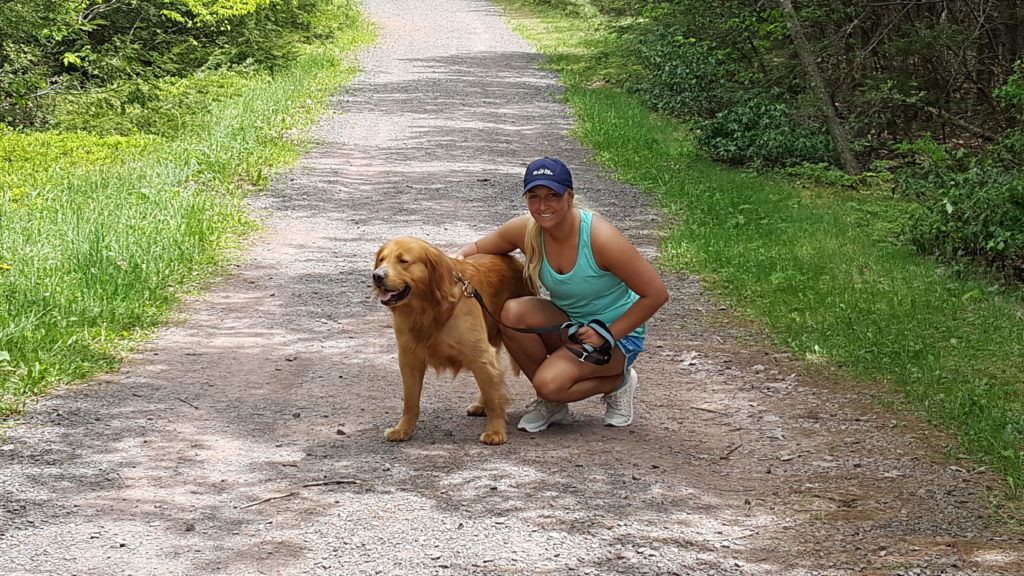 There actually isn't a house at the end of the trail. But – boy one can imagine how stately the house must have been sitting atop the ledge overlooking the Hudson Valley!
History Of The Catskill Mountain House
The Catskill Mountain House catered to 400 guests a night during the mid-1800s and included visits from Presidents Arthur and Grant.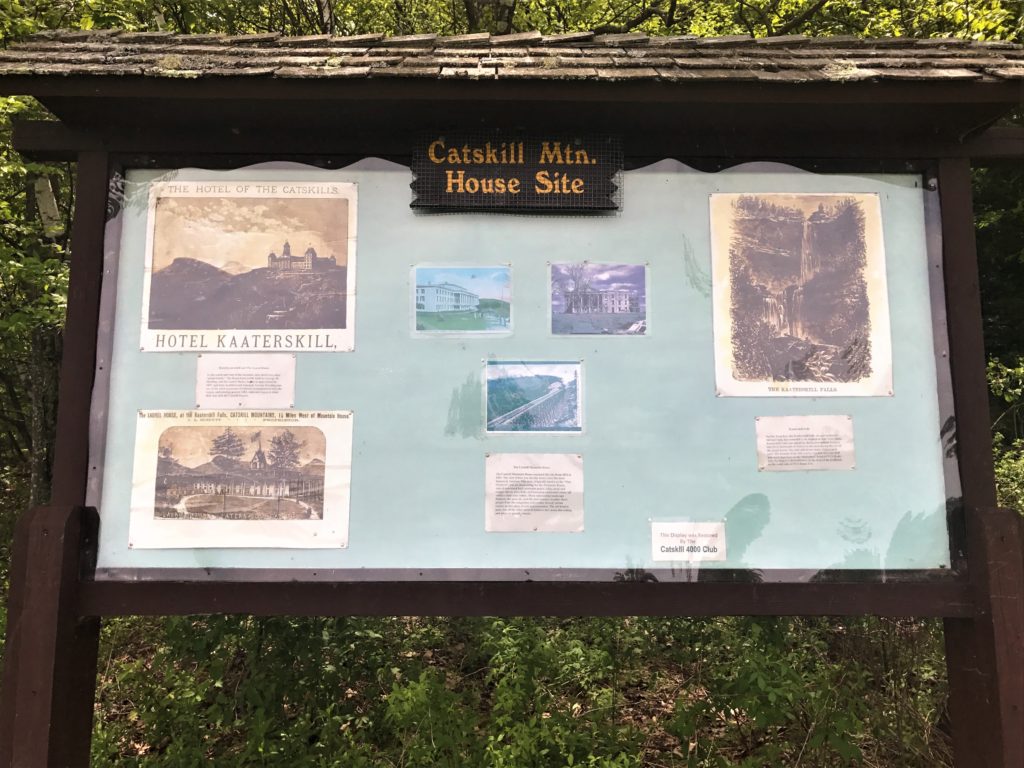 The view was beautiful. They say on a clear day, you can see into five states – CT, MA, NH, NY and VT.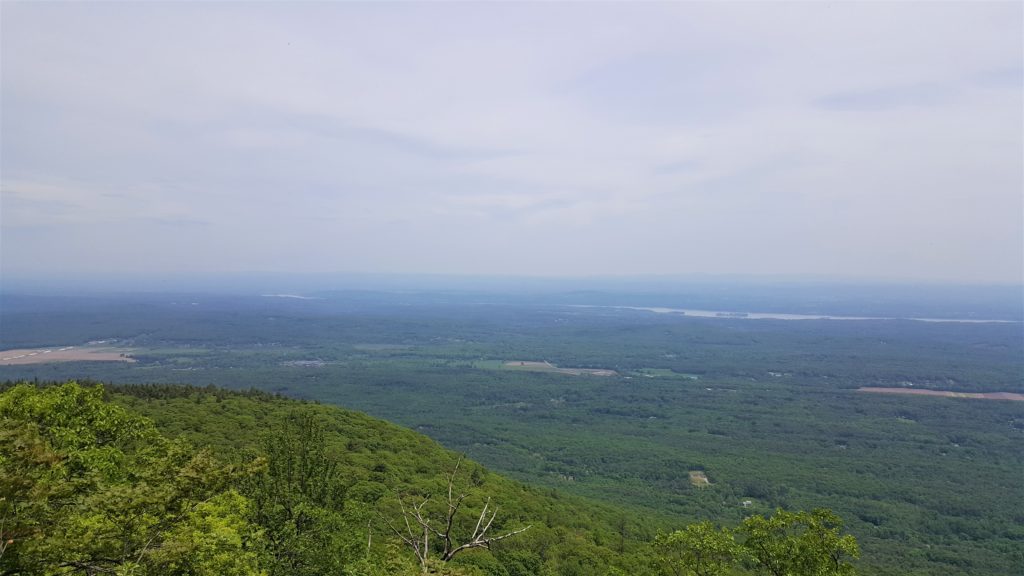 Of course, on the day we went, there was a haze overlooking the Hudson Valley so I'm not really sure how many states we were able to see.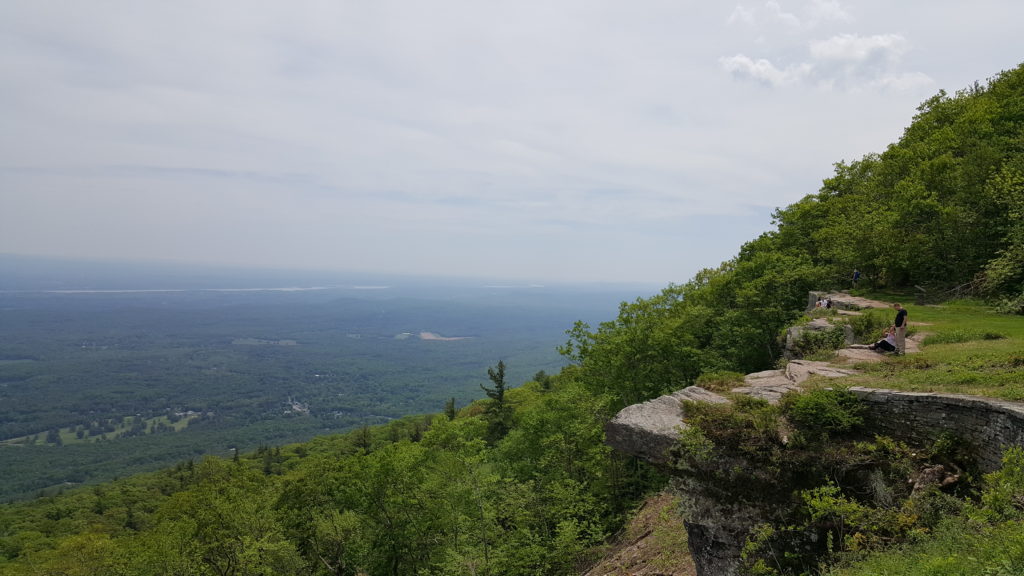 The hotel was built in the Greek Revival style with 13 Corinthian columns. Distinguished guests in the latter 19th century included General Sherman, Presidents Grant, Cleveland, and Theodore Roosevelt which gave the hotel a reputation as a social center.
The Catskill Mountain House is also Site 8 on the Hudson River School of Art Trail.
At the end of the trail, we found nice picnic tables and benches to take a break and rest to enjoy the beautiful views.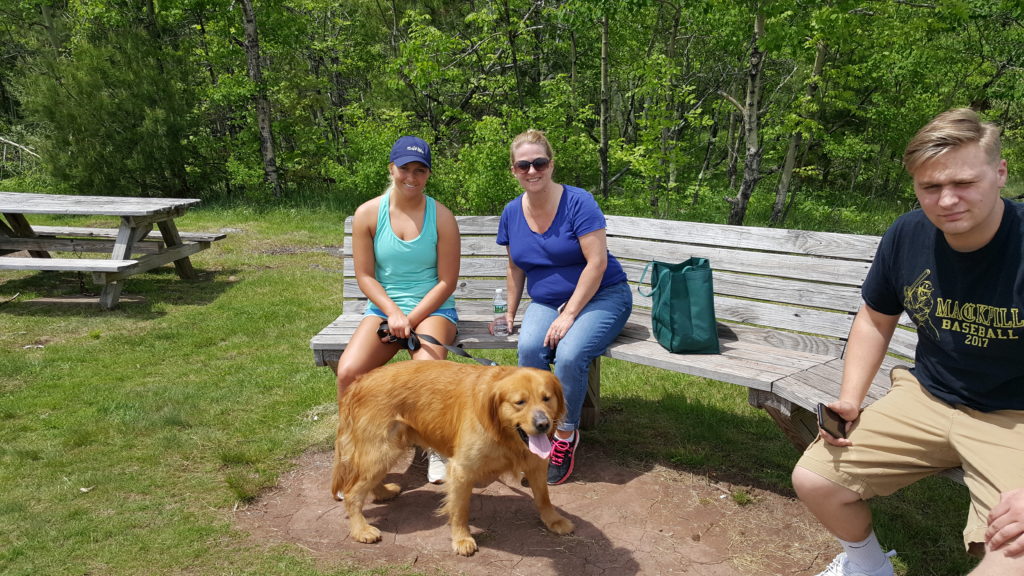 Unlike the short hike to the Kaaterskill Falls viewing platform which is all paved pathways, the trail to the Catskill Mountain House is on gravel so you need to watch your step in a few places.
Related Reading: Have you seen the Ashokan Reservoir in the Catskills? Enjoy a beautiful and peaceful walk across the reservoir!
On our way back to the parking lot, there was a fork in the road and we took the wrong path until my daughter said, "This doesn't look familiar!" We headed back and took the left path which led us right to the parking lot.
Of course, we didn't read the map which clearly stated to stay on the Blue Trail Markers so that was on us. We saw many families along the path as well as other dogs.
The hike was easy – only .2 miles and the ascent was 80 feet making this one of our Top Picks of Easy Hikes in the Catskill Mountains!
This is the view of North-South Lake as we were driving to the parking lot where the trail begins to the Catskill Mountain House.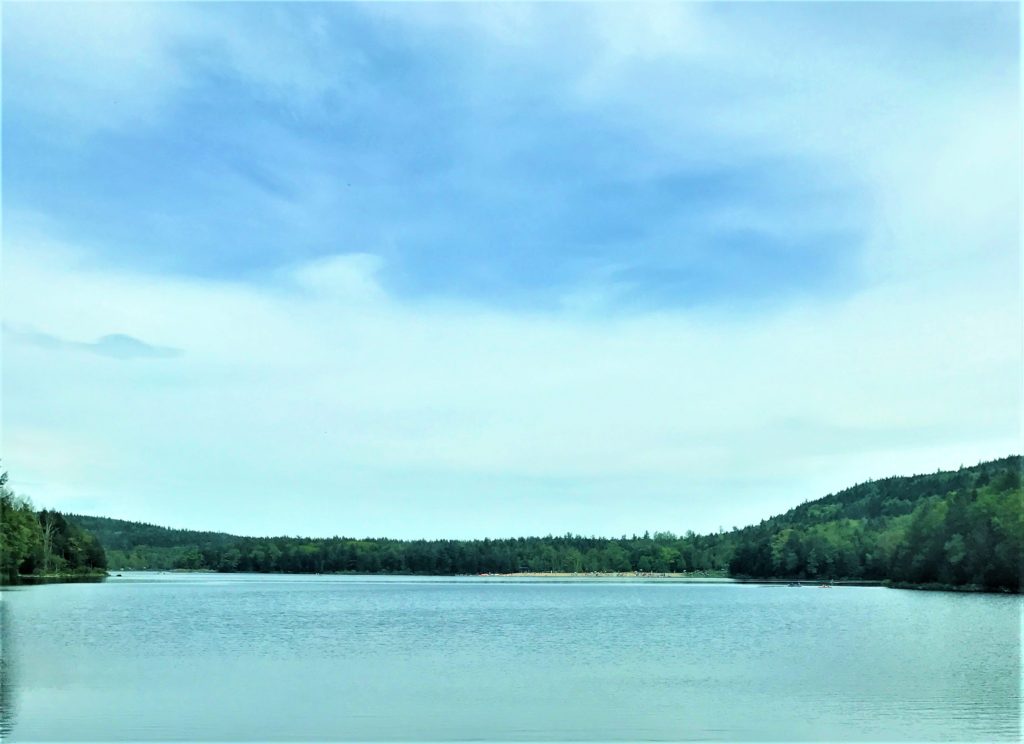 Directions To Catskill Mountain House Drive through the North Lake Beach parking lot and park in the gravel lot just beyond.
Walk uphill through the gravel lot and look for the blue trail markers and sign directing you to turn right. Following the blue markers uphill for .2 mile, you will arrive at the open ledges and this historic spot. Distance – .5 mile; Ascent – 80 feet.
Kid-Friendly Hiking Trails Catskill Mountains
Boulder Rock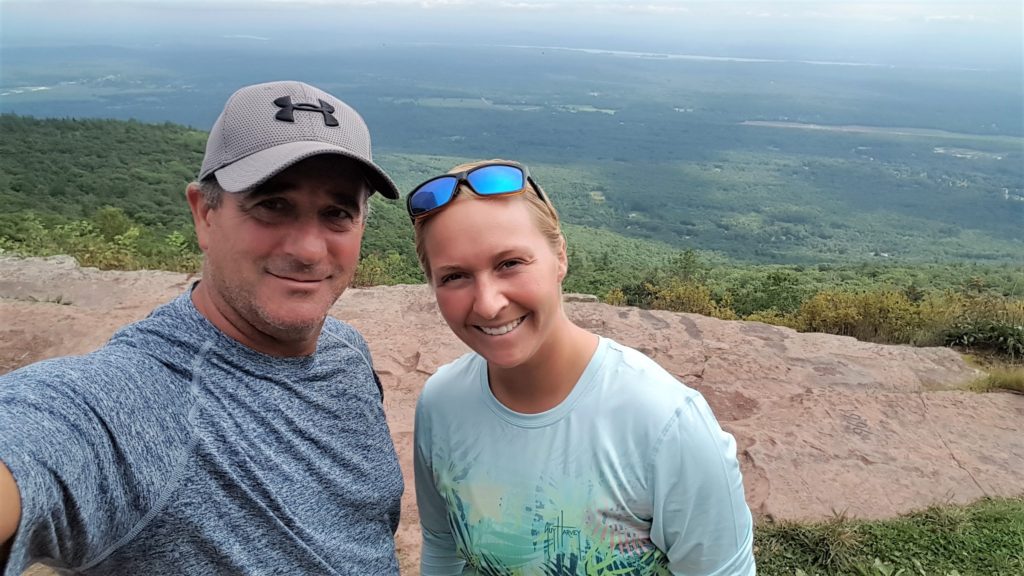 We returned to North-South Lake recently to take some family members to the area where Catskill Mountain House stood.
While we were there (again with our Golden Retriever, Buddy), we felt more adventurous and decided to take one of the trails from Catskill Mountain House up to Boulder Rock.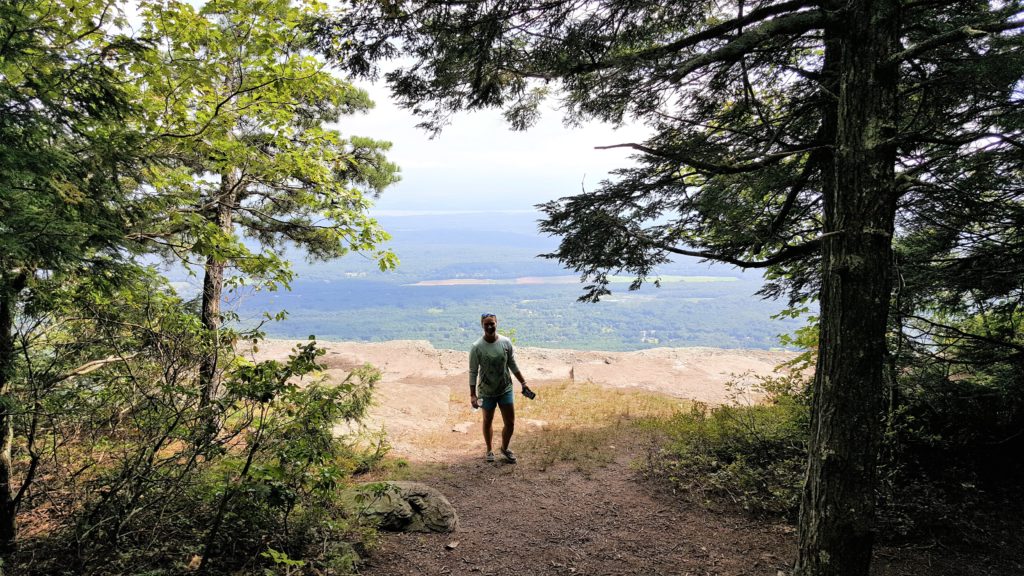 We followed the Blue Escarpment Trail 1.5 miles to Boulder Rock.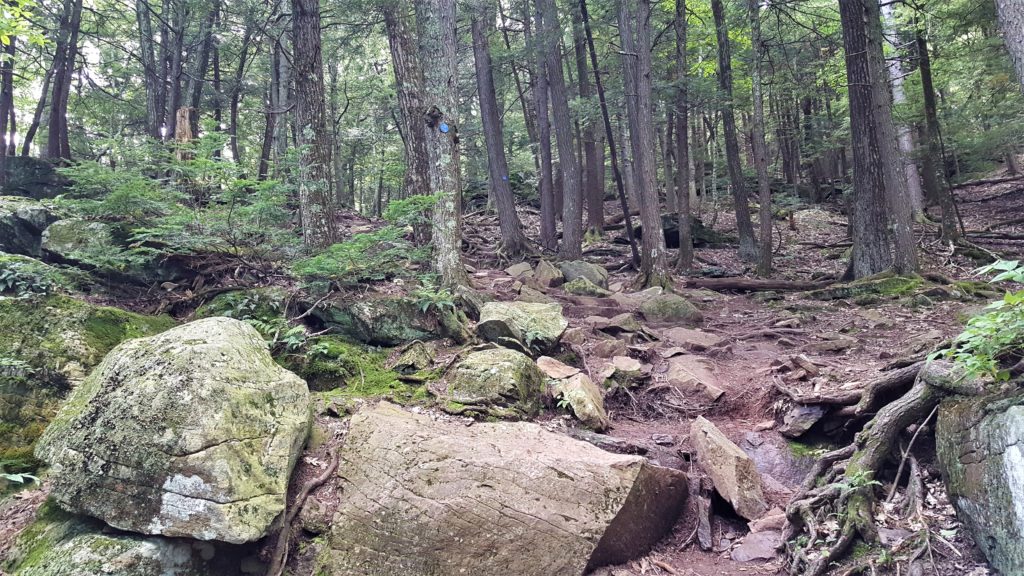 This trail is more difficult than walking to the Catskill Mountain House – but the views are so worth it! We saw all ages on the trail and our Golden Retriever loved it!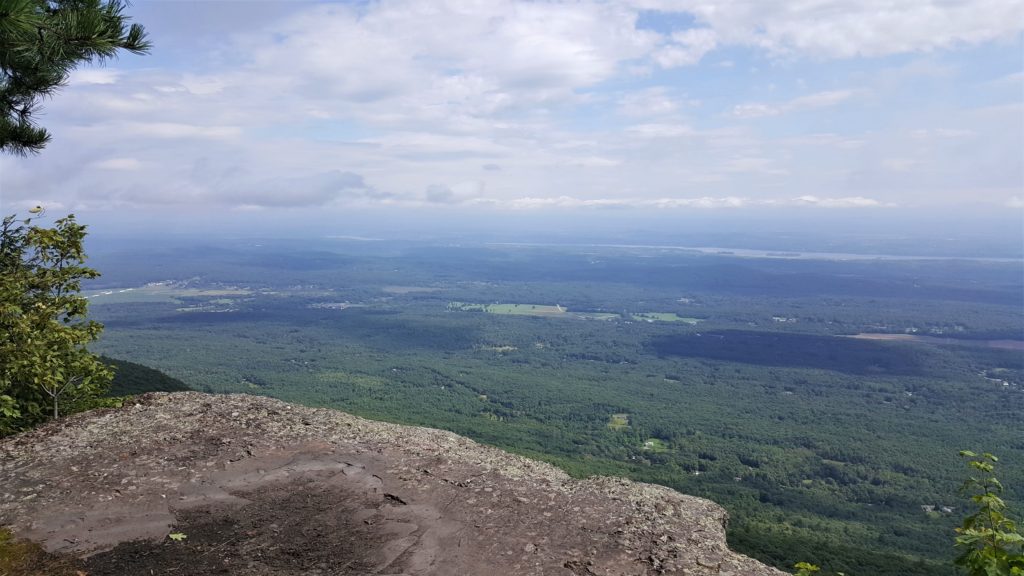 Mary's Glen and Ashley Falls –

On Our Bucket List Next!!

This is a short, easy hike, good for parents with small children who wish to avoid hiking near open ledge.
Hikers travel through a lovely wooded glen alongside a beaver meadow to a deeply forested cascade known as Ashley Falls. Distance – .6 mile; Ascent – 20 feet
Kaaterskill Falls Observation Deck –

This is the other easy hike I wrote a blog post about!
You can read about it here. This short, level hike goes from the parking lot at the end of Laurel House Road to an observation platform that provides a spectacular view of the 260-foot Kaaterskill Falls and its middle plunge pool.
The trail is accessible for the mobility impaired. Kaaterskill Falls has been a popular tourist destination for more than a century and has been commemorated by numerous Hudson River School painters.
Moderate Catskill Hikes
Kaaterskill Falls from Route 23A

Lookout and Sunset Rock
Difficult Catskill Hikes
North Point via Mary's Glen Trail

Inspiration Point and Hotel Kaaterskill Site
Moderate Hike In The Catskill Mountains
We have been hiking in the Catskills for a few years now and have now moved on to some more moderate hikes that we absolutely love!
The Catskills is known for its 5 Firetower Hikes and recently, I challenged myself to hike to the top of Overlook Mountain!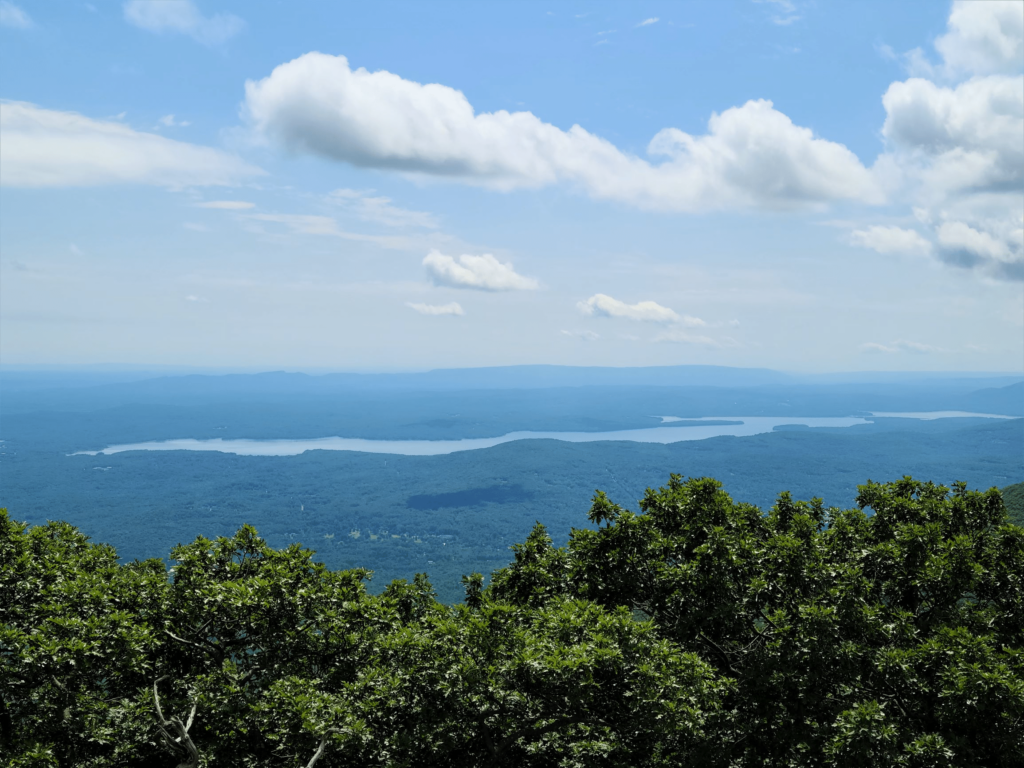 Read all about Hiking to the Top Of Overlook Mountain Woodstock NY
Were the views worth seeing? Absolutely! If you are looking for a moderate hike in the Catskills, you will love hiking to the top of Overlook Mountain!
Basic Hiking Necessities
Remember! Whether your hiking an Easy Trail or Moderate Trail, you will need:
If you're visiting the Catskill Region, and are looking for something to do…here are two short, easy hikes for Beginners which lead to some of the most beautiful scenery in New York State.
What are some of your favorite short hikes? Let me know!
Here are More Fun Things To Do In The Catskills!
* 13 Fun Things To Do On A Weekend Getaway To The Catskill Mountains
* Top 25 Essentials You Need On A Family Road Trip
* Beautiful Views On The Ashokan Rail Trail
* Hiking Waterfalls and Fun At Minekill State Park
* How To Plan An Awesome Trip To Howe Caverns
Don't Forget To Pin For Later!