Last Updated on December 8, 2020 by Lori
We love camping in the Catskill Mountains and one of our favorite RV campgrounds is Rip Van Winkle Campgrounds in Saugerties, New York.
This 160-acre campground located in the Hudson Valley area of New York offers large spacious tent and RV sites as well as camping cabins.
There is plenty to keep the kids busy all day long and we think it's one of the most fun and peaceful campgrounds we have stayed in!

This post contains some affiliate links for your convenience (which means if you make a purchase after clicking a link I will earn a small commission at no additional cost to you!) Please read my Disclosure Policy for more information.
Why You Should Camp At Rip Van Winkle Campgrounds
When we were planning our second season of camping, we wanted to return to Rip Van Winkle Campgrounds because we loved the peacefulness of the sites and the trails through the campground and woods where we could walk our Golden Retriever.
The campground is divided by areas – The Ledges, River's Edge, Lover's Lane, Group Sites, Rally Area and Cabins.
Both camping trips we stayed in The Ledges – site #26 (which I highly recommend.)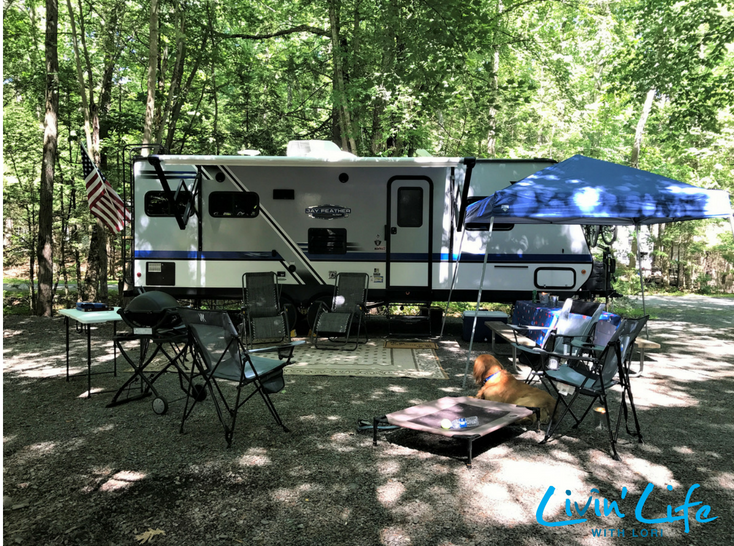 We like this particular site because it is large, has a nice layout for your rug, table, pop up tent and fire pit, and is very private.
The full-hook up sites at the campground are all gravel and drains well. We know because we had a full day and night of heavy rain and when we ventured out of the trailer the next morning to hook up, there were no puddles!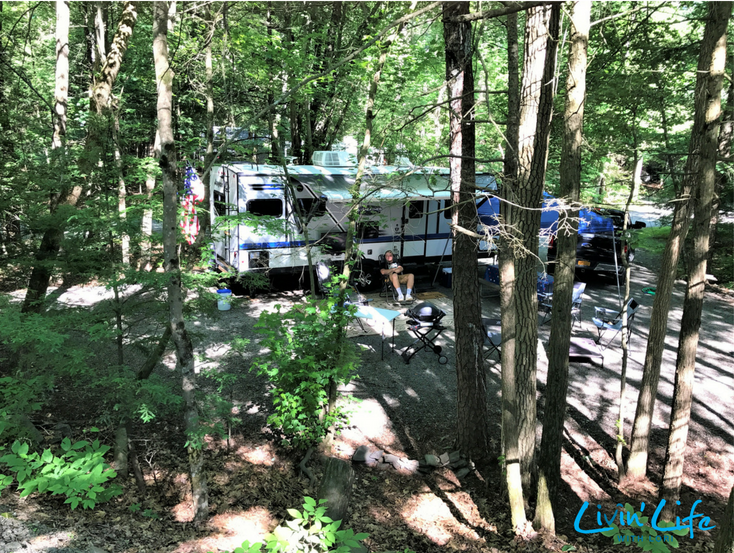 This time we brought along our bicycles because we knew there were great paths through the woods and all around the campground.
The paths are also nice to take the dog for long walks.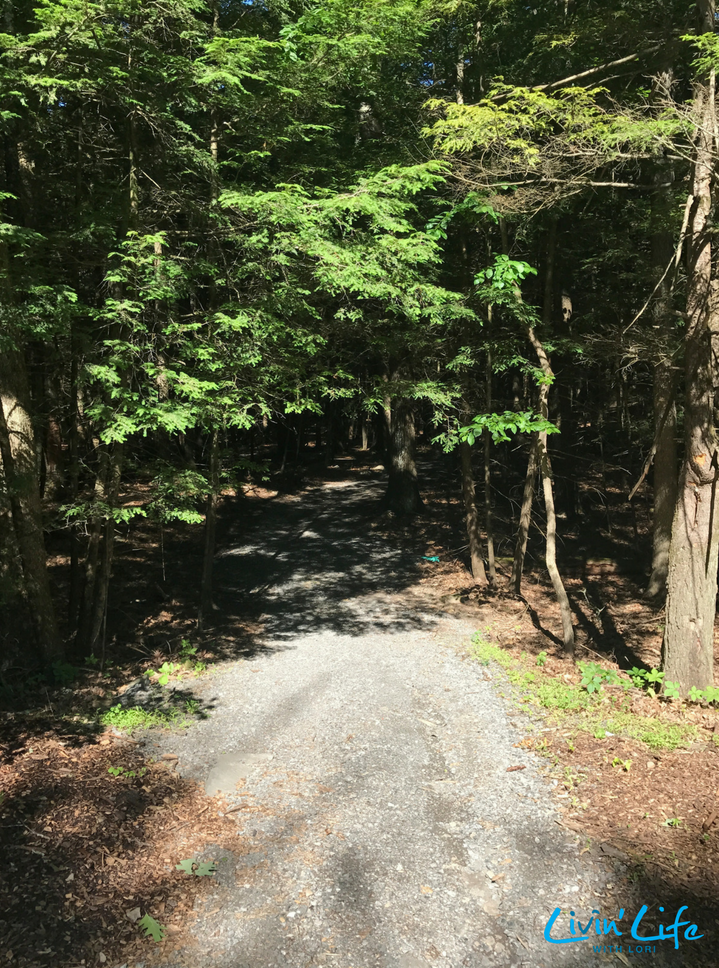 Buddy (our Golden Retriever) loved walking down the wooded paths. He trotted along like he was home and we took him on at least two or three walks per day.
I wish I had a fit bit because I would have liked to have known just how many miles we walked!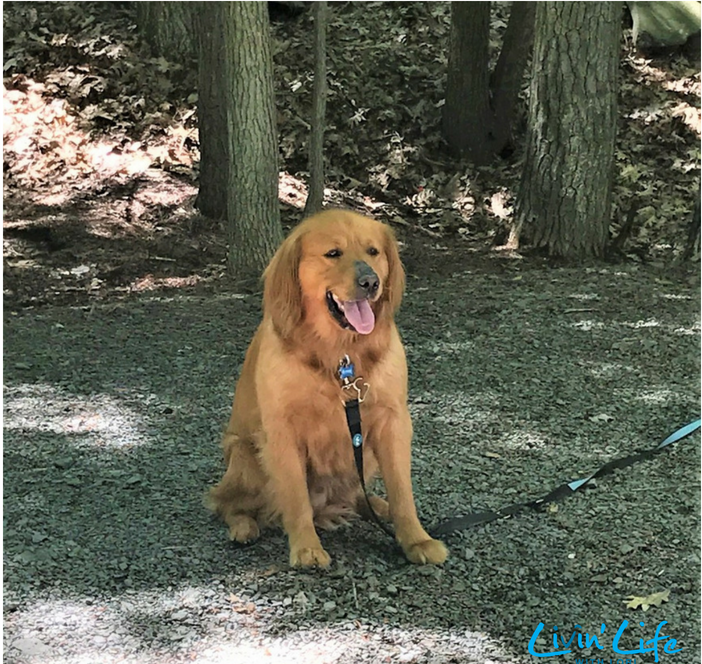 While there are tons of activities for the kids, I have to say it never interfered with the peacefulness of the campground.
The campground is 160 acres with RV sites, cabins along the stream, tent sites and Fun Zones for the kids throughout the park.
We've stayed both on the weekend and during the week and while there are a lot of kids and activities weekends, the kids activities are spread throughout the campground so you hardly notice them going from their campsite to the Kids Zone.
I also can't say enough about the camp store.
We had forgotten our HDTV cable (Have to watch the Yankees Game!) and we purchased one in the camp store for $10. We also needed a new canister of propane for our WeberQ – again it was very reasonable – $5.
Speaking of the camp store…did I mention they have THE BEST soft served ice cream?
My son loved that! I liked the "blizzard-like" mix that included M & M's while he preferred Reece's Pieces.
On weekends, there is an ice cream truck that drives throughout the campground.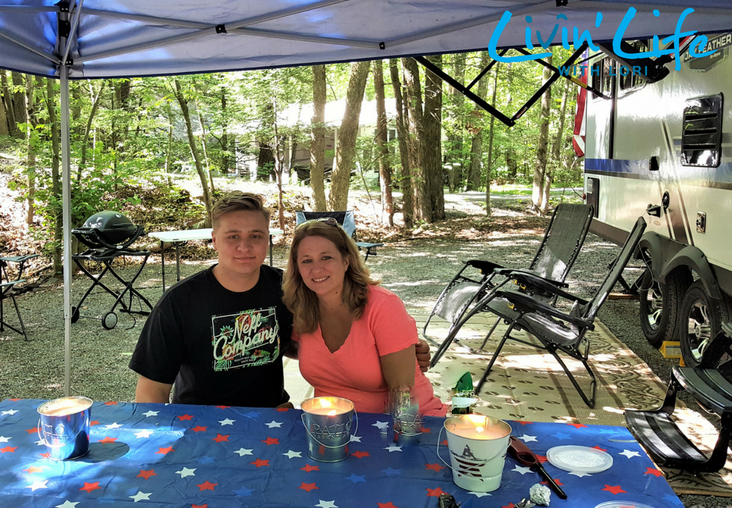 The day it rained, he and I went to the Rec Hall to play air hockey and my favorite – skeeball. I lost of course, but we had a lot of fun!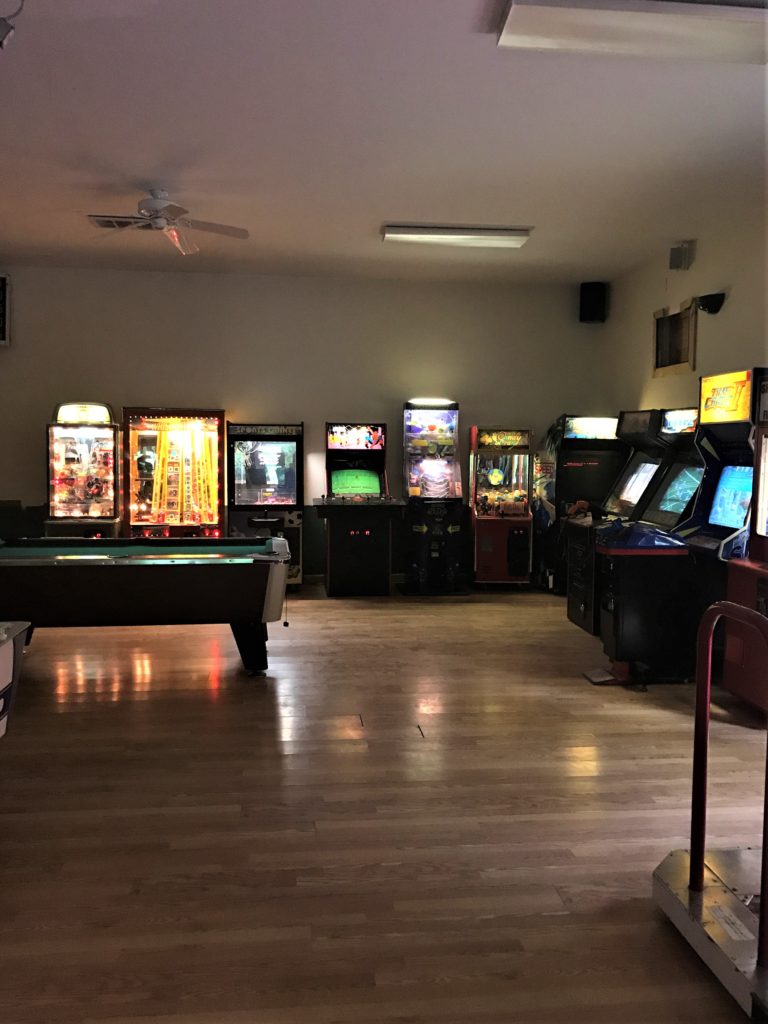 We didn't use the pool, but our friends (who have a seasonal site) use it all the time. Their kids also head out on their bikes on Movie Night for the "Movies Under The Stars" which is a 240 ft. movie screen playing movies on the weekends.
There's also an R/C Tracks, RIP's Panning Adventure, an Old-Fashioned Swimming Hole, Pedal Boats and playgrounds throughout the campground.
There's also a Dog Park you can take your dog off leash and let them run around!
Fun Things We Take RV Camping
Each time we go camping, I try to add a new "touch" for our trip.
Every time we went in and out of our trailer, my husband said, "We gotta get a mat!" Last year, we were traipsing dirt in and out of the trailer.
Before our first trip of the season, I got our new indoor mat and a flag to match!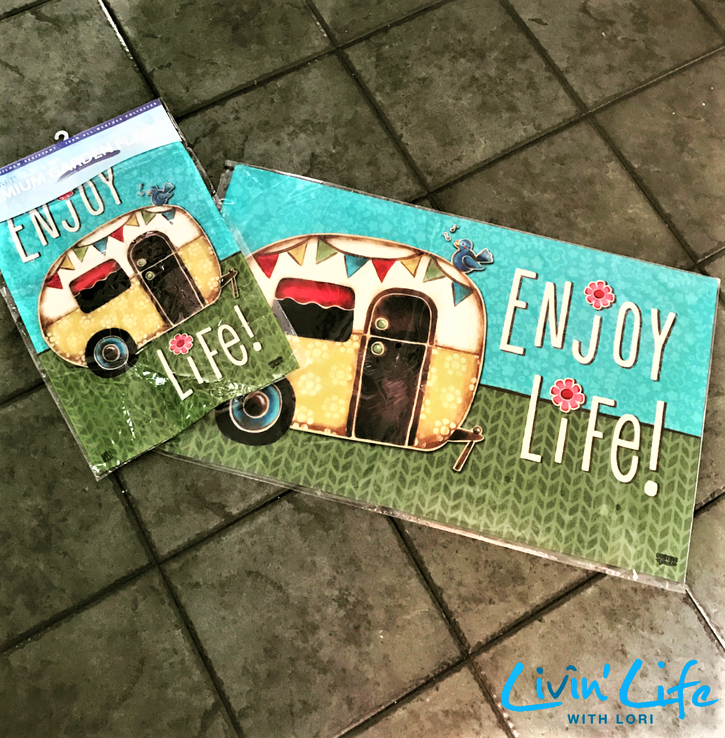 Here's the flag during our first camping trip at Sleepy Hollow Campgrounds.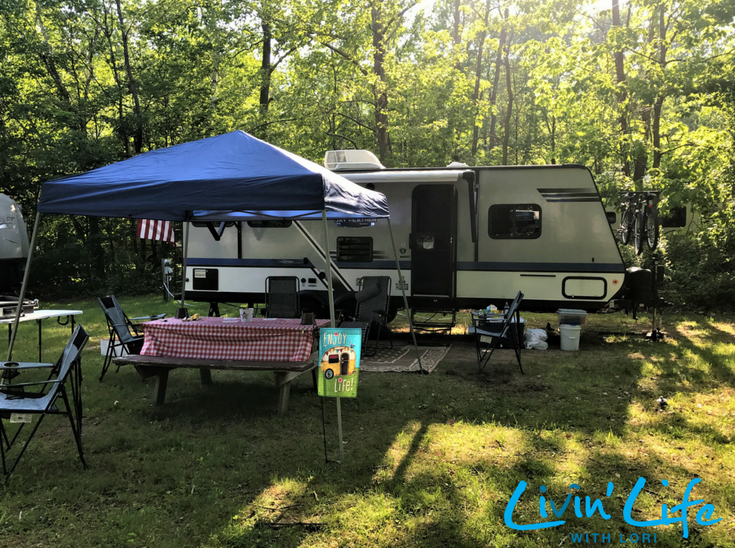 This flag and mat perfectly sum up how my husband and I feel when we are camping!
"ENJOY LIFE"
Every time I step into my travel trailer, I look down and see this fun doormat that just makes me smile! If you are interested in Enjoy Life Doormat you can find it here
If you like the matching Enjoy Life Garden Flag, you can find it here
You can also get the Flag Stand here
One of the new items I found for this trip, was a mat for outside the trailer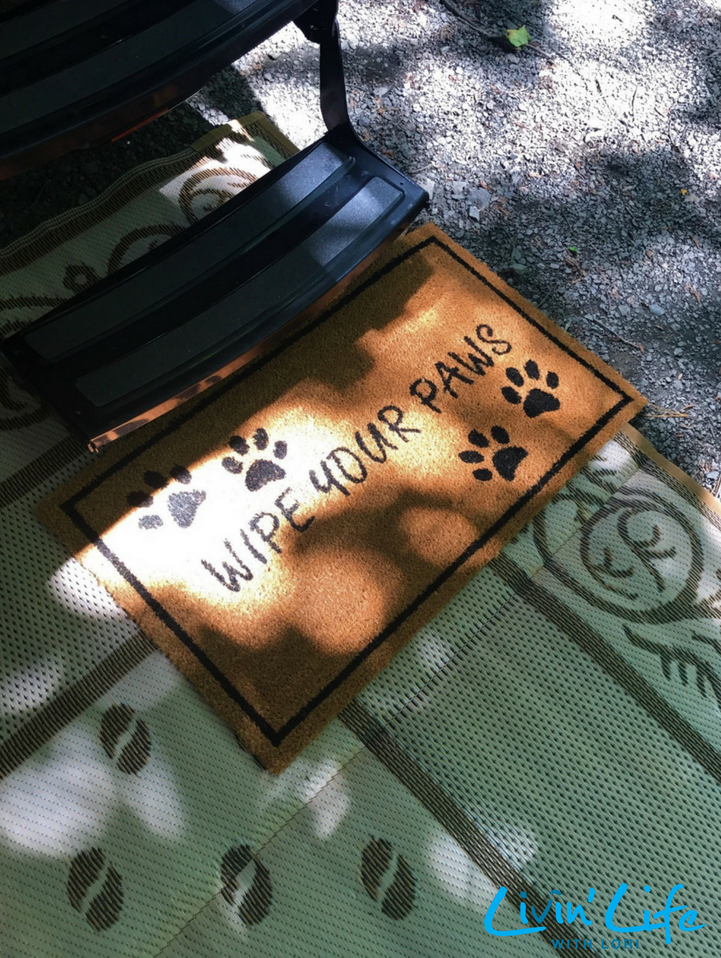 This one is a similar mat.
Did Someone Say Blackstone Griddle?
I had mentioned in my blog post 5 New Favorite Must Haves To Take RV Camping that we got a new Blackstone Tabletop Griddle.
Since we had only used it the one time, I wanted to see how it cooked other food items before I really bragged about it!
So we really put it to the test!
I wanted to try these Chicken Burgers with mozzarella and spinach on the Blackstone because they make our Weber grill a mess.
It was the perfect match! The cheese did not ooze down into the grill and they cooked perfectly.
Next we tried breakfast. Last time we cooked bacon which I told you cooked perfectly and the grease drained down into the hole and was a breeze to clean up!
We tried a few different things for breakfast this time…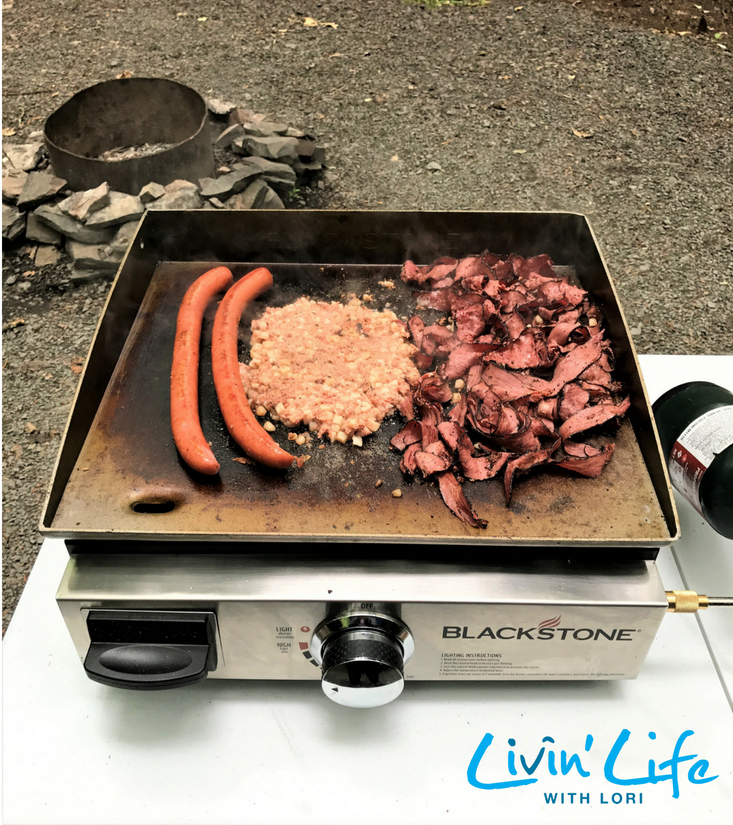 Rapaki sausage, Corned beef Hash & Pastrami. All I can say is…
You notice I didn't get a photo of the food on the plate!!
The Blackstone Griddle cooked it up nice a crispy – I didn't have a chance to click one photo!
Another new item I brought along for Buddy was his portable dog bed.
I knew this campsite was all rock and dirt (no grass) and I really didn't want him laying in the dirt so I found this portable dog bed.
He loved it!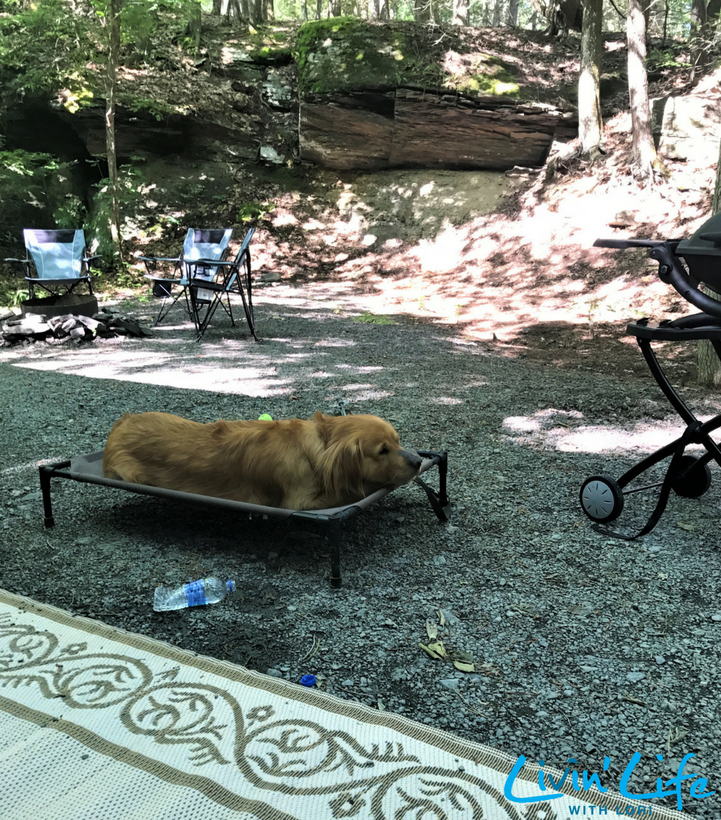 They actually call it a Portable Pet Cot and comes in small, medium and large.
I, of course, got Buddy the Large!
And of course our trip wouldn't be complete without our Whirlypop Popcorn Popper!
Also in the blog post 5 New Favorite Must Haves To Take RV Camping, I talked about how my daughter brought along a few new items on our camping trip and one of them was a popcorn popper for over the fire pit!
It was a definite hit! We've used it every time we've gone camping!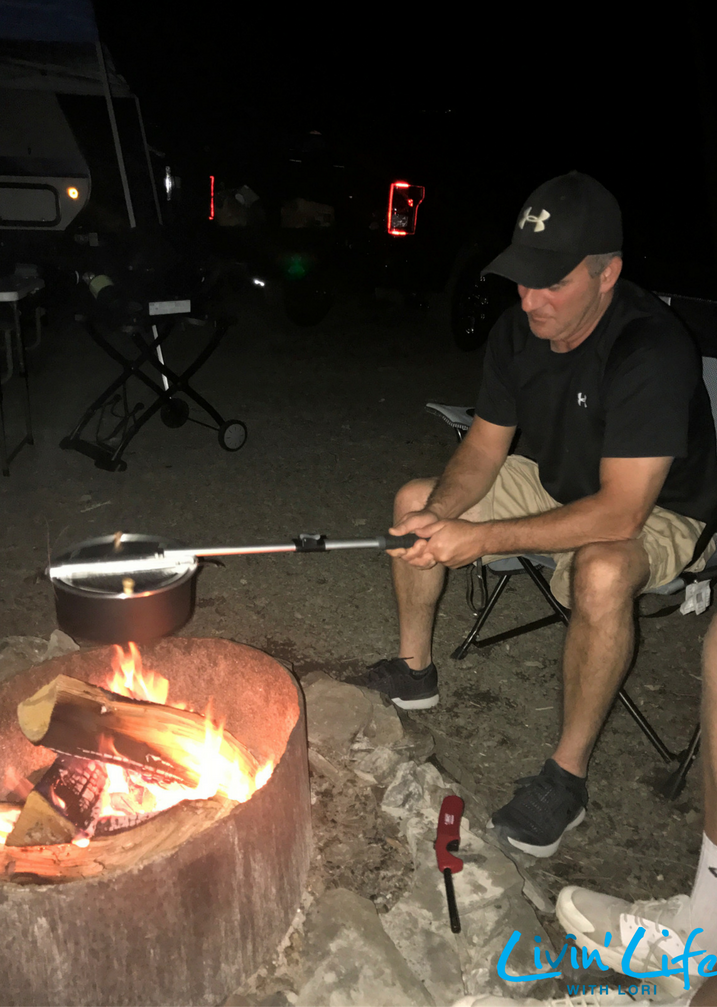 The set she got for us includes the popcorn popper, popcorn and oil in a bag, seasoning and the cardboard popcorn holders! We love it and the popcorn is so good!


Whirley Pop Open Fire Popcorn Popper – Popcorn Set with Popping Kit and Seasoning Sampler – Great for Use Over Outdoor Fire Pits
We had a great time at Rip Van Winkle Campgrounds. The campground is very clean and they received a 10 Rating by Good Sam!
If you are a member of the If you haven't joined Good Sam Club (which has given us discounts on many places – all you have to do is ask!), you can find out more So, if you're looking for a campground that is peaceful, fun, spacious, woodsy, and has lots of trails for biking and hiking, check out Rip Van Winkle Campgrounds!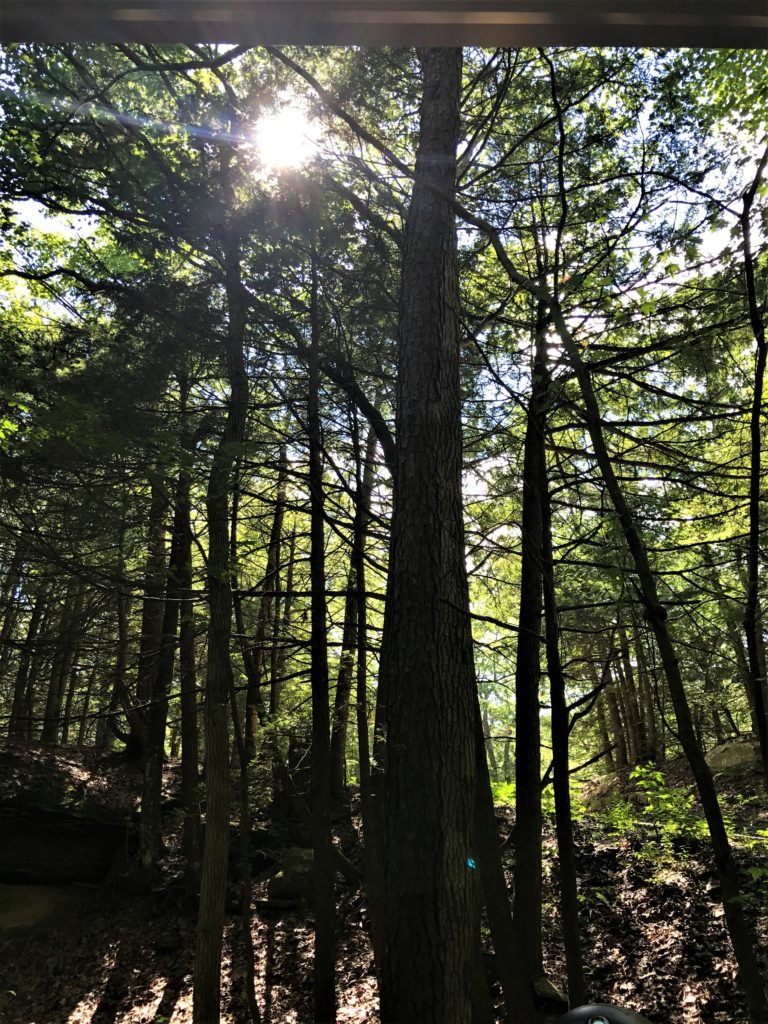 I look forward to bringing you more posts about RVing, Camping, and Family Fun!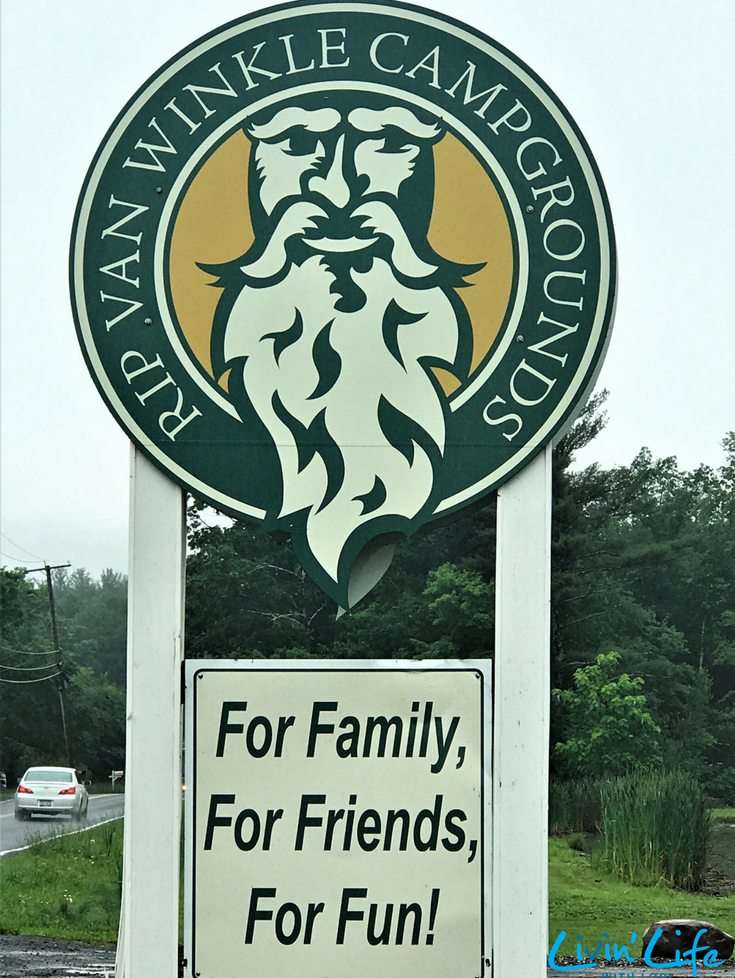 Rip Van Winkle Campgrounds
149 Blue Mountain Road
Saugerties, NY 12477
The Campground is open May 1 – October 1
Check-in and check-out: 3:00 p.m. for tent & RV sites Cabins: Check-in – 3:00 p.m. and check-out – 12 Noon
Allows Pets – YES
Full hook-up available? YES
On-line Reservations? YES
For more information please visit their website: Rip Van Winkle Campgrounds
Let me know some of your favorite places to camp in the Catskills!
The opinions in this article are my own and based on my family's experience at Rip Van Winkle Campgrounds. I received no compensation for the article.
I would LOVE for you to join my mailing list!