Last Updated on May 10, 2022 by Lori
Finding the best hiking gear for women shouldn't feel like a chore. There are many great options and companies out there that offer hiking basic gear, but it's important to find options that fit you and your hiking needs. Not all hiking gear is made to fit all types of people so knowing what you want is key.
The last thing that you need is to head out on a hike and find out that you're not prepared with the proper footing and clothing gear. This is where it's extremely important to understand what hiking gear is needed and how to best equip yourself for any and all hiking journeys
This post contains affiliate links which means if you click on a link and make a purchase, I will earn a commission at no additional cost to you. Please see our Disclosure Policy for more information.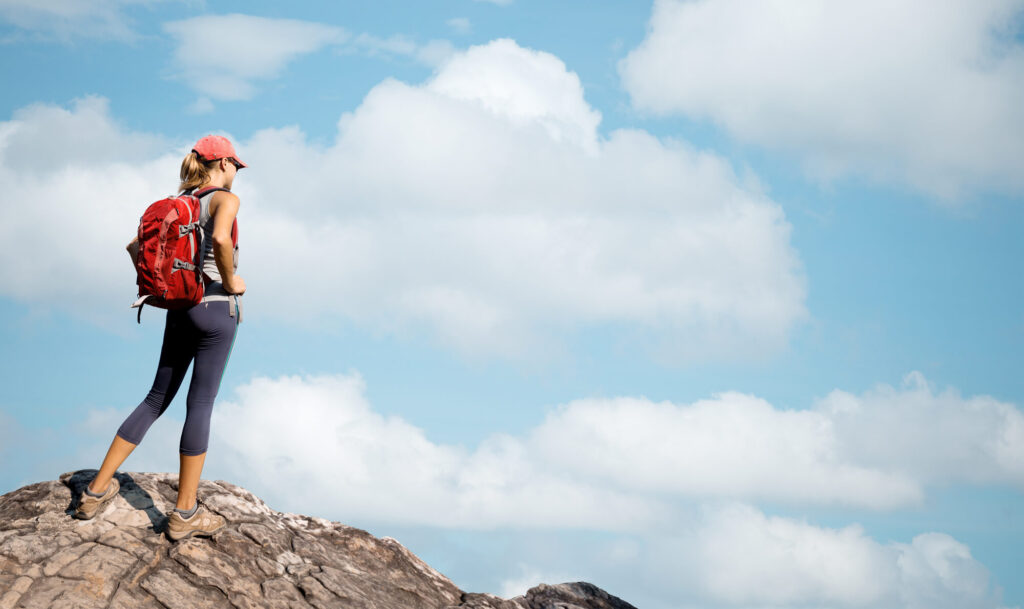 What Should You Not Wear While Hiking?
Before diving into hiking gear essentials, let's touch base on hiking gear that you shouldn't wear while hiking.
If you're going on a serious hike, you have to be sure that you're wearing clothing and shoes that are prepared and ready.
The last thing that you want to have to happen is to get injured or find yourself stuck while hiking because you're not dressed properly.
Some of the biggest items to NOT wear while hiking include:
Flip flops
Denim or stiff fabric
Shoes with slick soles
And to be honest, these are just a few items that you're going to want to skip wearing on your next hiking trip!
What Gear Does A Beginner Hiker Need?
If you're new to hiking, don't stress. Hiking is a great sport and activity that you can easily start at any point in time in your life. Some of the basics to get you starting hiking are hiking shoes or hiking boots, moisture-wicking socks, shirts, and pants, as well as a great water bottle and hiking bra.
While it's not a long list, it's a great one for beginner women hikers to use and then advance to getting and obtaining the rest of the hiking basic gear items that are listed below.
Now that you're aware of the beginner hiking items and also the items not to add to your hiking wardrobe, let's talk about some of the best hiking essentials for women that will keep your feet planted safely on the ground no matter what type of terrain you encounter.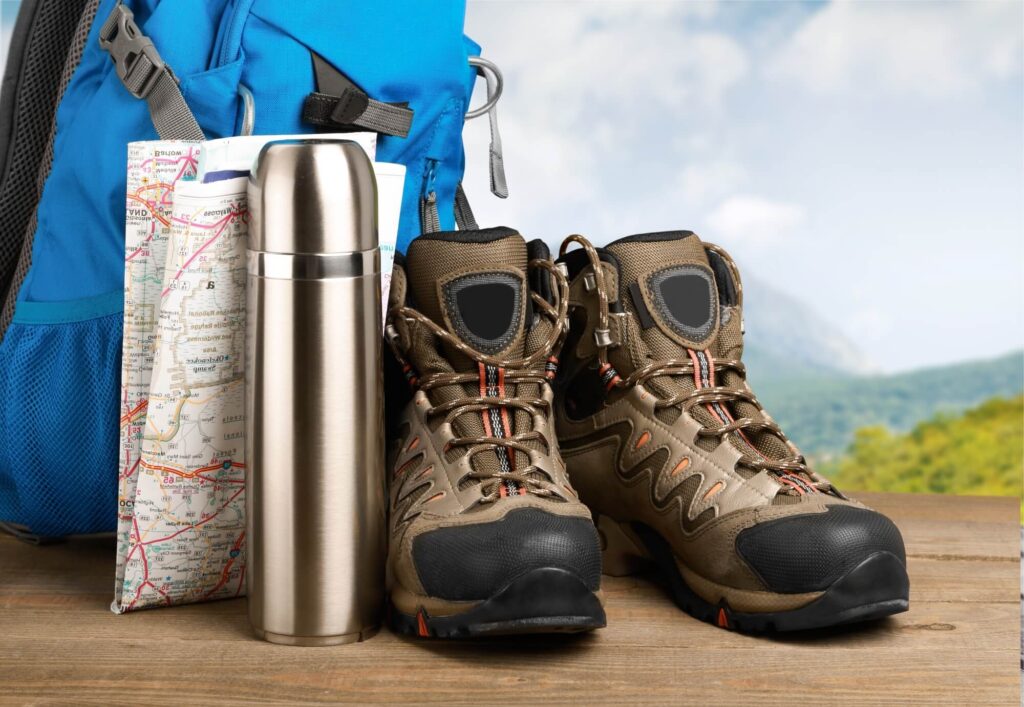 Best Hiking Gear For Beginners
Keep in mind that while this hiking gear is important to have, it's not all-encompassing. You know your body, you know what feels comfortable, and you know what you can carry when you're walking.
Always use your best judgment when it comes to preparing for a hike and purchase hiking essentials for women that you really will use and need.
Best Women's Day Pack For Hiking
Keep everything organized in this hiking day pack. This day pack has smartly organized pocketing, two zippered hip belt pockets to keep your items secure and a handy trekking pole attachment.
The integrated and removable rain cover will keep your items dry during wet weather and then stows in its own pocket when the sun returns.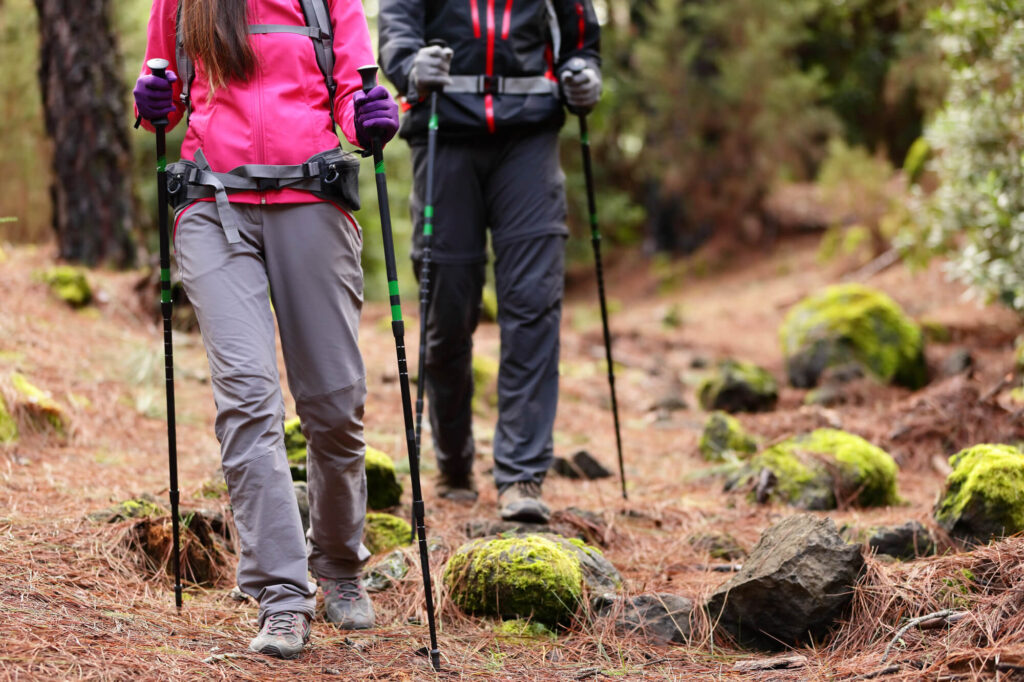 Best Trekking Poles For Women
Montem Trekking Pole
This is a great trekking pole for women because it's sturdy, lightweight, ad at a great price point. For less than $100, you can invest in a hiking pole that you're sure to have for many years.
You can even choose from some super cool colors to make your trekking pole stand out! You'll love the adjustability of this hiking pole so that it fits the exact size that you're looking for. it's also extremely lightweight, so you won't even feel like you're lugging anything around!
TrailBuddy Trekking Poles
Everyone needs a buddy on the trail, right? These trekking poles were made to assist without ever feeling like a burden. Reviewers loved how lightweight the poles were, and the grips on the handle are super comfortable, too!
With a price point this low, you can afford to splurge on a couple! (and you might as well because you're going to love the color options!)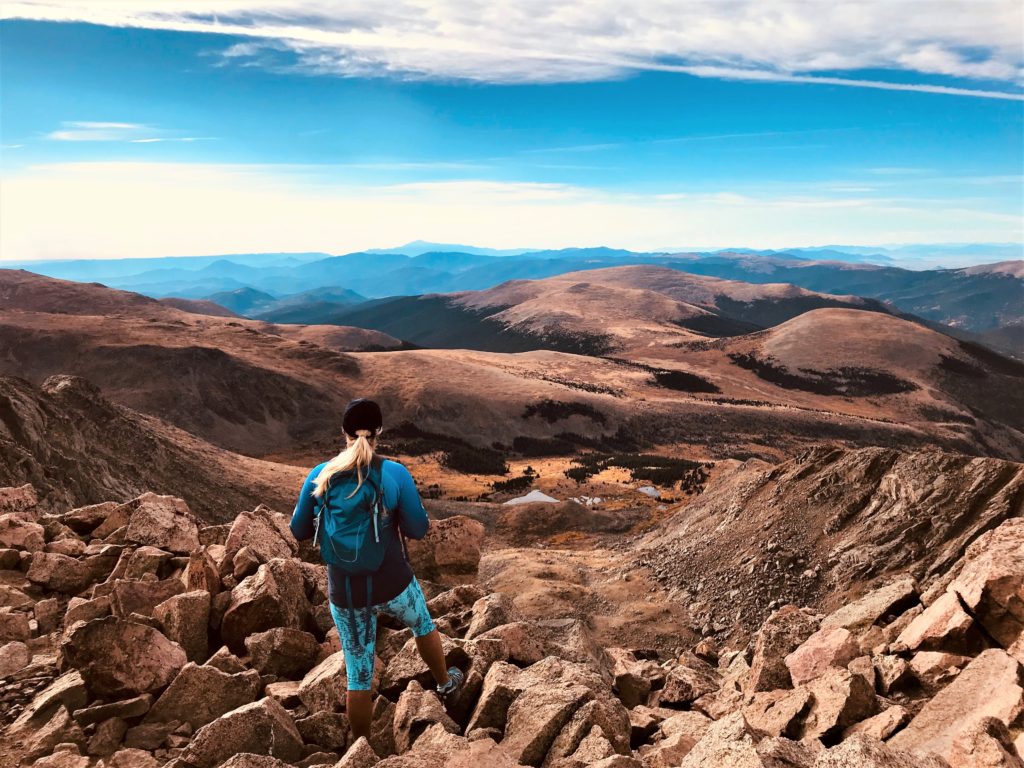 Women's Hiking Outfits
Having the best clothing while hiking is super important. You need to stay dry so that you don't chill, and you need to stay warm if the weather suddenly turns cold.
Let's not forget the need to protect your skin from the beaming hot rays of the sun as well!
UV Protection Safari Shirt
This lightweight shirt does it all. It's made with 50+ SPF protection material that keeps those rays away from burning your skin. It's also very lightweight and dries fast so that it keeps you dry and cool at the same time.
If the hiking suddenly turns chilly, you just need to roll down the sleeves to have an extra layer of warmth.
Wicking Cushion Hiking Socks
Don't overlook your feet! They're going to be doing all the hard work on this hike, so you need to take care of them! These cushion hiking socks provide comfort while also pulling the moisture away from your feet and drying out quickly
Best Lightweight Hiking Rain Jacket
You don't want to be caught in a rain shower while out hiking! You'll need a waterproof jacket to carry that will keep you warm and dry whether you're hiking in a drizzle or a deluge.
The packable lightweight rain jacket folds up into its own zip-up hand pockets for easy storage.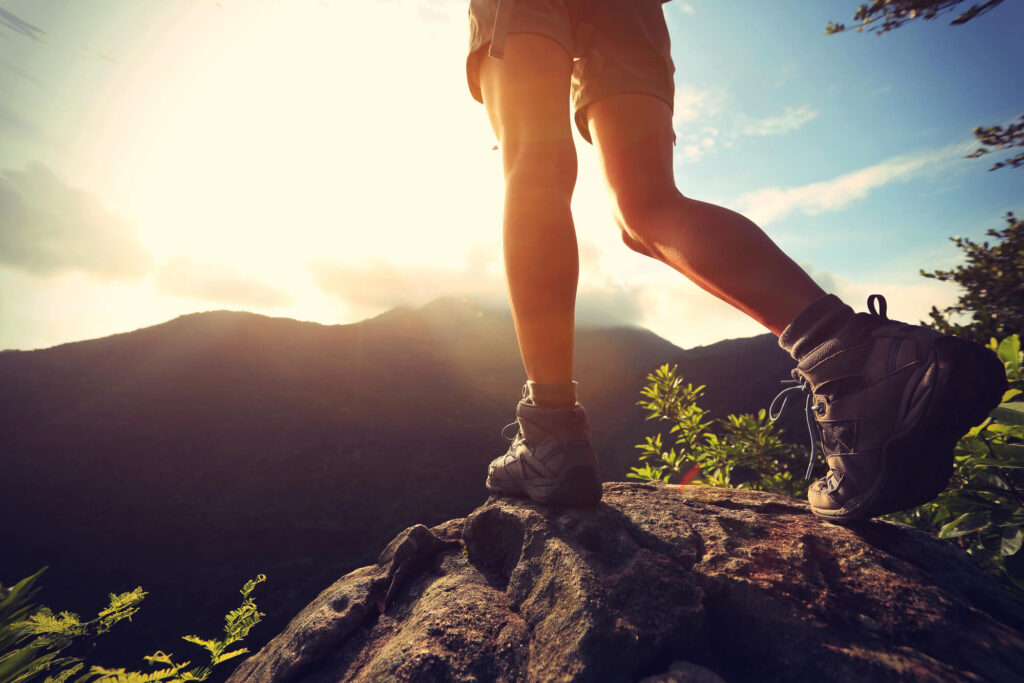 Columbia Waterproof Hiking Boots
More than likely, you're going to be trekking through dry and wet areas. You have to protect your feet because there's nothing worse than cold and wet socks and shoes while you're trying to hike. This causes smells and blisters and can ultimately cause injuries as well.
These waterproof hiking boots have an amazingly sturdy sole with a waterproof barrier to keep those nice and dry.
I also love the added cushion on the inside and the support that it provides to your ankles.
Cargo Hiking Pants
Last but not least, you need to have flexible pants that you can move freely in. This is important because you may be climbing, crawling, or sitting during various times of your hike.
These cargo pants have pockets (YES!) and are also made with fast-drying material as well as a sunblock material. You'll love the feel that these pants give you, even if you're 15 miles into your hike.
As you can see, there are great options for hiking gear that are available to buy. Don't go overboard, but do be prepared.
Hiking is an amazing way to explore the outdoors, and having the best hiking gear on your trek is a must to ensure that you're prepared and taking the best care of your body.
Hiking Destinations You Will Love
Hiking The Overlook Mountain Trail
Best Places To Visit In The Adirondacks – 4 Day Itinerary
Best Hiking Trails – Minnewaska State Park
Best Hikes In The Catskill Mountains For Beginners
18 Amazing Things To See In The White Mountains Of New Hampshire