Last Updated on May 8, 2021 by Lori
Over the years, we have had MANY types of camping chairs…some good…and some that were so uncomfortable that we left them behind the next time we went camping!
Here are our favorite RV Camping Chairs, why we like these particular chairs, as well as some tips on what to look for when purchasing a camping chair so you can relax and be comfortable while you sit by the campfire!
THE BEST RV CAMPING CHAIRS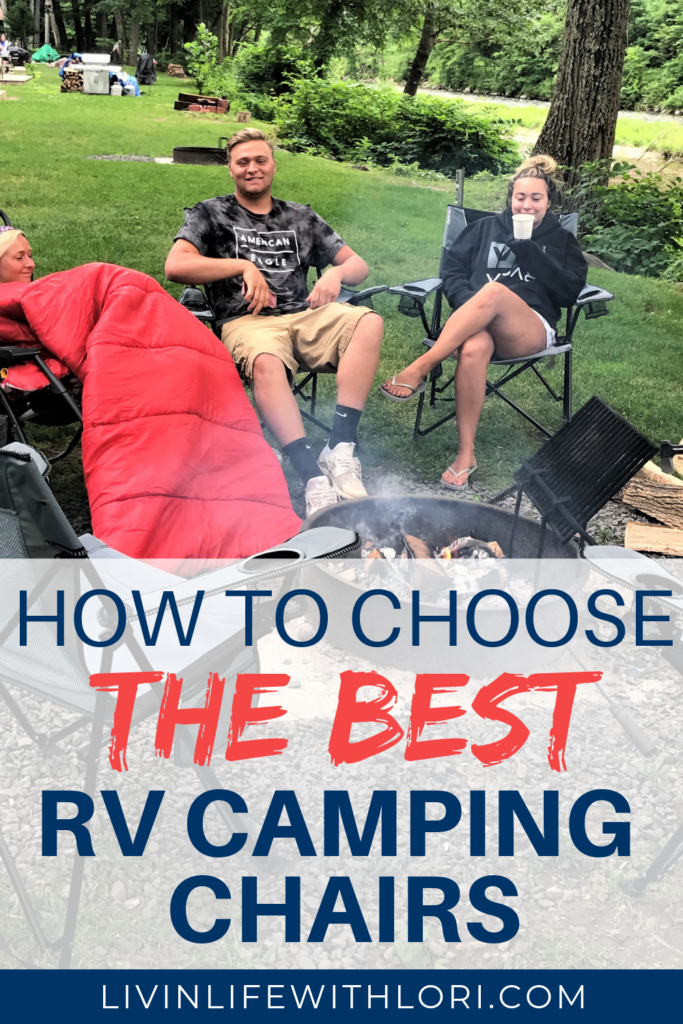 I have to be honest…we like to sit in different types of chairs when we go camping. In fact, one of our neighboring campers came over and said, "Are you expecting company?" as he looked at the 6 chairs we had set up around the campsite!
We laughed and said, "No, it's just us."
We don't like to drag the chairs around the campsite! We now have a collection of different chairs so that anyone who comes camping with us will be comfortable!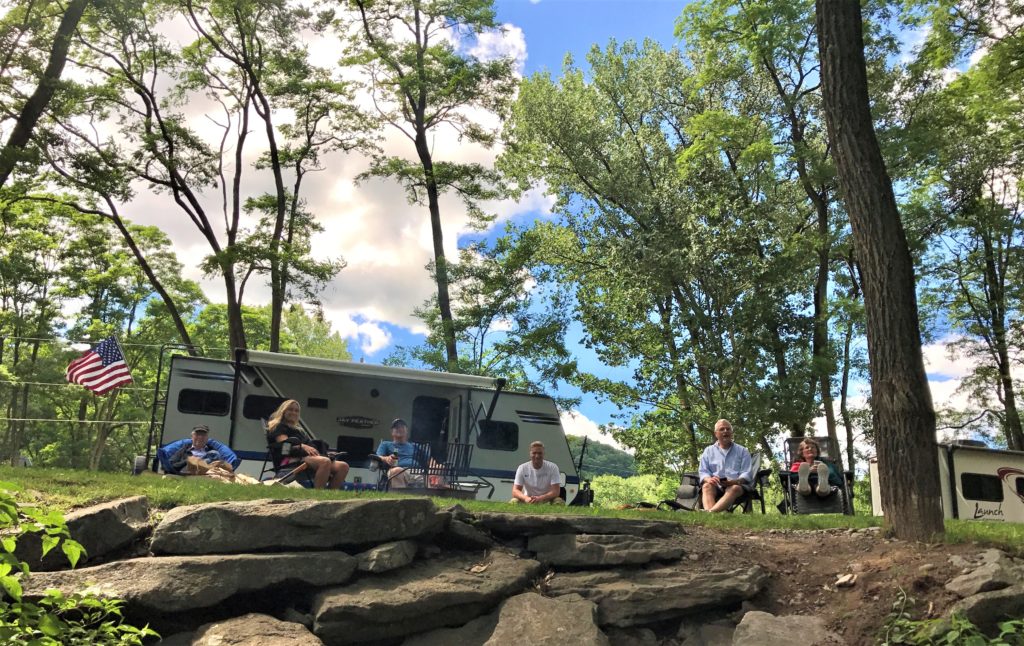 This post may contain affiliate links which means if you click a link and make a purchase, I will earn a commission at no additional cost to you. Please read our Disclosure Policy for more information.
HOW TO CHOOSE YOUR RV CAMPING CHAIRS
As we all know…there are different strokes for different folks.
What we like in a camping chair, you might find uncomfortable. You might have a bad back and need special support for your back.
You may find getting out of a reclining-type chair difficult and prefer to sit more upright.
While there are many camping chairs to choose from, I will be discussing the ones we have found to be sturdy, comfortable, and durable.
Favorite RV Camping Chairs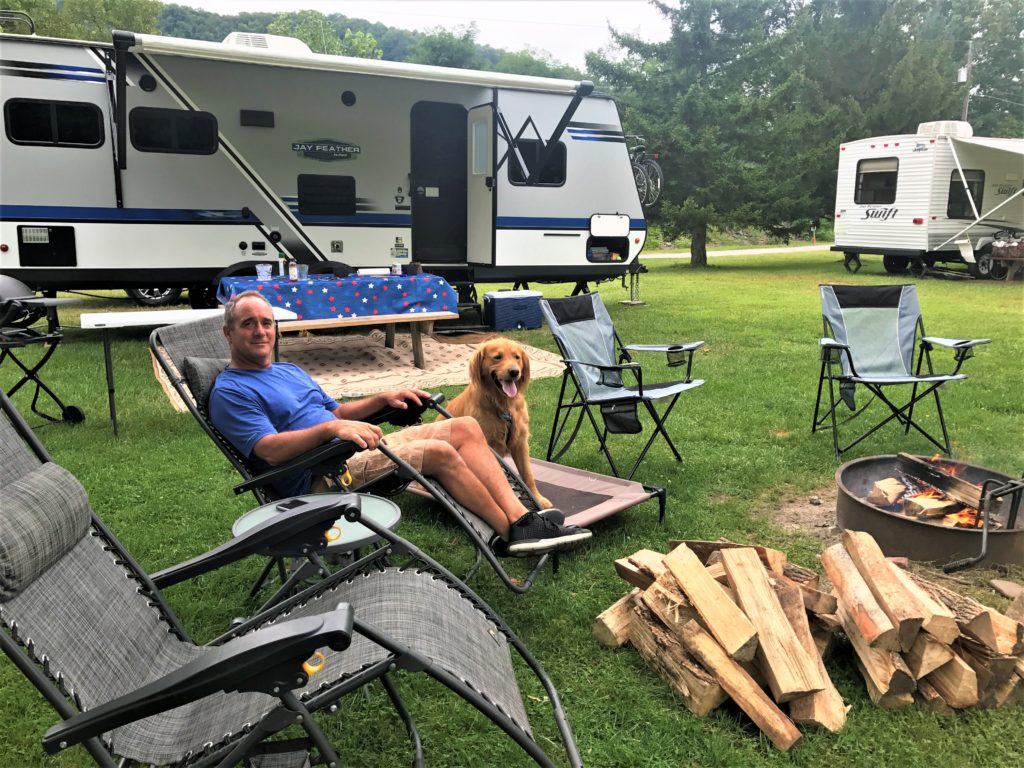 As I've mentioned – and as you can see from the photo below, we set up multiple chairs around the campground.
Even though it may only be Tom, Buddy and me at the campsite!
WHY do we do this?
Well, we don't like to lug the chairs around the campsite and if we get tired of reclining, the regular camping chair is right there.
Sometimes we like to relax in our zero gravity chairs by the fire. Other times, I just prefer sitting upright by the fire or under the awning if it is raining.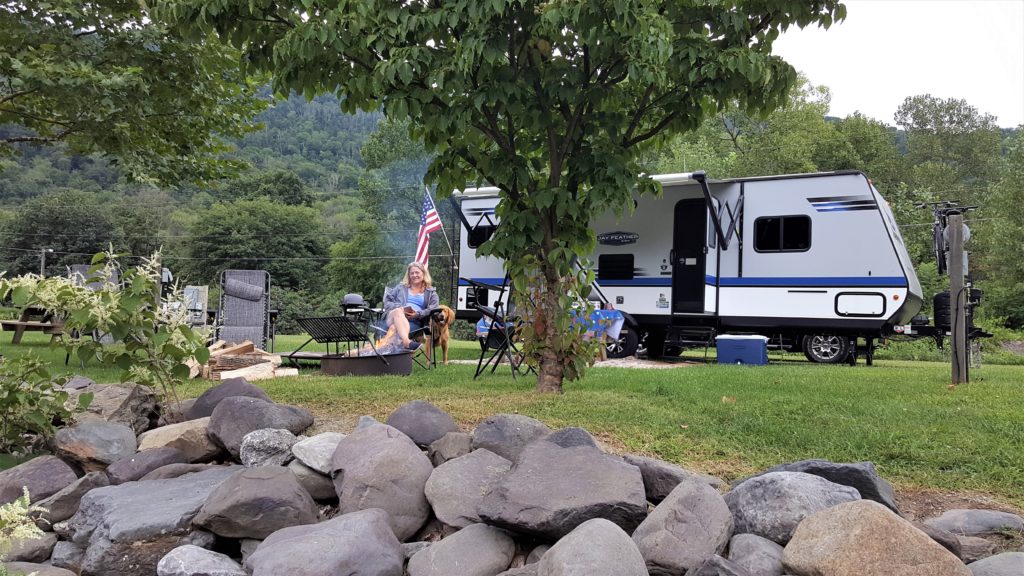 Recently, I heard a lot of talk about how comfortable the Alpha Camp Moon Chairs were, so I bought one of those chairs to test out.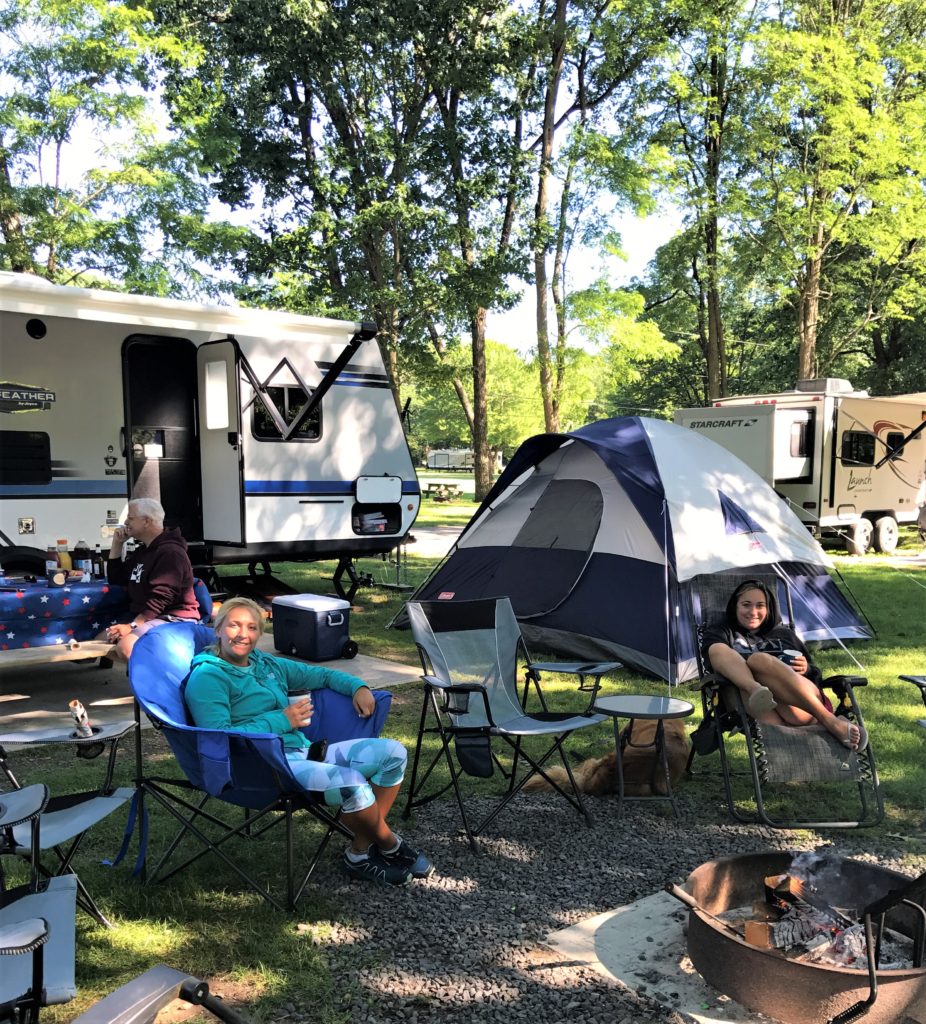 Before I made a decision as to whether or not I liked the Alpha Camp Moon Chair, I took it camping several times and had all ages test out the Moon Chair. I'll give you our report a little later!
So What Makes a Great Camping Chair?
Besides being comfortable, I have to say that I want the chair to be durable!
When we were traveling thousands of miles with our kids for travel softball, travel soccer and travel baseball, we must have purchased dozens of chairs through the years.
Some were just plain junk and were thrown in the trash after one season.
These, of course, were the cheapest on the market and the material would shred, the rings around the metal part would rip and you would be sitting on the metal bar, or the backs would rip away from the metal.
Yep – they went in the garbage.
When we began RVing, we got smart.
We wanted something that was comfortable and would last more than a season. We found two types of Camping Chairs that were both comfortable AND durable.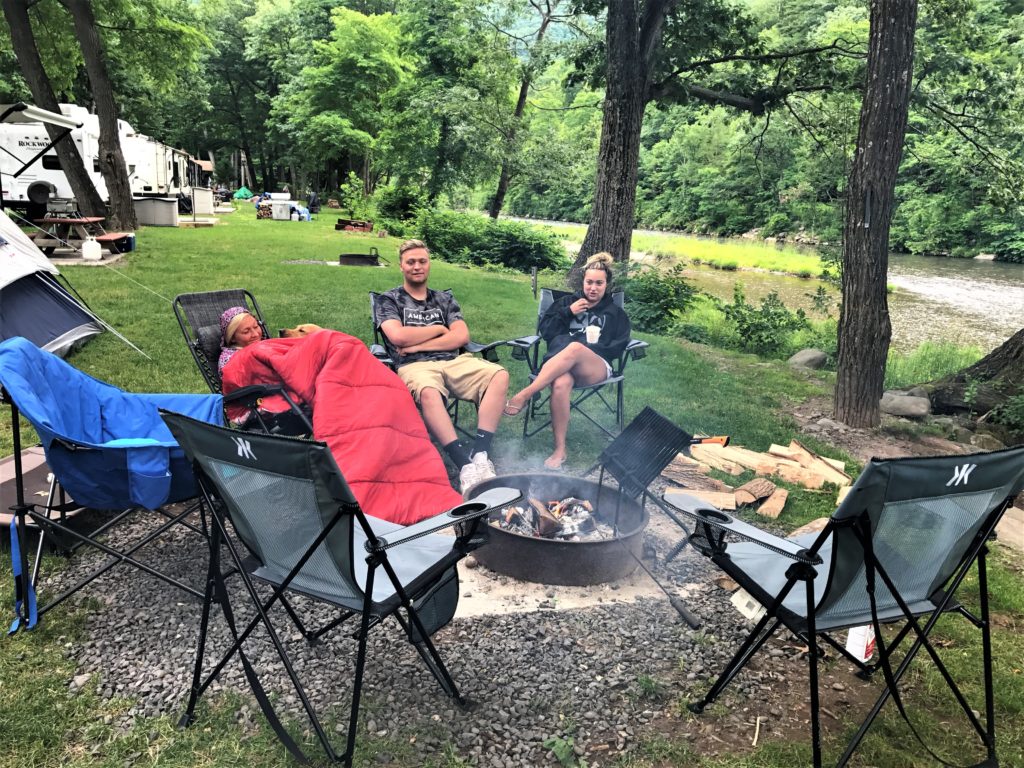 BEST HEAVY DUTY CAMPING CHAIR
Why do we like the Kijaro Dual Lock Portable Camping and Sports Chair?
Well, for one, it has dual locks to make it sturdy. It also has a mesh back to keep you cool.
The chair has a durable diamond ripstop polyester with no-sag seating. There is a pocket organizer on one side, plus it has two (2) cup holders.
We usually place our cell phone in one holder and our drinks in the other! (FYI, one cup holder is larger than the other)
This chair is also lightweight, easy to set up and comes with a carry bag and shoulder strap.
As I mentioned, we have had these chairs for three years and they are still like new! Check out the Kijaro Dual Lock Portable Camping Chair HERE.
Zero Gravity Chairs
These chairs are a MUST for relaxing.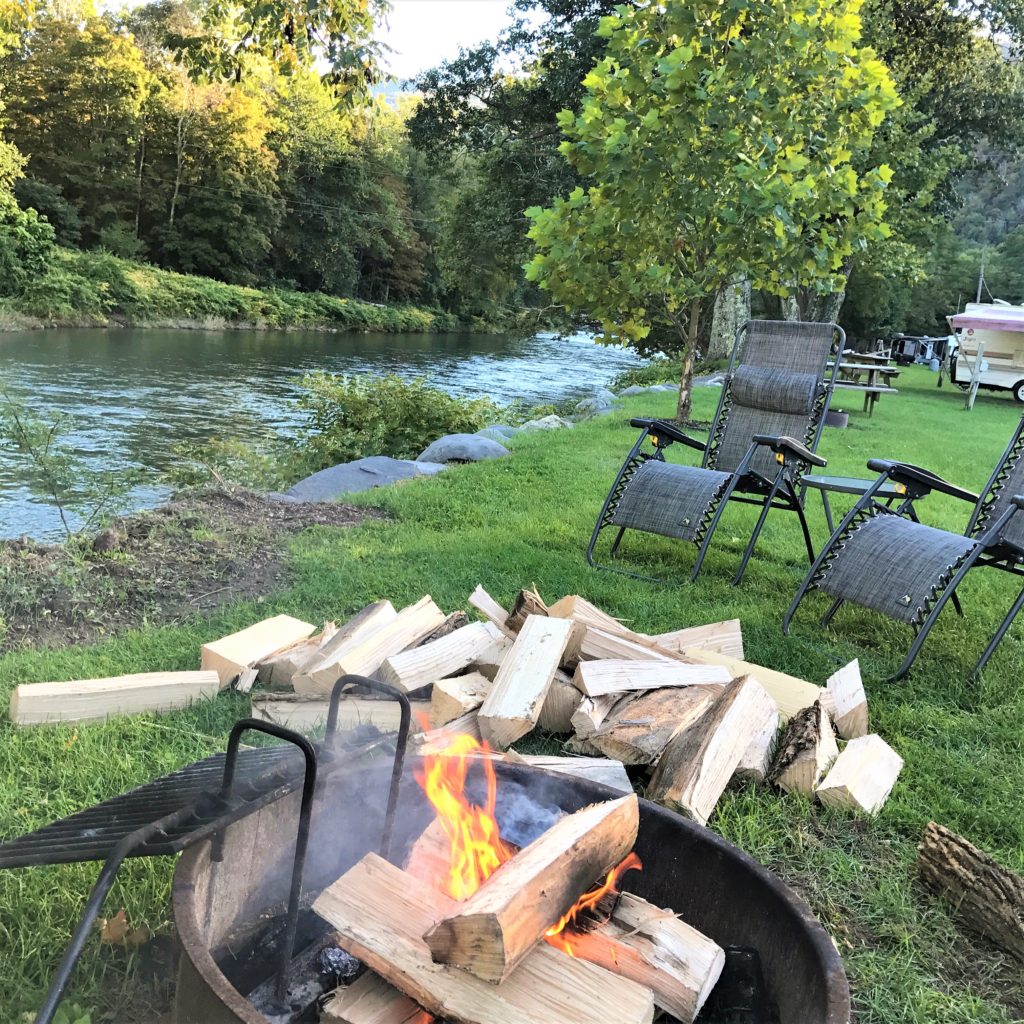 What do we like about Zero Gravity Chairs? You can position your legs at any height that is comfortable for you.
I sometimes like to sit with my legs only slightly raised. Other times, especially my son, likes to put his legs all the way up!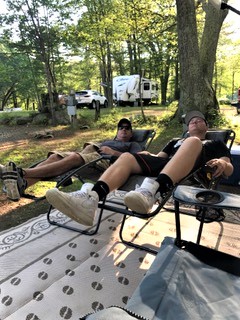 We like that you can move the chair into different reclining positions and then lock it in place. The headrest pillow is adjustable and can be removed if you don't like it.
These Zero Gravity Chairs come in a pack of two and include cup holders. They are one of our Must-Haves for RV camping!
As I mentioned above, I had read the "new chair to have" is the Moon Chair. My son got me a gift card for Mother's Day and I couldn't wait to get my new chair!
Of course, I didn't get to sit in it very much!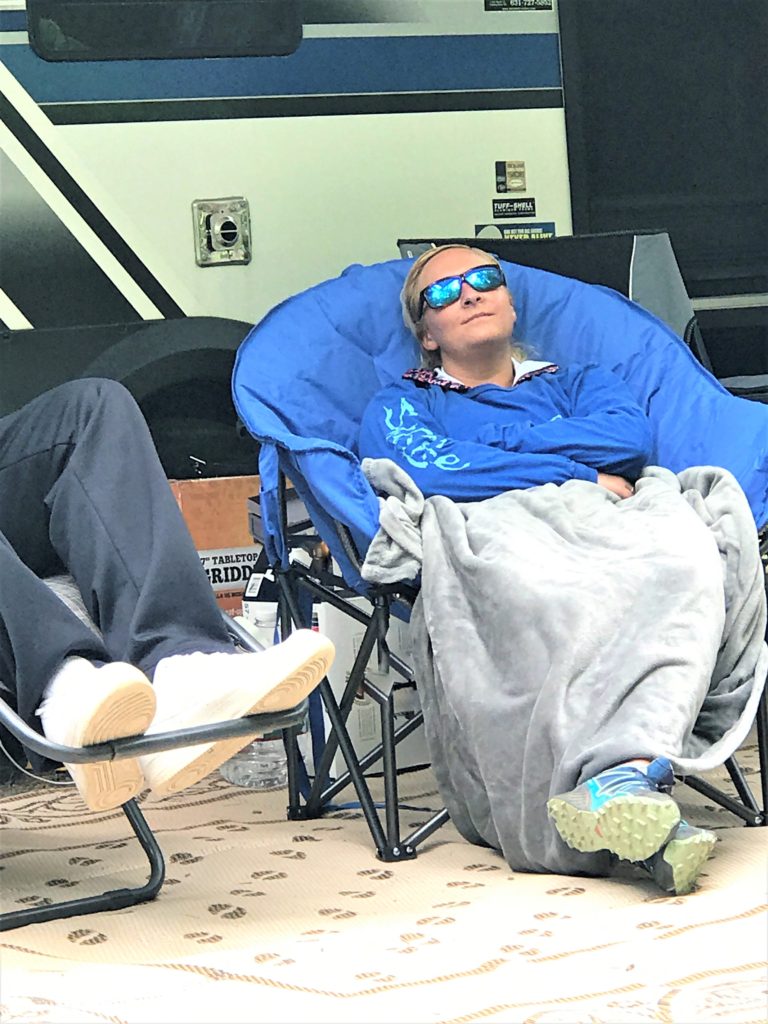 What I Liked About The Alpha Camp Oversized Moon Saucer
Sometimes when I sit in a regular camping chair, my neck gets tired and I want to put my head back.
The Moon Chair comes up in the back so that I can rest my head (as you can see in the photo of my daughter above).
The chair is wide. If I had a little dog, he would fit right there next to me!
Now, don't get me wrong, my Golden Retriever did try to sit with me but I wasn't comfortable at all!
The chair is lower to the ground. If I had an ottoman to go with the chair – I might really like it a lot.
What I Didn't Like About the Alpha Camp Moon Saucer
Ehhh…I can't quite put my finger on it and didn't want to give a one-sided opinion, so I had other family members – of ALL ages sit in the chair to see what they thought.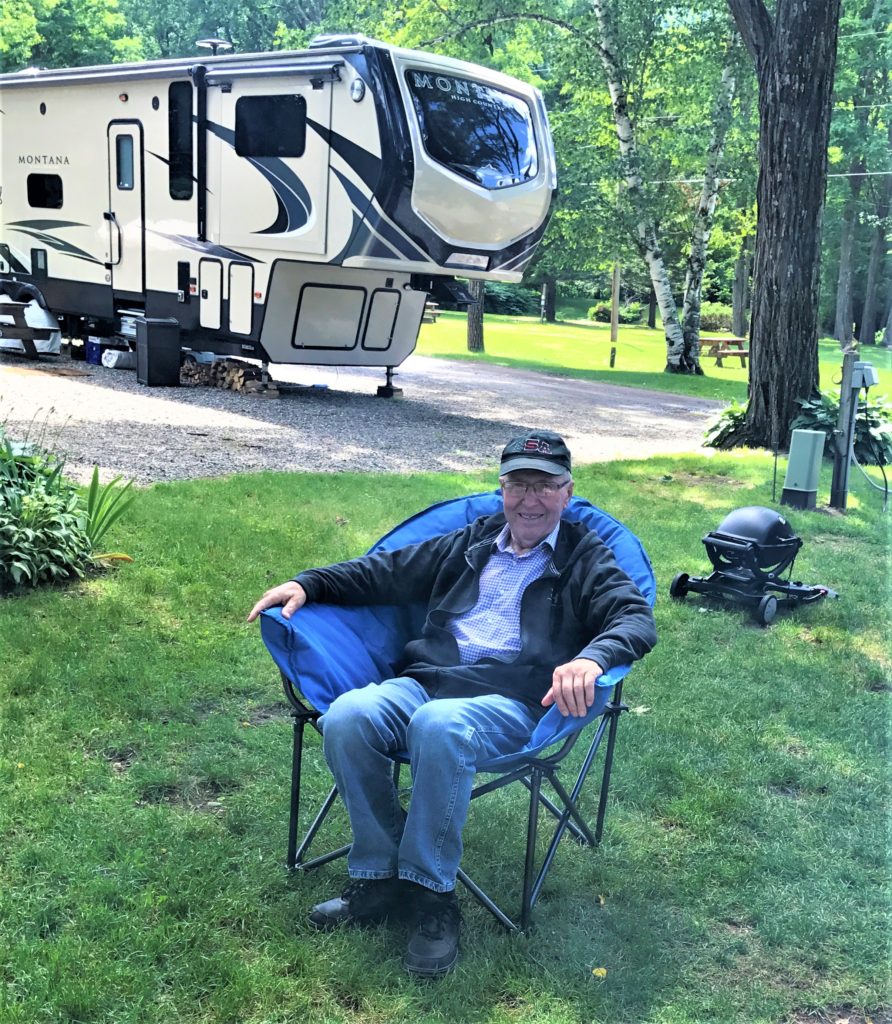 My dad thought it was comfortable to sit in. He thought it could have more padding in the chair but overall a good camping chair.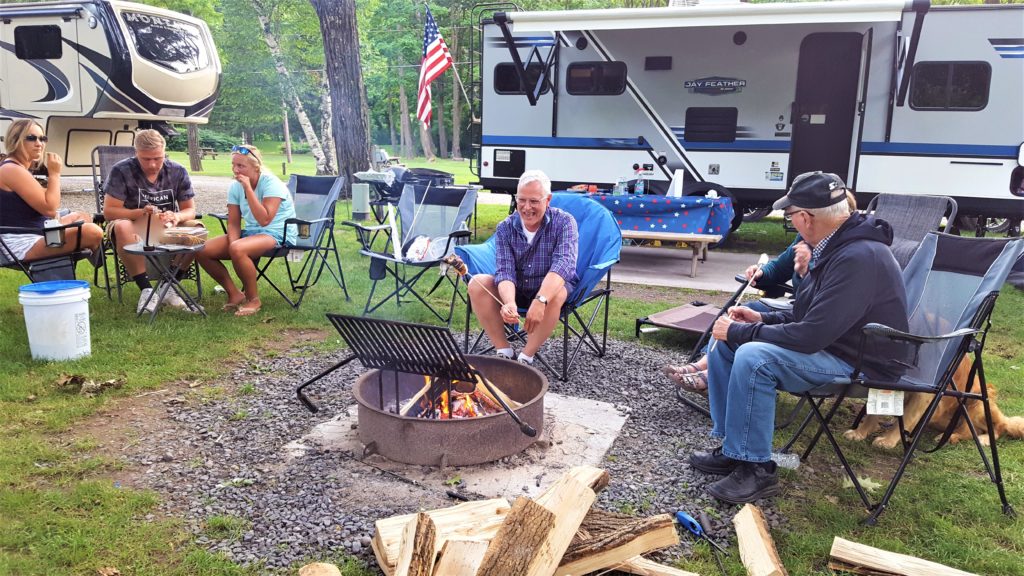 My brother sat in it as he roasted marshmallows. He also really liked it but thought it could use a little more padding on the seat.
My daughter (seen in the photo above) liked the chair too! She didn't notice anything about the padding and gives it a Thumbs Up!
The Alpha Camp Moon Chair comes with a cup holder and carrying case with a shoulder strap so we did find that it was easy to fold up and store in our RV storage area!
You can find out more about the Alpha Camp Oversized Moon Saucer HERE.
The BEST RV Camping Chairs – You Decide!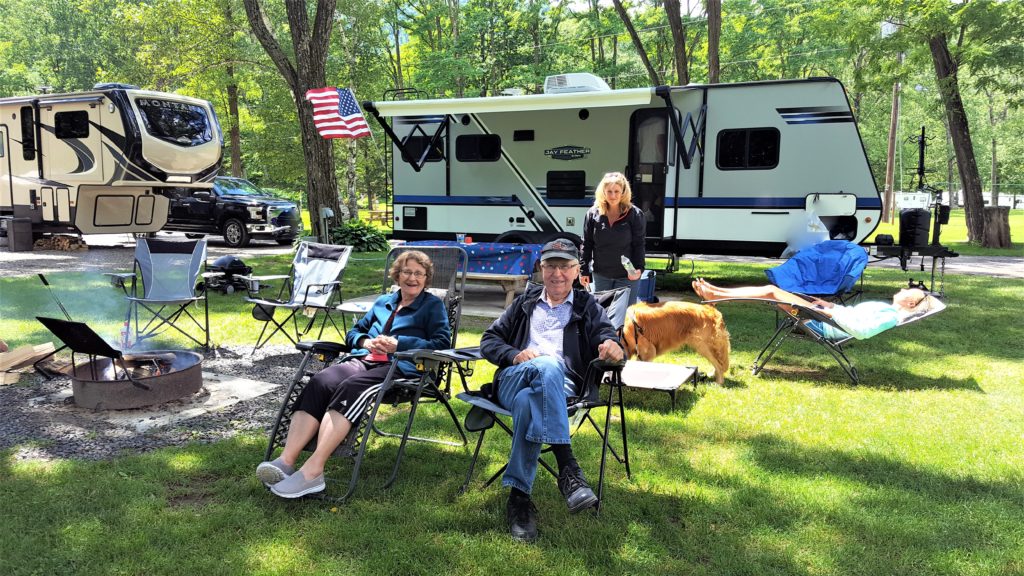 There's no doubt that you need to have camping chairs for the campground. Which type of chair is ultimately your choice.
What To Look For When Choosing A Camping Chair
Material – Make sure the material is durable. The rip-stop fabric found in many camping chairs will last a long time and is water-resistant.
Weight Capacity – Not all camping chairs can hold the same amount of weight.
Double-check the capacity before making your purchase. There are also extra-wide chairs that are comfortable.
Extras – Each camping chair may or may not come with extras. These extras may include cup holders, trays, umbrellas, storage pockets, canopies, coolers, bottle openers, wheels.
Just make sure it is made from durable material so they will last a few years and are comfortable for when you are sitting by the fire, reading a book, or just resting at the campground!
Which type of chairs are your favorites? I would love to hear!
Please join my Email List!