Last Updated on June 15, 2021 by Lori
What are some Fun camping items to take RV Camping? After you purchase all the Must-Haves for your RV, let's get to some of our Favorite Fun RV Camping Must-Haves you will Love at the campground!
Favorite RV Camping Must-Haves
Every winter after we winterize our travel trailer it seems like an eternity for camping season to begin!
We planned…and planned…and then the weekend was here and it was time to go camping!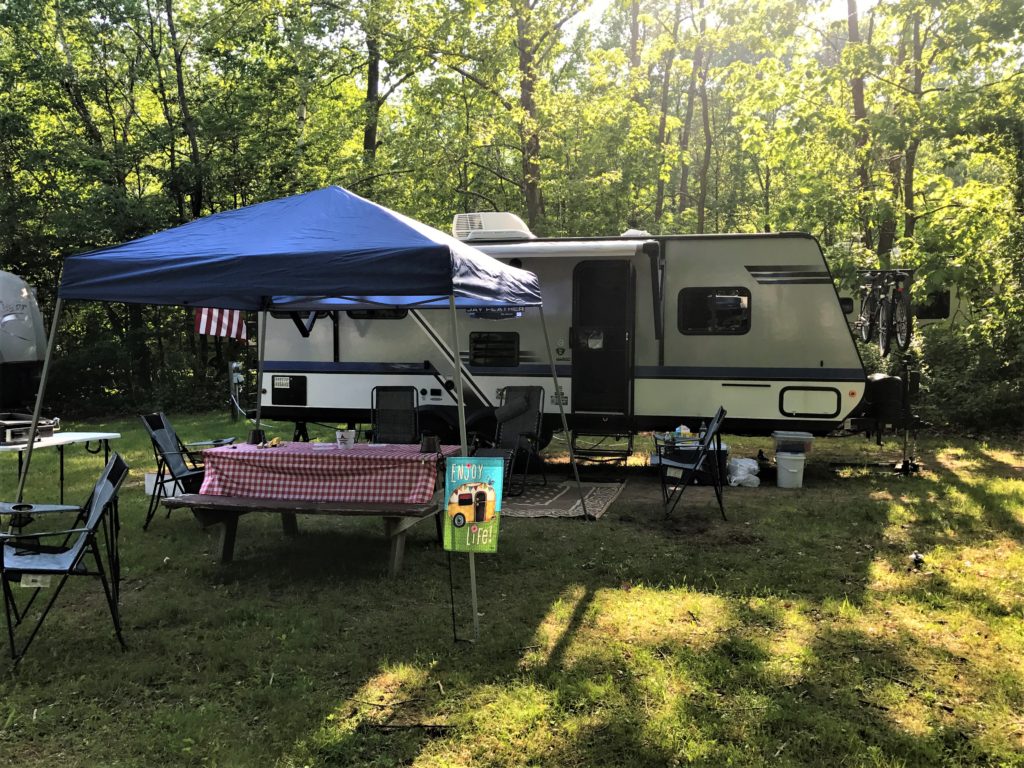 But of course, as with the start of every camping season, there are always a few bumps in the road!
Things we forgot to check a few days before we were leaving (which caused our 2-hour delay in leaving for the campground)

Things we forgot to bring and

Why we had to cut the camping trip short and come home a day early
Nothing major but a few lessons learned!
First, though, I wanted to post about some FUN things that we did during the weekend that will now be part of our "RV camping must-haves".
Our plan was to leave around 10 a.m. for the three and a half-hour or so trip to the campsite.
Our daughter left Virginia at 3:30 a.m. to be at our house in time to leave and as she pulled up in her Jeep, my husband and I noticed it was packed full of "stuff!"
As she opened up the back of her Jeep, she began pulling out these large "board-like" things. My husband quickly said, "That's not going to fit!
We don't have room for whatever THAT is!
She just smiled and continue to pull it out of her Jeep.
Of course, we found a spot for it inside the trailer and boy were we glad we did! "THAT" turned out to be one of the most fun things on the trip!
5 Favorite RV Camping Must-Haves You'll LOVE At The Campground!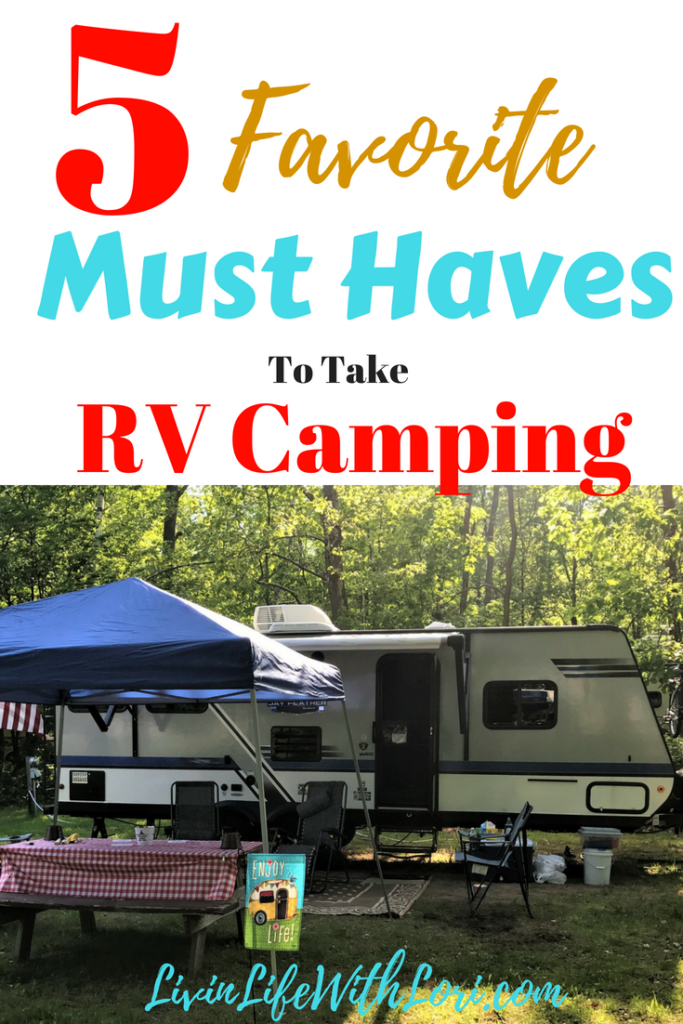 This post contains some affiliate links for your convenience which means that if you click a link and make a purchase, I will earn a commission at no additional cost to you. Please see my Disclosure Policy for more information.
Best Games To Play At The Campground
The "Cornhole" game (or bean bag toss) was so much fun to play! (THIS is what she was pulling out of her Jeep!)
In fact, as we pulled into our campsite, the site next to us had a Cornhole tournament underway that went on the entire weekend!
Several other campers from different sites were also participating and then we began seeing trucks pulling into their site (they were seasonal campers) with additional family members who had come to play!
They played that game into the wee hours of the morning – even shining a light on the boards so they could see! We had our own tournament and of course, my son won every time!
This fun camping game has kept our kids occupied for hours at the campground!
We found out that my Dad is the Champion Corn Hole Player in our family!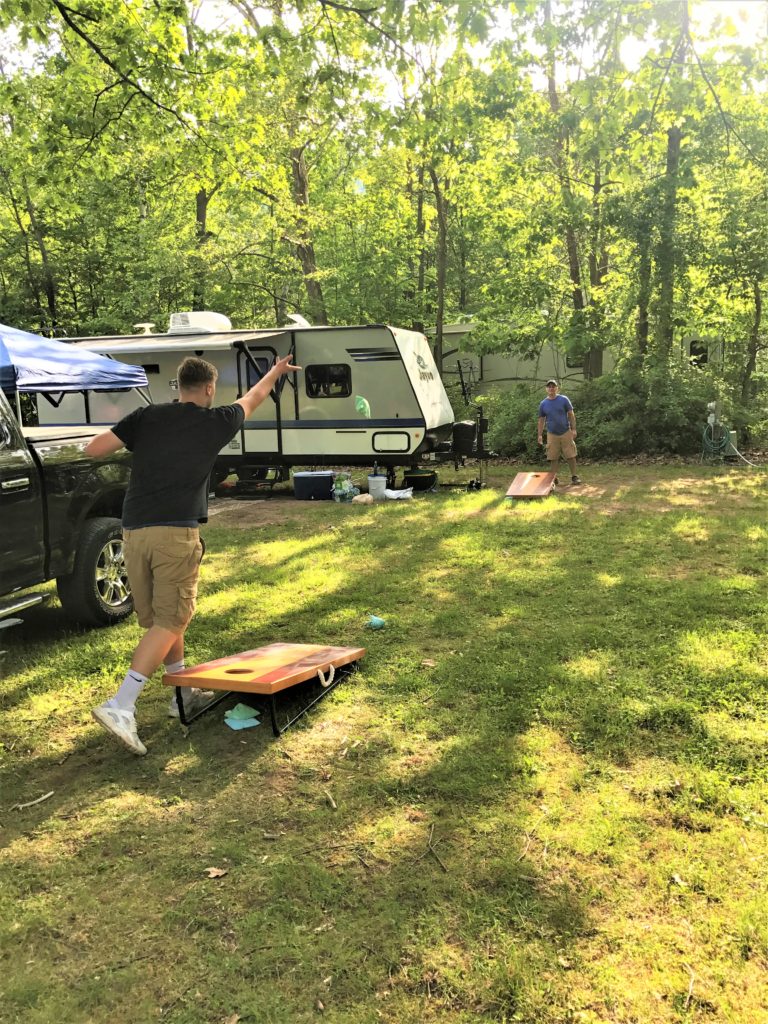 This is the Corn Hole Game she brought and I can tell you it is very well made!
Viva Sol 2'x4′ Bean Bag Toss Game
Premium All-Wood, Bean Bag Toss Boards – Regulation-Size (2' x 4')

Portable with Folding Legs, Nesting Boards, and Heavy-Duty Rope Handle

Thick Metal Legs Add Stability and Store Under the Board for Portability

All-Weather, Canvas Bean Bags (4 Blue, 4 Green) with Mesh Carrying Bag

Designed for Outdoor Use with Beautiful, Durable Walnut Finish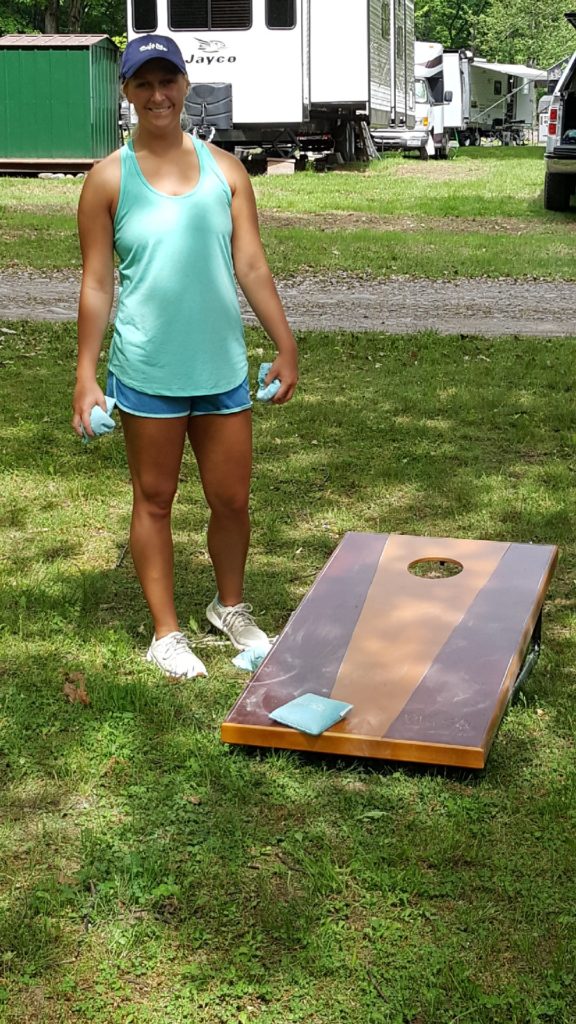 Favorite Camping Snacks
That night while we were sitting by the campfire, she went into the trailer and came out with an open fire popcorn popper.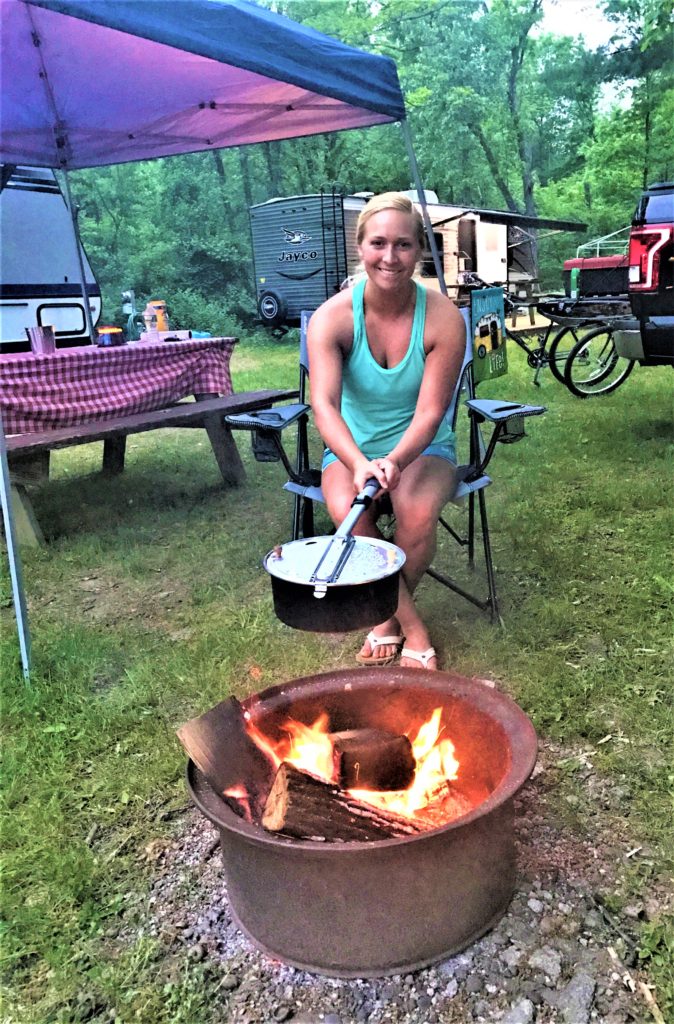 But this one wasn't just the popper, it had little cardboard popcorn holders and flavored salt too! It came all in a packet with the oil and popcorn so all you had to do is dump it in and POP!
This one is the Whirley Pop Open Fire Popcorn Popper – Popcorn Set with Popping Kit and Seasoning Sampler – Great for Use Over Outdoor Fire Pits and has everything in one kit.
Camping and Road Trip Snacks
The third thing she brought along on the camping trip my husband loved!
After we had been hiking all day, we came back to the campsite and she went into the trailer again (into her magic bag I guess…) and came out with this:
A box of assorted KRAVE Beef and Pork Jerky
My husband LOVES Beef Jerky and he was in heaven!
Sittin' by the fire…eating his jerky.
This also makes a great Road Trip Snack too! He LOVES to eat jerky while driving!
This package offers so many varieties including Pork Jerky! I'm afraid I'm not much of a "Jerky" lover, but my son, daughter and husband LOVED it! KRAVE Jerky Variety Pack (Beef Jerky, Pork Jerky) 8 Count
Assortment includes one 2.7-ounce bag of each flavor: Beef Jerky in Chili Lime, Garlic Chili Pepper, Sea Salt, Sweet Chipotle; Pork Jerky in Black Cherry BBQ, Garlic Sweet Teriyaki; Turkey Jerky in Basil Citrus, Lemon Garlic.
Best Bike Rack For Travel Trailers
We were lucky that when we purchased our 2018 Jayco JayFeather, the bike rack was included. This season, we were determined to bring our bikes and boy were we glad we did!
Having the bikes at the campground was so much fun – and not to mention making it very easy to run to the restroom so you didn't have to walk!
This is the bike rack we have on our Jayco.
We have had many RVers stop to ask us about the rack which makes it easy to carry two bikes. Jack-It 2 Bike Rack
Here's a picture of our bikes on the trailer.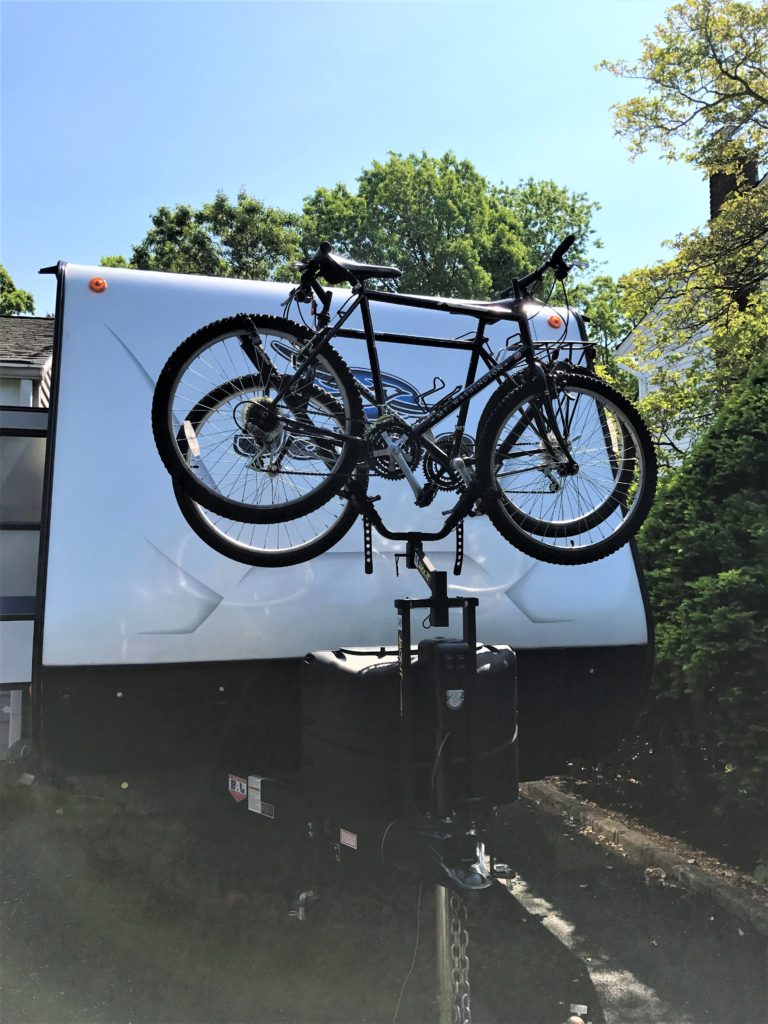 Here's the photo of our bike rack without the bikes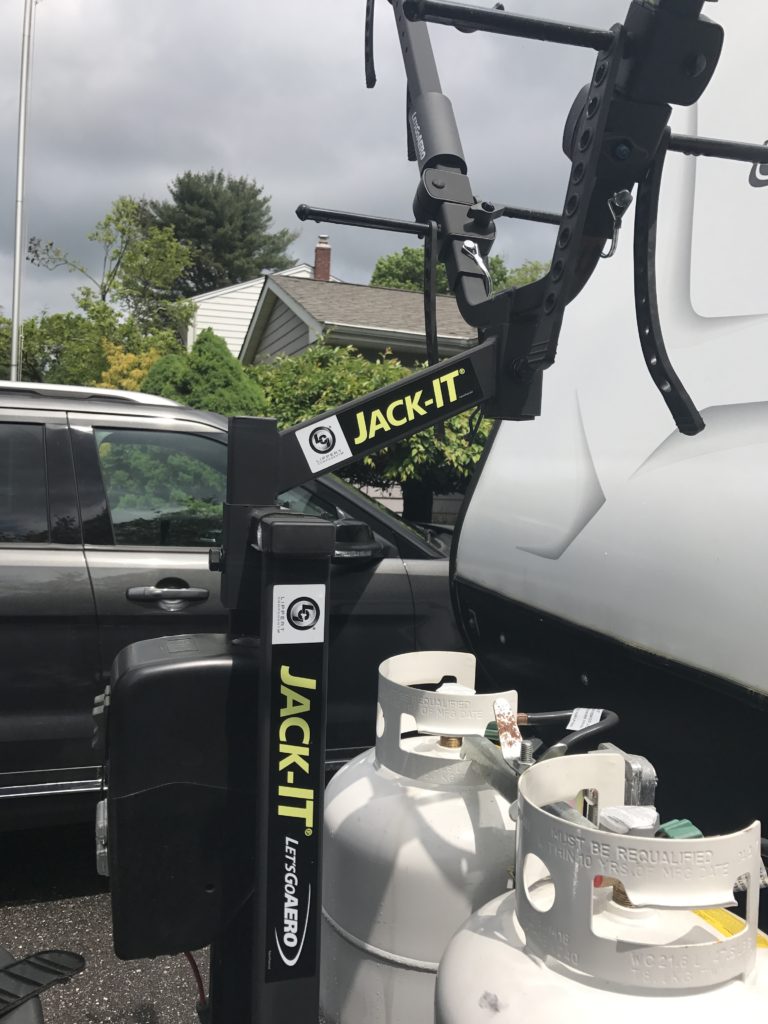 If you're looking for a bike rack for your trailer, take a look at the Jack-It 2 Bike Rack!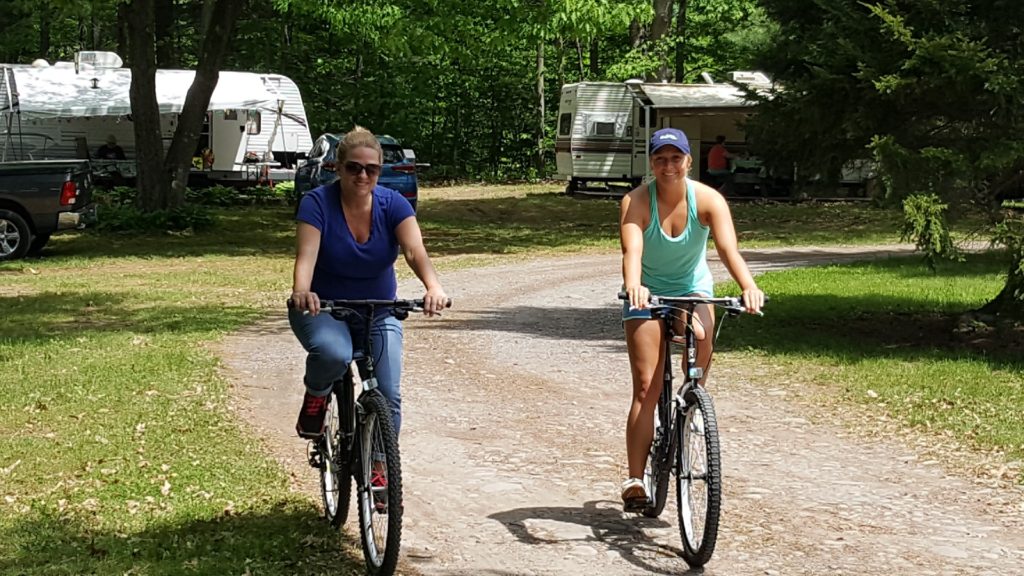 Camp Cooking At The Campground
What's more fun than eating at the campground? I think we eat more at the campground than we do at home!
We love our new Blackstone Tabletop Griddle!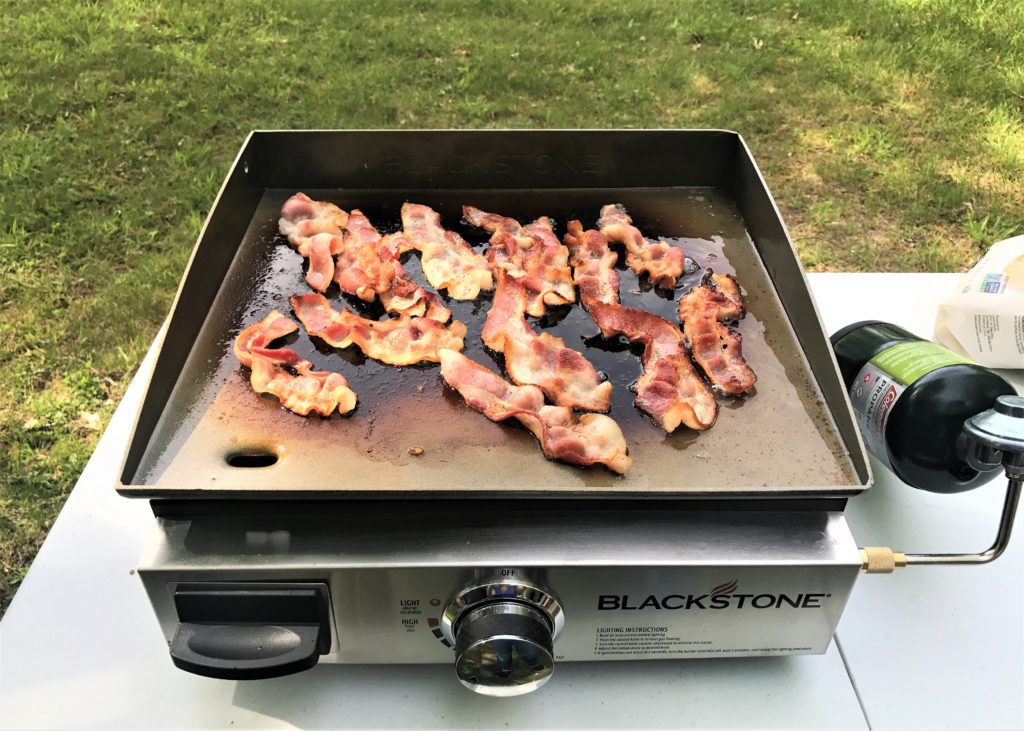 I had been hearing about the Blackstone Griddle all winter long and two days before our trip, we decided to order it!
Now, four years later, and we STILL Love it!
I first wrote about this grill in my blog post 10 Ultimate Wish List Items For Your Favorite RVer.
I talked about my Wish List items for this year's camping season…and now I can cross this one off!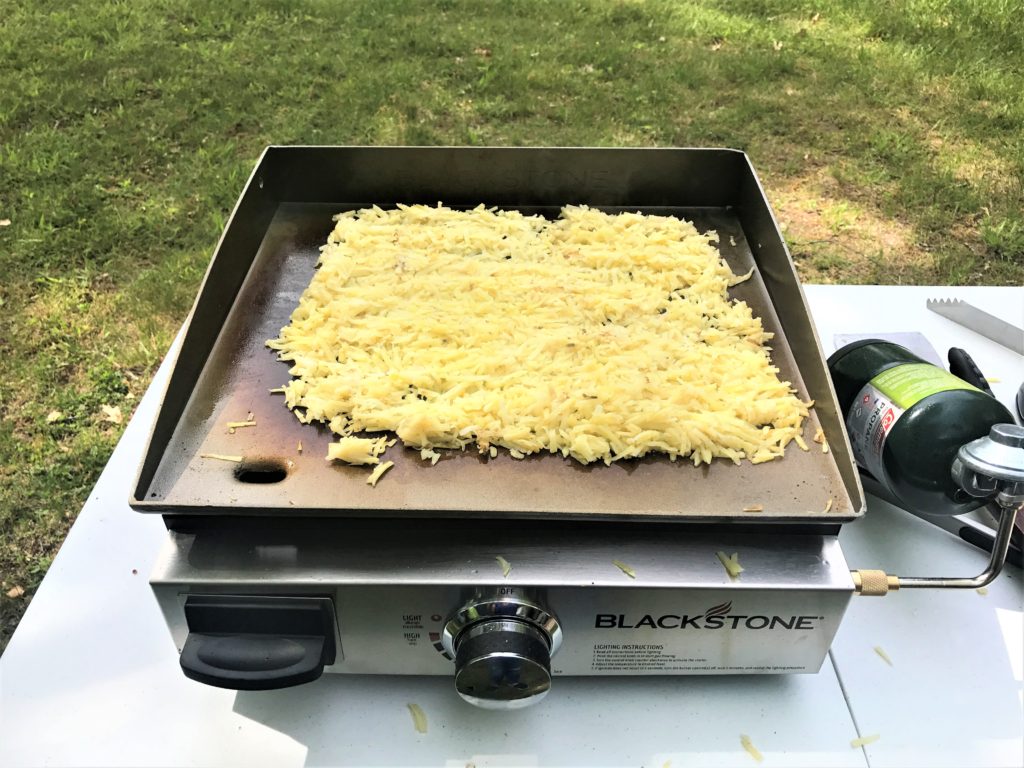 We seasoned the grill right at the campground and used it the next morning. We made bacon, eggs, and hash browns.
The eggs cooked so quickly and it was perfect to use to make Breakfast for Five!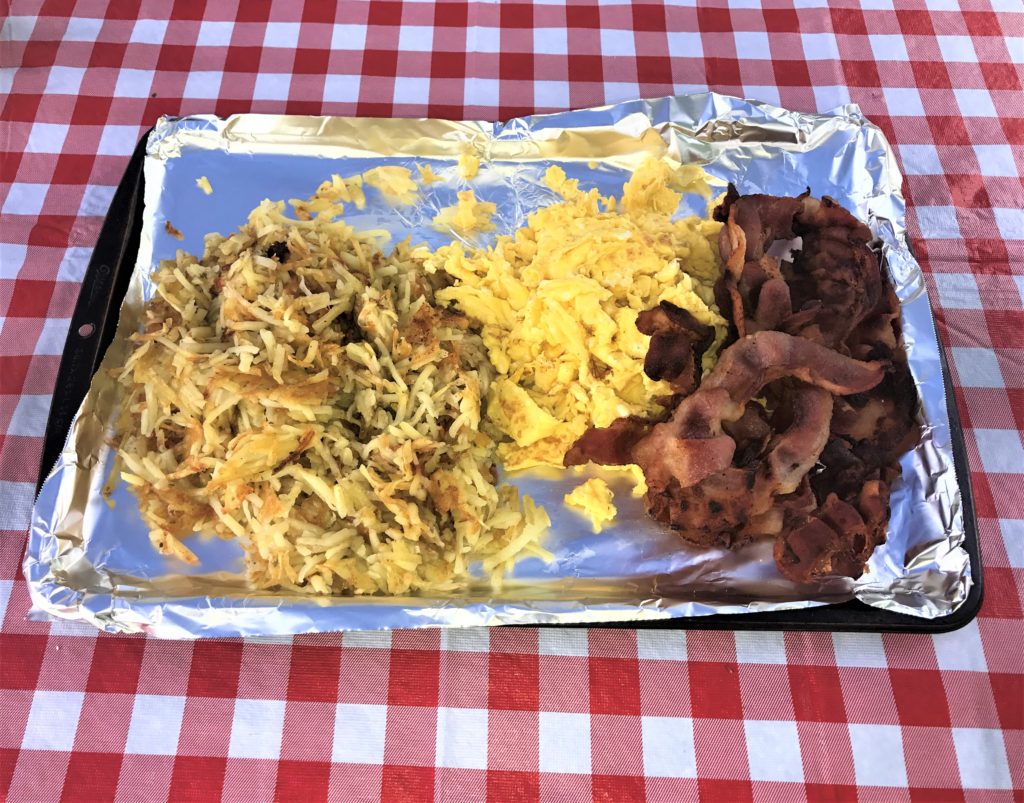 Before we had our Blackstone Griddle, I always watched other campers making breakfast outside on a grill…while I was inside cooking hash browns, eggs, pancakes and bacon inside the travel trailer on my 3 burner stove.
Now, I can be outside with everyone else making breakfast! That is if my husband lets me cook on it!
I did a full review of the Blackstone Griddle after we had used it a few more times. You can see my tips for how long it stayed seasoned (you need to keep seasoning it), the best way to clean the grill and recipes to make!
You can read the review of the Blackstone Griddle HERE
Well, that's it for now…let me know what are some of your "Fun" Must-Haves You Take Along camping!
More RV Camping Articles You Will Enjoy!
* 7 Awesome RV Camping Items You Need To Have
* What To Wear Camping – Top 5 Clothing Must-Haves
* 10 Ultimate RV Wish List Items
* How To Organize Your RV Camping Items
* 15 Tips & Must-Haves For New RV Owners
* How To Plan & Organize A Stress-Free RV Camping Trip
* Best Gift Ideas For RV Camping
* How To Choose The Best RV Camping Chairs
* How To Easily Set Up Your RV Campsite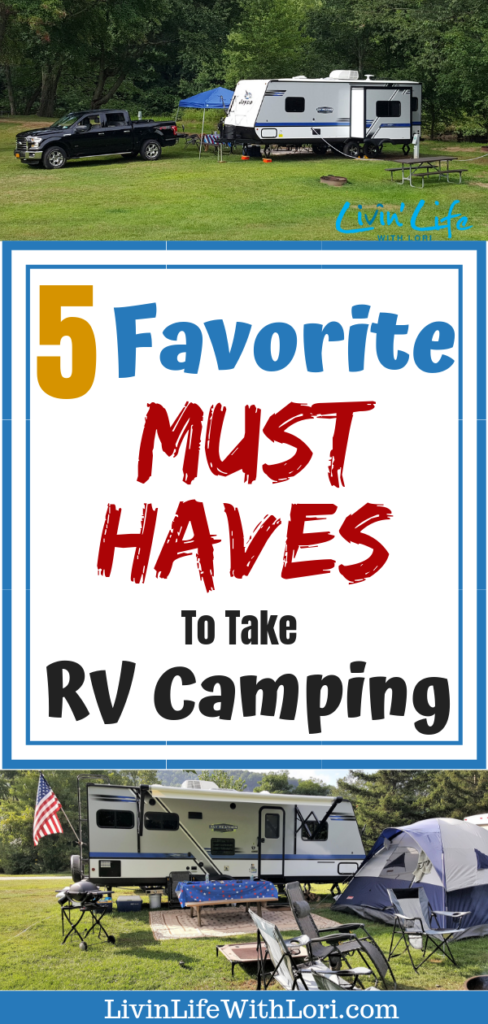 Please join my Email list!