Last Updated on September 21, 2019 by Lori
**Updated 9/21/19
I recently had the pleasure of experiencing a little restaurant in northeast Kansas – The Bread Bowl. If you're looking for some good 'ole fashioned comfort food – you will definitely find it here! My mom and dad have been talking about the restaurant for months – so I couldn't wait until my next visit to Hiawatha so we could try it out!
This post may contain affiliate links. Please see our Disclosure Policy for more information.
The Bread Bowl is not open every day– so before you go, be sure to check their FaceBook page for days and times.
The restaurant also posts their Specials of the Day on FaceBook (which always look delicious)!
My brother visited my parents a week earlier and the restaurant wasn't open on the days they were available.
So, of course, I wanted to be sure to eat there so I could text him photos and tell him how good it was! (What a good sister…!)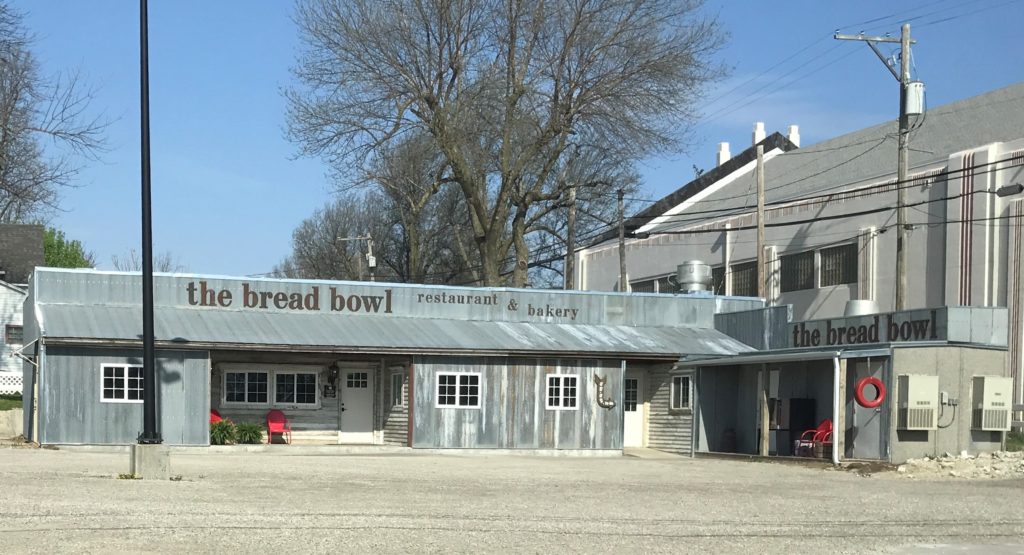 We planned on an early Thursday dinner – or "supper" as those in Hiawatha would say – at 5:00 p.m. We left the house at 4:40 – yes, at 4:30 my mom began to put her shoes on and said, "Let's go!"
I said, "We're leaving at 4:40 for a five-minute drive to the restaurant?"
I was then told, "You bet – So we can get a spot!"
Now, living in New York and being used to traffic and crowds like none other – I had no idea why we would have to "get a spot" for a restaurant at 5:00 in a town of approximately 3,200 people – but I dutifully got in the car as instructed!
As we pulled into the parking lot at 4:45 – I couldn't believe it.
There were already five or six people waiting on the porch of the restaurant!
See how cute their porch is?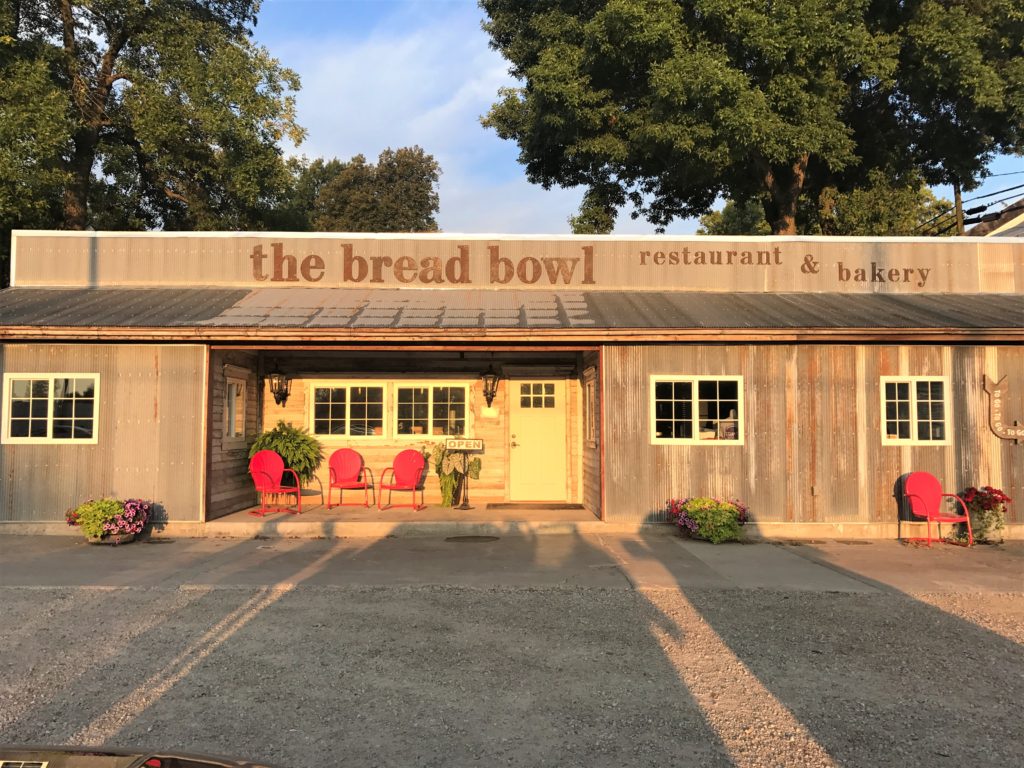 People were sitting in the chairs and standing in line waiting for the doors to open. I thought to myself – This isn't New York! There's a LINE to get into the restaurant in Hiawatha?
I had no idea we would have to wait in line for the restaurant to open! As we waited, more and more people pulled into the parking lot. I soon realized what my mother was talking about!
Since I've been a New Yorker for almost 30 years, I was feeling anxious…where was everyone going to sit? From the outside, the restaurant didn't look that big. Was there going to be enough seating for everyone?
I inched closer to the porch to secure our place in line… As we waited, some women began arriving carrying presents and I overhead them saying they were coming for a birthday celebration.
Each one stood with the others who had already gotten in line (ahead of us of course) so our place of 5-6 soon became 10-12.
I inched even closer to the porch… Soon the doors opened.
We all filed in for our early "supper" and found a table to sit.
I was pleasantly surprised by how much room there was! That 'ole New Yorker worry was for nothing!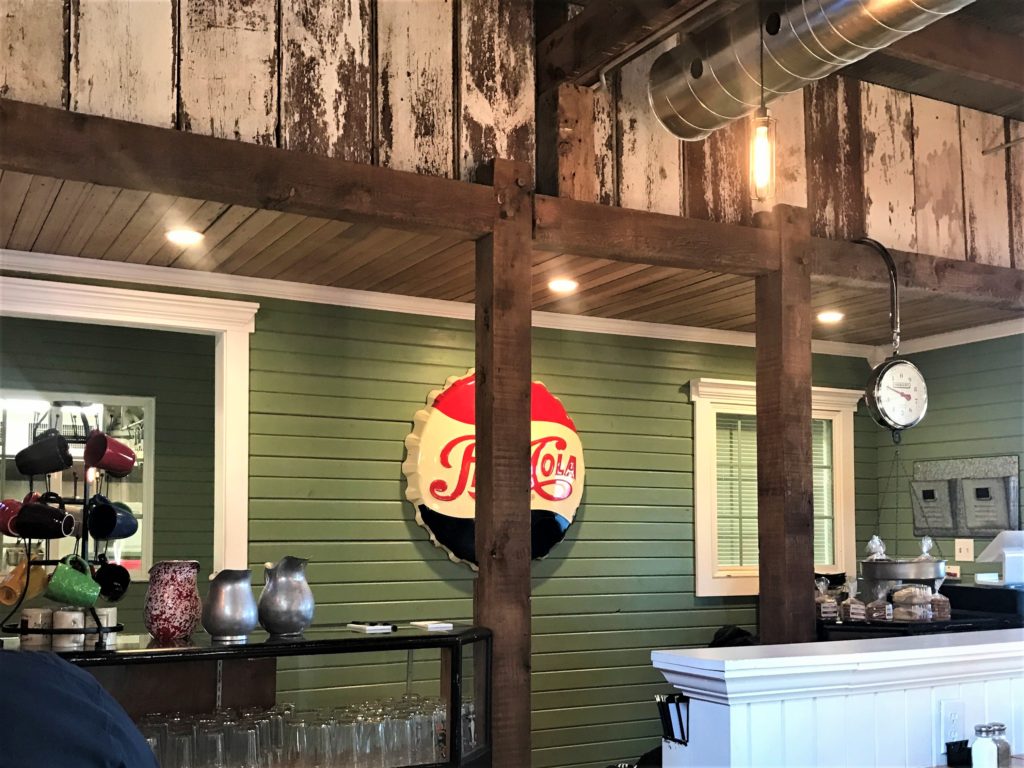 The décor was so cute! I loved it! The birthday party? They had a nook all to themselves.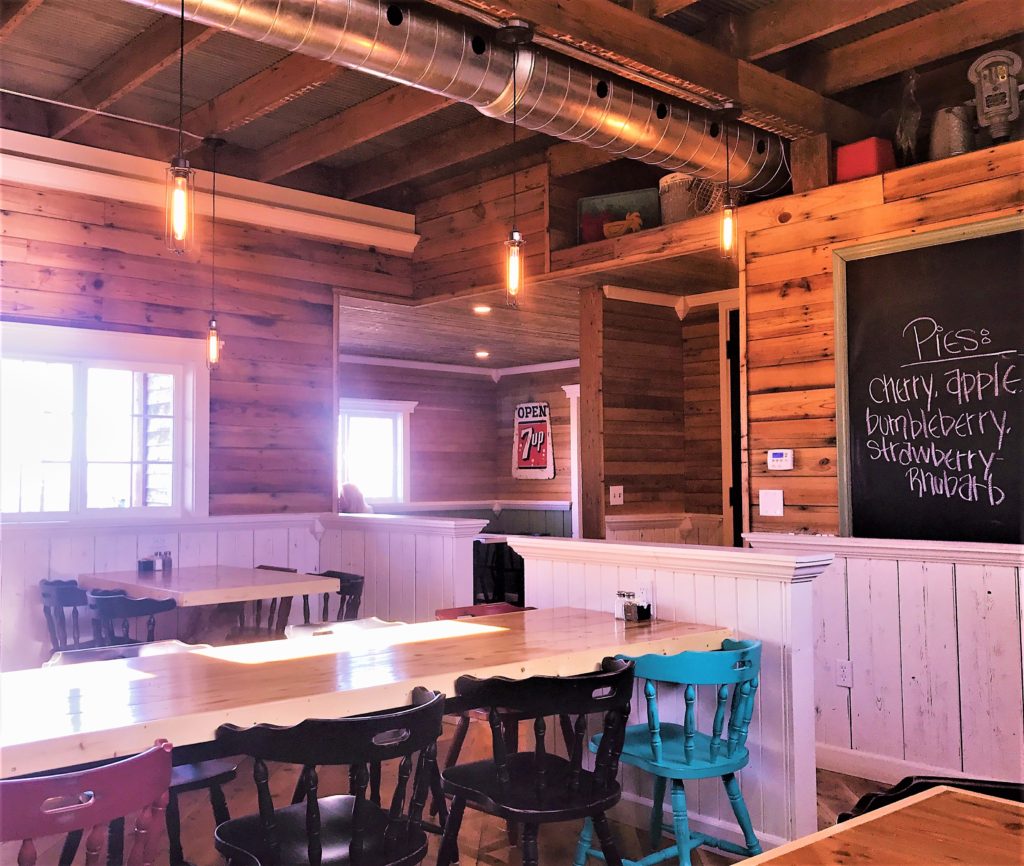 My mom and dad said that one of the restaurant's specialties was Bumbleberry Pie.
That's all they kept talking about was that PIE!
Have you ever heard of Bumbleberry Pie? Me either.
I turned to look at the chalkboard with the evening's specials – Yep! There is was…Bumbleberry Pie.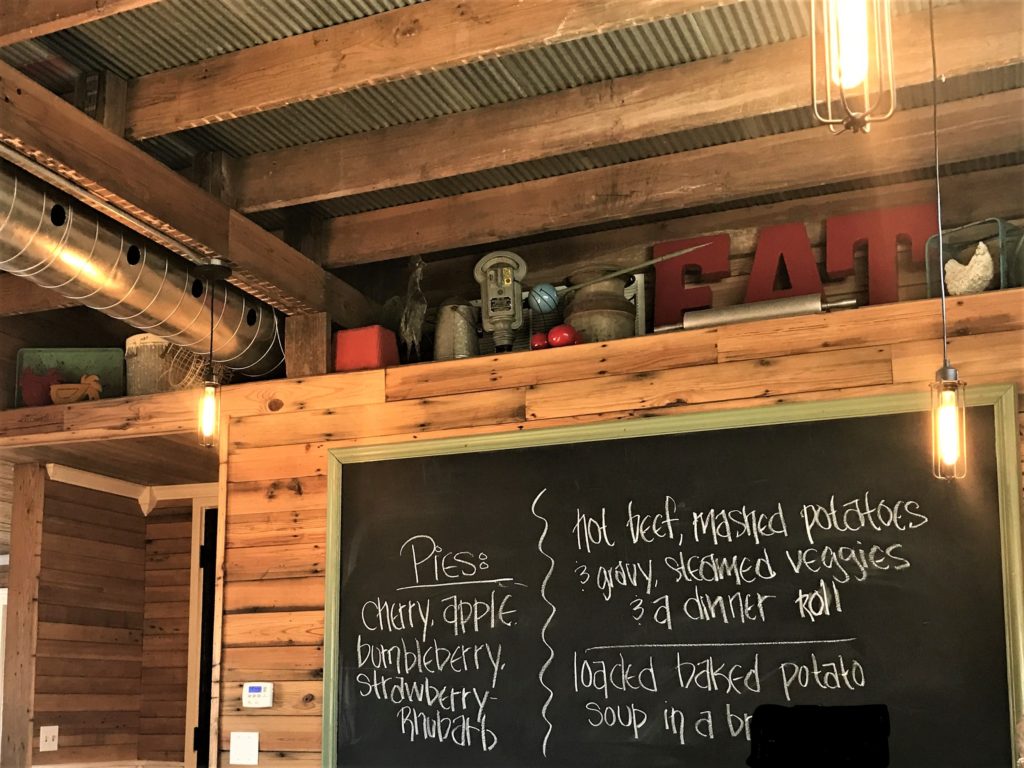 I also saw "Hot Beef, mashed potatoes & gravy, steamed veggies & a dinner roll"
Yummmm…that's what I was having! Good 'ole comfort food!
After we had ordered, my dad said, "We forgot to order our pie!"
I said, "You mean we don't order it after our dinner?"
He grinned, "No…they might run out!"
So, we flagged down the waitress and ordered our Bumbleberry pie.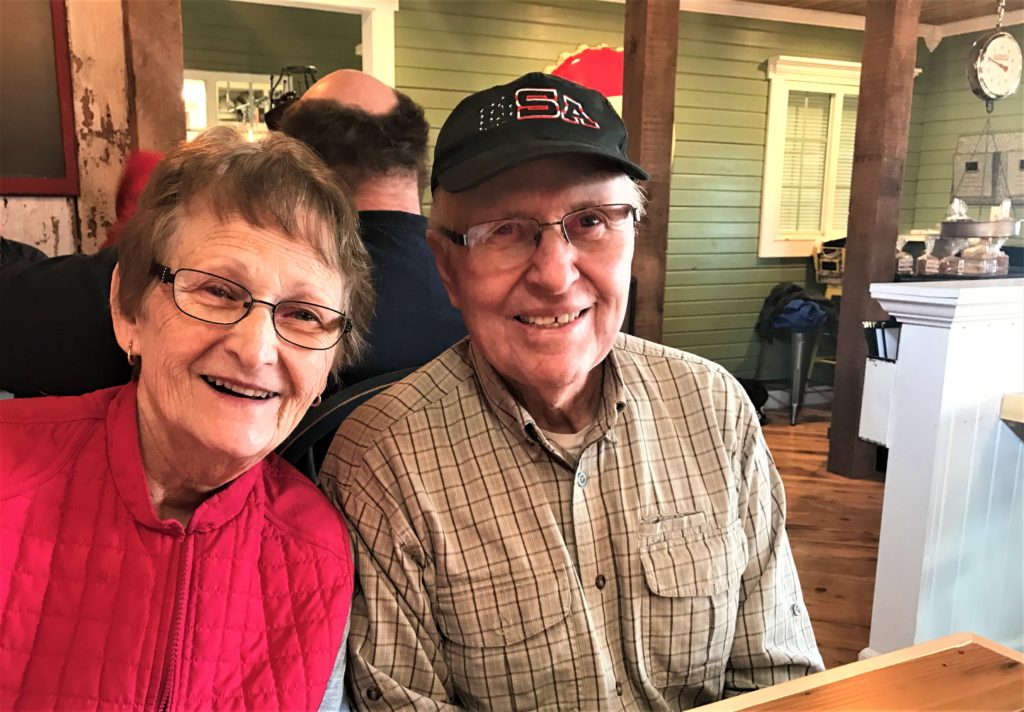 It wasn't too long before my roast beef arrived.
It was served on such a cute plate too! And do you see that butter?
That's not just any butter…it's a honey butter which melted so nicely on that fresh homemade roll…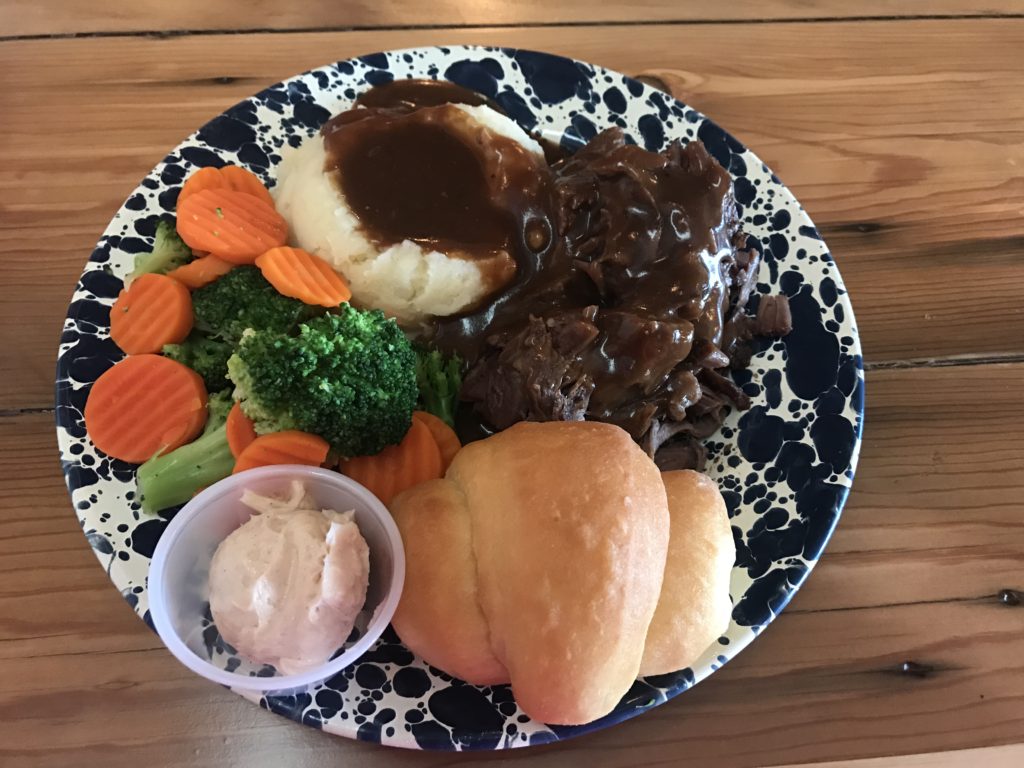 My dad chose the smoked pork chop with coleslaw and a baked potato. Oh and that freshly made roll too!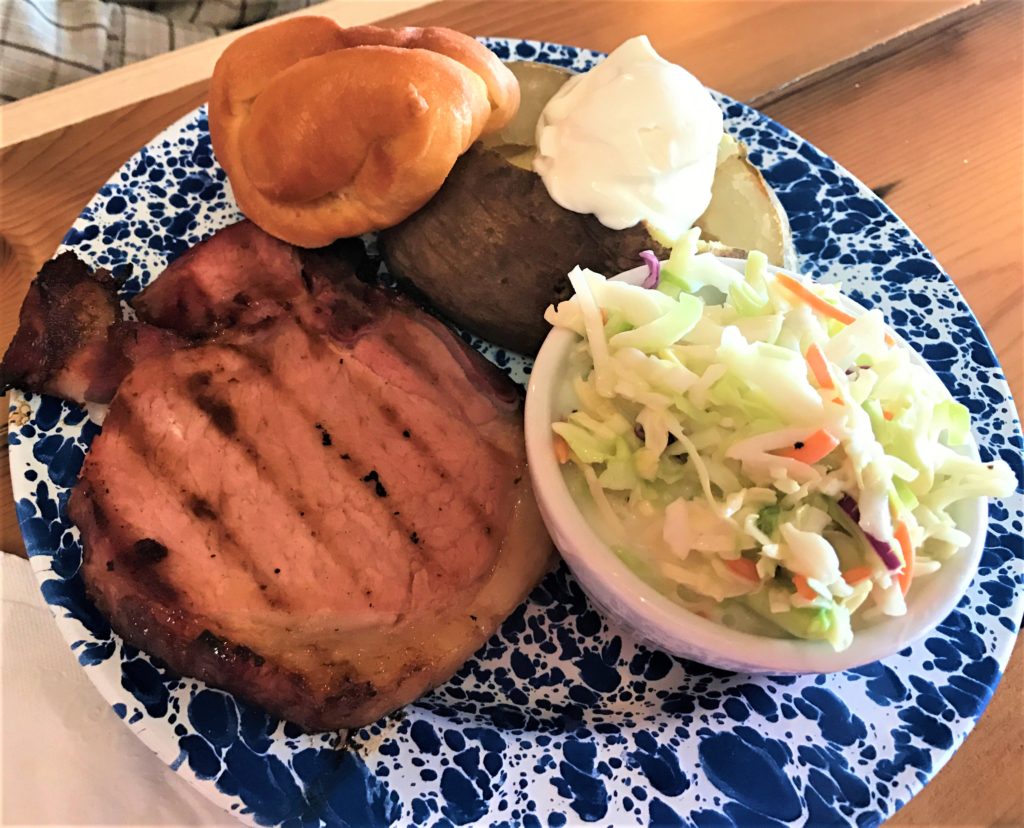 My mom had the loaded Baked Potato that was also on the menu.
I would show you a photo but she dug into it before I could snap a photo!
Then…that famous Bumbleberry Pie arrived.
The waitress told us it was fresh from the oven and it was!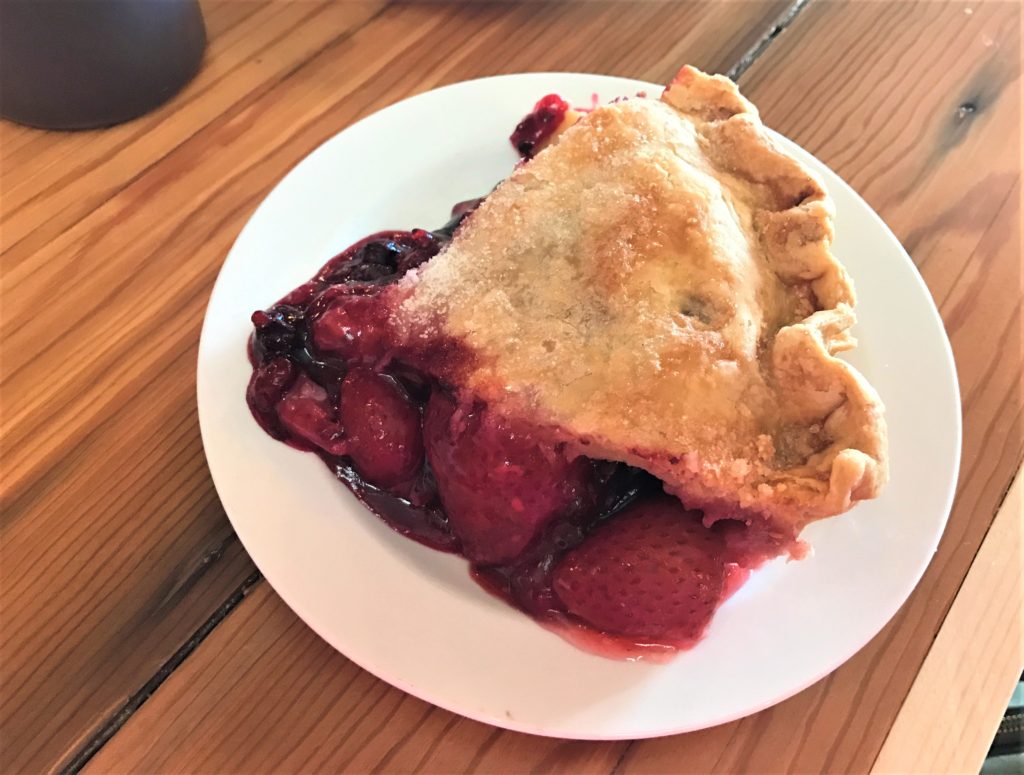 That pie lived up to its reputation. It was delicious!
The restaurant was busy not only with people eating inside the restaurant, but also people coming in for take-out too.
This family-owned restaurant opened the dining room area in 2018, but they have been serving Hiawatha with sandwiches, wraps, donuts, pie, cookies and cinnamon rolls since 2014.
** Here's an Update To The Bread Bowl!
Did you know…
The Bread Bowl now serves Breakfast?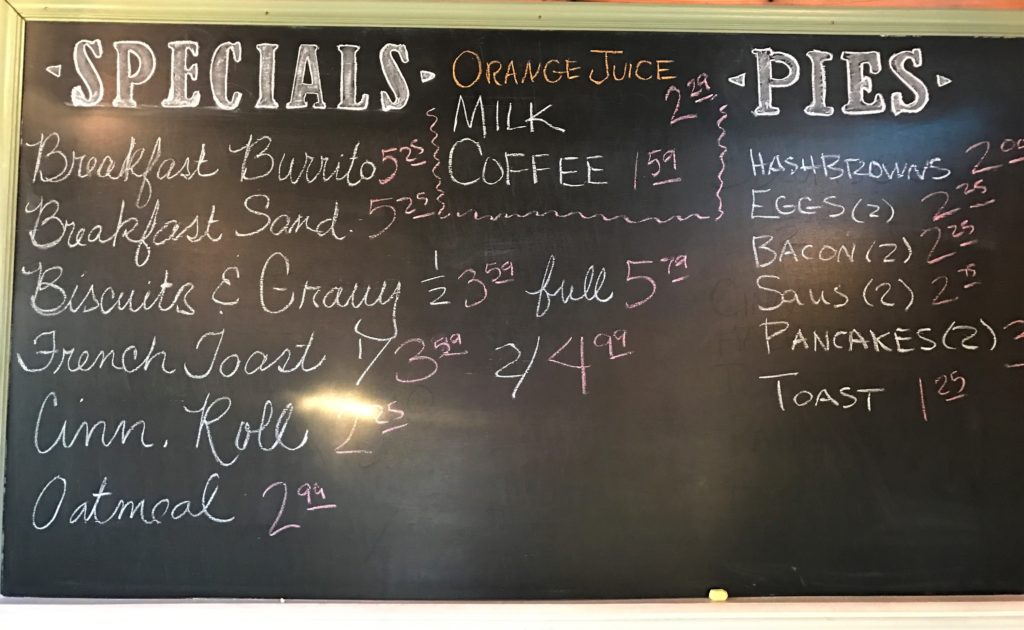 Recently, I saw on Facebook that The Bread Bowl is now open for Breakfast!
I couldn't wait to go to try it out! On my next visit to Hiawatha, my parents and I planned our visit to The Bread Bowl for breakfast.
It did NOT disappoint!
Breakfast is served beginning at 6:30 a.m. – Tuesday – Friday. Saturday 7 – 10:30 a.m.
(The Bread Bowl is open for Lunch Tuesdays – Fridays & Supper (Dinner) on Thursdays & Fridays!)
Be sure to check their Facebook page for exact days & times before you drive to the restaurant!
We arrived around 8:00 a.m. and the "early morning crowd" was just leaving.
As my daughter and my mom were ordering their pancakes, they were asked, "Do you want regular syrup? Or homemade?"
Let me give you a word of advice…
Go for the Homemade syrup.
It was delicious!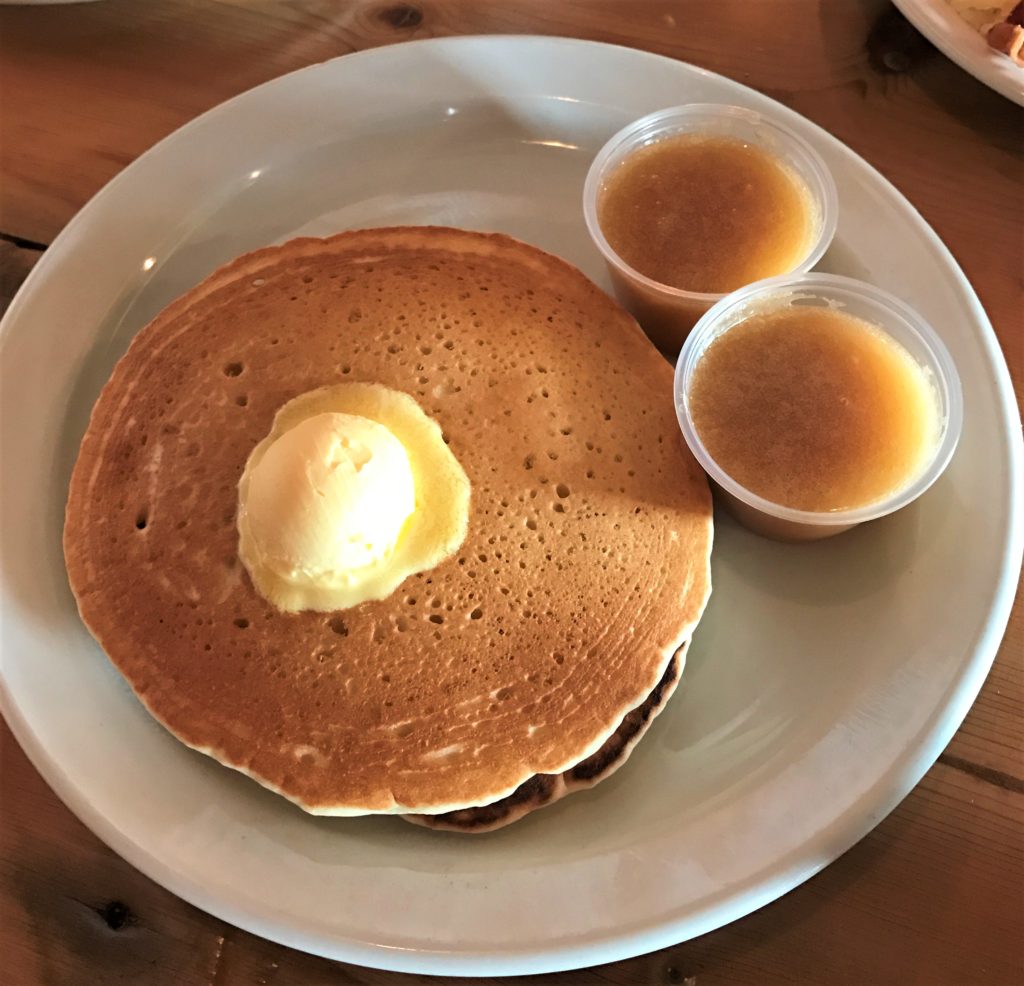 I ordered two eggs over medium with a side of hashbrowns and bacon. The farm fresh eggs were made perfectly along with the crisp bacon and hashbrowns.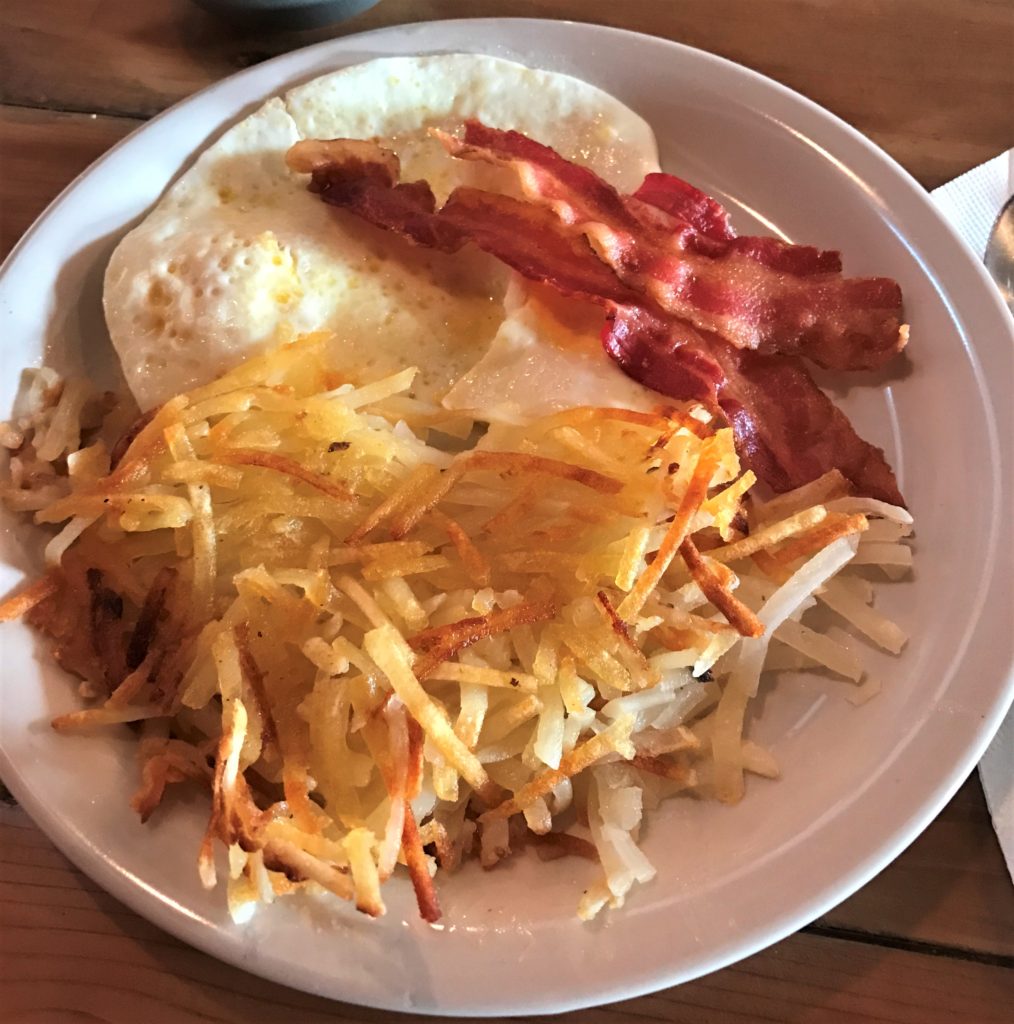 My dad ordered scrambled eggs, hashbrowns…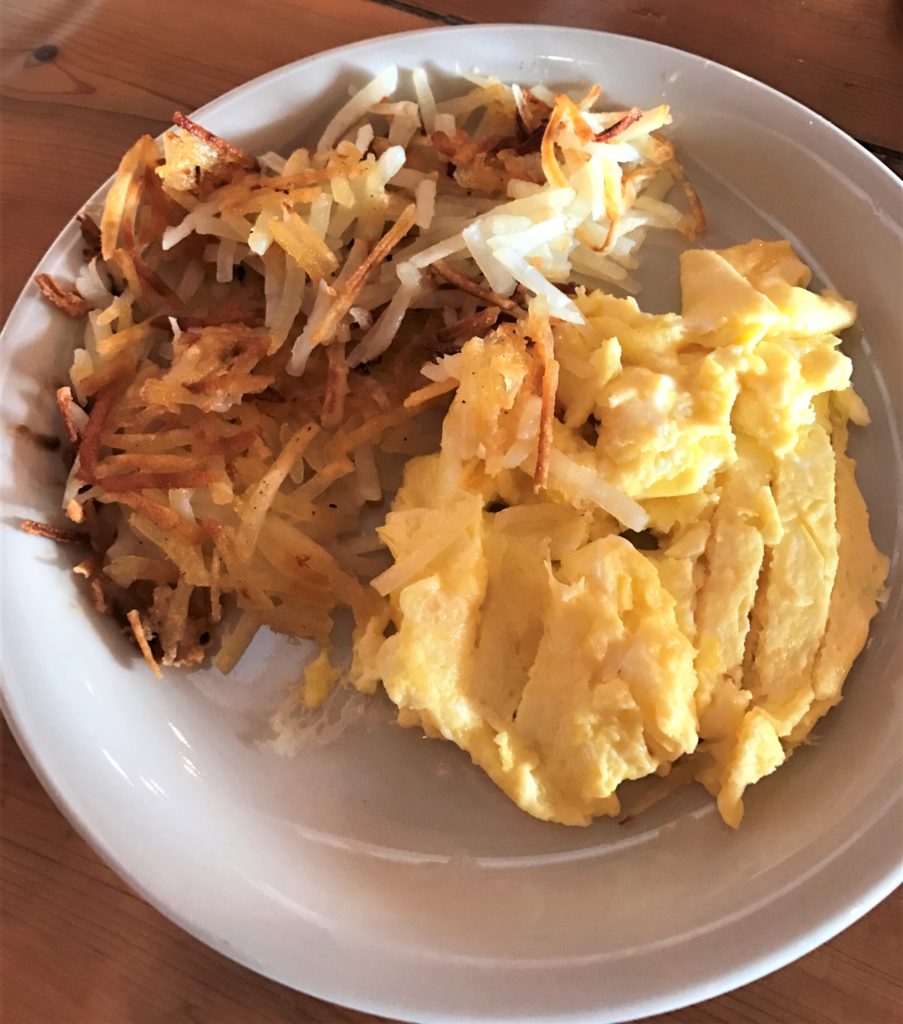 and French Toast with that homemade syrup!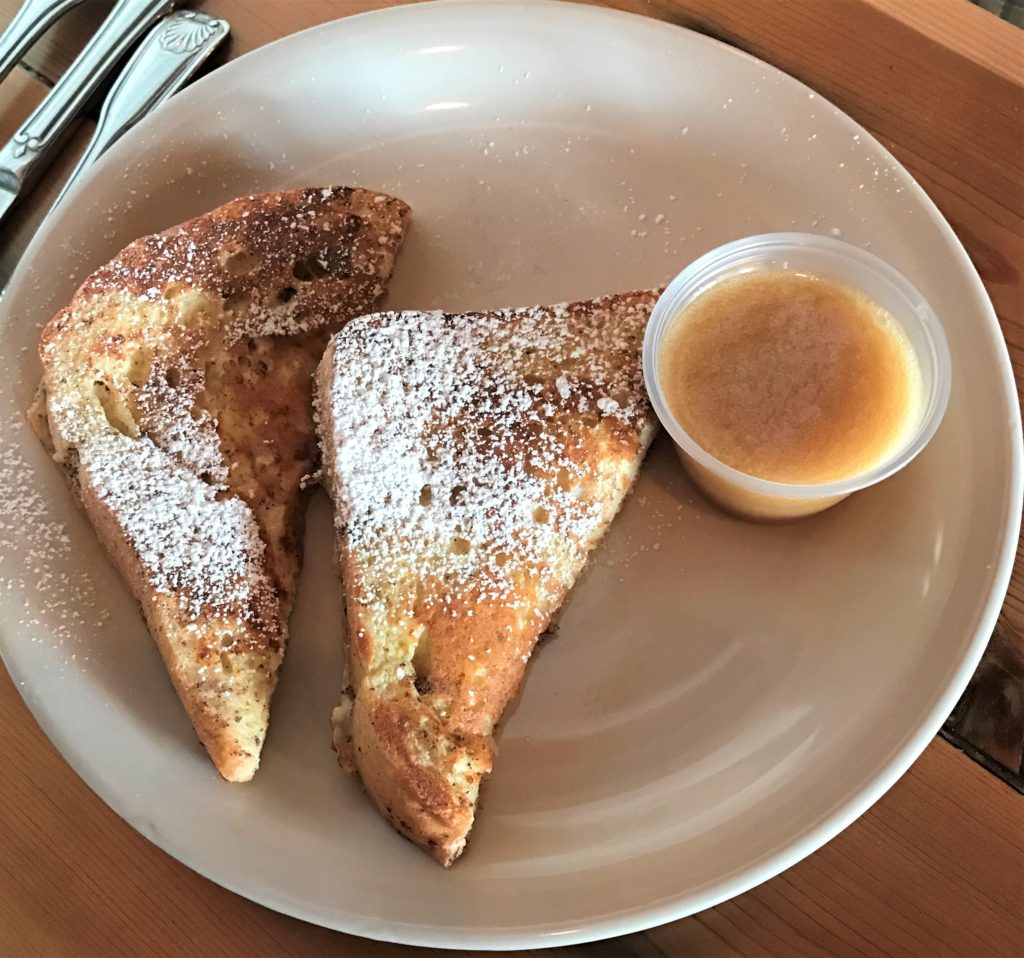 In addition to my daughter ordering the pancakes, she also ordered scrambled eggs, bacon, and hashbrowns! She had absolutely no trouble eating it all!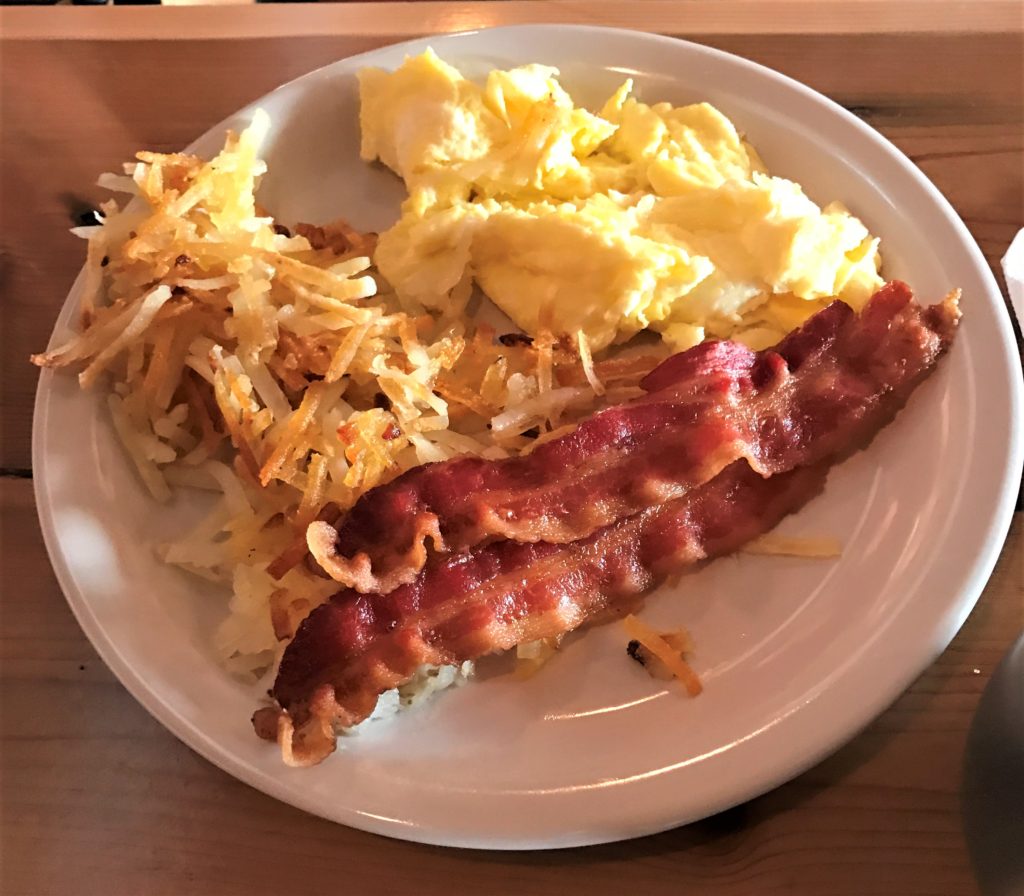 The Bread Bowl has homemade donuts on Fridays too!
It's definitely the place to eat in Northeast Kansas.
Located at 100 Oregon Street, The Bread Bowl is a family-run restaurant/bakery that specializes in homemade pies, breads, cinnamon rolls, and more.
They now serve breakfast along with lunch and supper (dinner).
If they continue to serve the delicious food I tasted, I know they will be serving Hiawatha for many years to come!
So, if you're in town for the high school reunion, driving through Northeast Kansas on Highway 36 or Highway 73, be sure to plan your trip to stop in Hiawatha and eat at The Bread Bowl!
Oh! And after telling people about eating at The Bread Bowl, I heard from people over and over about their salads too! That's what I'll be getting next time!
And don't forget to get there early to "Get your spot!"
The opinions stated are based on my own experience at The Bread Bowl. I was not compensated for my meal or to write this blog post.