Last Updated on August 10, 2021 by Lori
If you love camping by a lake, then you need to be camping at Keen Lake Camping & Cottage Resort in the Pocono Mountains!
Keen Lake Camping & Cottage Resort is a family-friendly campground where you can enjoy the peace and quietness of a beautiful lake in the Poconos. The privately-owned spring-fed lake provides the perfect family camping experience in the Northeast PA Poconos.
The Best Poconos Camping
Keen Lake Camping & Cottage Resort is one of the most popular campgrounds in the Pocono Mountains.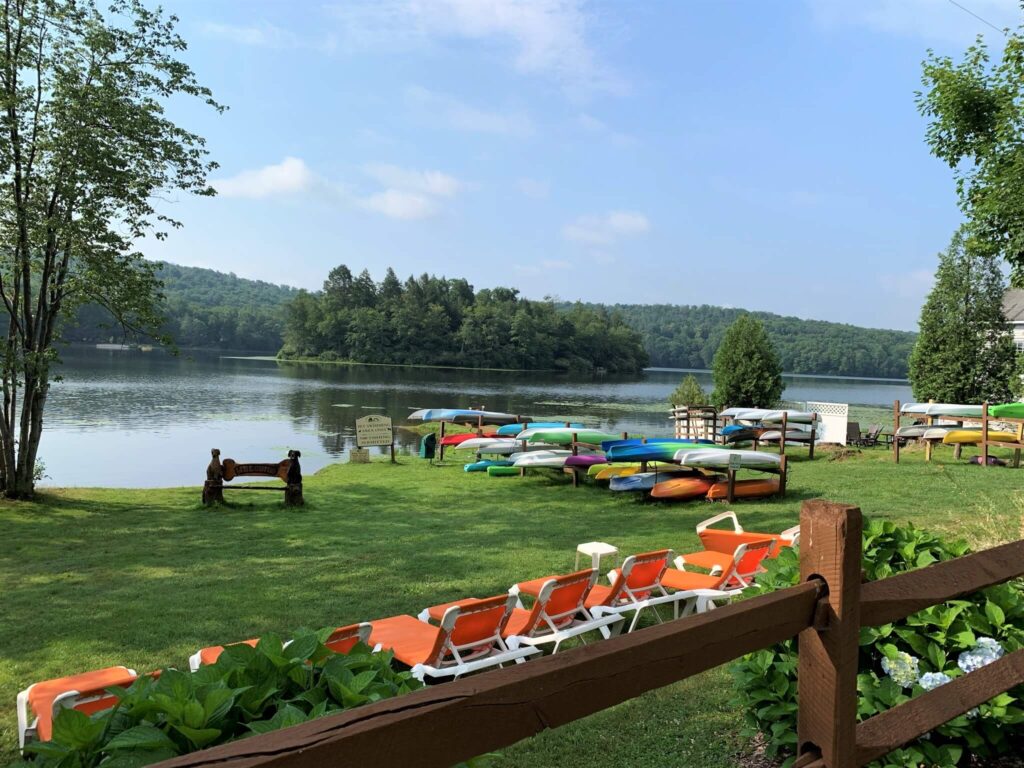 After hearing about the campground for years, we decided to see what everyone was talking about!
Here's our review of Keen Lake Campground and our experience camping in our travel trailer!
This post contains affiliate links which means if you click on a link and make a purchase, I will earn a commission at no additional cost to you. Please see our Disclosure Policy for more information.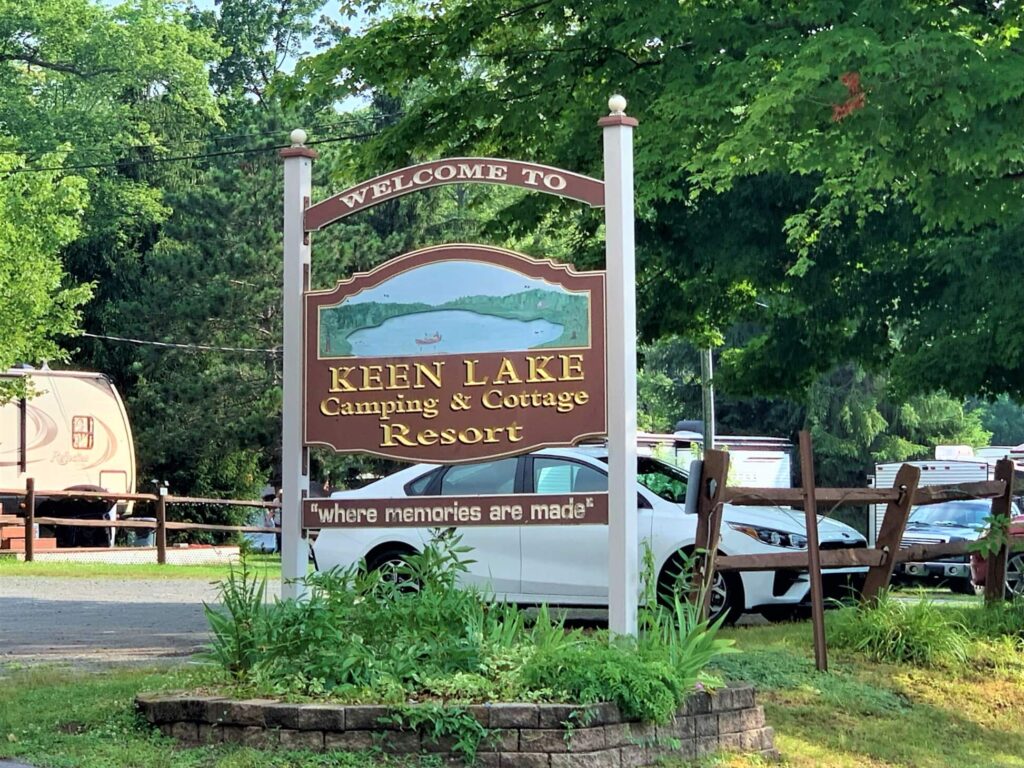 Where Is Keen Lake?
Keen Lake, located in Waymart, PA, just off US Route 6 (6 miles between Carbondale and Honesdale) in the Pocono Mountains.
For reference, the GPS said it would take us 3.5 hours from Long Island, New York (it actually took us 5 hours due to an accident on the George Washington Bridge, but who's counting!). However, it only took us 4 hours on the return trip home.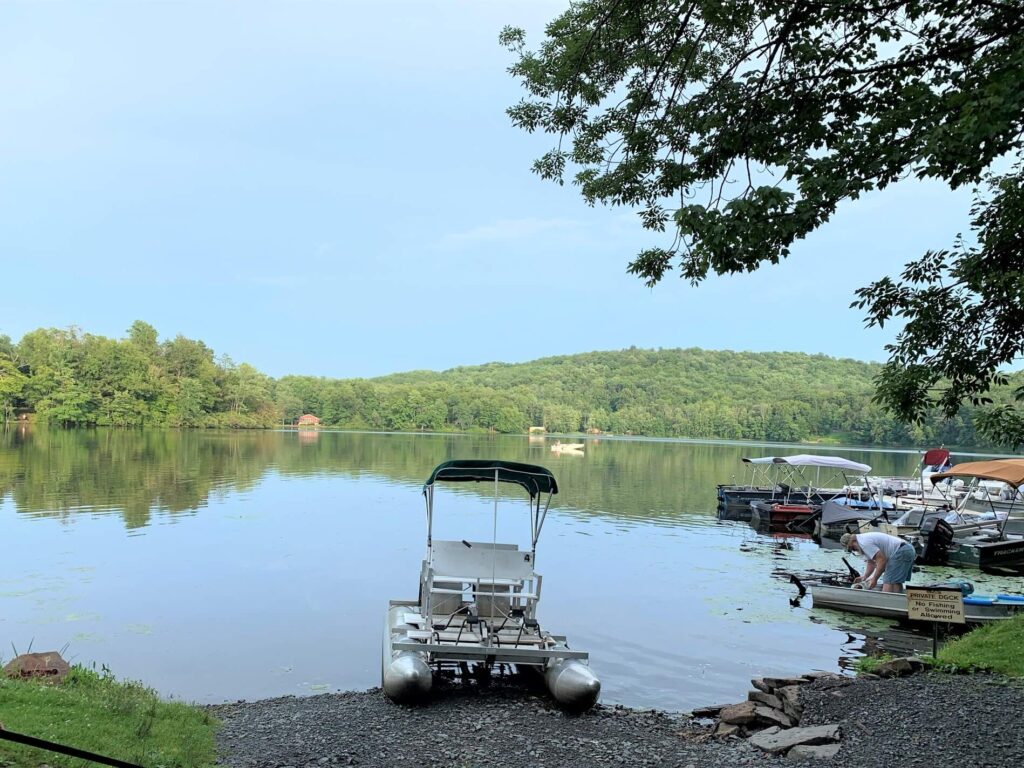 History of Keen Lake
The Keen family purchased land in 1814 on what was then Elk Forest tract. a gravity coal-mining railway system ran through the entire length of what is now Keen Lake Campground and Cottage Resort.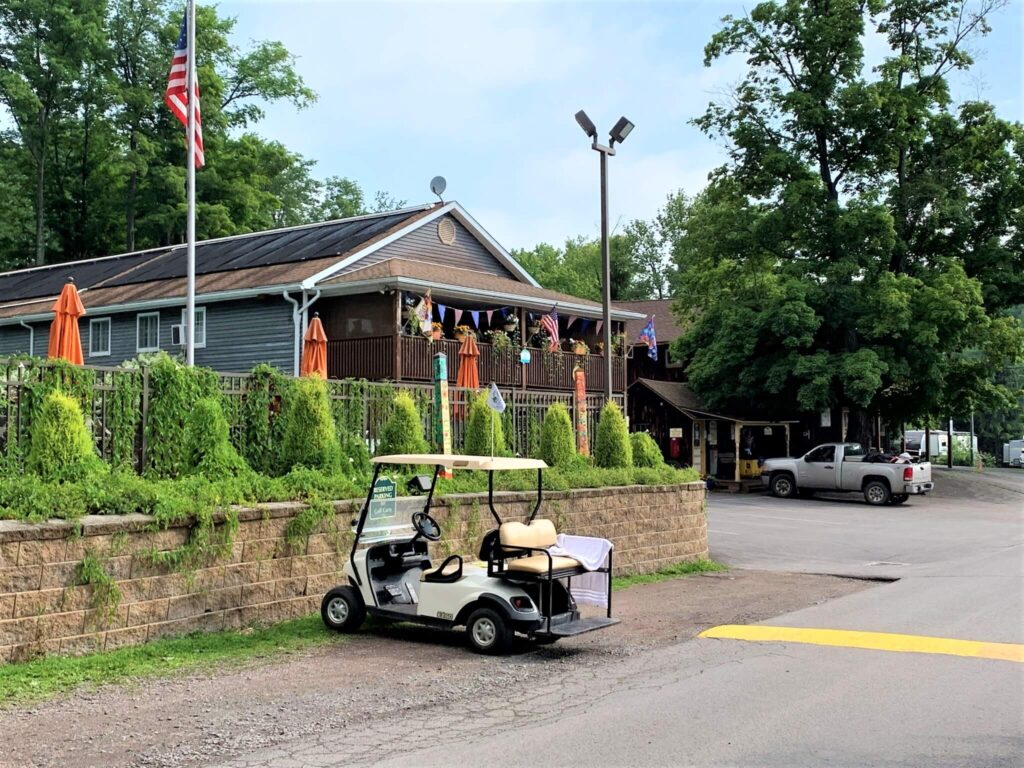 Keen Lake Camping
Keen Lake Camping & Cottage Resort is a very large (and busy) campground! The campground has over 150 sites for RV camping and tent camping plus cottages and family glamping experiences!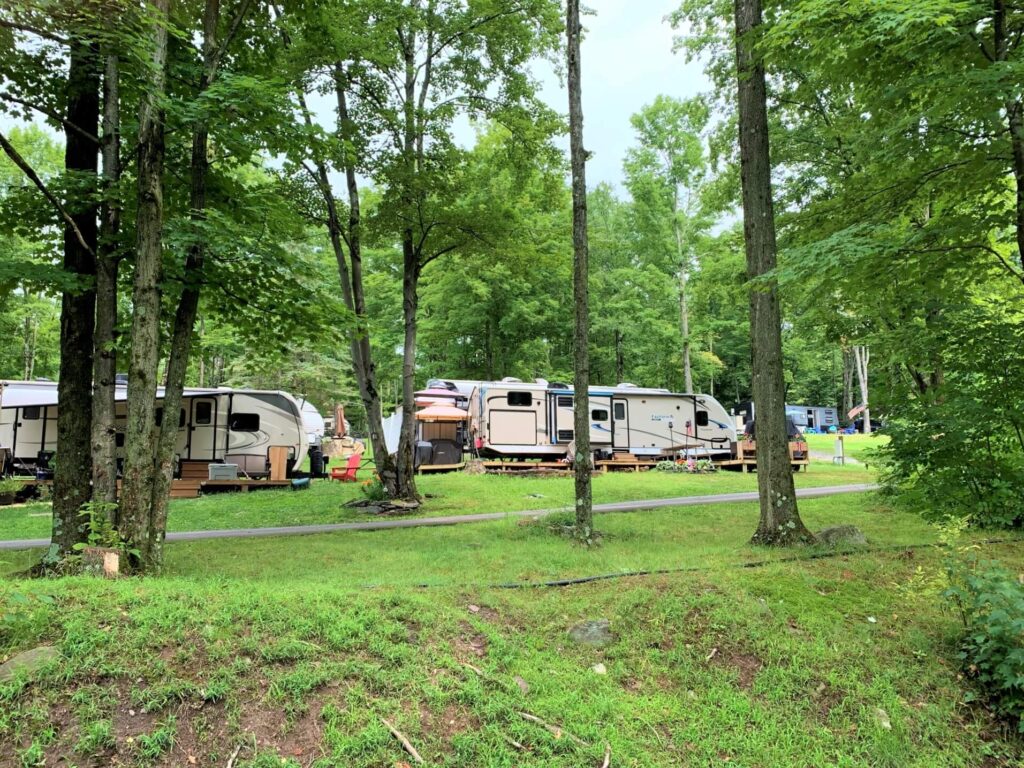 The office and camp store is located adjacent to the pool and beach area so be sure to use caution when entering the campground with your RV or travel trailer, especially during busy times of the day.
Check-in was easy and the person at the desk was very pleasant answering any questions I had about the campground.
After receiving our campground map with directions on the best way to get to our RV site, away we went to explore this beautiful campground!
Keen Lake Campground Map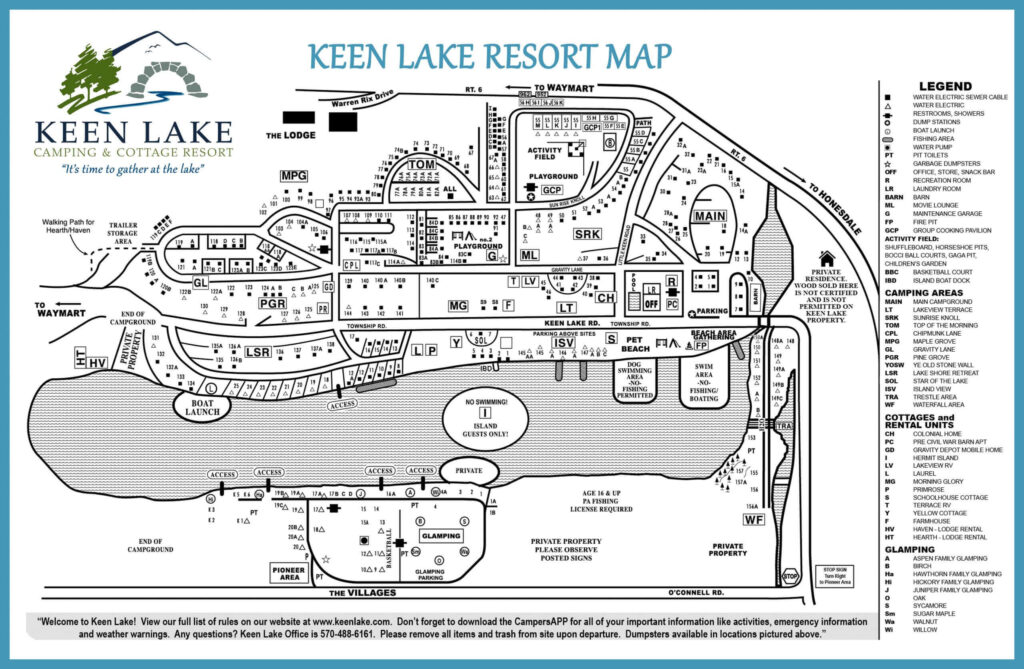 Our site, #133, was located on the opposite side of the campground. As we turned onto the roadway leading to our campsite, we immediately saw that we were on a hill.
Yes, we've had to back into previous sites that were located on a hill, but not our favorite thing to do!
This site was tight – as were most of the sites near the lake; however, we liked our location because it was not only quiet, but the site backed into the woods and had a small creek behind it.
Each campsite is equipped with a picnic table and fire ring. We also chose a site with full hookups (W/E/S).
Our site was gravel but not level. We had to use our Lynx Levelers to level the trailer – but even then we didn't have enough levelers and I felt that our trailer was leaning when I was in bed!
Lesson learned – even after five years of traveling – we need more levelers!
We noticed many seasonal campers at the campground. You can see them greeting one another as they rode by on their golf carts and how they gathered by the pool area or the community firepit to talk.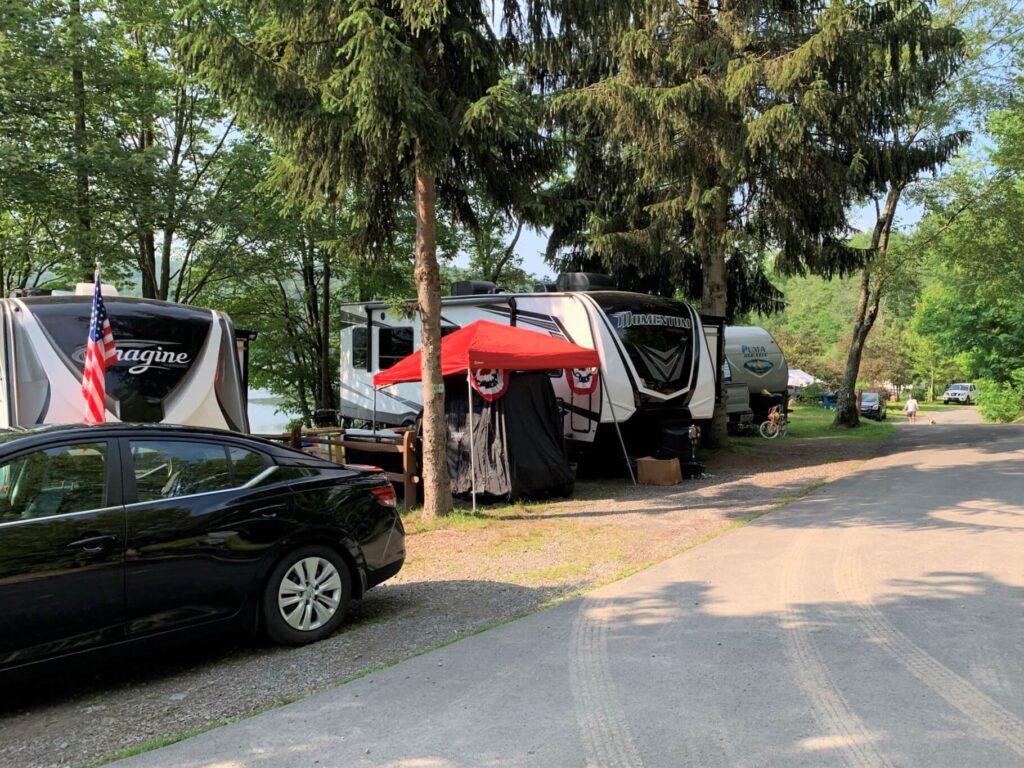 We also spoke to quite a few people who camp year after year at Keen Lake bringing their children and grandchildren camping.
Keen Lake is that kind of place where you will make friends quickly and look forward to seeing them again next summer!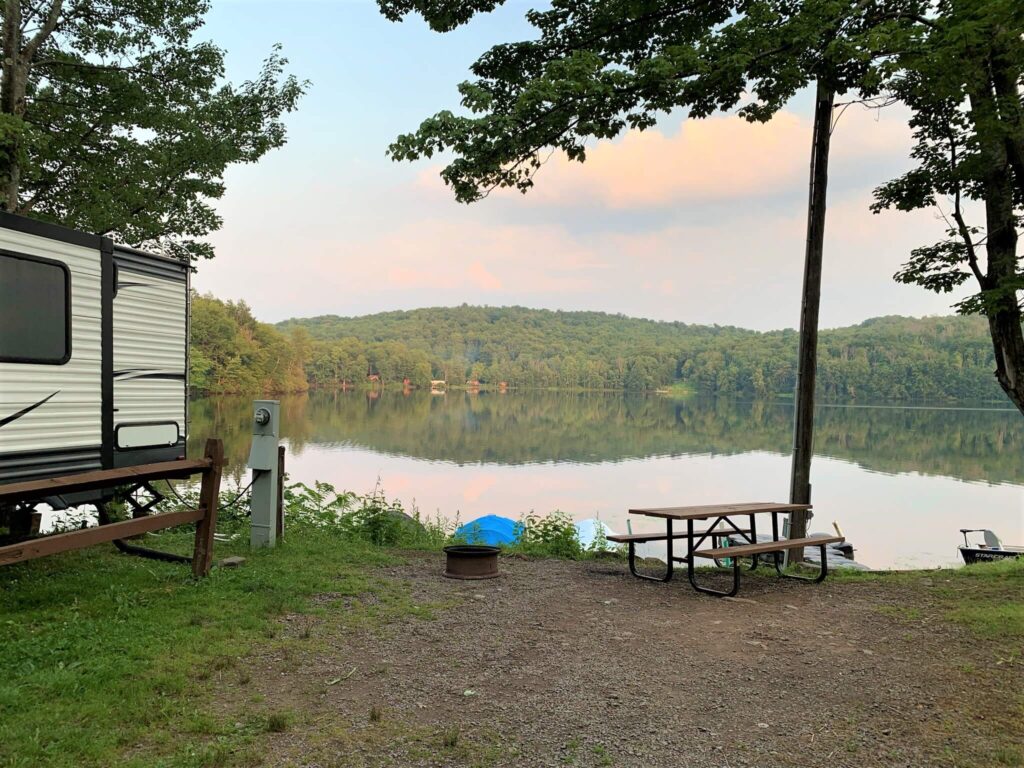 Keen Lake Camping Resort Amenities
There are many activities for kids to take part in throughout the day!
Pro Tip – One of the first things I did was to sign up for the CampersApp.
I highly suggest signing up for this app for every campground you visit!
The app will notify you on your phone of activities going on like "the movie is starting soon in the Movie Lounge" or "Dodge Ball starts in 10 minutes!"
The app will also notify you of important messages (i.e. the water will be turned off at 2 p.m.), as well as important campground telephone numbers.
It is available on both Google Play and the App Store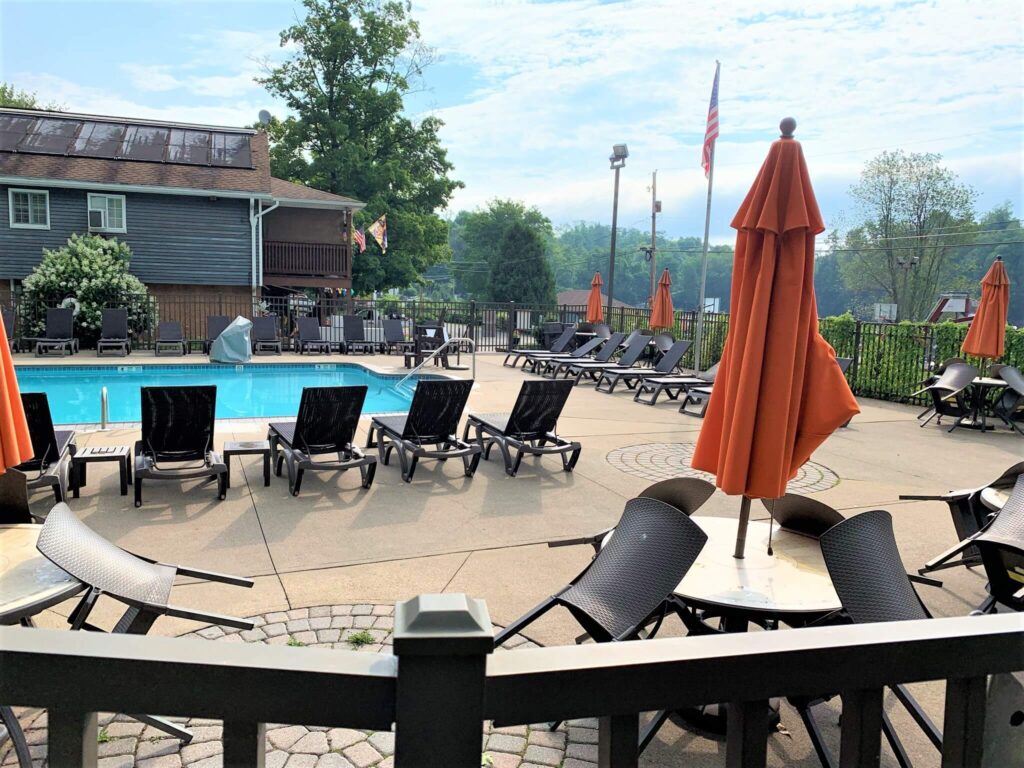 Amenities At Keen Lake
Swimming pool
Movie Lounge
Game Room
Playground
Basketball & Volleyball courts
Lake Swimming
Communal Fire Pit
Pet Beach/swimming area
Kayak, Rowboat & Aqua-Cycle rentals
Camp store
Snack Bar
Free WiFi
On-Site Laundromat
Fishing Supplies & Bait
Pet Beach At Keen Lake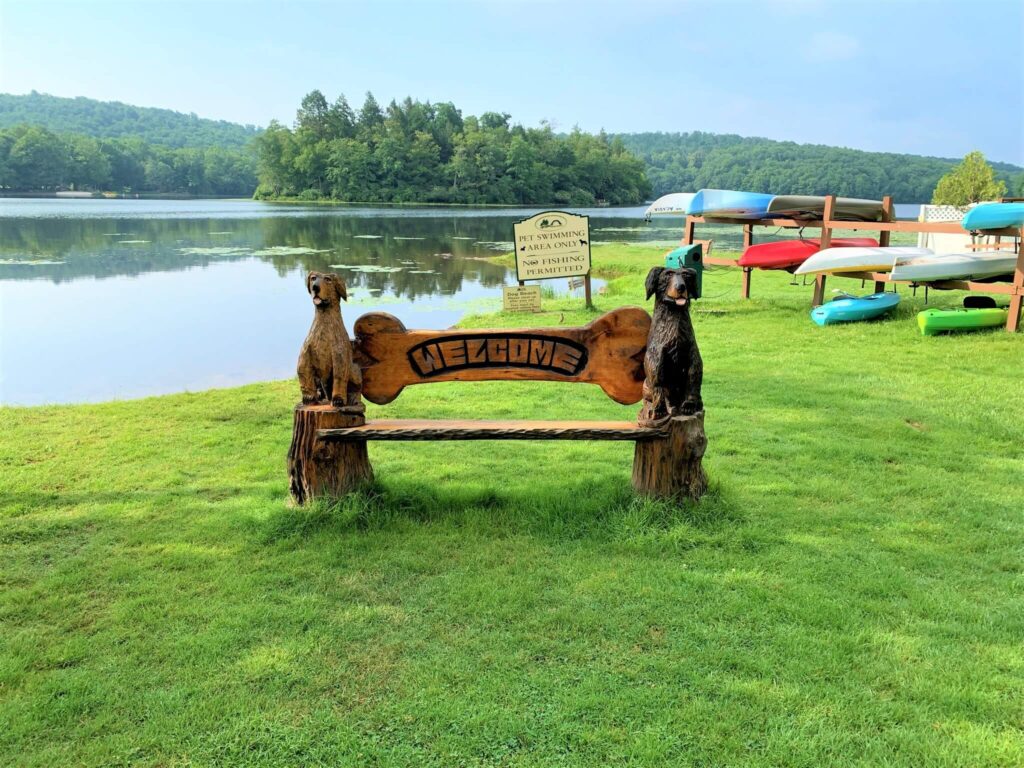 It was nice to see an entire area of the lake for your dog to take a dip in the lake!
There is a large area of the lake sectioned off with lounge chairs and shady areas so that you could let your dog take a swim or fetch the ball.
Things To Do Near Keen Lake
We love to explore the area where we are camping. Finding quaint small towns with general stores, an unexpected pull-off where we find a beautiful hike, or just see awesome views is one of the reasons we love to travel.
We had planned to rent kayaks and paddle around the lake but every afternoon of our trip, there were severe thunderstorms.
So, we decided to skip the kayaks and take a drive to find one of those "gems" that we love to find!
After checking the "Things To Do Near Me" on TripAdvisor, we found Prompton State Park and Prompton Dam.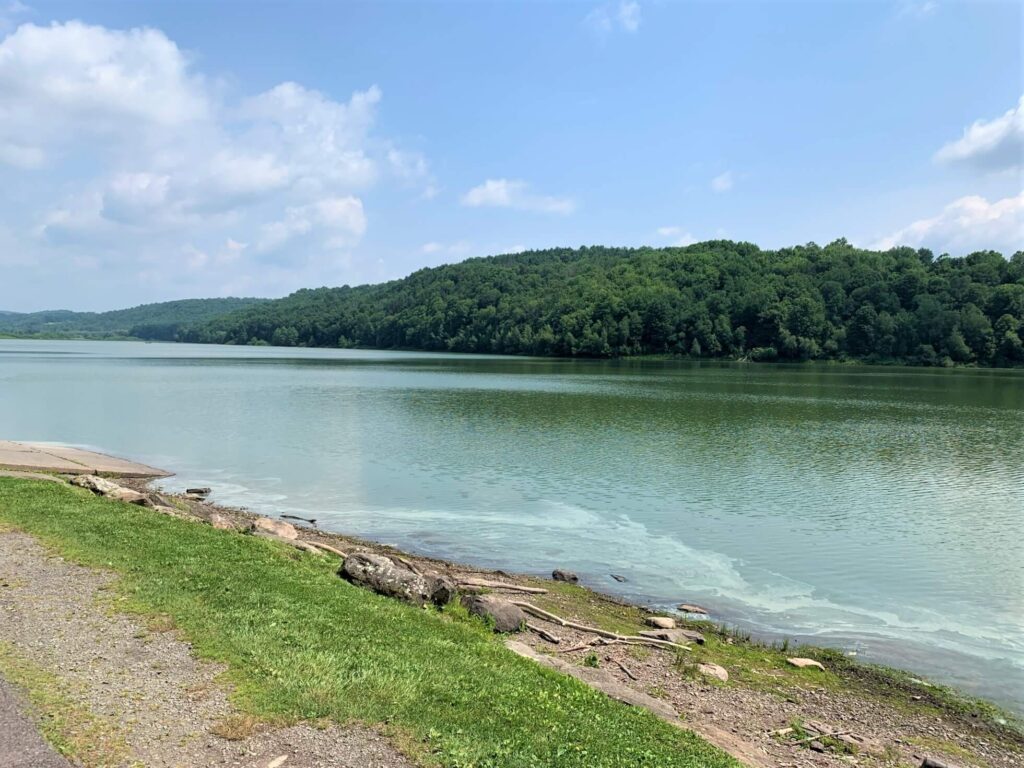 Prompton State Park has an amazing Disc Golf course and we enjoyed watching several people throwing with precision their disc and hitting the target.
Then we headed to the Third Largest Lake in Pennsylvania – Lake Wallenpaupack a man-made lake built in 1926 covering 5,700 acres and 13 miles in length with 52 miles of uninterrupted shoreline.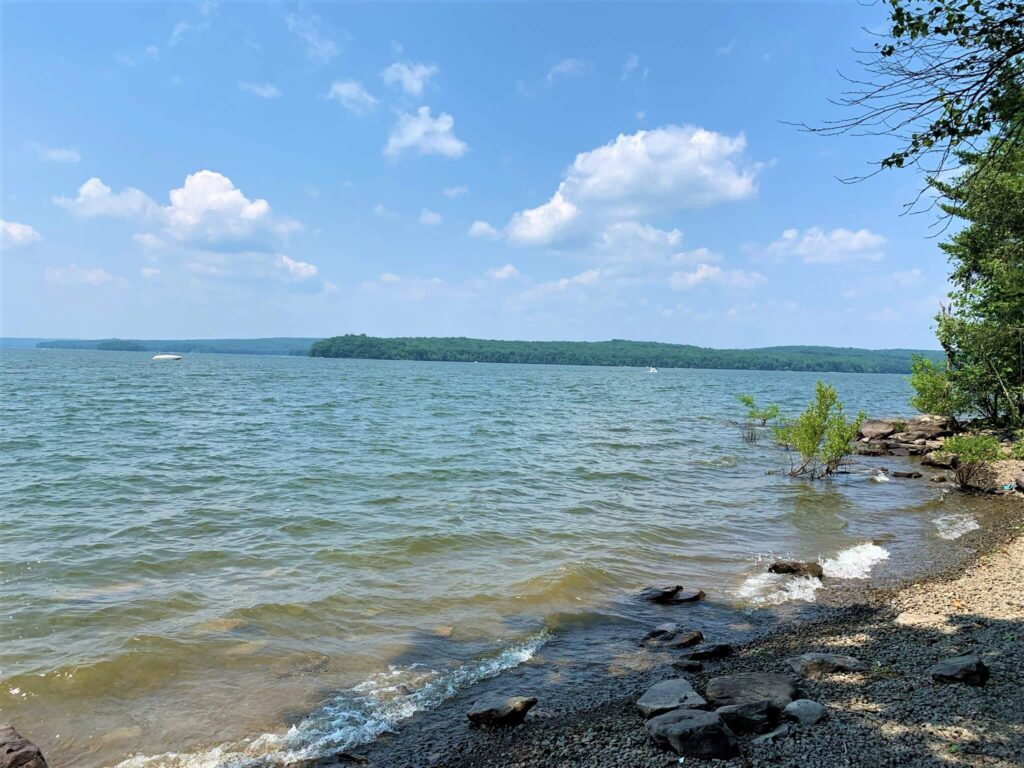 Visiting Keen Lake Camping & Cottage Resort
Whether you are tent camping, RV camping, or looking for a glamping experience, Keen Lake is one of the most beautiful lakefront campgrounds with lots of kids' activities for all ages!
Keen Lake Camping & Cottage Resort – Important Information
Address: 155 Keen Lake Rd., Waymart, PA
Phone: 570-488-6161
Website: www.keenlake.com
Season Begins the first Friday of May and ends Columbus Day (Monday)
Campsites come with a picnic table & fire ring
Check-in: 2:00 pm Check-out: 12:00 pm
Sites available: water only, water/electric (20 amp), water/electric/sewer (30/50 amp)
Pets Welcome – 2 per site
Showers cost $.25 for 5 minutes
Laundry facilities available
Our Recommendation For RV Camping At Keen Lake
While we didn't swim in the lake or rent kayaks due to the weather, we enjoyed our stay at Keen Lake.
I would recommend this campground to campers who love the water, want a clean and friendly campground, and are looking for a fun camping experience for the entire family!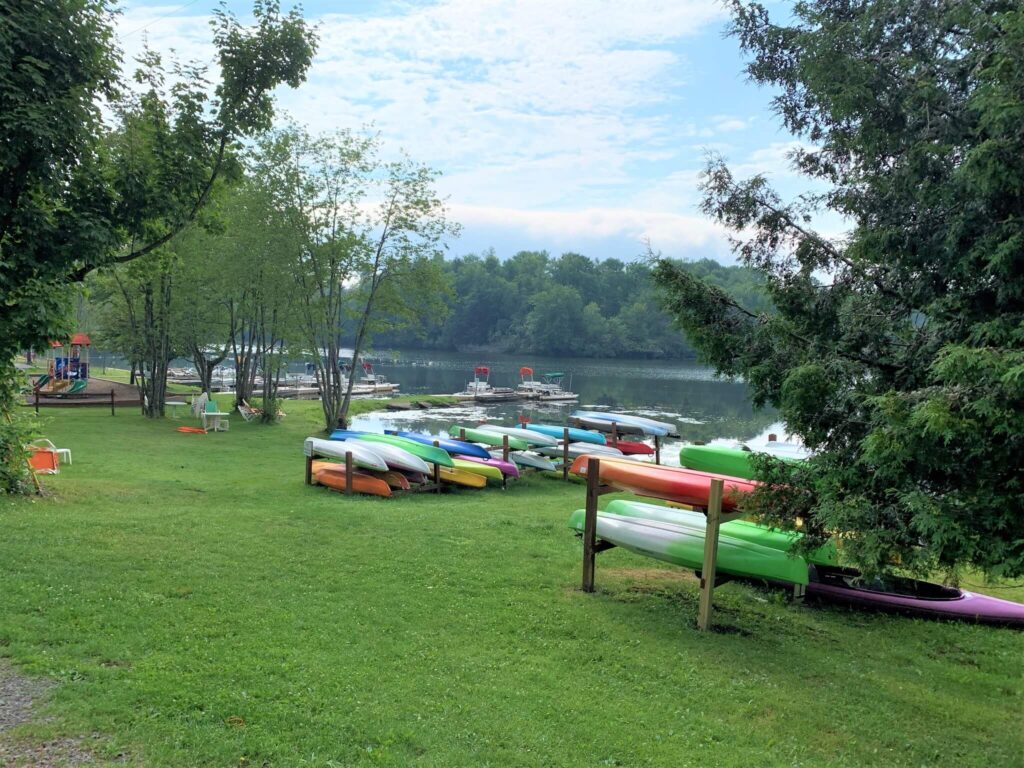 More RV Campgrounds To Enjoy!
Take the Stress Out of Camping Meals!
Learn how to plan Easy Make-Ahead Meals to take camping!