Last Updated on June 8, 2021 by Lori
If you're looking for camping near Letchworth State Park NY, the Houghton Letchworth KOA in Houghton, New York has large RV sites, tent sites and camping cabins which are perfect for families wanting the camping experience!
This post contains affiliate links which means if you click on a link and make a purchase, I will earn a commission at no additional cost to you. Please see our Disclosure Policy for more information.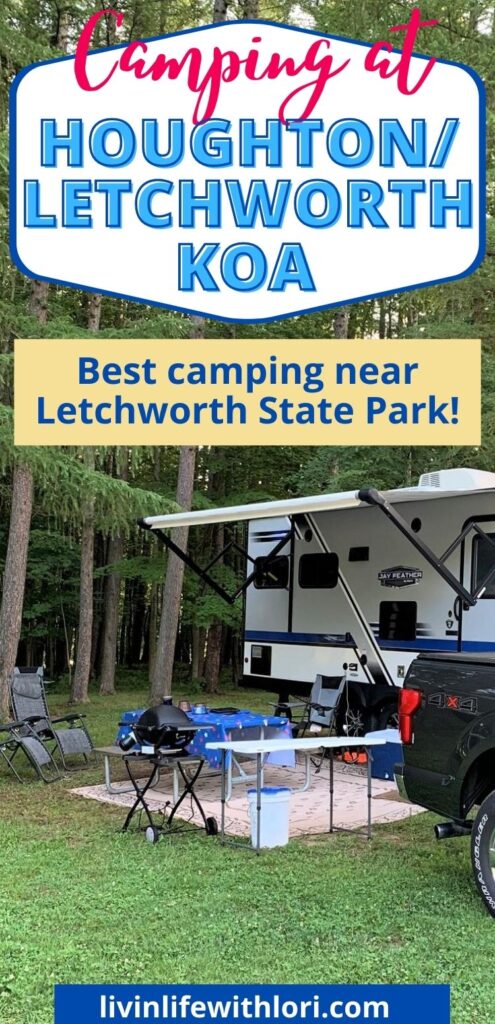 CAMPING NEAR LETCHWORTH STATE PARK
Our plan was to visit Letchworth State Park and possibly take a day trip to Niagara Falls. We had heard so much about the "Grand Canyon of the East" that we couldn't wait to go.
Letchworth State Park has camping facilities for RV camping, cabins, and tent sites.
However, the campground area was closed for the 2020 season, so we needed to find a campground that offered RV camping nearby.
That's when we found the Houghton Letchworth KOA. The campground has full-hookup sites, is dog friendly, and is only about a half-hour away from the park.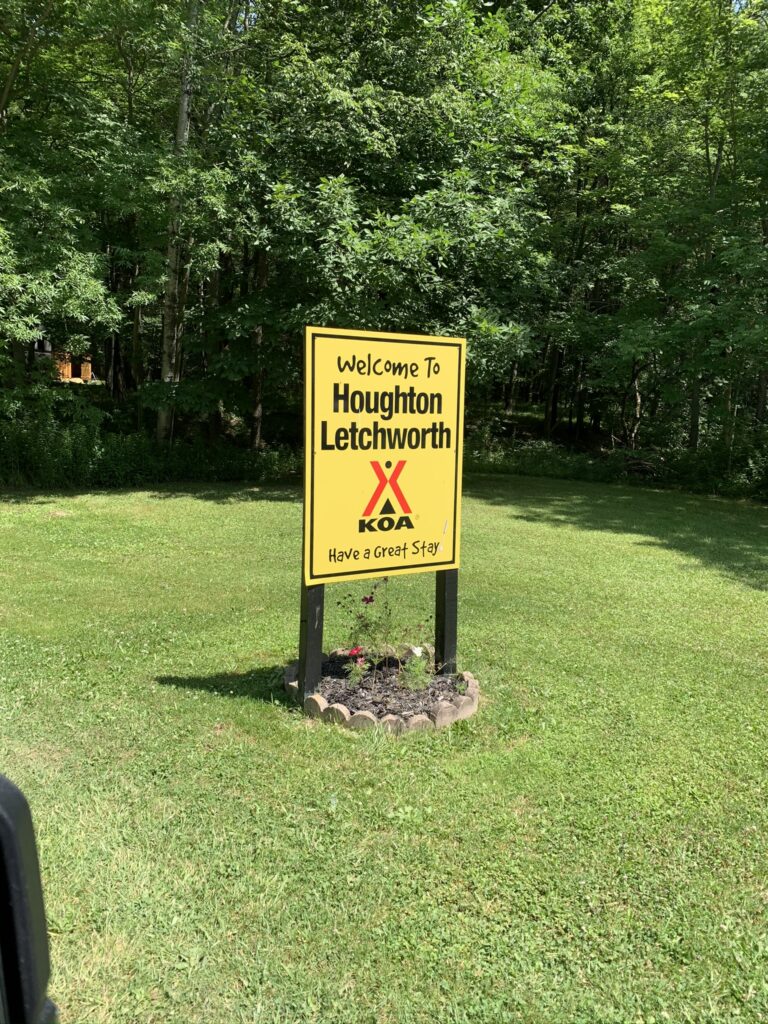 We have never stayed in a KOA campground before.
Having heard all sorts of stories about KOA's, I must admit we were a little apprehensive about pulling our travel trailer seven (7) hours from home to camp at a KOA.
However, since the Houghton Letchworth KOA was near Letchworth State Park's Portageville entrance, the location seemed perfect.
HOUGHTON LETCHWORTH KOA
We were so happy when we pulled into the campground!
The Houghton Letchworth KOA is a 100-acre campground located in Allegany County, New York.
The campground is family owned and is beautiful with many wooded campsites and walking paths in the woods that kids (and our dog) loved!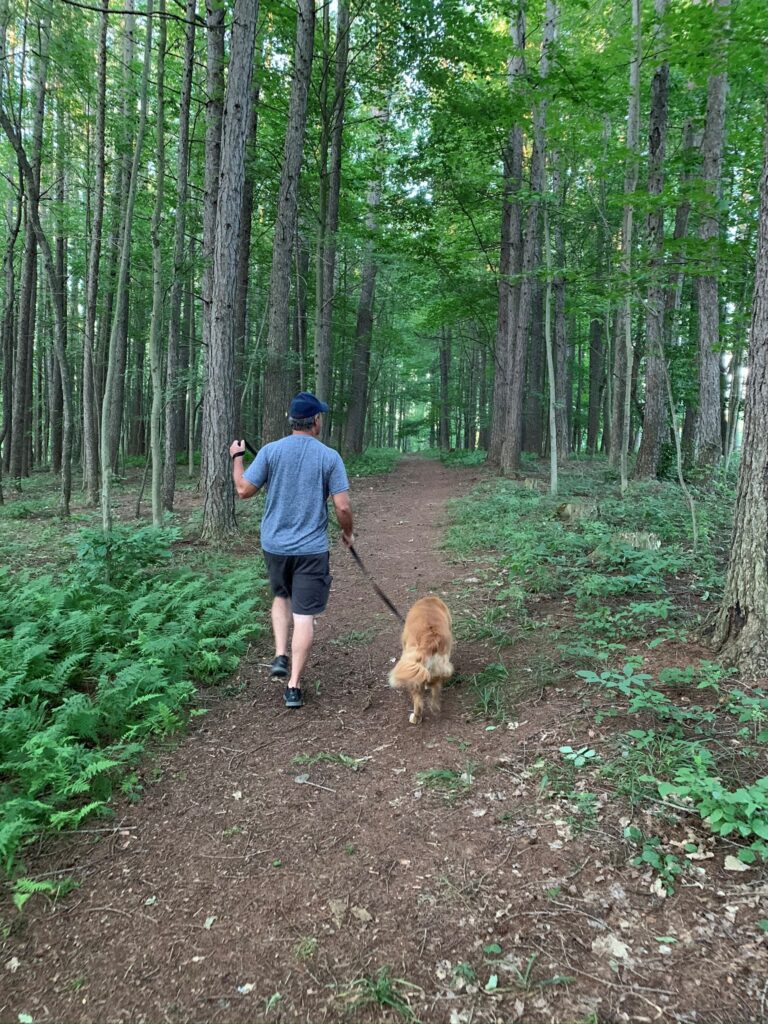 Following the directions of your GPS, you may think the campground is in the middle of a residential neighborhood!
But as you continue driving along the roadway, you'll soon see the pretty entrance to the campground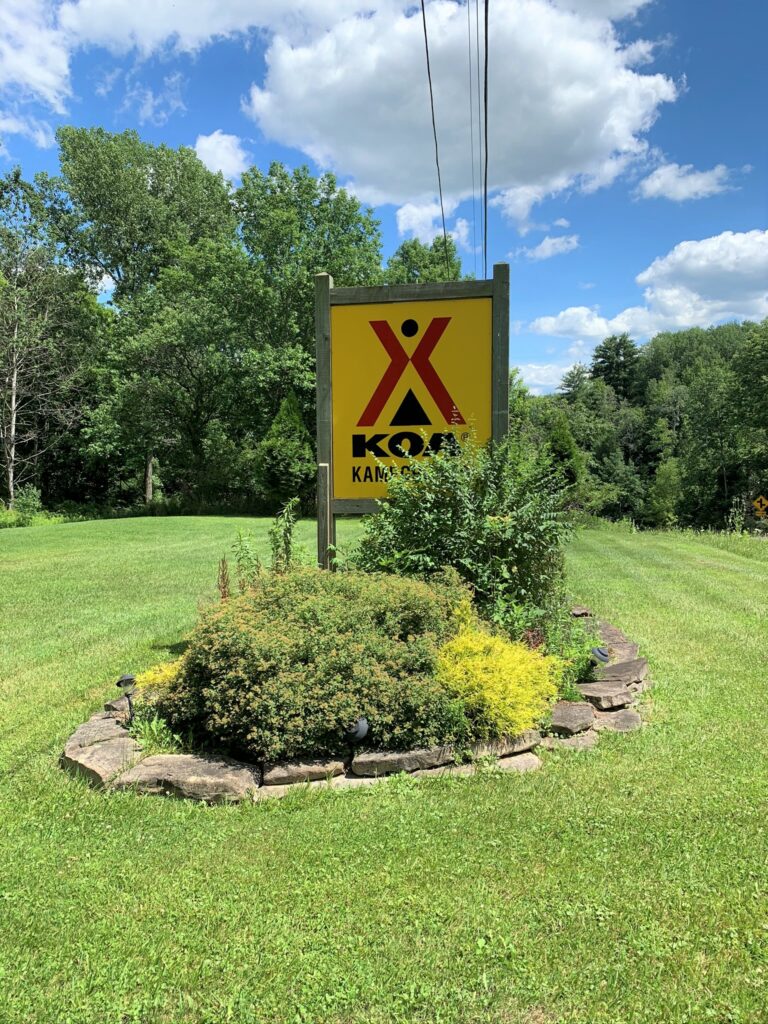 The campground has a security gate so that only campers and their visitors can enter.
When you arrive with your RV, there is a large area so you can pull your RV to the side and go to the office to check-in.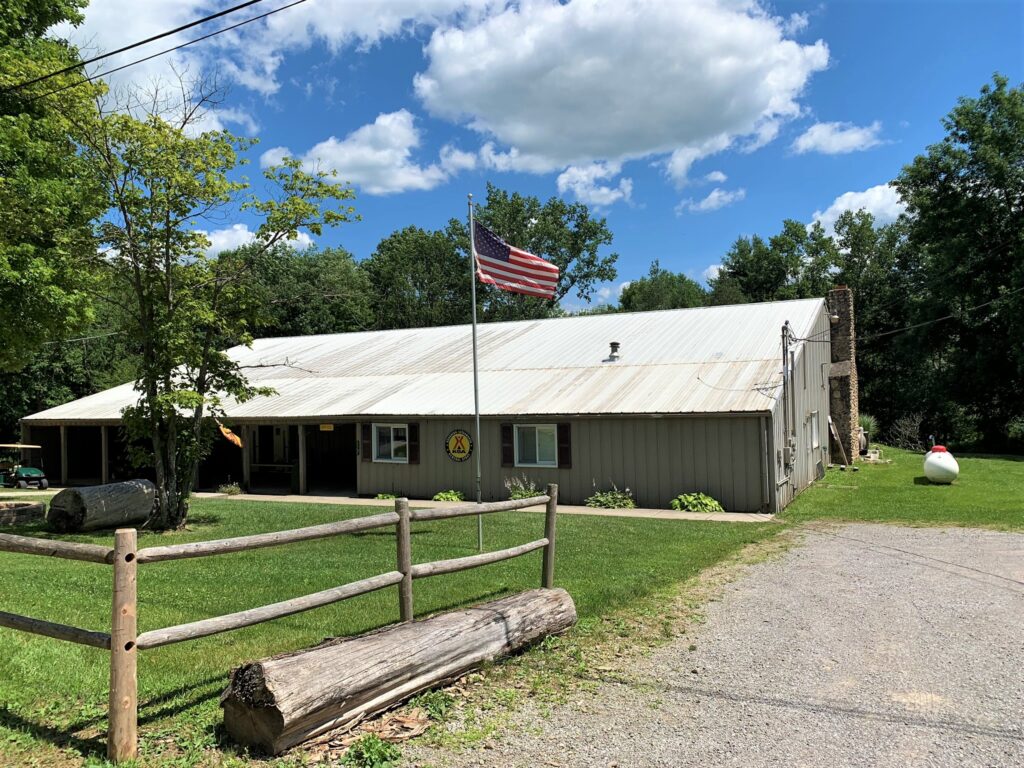 We were met by the owner who was very friendly and gave us all the information we needed for Letchworth State Park along with a Houghton KOA Map.
Payment is automatically made to your credit card on file which is very convenient. If you order wood, they will also add it to your credit card on file.
We were assigned to site L9 which was a large back-in site. The sites along this area all back into the woods which is nice and makes it more private.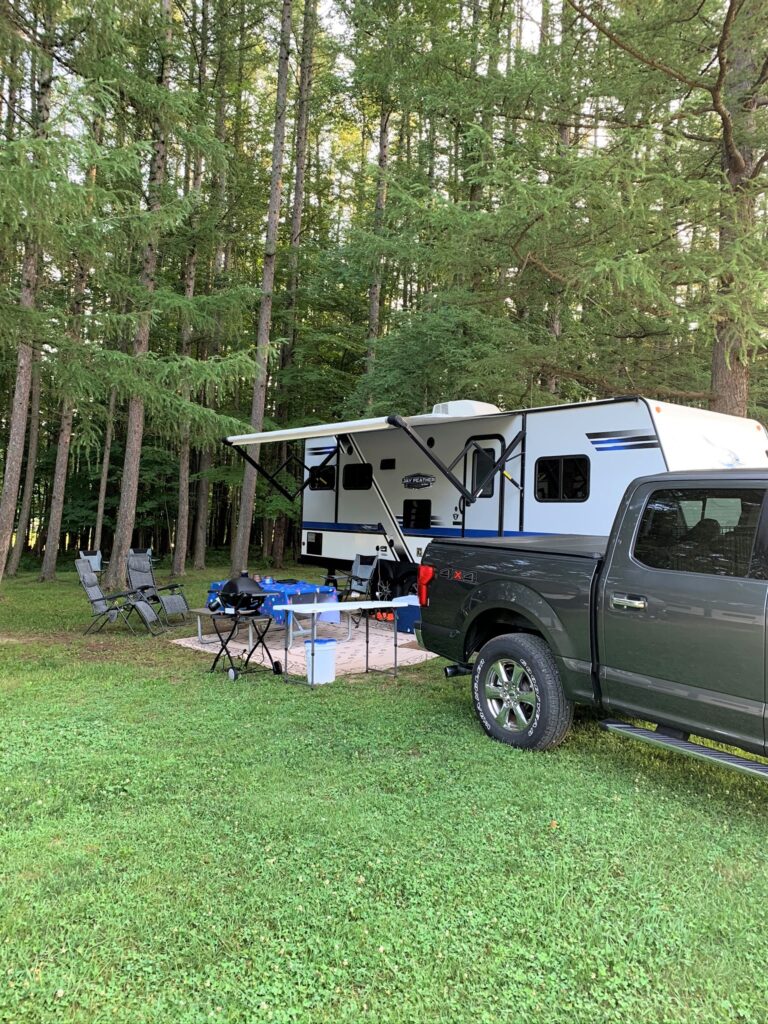 These sites are fairly level although we did have to take out our Lynx Levelers to level our trailer.
Reservations are suggested – especially during the summer. We arrived on a Saturday and the campground was very busy with most of the RV sites and cabins taken.
However, because the sites were nicely spaced apart, you didn't feel like the campground was busy at all.
We enjoyed the placement of the fire pit, which was towards the back of the site.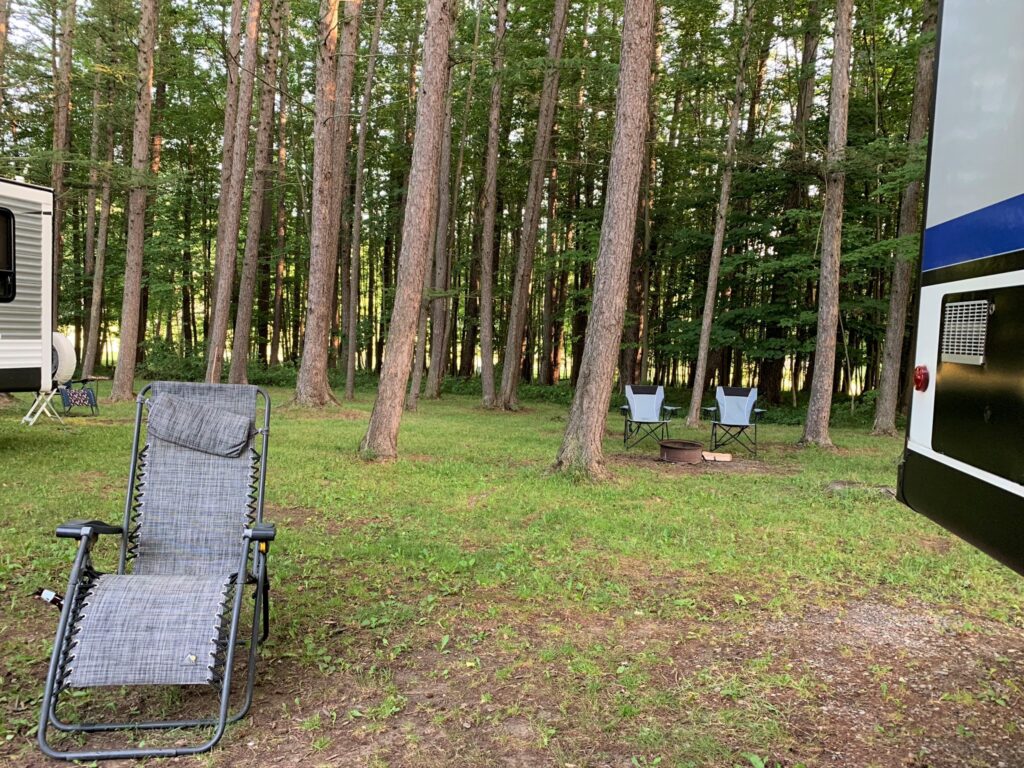 Although our neighbors were also at their fire pit in the back, it didn't seem they were close to us at all.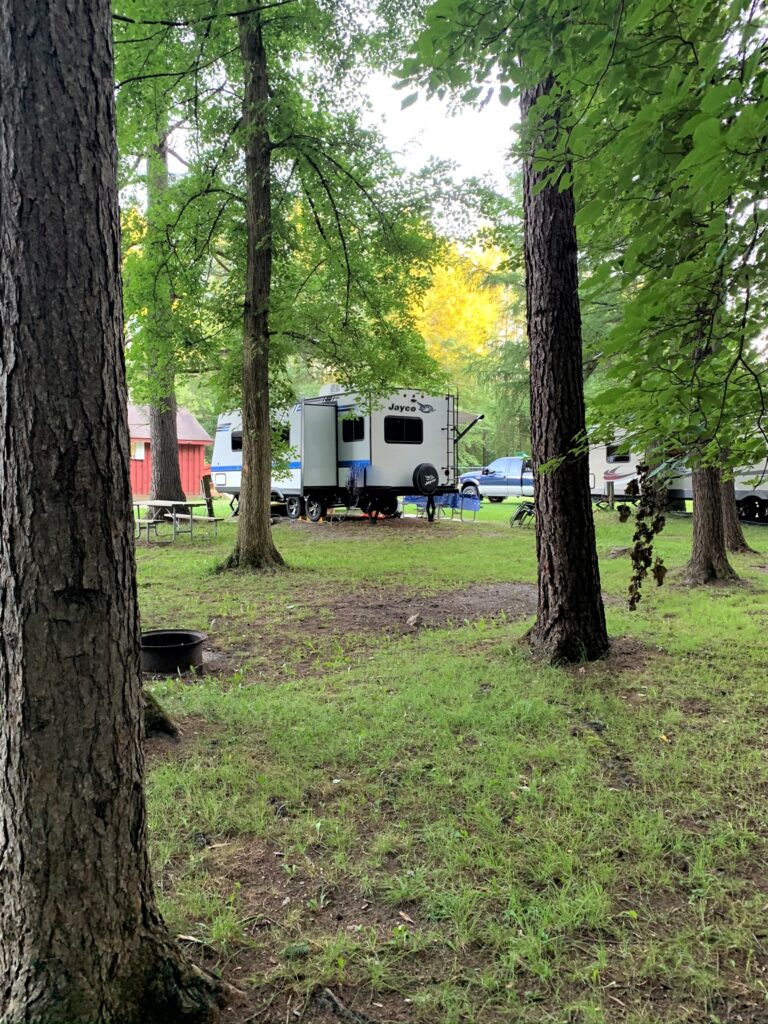 CAMPGROUND AMENITIES
The Houghton Letchworth KOA campground has many amenities that you would expect in a KOA.
They have BOTH and indoor and outdoor pools! Both pools are located at the office building at the entrance to the campground.
The indoor pool is a heated pool located inside the office building and is open from Memorial Day weekend to Labor Day weekend.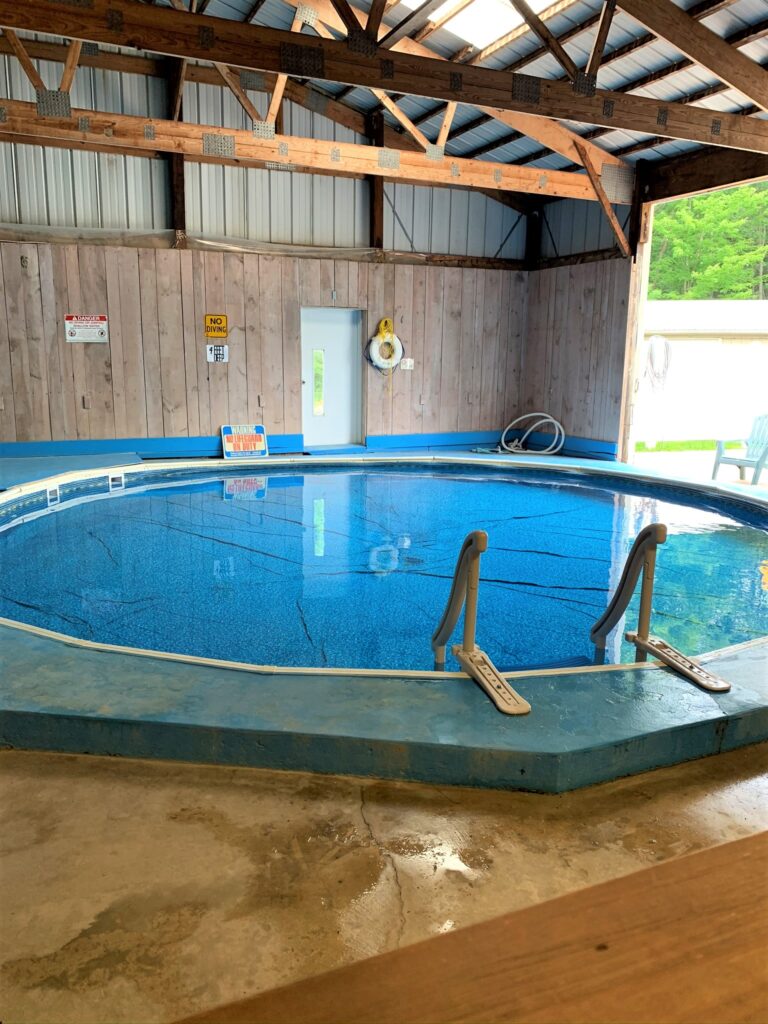 The outdoor pool is also heated and is a saltwater pool. The pool is open Memorial weekend to Labor Day weekend.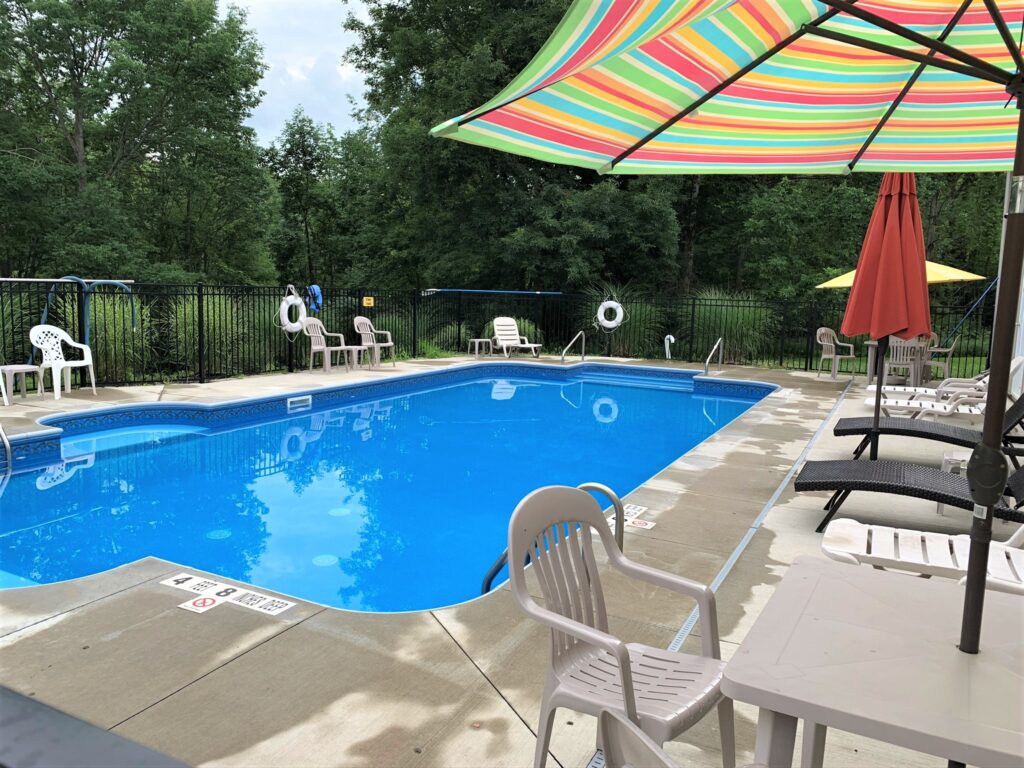 There are several playgrounds throughout the campground. The pavilion is used for kids' crafts and activities.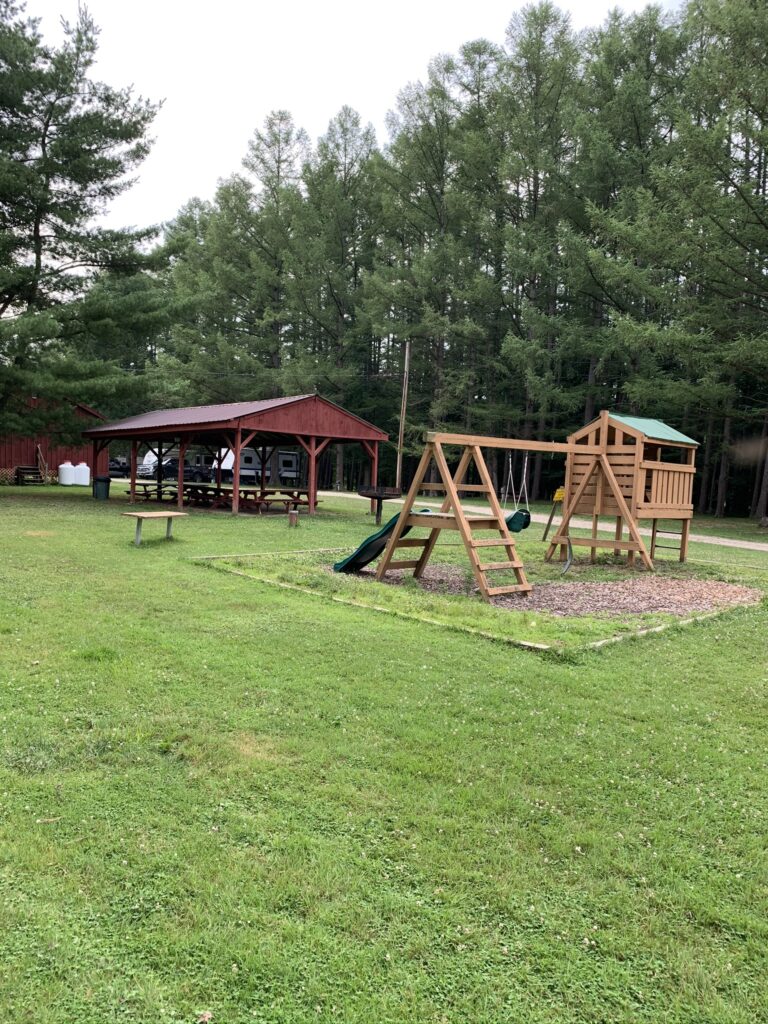 There is also an area to play horseshoes, basketball, gaga ball, volleyball, and tetherball.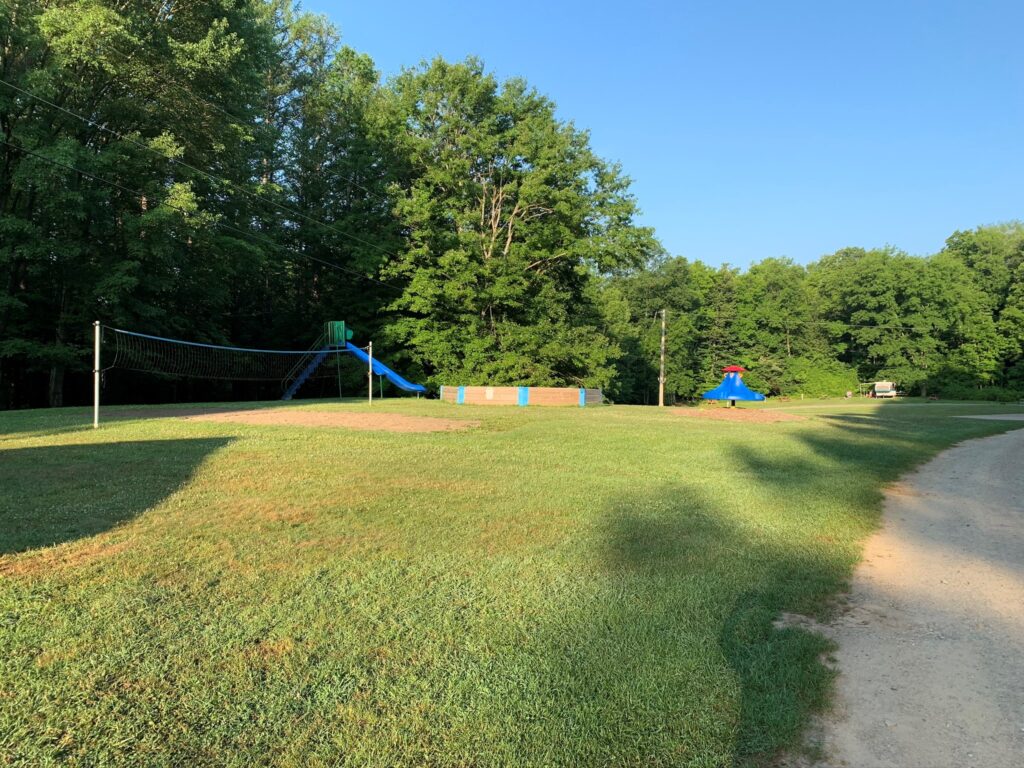 Raining outside? No problem! The kids have a blast in the Lodge with board games, puzzles, and arcade games.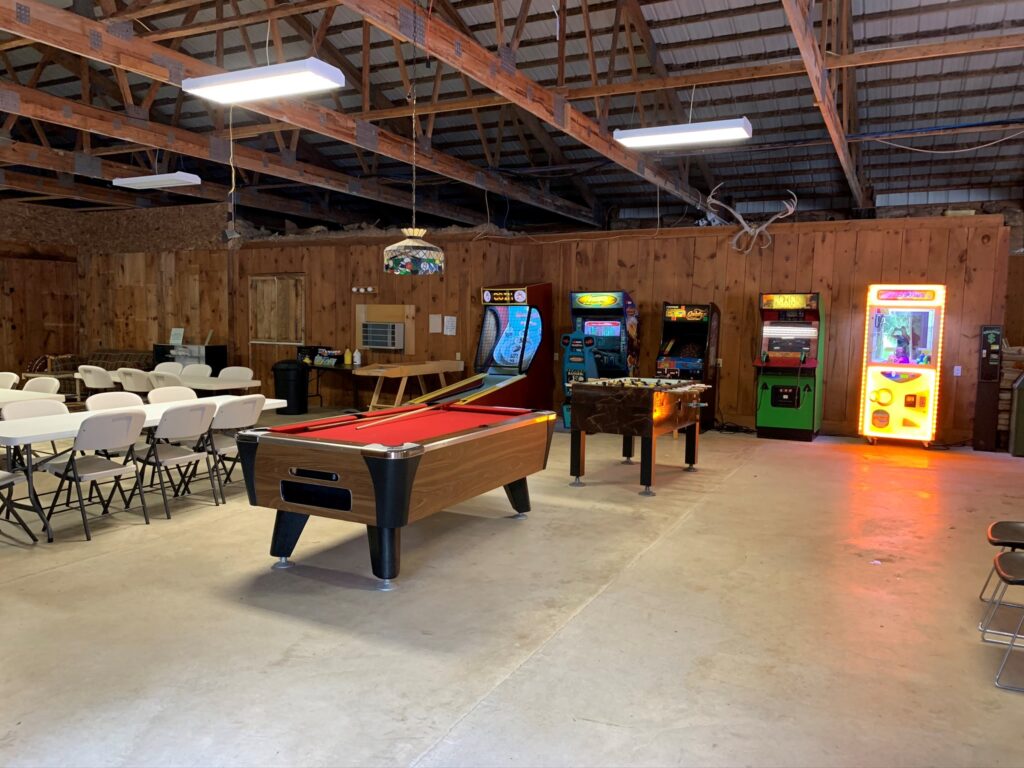 If you and your family love to fish, the campground has its own catch and release pond which was used by many campers and it was fun to watch them catch the fish!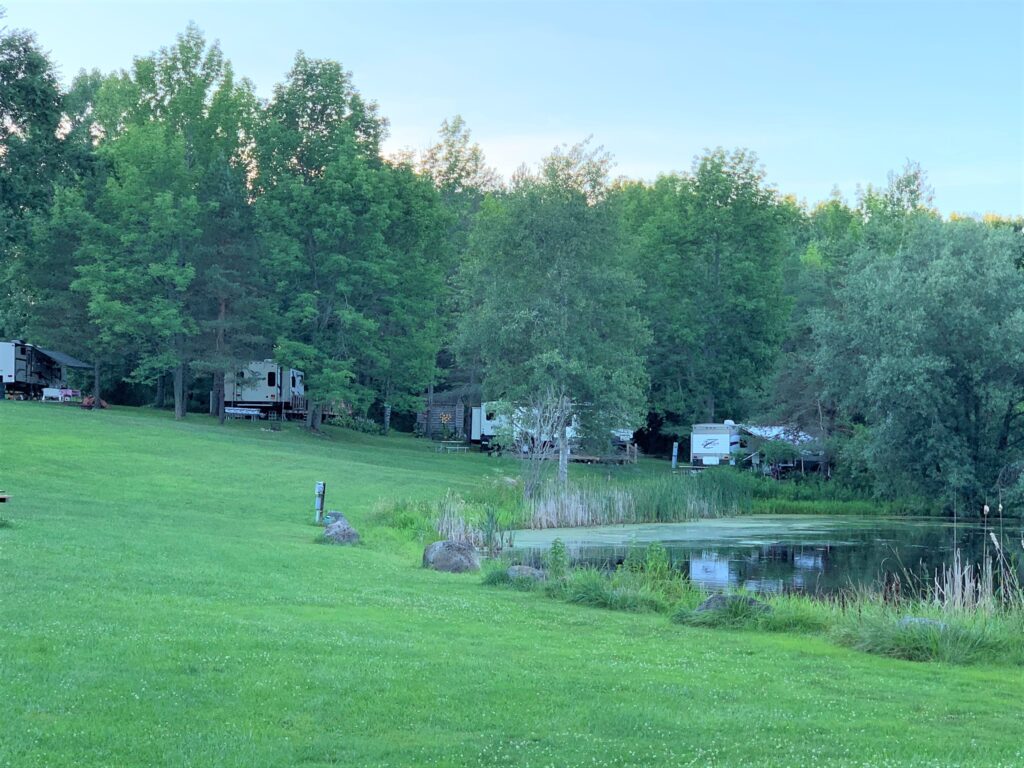 Dogs are welcome at the campground which has one of the largest dog parks of any KOA campground.
The campground also has dog agility equipment for you and your dog to have some fun!
Cute camping cabins are available for rent too!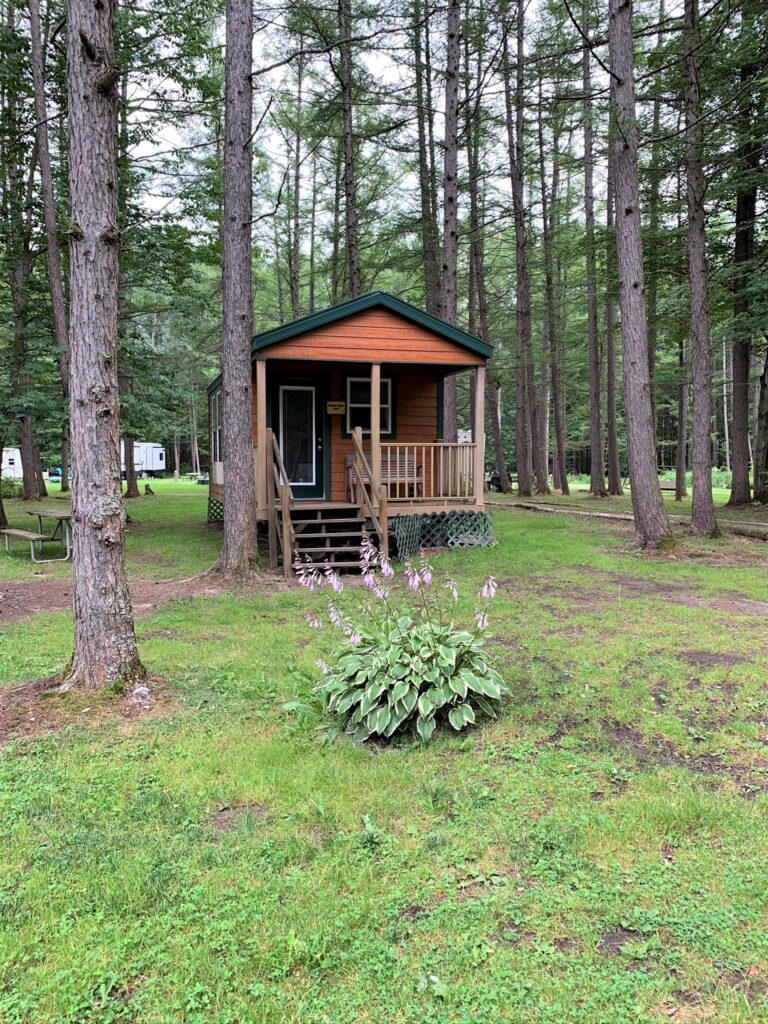 We enjoyed our first stay at a KOA and would highly recommend staying at Houghton Letchworth KOA.
Things We Liked About Staying At Houghton Letchworth KOA
• Close to Letchworth State Park (20-30 min) & Niagara Falls (1-1/2hr)
• Kid Friendly
• Indoor/Outdoor Pool
• Large Sites
• Full-Hookup
• Cable
• Free WiFi
• Dog Friendly
• Online Reservations
Trash is also collected at the curb of your campsite and is picked up once a day.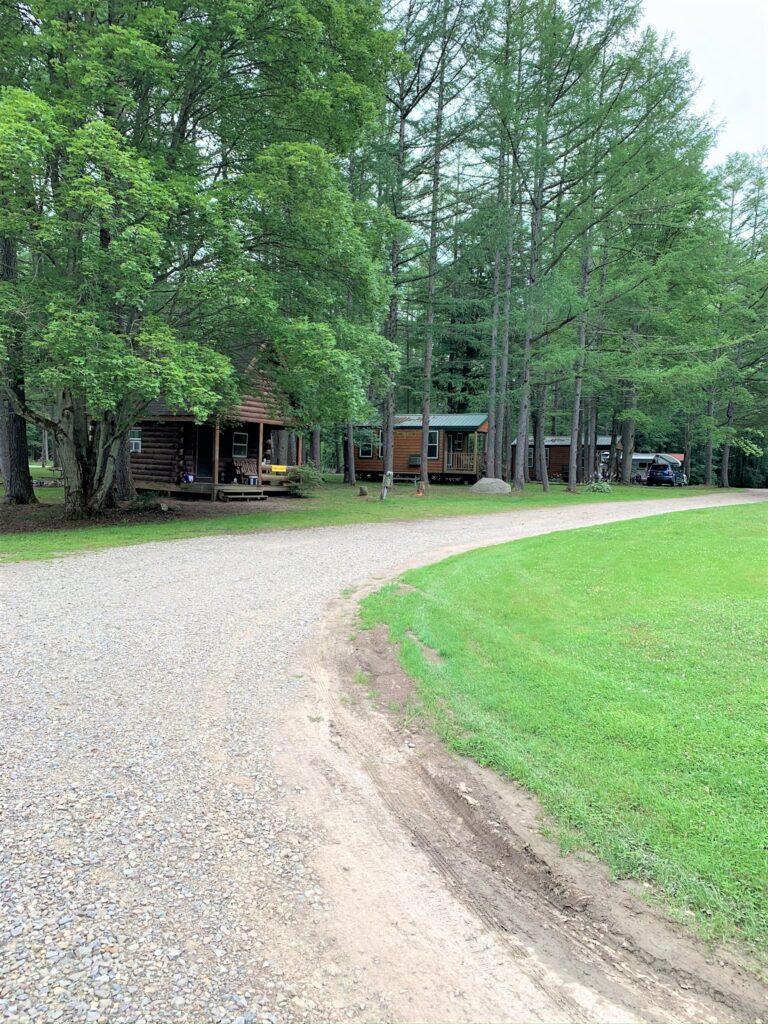 Houghton Letchworth KOA: 7632 Centerville Rd., Houghton, NY 14744 (585) 567-4211
Check in 2:00 p.m./Checkout: 12:00 p.m.
Pets are allowed but must show proof of rabies at check-in and must be leashed at all times.
For Reservations and to learn more about the campground visit their website: Houghton Letchworth KOA