Last Updated on June 9, 2020 by Lori
One of the first campgrounds we chose as "Newbie Campers" was Old Holbrook Place, located in Sutton, Massachusetts. This family campground is located on beautiful Lake Manchaug – a 375 acre pond – and has been in existence since 1946.
This post may contain affiliate links. Please read our disclosure policy for more information.
It was February and although we didn't even have our travel trailer yet (see article "What Do You Do When Your Husband Turns 50!"), we knew in order to camp any weekend in July, we needed to make a reservation. One of the first campgrounds my husband chose was Old Holbrook Place.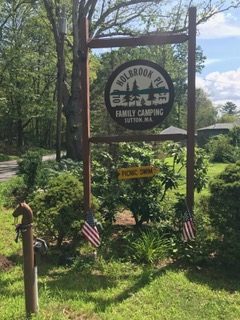 We called Old Holbrook Place and were pleasantly surprised when a woman answered the phone instead of an answering machine – after all, it was February. She said her name was Linda and she was the owner of the campground. My husband explained that we were new campers but liked everything we read about Old Holbrook Place and wanted to make a reservation. He went on to say that he hadn't learned how to back into a site, didn't know much about camping and asked her advice on site selection.
Linda was so pleasant on the phone and went into detail about the different areas of the campground, its amenities and knew just the lot she would assign to us. She even offered to go out and take a photo of the site and she would email it to us! But, she said, it's snowing right now so as soon as it lets up, she would venture out to take a photo. Wow. This was incredible that she would offer to do that! We would soon learn just how nice Linda is and how special our time was at Old Holbrook Place!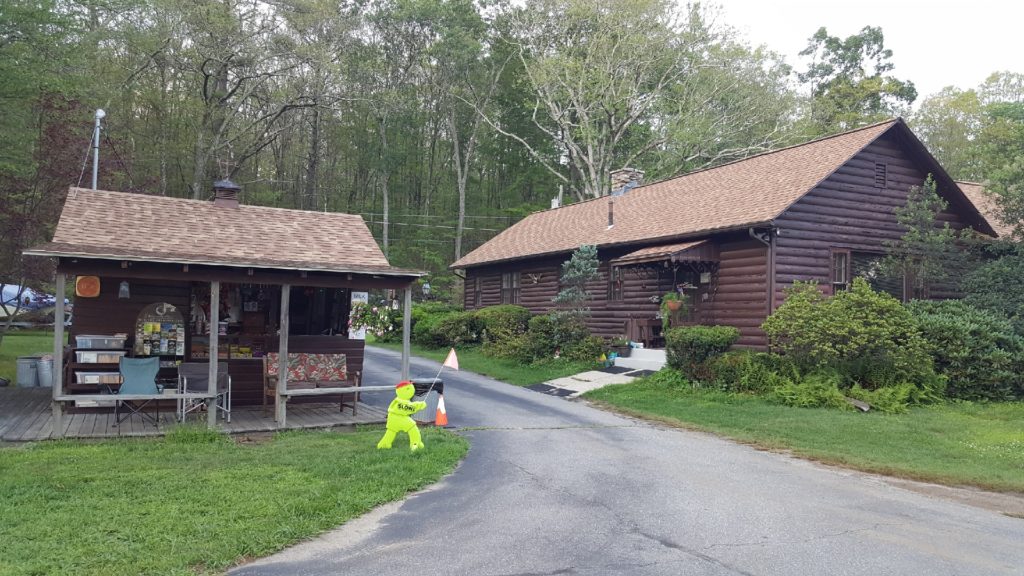 The weekend finally came for us to travel from Long Island to Old Holbrook Place. When we drove in, Linda met us at the gate. "You made it! How was the trip from Long Island?" What a nice welcome! She gave us the map and told us she had decided to give us a "pull through" spot to make it nice and easy for us.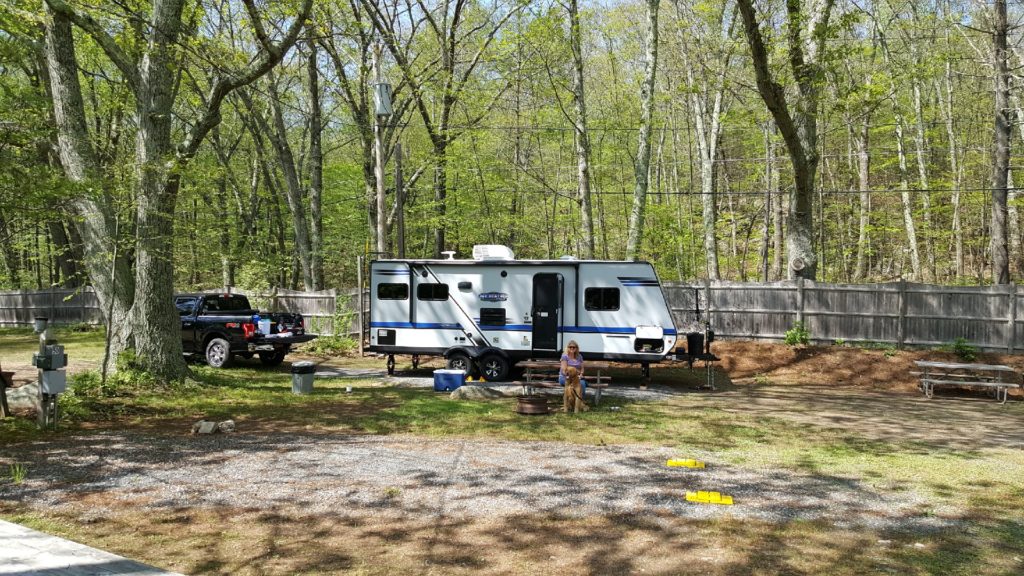 She would also be down in a bit to make sure we got hooked up alright.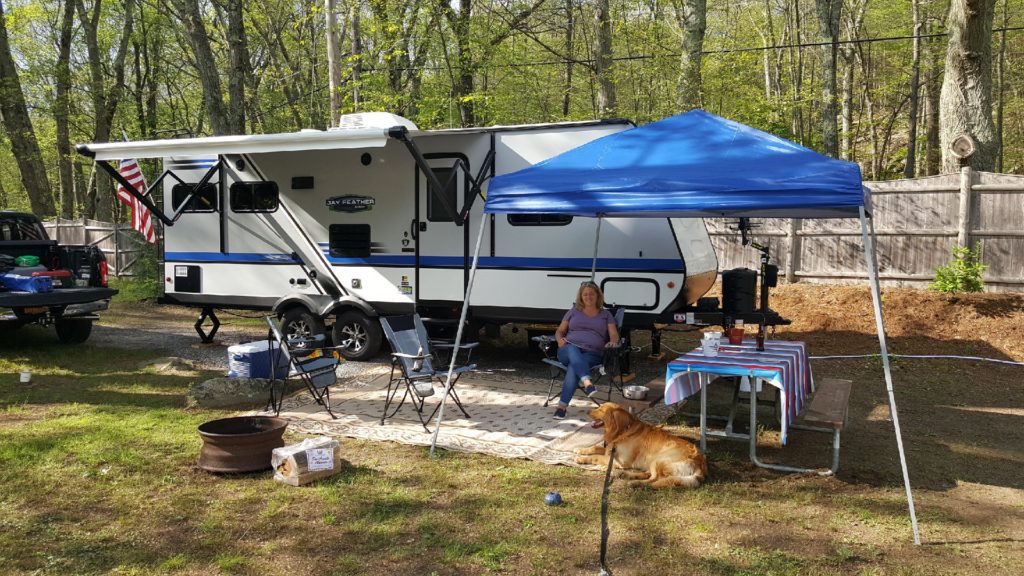 Old Holbrook Place is a very clean campground with plenty of space between sites. Some sites overlook Manchaug Lake and have full hook-up. Other sites are in the Hollow which have water and electric only.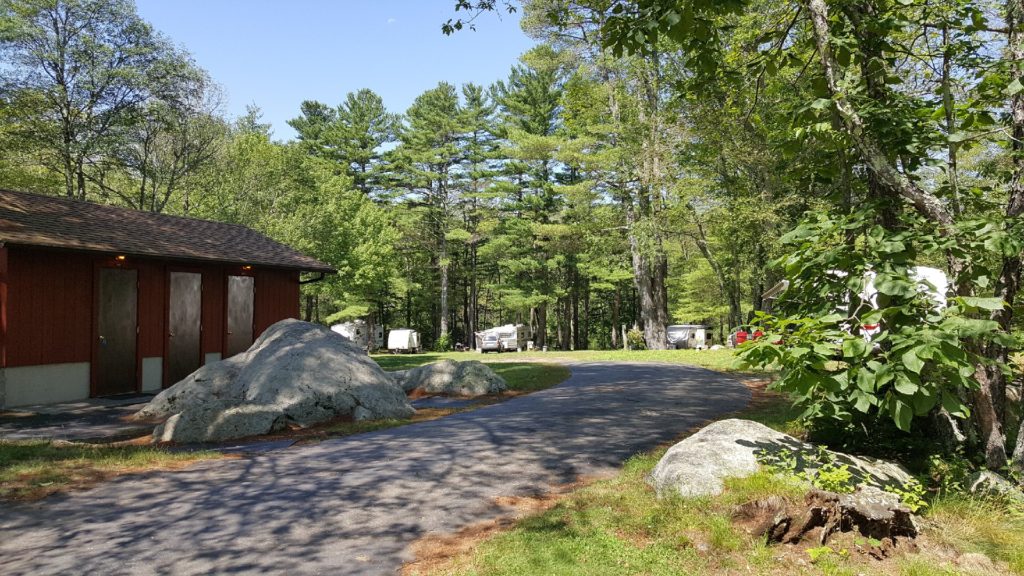 There is also a group of sites along a fence which backs the roadway with full hook-up. Every site is laid out nicely. Our site was along the Fence facing towards the lake and had full hookup. Because it was in the corner, we had a lot of room. Our Golden Retriever, Buddy settled right in!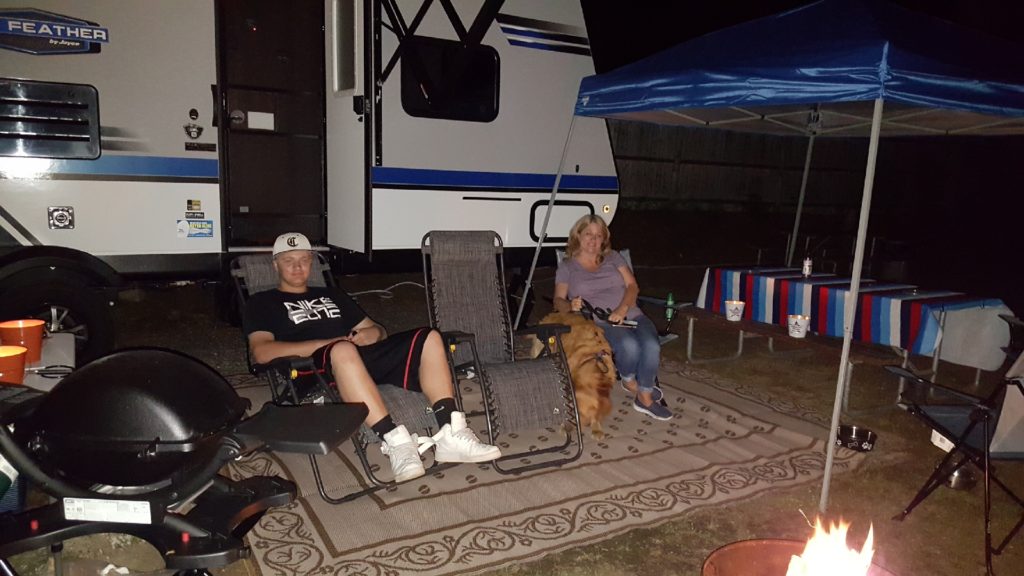 We soon learned that Linda does everything at the campground herself. She drives a pickup truck to each site to pick up the garbage. She also runs the little store which has among other things candy, ice, firewood and ice cream bars! Plus, it is a tradition of Old Holbrook Place to welcome daytime visitors and give access to the swim area and picnic area for the day.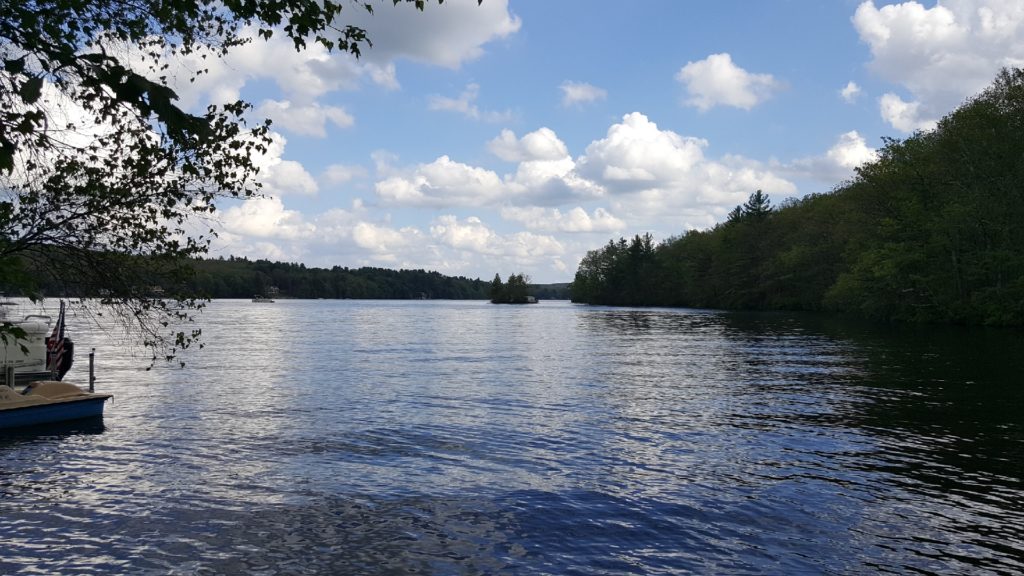 Since we were there on the weekend, we saw many people visit the campground arriving with their chairs and picnic lunch then spending the afternoon swimming off the docks. Linda was there checking-in people all day. She said they have been welcoming day visitors since the 1940s.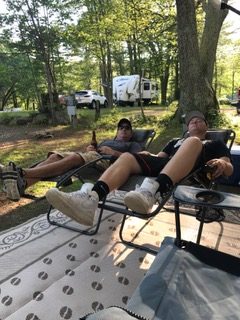 One of the reasons we chose Old Holbrook Place was the opportunity to go kayaking around the lake. My husband and son had never been kayaking but wanted to try it and felt the lake would be a good place to start. We went to visit Linda at the store to inquire about kayaking. Linda asked them about their skill level. "Have you ever been in a kayak?" she asked. "No," they replied. She then said, "Follow me. You're about to get a lesson!" Before she would let them go out on the lake alone, she gave them a lesson in "Kayaking 101".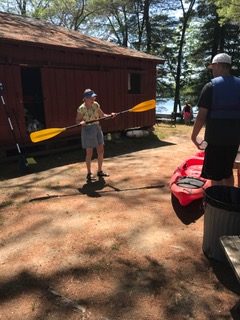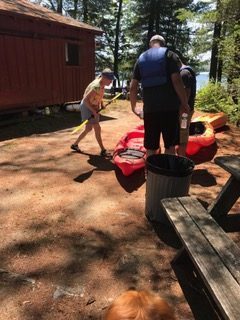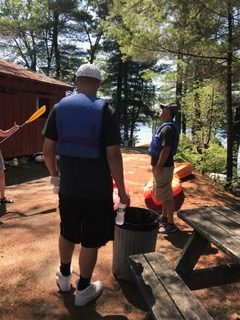 It was almost 12 noon and nearing 100 degrees on that hot July afternoon. Linda was worried about them. First, they were inexperienced kayakers. Second, they were carrying one bottle of water each. "Yesterday," she said, "I had some high school kids who went out and were back in ten minutes. I'm just warning you, the sun is hot out there!" My husband assured her, "We're going to be fine Linda! We're going to go around the entire lake! See ya in two hours!"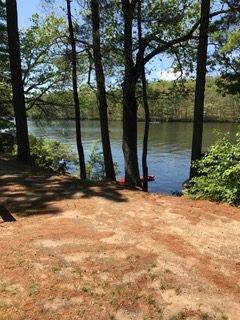 Linda looked at me, and Buddy and I looked at her. I said, "They'll be fine!" I took photos as they climbed down to the launch area and they waved as they paddled off!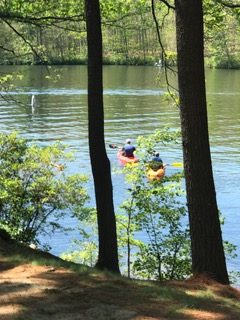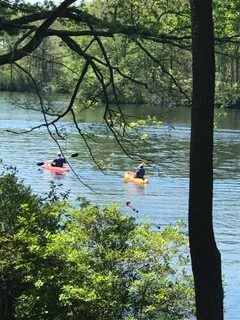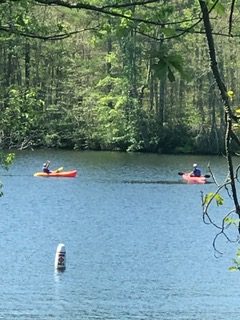 "Oh Boy…I muttered under my breath…Hope they're going to be ok Buddy!" I looked at my watch to note the time they left, and Buddy and I went for a walk.
Soon, it had been an hour. Buddy and I began to walk back to the launch area. No sight of them. I found a bench overlooking the water and sat down with Buddy. There was a trailer site next to the bench where I was sitting and soon I began chatting with the couple, who were enjoying the view of the lake from their campsite. I explained to them how my husband and 16 year-old son were kayaking on the lake…they had never kayaked before…Linda thought they would be back in 10 minutes…it's been an hour…
Pretty soon, they began looking at their watches. "They've been gone a long time. Do you see them yet?" "No, not yet," I replied.
Buddy and I kept watching for them. It was approaching two hours now. Well, isn't that what my husband said? "See you in two hours!" as he paddled away with my son.
Soon, I saw them. They were still paddling strong. They had paddled around the entire lake which is 6.2 miles.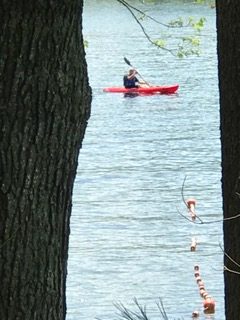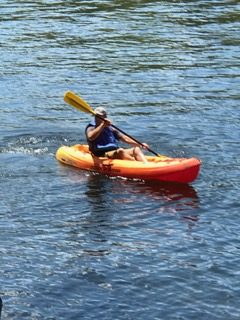 "Hello!" I called to them. "How was it?" They were both smiling. "It was great," they said. "Where's Linda? I told her we would make it around the pond!" The couple I had been chatting with said, "We were watching for you!"
Linda was amazed too. She was laughing. For their "prize" she handed them both a Peppermint Pattie.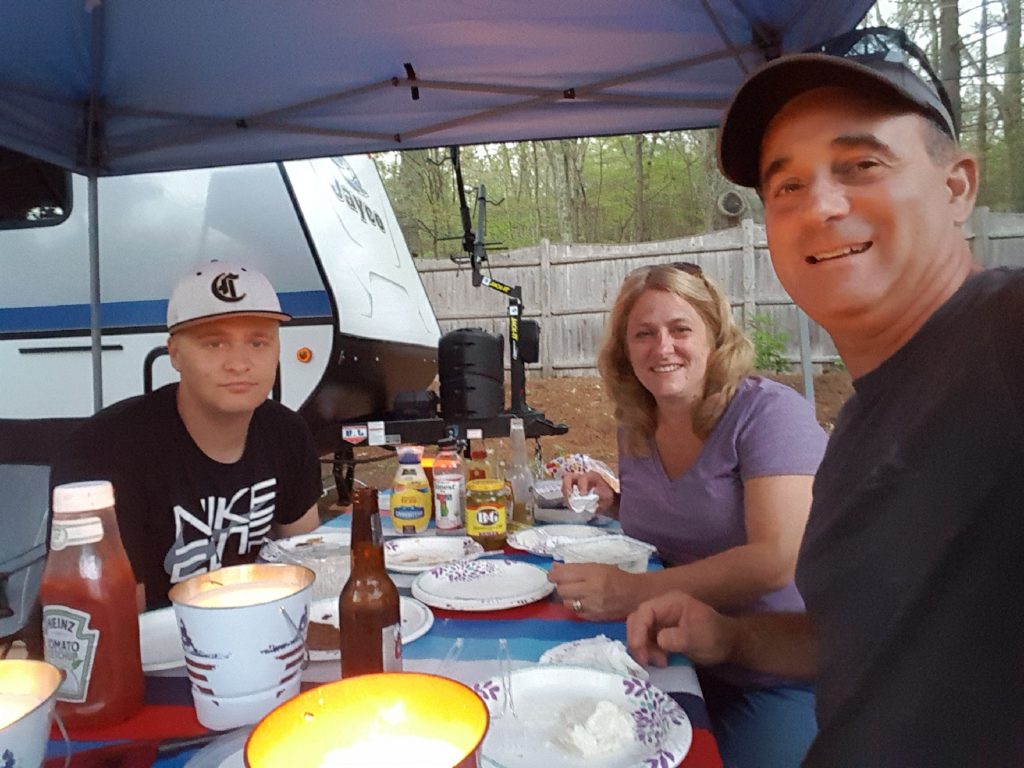 We enjoyed our stay at Old Holbrook Place. Linda makes you feel at home the minute you arrive and waves you out the gate as you leave. We can't wait to return to this lovely campground.