Last Updated on March 10, 2020 by Lori
If you're looking for an RV campground in northwest Missouri, I found one that I think you're going to love!
Mozingo Lake Recreation Park, located on a beautiful 1,000 acre lake in Maryville, Missouri, has an RV campground, an Equestrian Campground, rustic cabins, and the lake is perfect for boating, skiing, kayaking, and fishing.
Who knew that our camping trip to the midwest would take me to – One of the Best Kept Secrets in Northwest Missouri!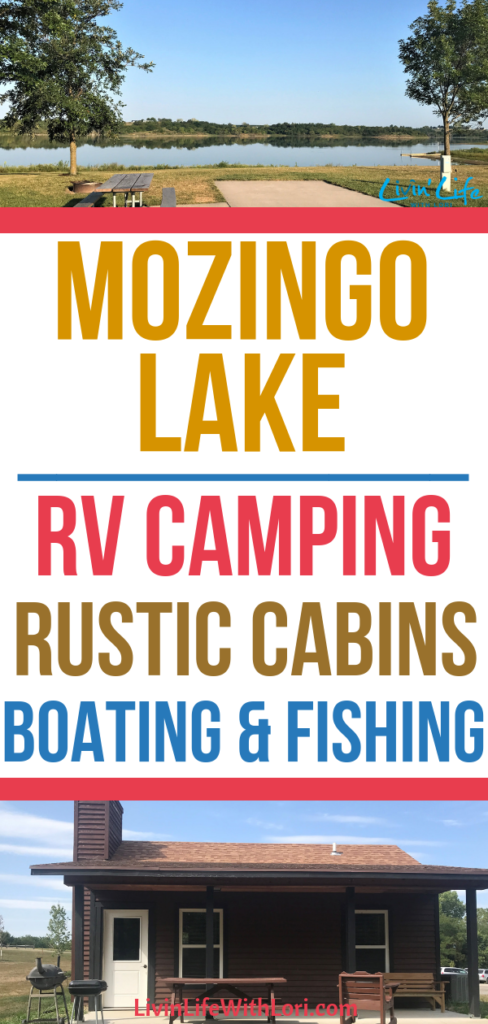 This post contains some affiliate links for your convenience, which means if you make a purchase after clicking a link I will earn a small commission at no additional cost to you. Please see our Disclosure Policy for more information.
RV Camping in Missouri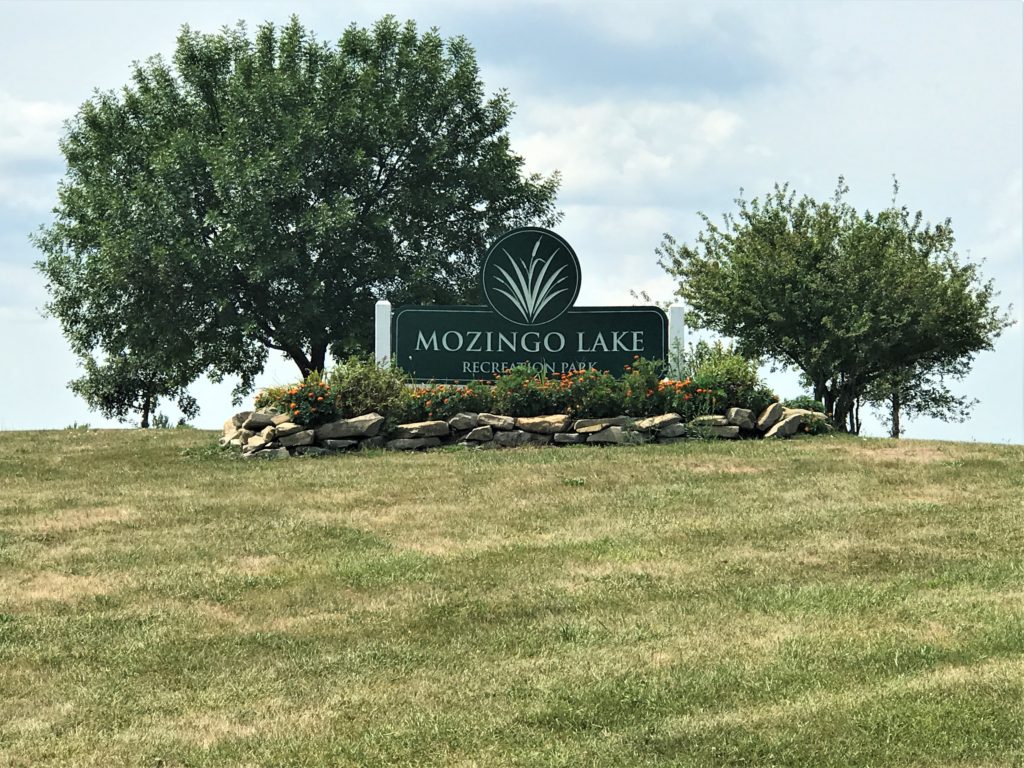 Living in the northeast, my husband and I have pulled our travel trailer to the Catskills, Adirondacks, White Mountains of New Hampshire, Pocono Mountains of Pennsylvania, and Maine – but we had never camped in the midwest.
My parents camped at Mozingo Lake the previous year and kept talking about how nice their campsite was next to the lake.
So, we decided to plan a family camping trip, along with my brother from Texas, to all go camping at Mozingo Lake.
Since there would be 5 of us, we decided to rent one of the rustic cabins along the lake too!
The day finally arrived — that is…after our flight was canceled from New York and we had to wait TWO days for another flight to Kansas City!
It's a good thing we planned to arrive a few days before the camping trip!
We finally made it to my parents' house and helped them pack a few remaining items in the trailer.
Then, we hitched up the trailer and headed to Maryville, MO.
RV Camping and Camping in Cabins – Mozingo Lake Campground
As we pulled into the park, we were greeted at the gate and given directions to Cabin #6 and our Reserved RV Campsite – #84.
Since we arrived on a Monday afternoon, the weekend crowd had gone and only a few trailers remained in the "Reserved Campground" area.
You can reserve a site in the Reserved RV Campground up to 6 months ahead of time and choose your site as we did.
There are 20 sites in this area with water & electric and are 30/50 amp.
All have concrete pads, a fire pit, and picnic table.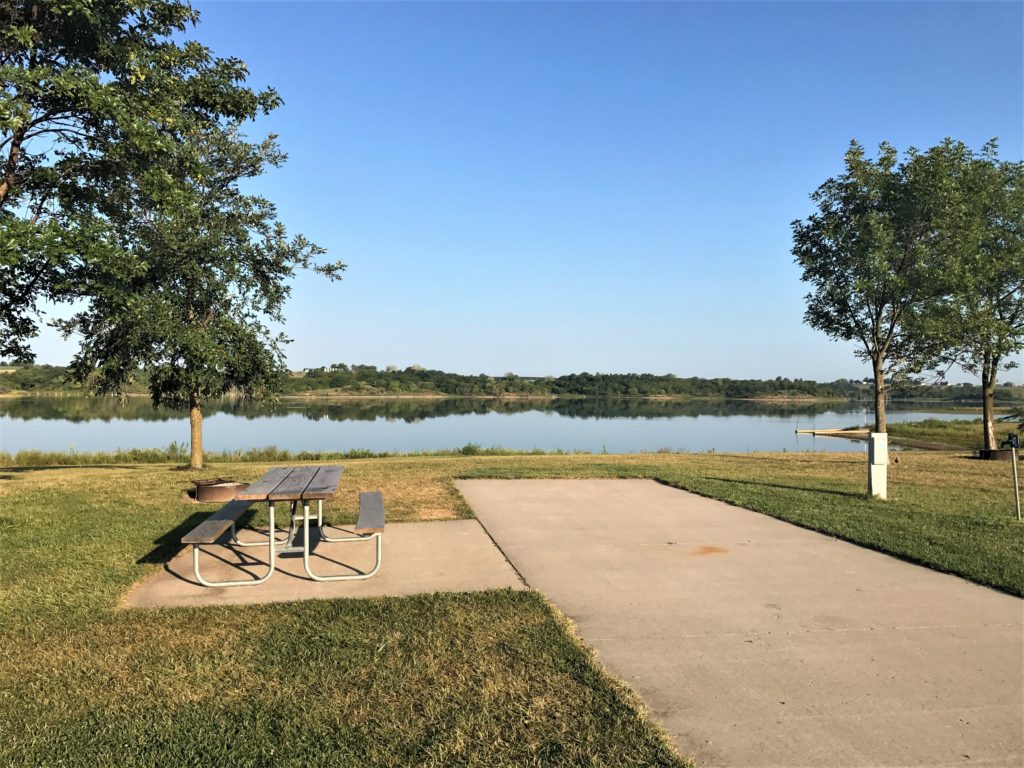 I couldn't believe how large the lake was and that it was a man-made lake owned by the town of Maryville, MO.
After a little research, I found that Mozingo Lake is actually a 3,000-acre park and that the lake was 1,000 acres with 26 miles of shoreline.
The original reason the lake was constructed was to ensure a drought-proof water source for the town of Maryville, MO and to help with flood control.
It was constructed primarily with federal funding.
Mozingo Lake Recreational Park
Today, Mozingo Lake is much more than just a lake. It is a multi-recreational area that includes:
An award-winning 18 hole and 9 hole golf course

8 fully furnished Rustic Cabins

RV, Equestrian & Tent Camping sites

Group Camping areas

Public Beach

Equestrian & Hiking Trails

Conference Center
The 1,000-acre lake has become a premier boating and skiing area and is nationally recognized for its fishing.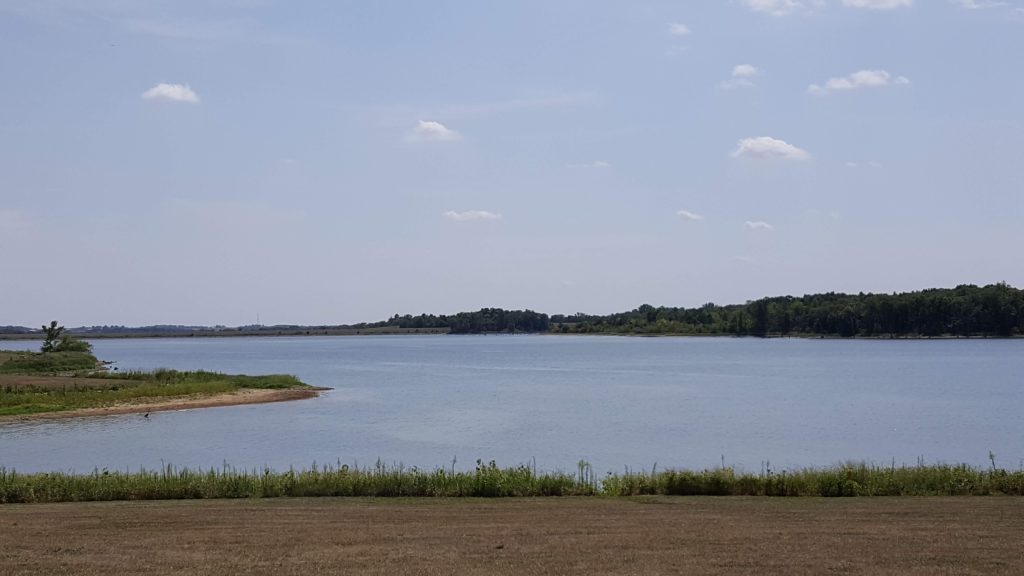 After setting up our site, we sat back to relax and enjoy watching the many boaters, skiers and jet skiers!
We wished we had a boat it looked like so much fun.
The docks were right by our campsite, so if you had a boat, or wanted to fish, there was easy access to the lake!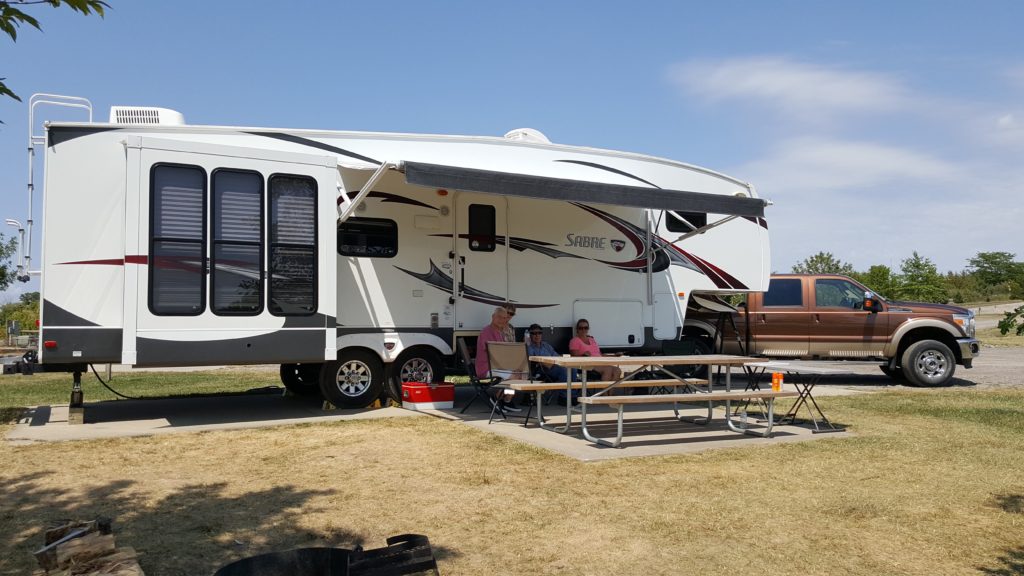 Mozingo Lake – Camping in Missouri with Cabins
Then, we headed over to Cabin #6. We had no idea what to expect but it sure looked cute from the outside!
Here's the exterior of Cabin #6.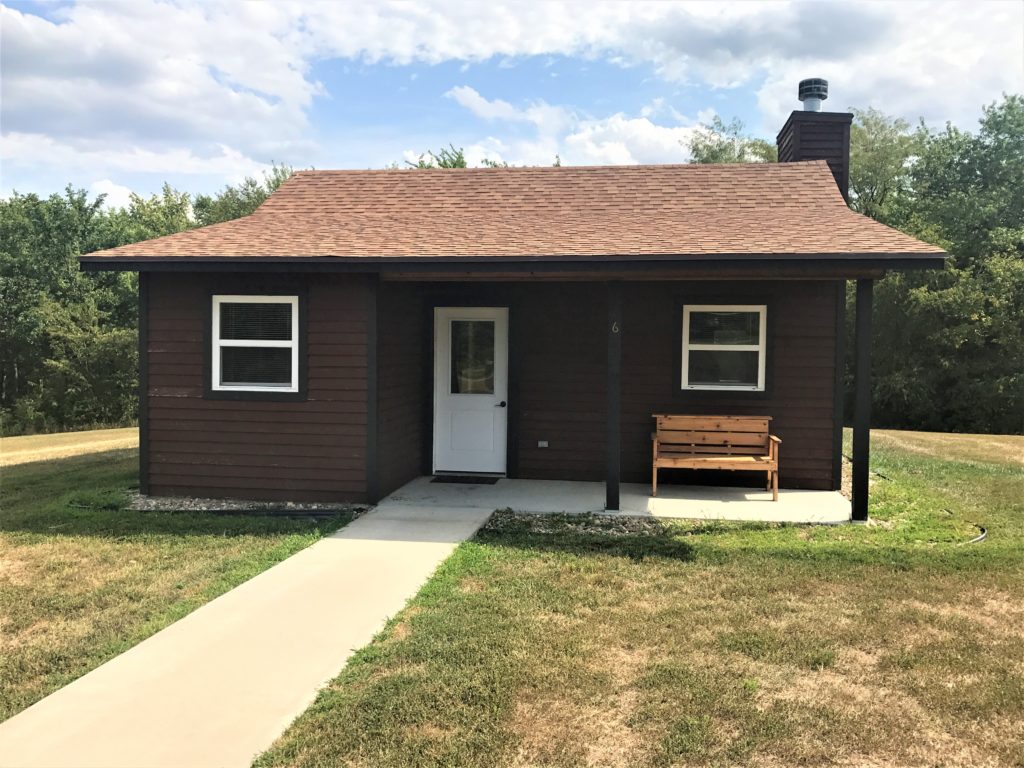 As we opened the door, we saw the cutest cabin you could have imagined!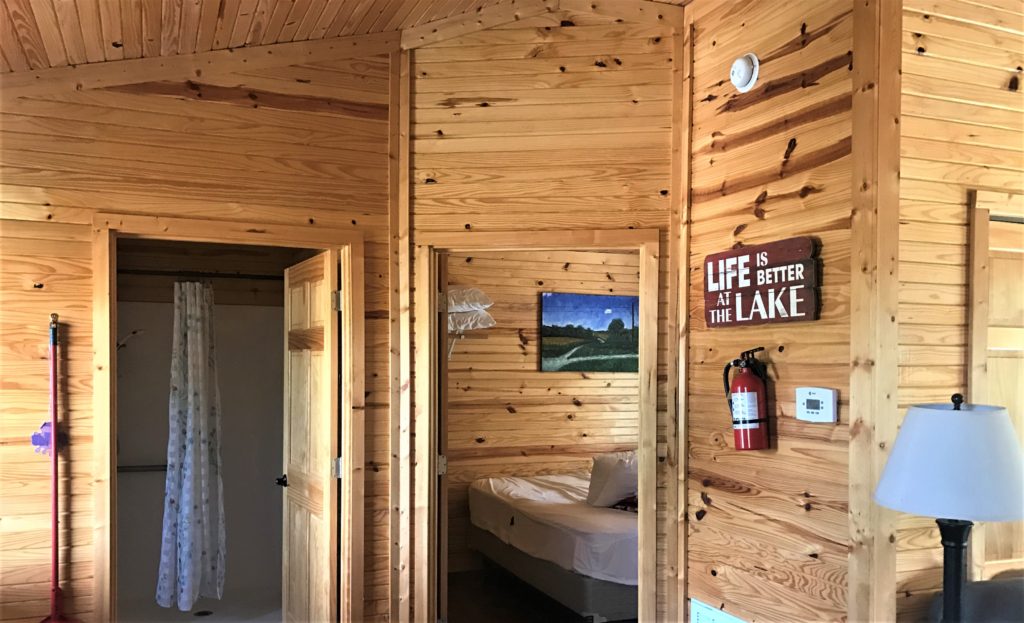 The cabin had a sitting area, fireplace, full kitchen, all appliances, dishes, towels, bedding – everything you need for your stay!
The back patio area was set up with a picnic table, chair, bench, charcoal grill, and fire pit.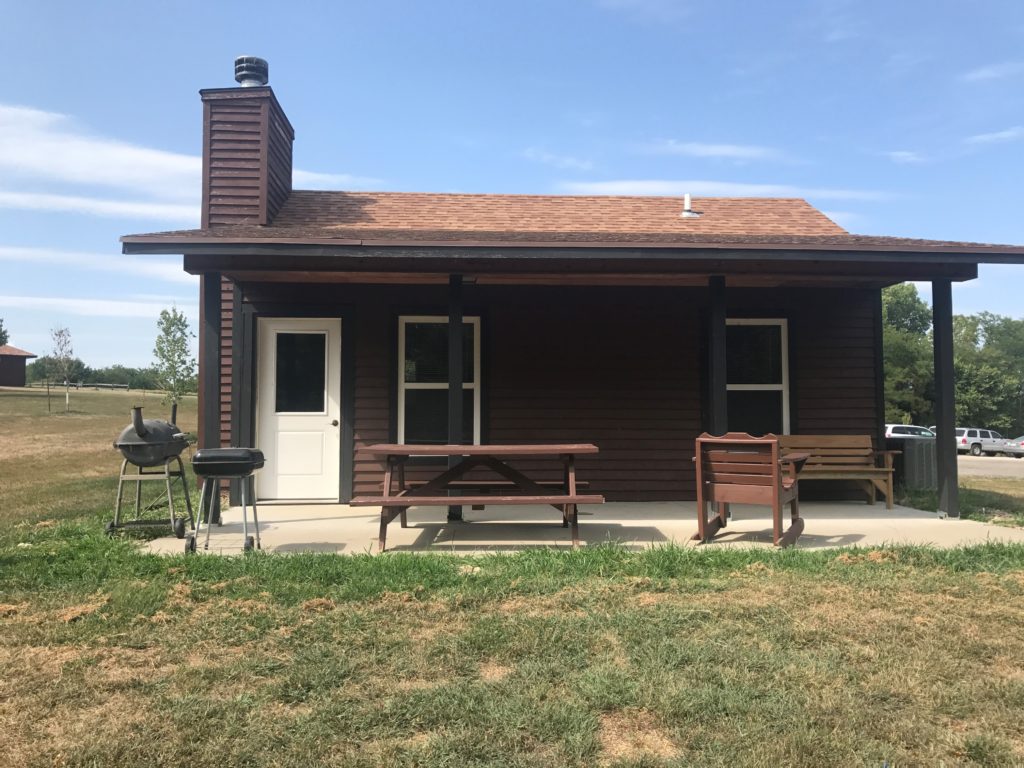 Cabin #6 doesn't have a view of the lake as some of the larger cabins do, but it was cute, very clean, and had all the amenities you needed for your visit.
Here's a photo of the larger "family cabins" with decks overlooking Mozingo Lake.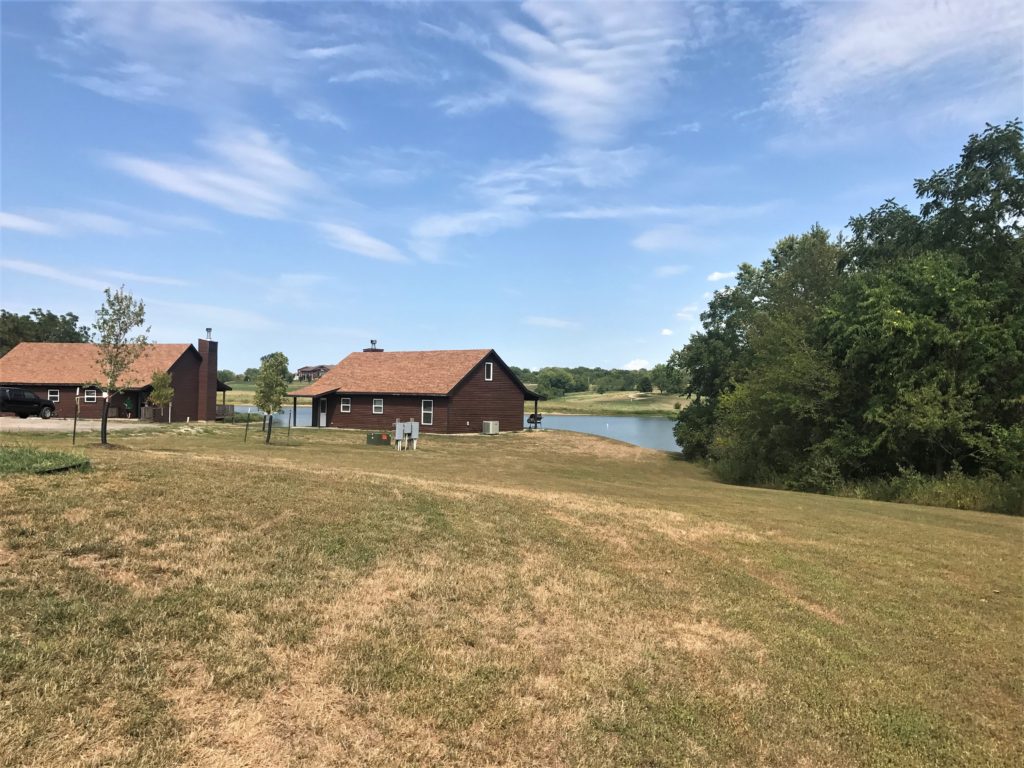 My husband and I took the cabin and enjoyed every minute that we were there…which wasn't a lot because we were back at the campsite!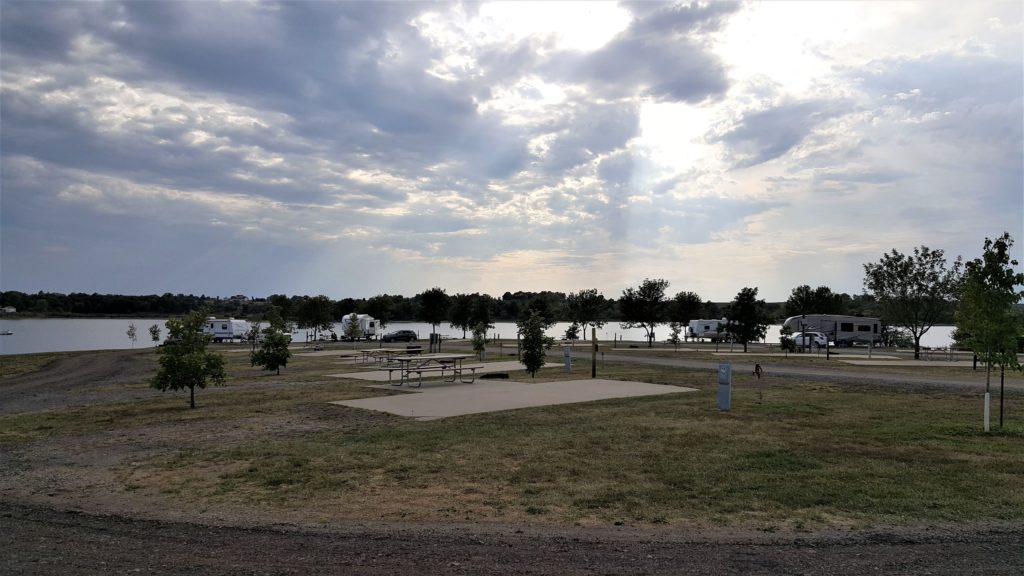 Our first night, we enjoyed watching the sunset over the water…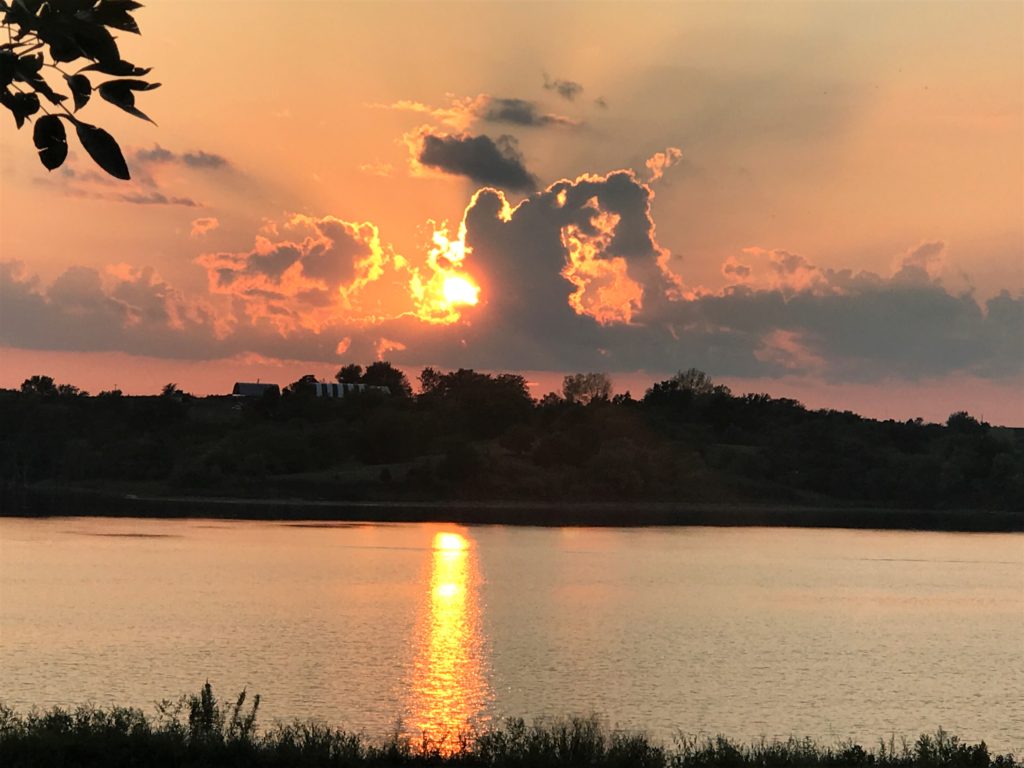 Our second night, we were enjoying the beautiful cloud formation over the lake…
But then…just as we were taking photos of those beautiful clouds rolling over the lake, our phones began going off – Severe Thunderstorm Warning!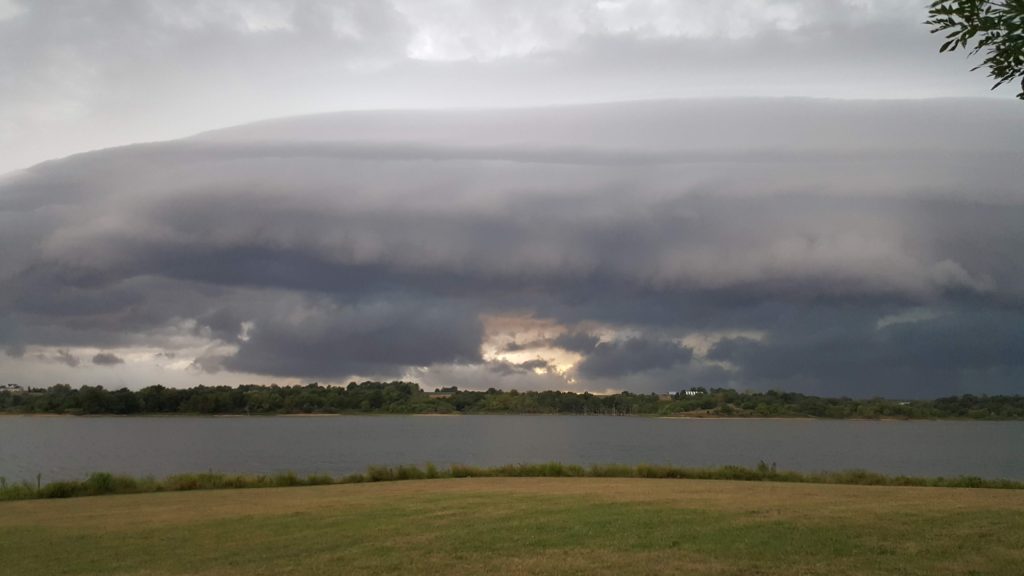 We've never been in a storm like the one we experienced at Mozingo Lake! We later learned the wind was blowing at 60 m.p.h.!
At one time, we looked out the window of the trailer to see white caps forming over the lake! Then…the trailer began to shake!
The wind gusts were so great that it created a wall of dust blowing over the campground. We looked at each other and decided to head for the truck!
The wind made it almost impossible to open the truck doors but even more difficult to close them! Heavy rain began to fall so we decided to head over the cabin.
We stopped at the campsite next to us to see if the family was heading to safety.
He said they were going to ride out the storm and he was tightening the jacks to help stabilize the trailer.
We felt a little safer in the cabin and headed back to the trailer when the storm subsided.
When we spoke to our camping neighbor the next morning, he said they had taken shelter with their grandkids in the bathroom facility for several hours.
This was a good lesson for us! Now when we pull into a campground I look around and think…
What Will We Do In Case of a Storm?
Always assess your campground and figure out a plan in case of bad weather!
Mozingo Lake Bike Paths
Mozingo Lake has miles of bike and running paths throughout the park that were pretty flat. We even biked over to Cabin #6 a few times and we took them to bike over to the facilities.
Mozingo Lake Conference Center
Mozingo Lake has now expanded to include a hotel and conference center! The conference center includes a Golf Pro Shop, restaurant, catering hall and is the perfect backdrop for an outdoor wedding! (see photo below)
The new restaurant – William Coy's offers "Farm-to-Table" cuisine using produce from local farms.
The restaurant serves breakfast, lunch, and dinner.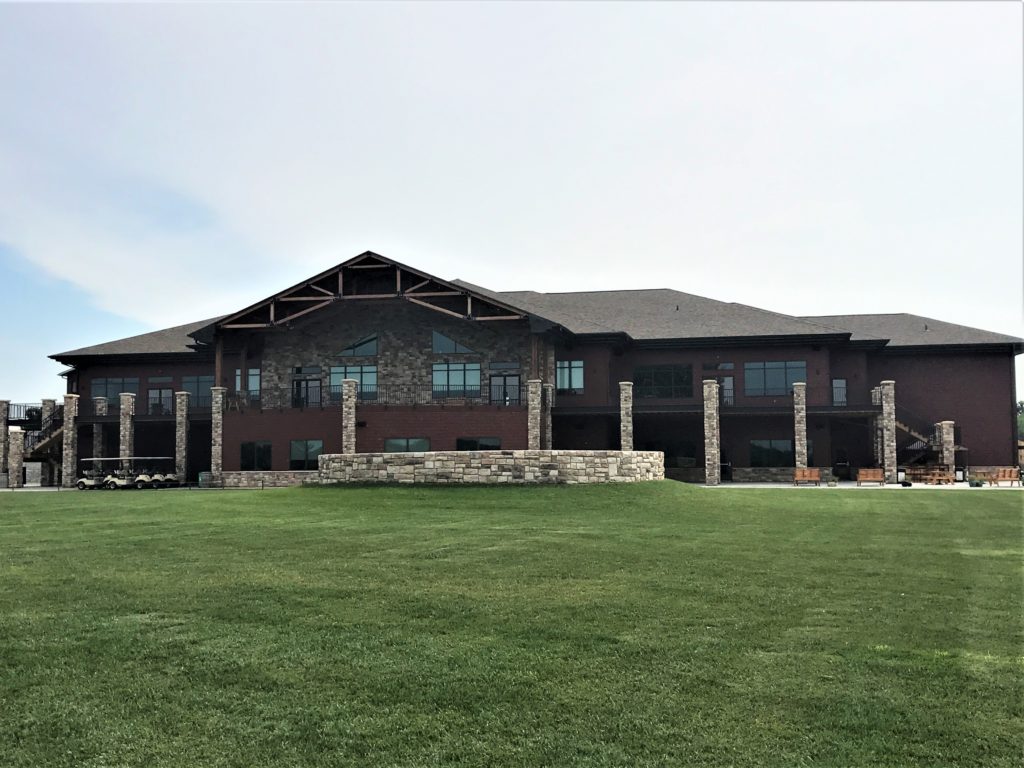 Mozingo Lake Hotel – Boulder Inn & Suites
Boulder Inn and Suites includes amenities such as complimentary breakfast, wireless internet, exercise facility, fridge & microwave in each room, and Keurig coffee machines!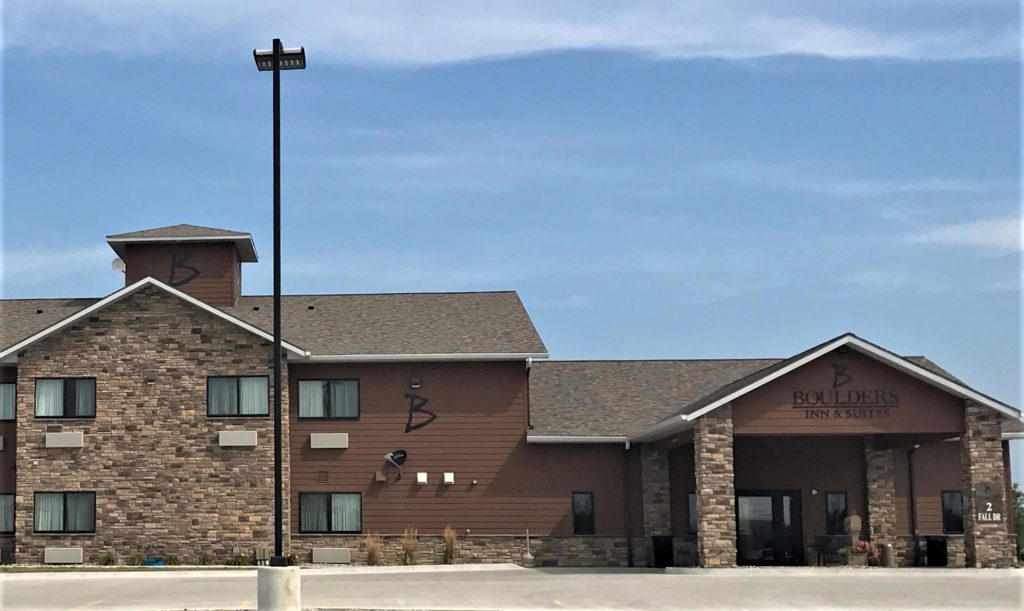 The addition of the hotel and conference center, along with an award-winning golf course, rustic cabins, RV campground makes Mozingo Lake a perfect location for weddings, family reunions, conferences, or just to relax and fish, boat or camp!
Best Places To Camp In The Midwest – Mozingo Lake RV Campground
Open Year Round The Main RV Campground is not reservable.
The 75 sites are first-come, first-served.
*Rates are 2018 rates $25 Per day/Peak (April 1 – October 31) $18 Per day/Non-peak (November 1 – March 31)
All sites include: 30/50 amp, water/electric, fire pit, picnic table and wireless internet
There is a playground at the Main RV Campground
The dump station is located at the Main RV Campground
Reservable RV Campground 20 sites are reservable 6 months in advance
All sites include: 30/50 amp, water/electric, fire pit, picnic table and wireless internet $25 Per day/Peak (April 1 – October 31) $18 Per day/Non-Peak (November 1 – March 31)
PLUS a $10 Reservation Fee
Mozingo Lake Rustic Cabins
There are 8 Rustic Cabins with lakeside views that are also Open Year-Round
Cabins vary in size and can sleep from 4-15 people
There is a $100 cleaning/damage deposit (fee will be refunded if no damage or cleaning services needed) plus sales tax plus a 5% tourism fee
Tips for RV Camping at Mozingo Lake – Maryville, MO
1. If you want an RV site along the lake, RESERVE your spot early!
You can make a reservation six months in advance and choose your campsite. You can even make your reservation online.
NOTE: There is a $10 Reservation Fee to be in the Reserved RV Campground.
The Main RV Campground is on a first-come, first-served basis and we found that it was not only busy, but there were few true sites along the lake.
2. The larger family cabins are right along the lake. We liked Cabin #6, but there wasn't a view of the lake from the back patio as the other cabins.
3. Camp mid-week. There were only a few campsites being used in the Reserved Campground area mid-week.
This made for a relaxing vacation.
Docks were right near the campsite which would be perfect if you had a boat or wanted to fish from the dock.
4. Mozingo Lake is great for boating, skiing, kayaking, jet-skiing, and fishing; or, just to relax, sit at your campsite and watch the beautiful sunset!
5. There is also a public beach area for swimming and group picnic areas to use.
Our camping trip to the midwest was fun and exciting (thankful it wasn't a tornado!).
We enjoyed the beautiful lake, the rustic cabins, and biking along the bike paths. I think next time…we'll bring our fishing poles!
Have you been to Mozingo Lake? Let me know!
Happy Camping & Safe Travels!
I would love for you to join my mailing list!