Last Updated on October 10, 2022 by Lori
If you asked me to name one thing about RVing that I think can be one of the most stressful parts of the whole RV camping experience, I would have to say it's the RV Departure.
It doesn't matter if you've been planning your trip for one day or for six months, making sure you have everything you need when you leave home or the campground can be one of the most stressful times for an RV owner. Download your Free RV Departure Checklist so you won't leave anything behind at the campground!
Checklists For New RVers
We have the RV checklist departure routine down pretty well by now, so I've put together a few helpful tips that I think can help you in planning your RV vacation.
This RV Checklist For Departure will soon become second nature to you – but for your first few times out in your RV, I know it will come in very handy!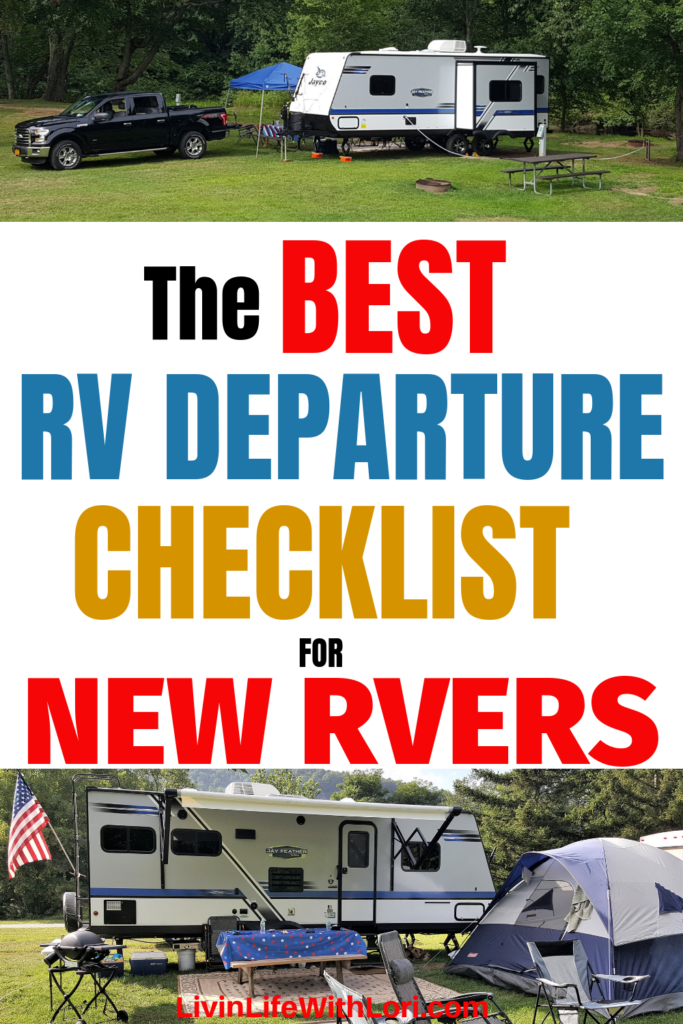 This post contains some affiliate links for your convenience which means that if you click on a link and make a purchase, I will earn a small commission at no additional cost to you. Please see our Disclosure Policy for more information.
Tips For RV Departure From The Campground
It's a good idea for each of you to have your own – what I will call… "assigned" RV Departure Tasks.
For us, Tom takes care of securing most of the outside of the campground as well as hitching up the trailer, and I take care of securing the inside of the trailer.
I will then go outside to check the campground area and he comes inside the RV for one last check of the inside before we leave.
Of course, this double-checking doesn't always work…
We've forgotten to put down the antenna, close the bathroom vent, left the cover open on the back of the truck, and had to stop along the highway to close it; and, we have left our water pressure gauge on the spigot at the campground.
But it's ALWAYS a Good Thing To Double Check!

Campground RV Departure – List Of Things To Do
On the morning of departure, we like to get up early and have coffee by the fire.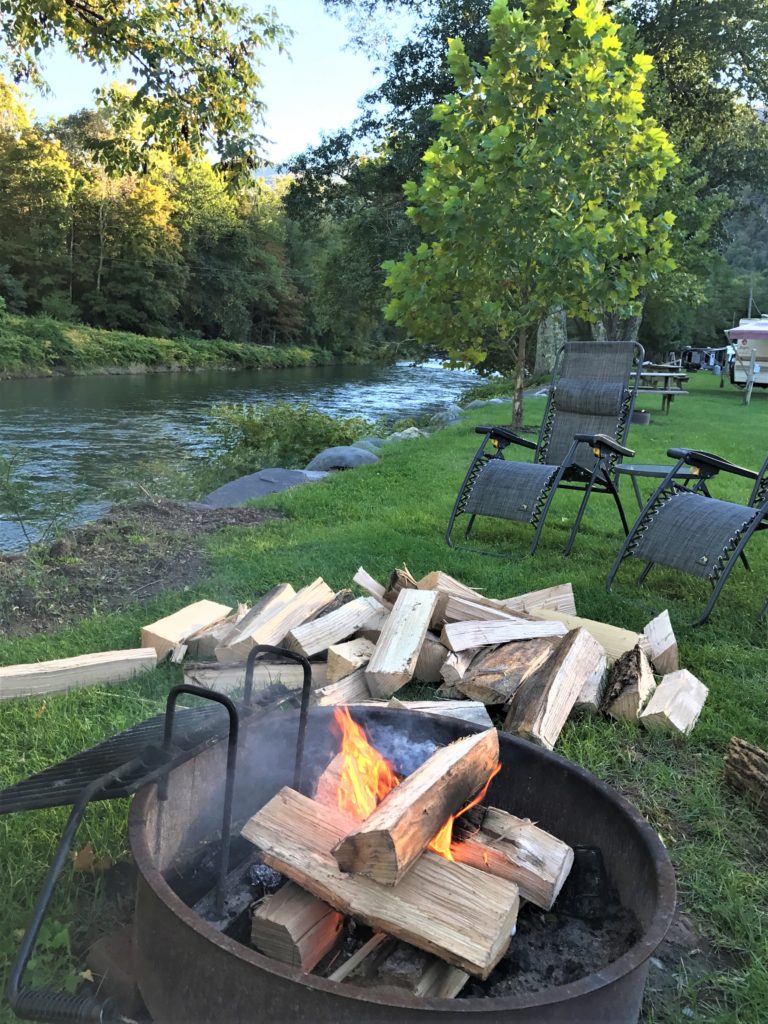 If we aren't rushed to get on the road, it's usually bacon, eggs & hashbrowns on the Blackstone Griddle!
If you've been thinking about whether or not to get a Blackstone – here's my Review of the Blackstone Griddle.
If we have an early departure, we have a quick breakfast of fruit, yogurt, or cereal either at the campground or on the road!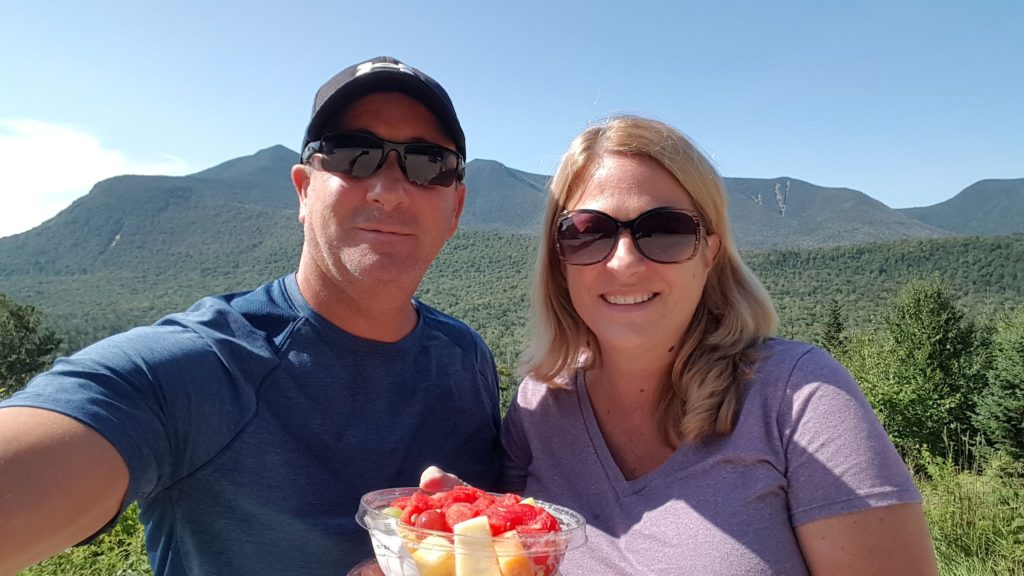 How To Plan & Organize Your RV Departure From The Campground
TIP! You want to start to pack up little by little – then you won't feel rushed or overwhelmed.
So you're NOT overwhelmed the first few times you pack up the campground – I've put together this
RV Departure Checklist Printable and RV Trip Planner To Help!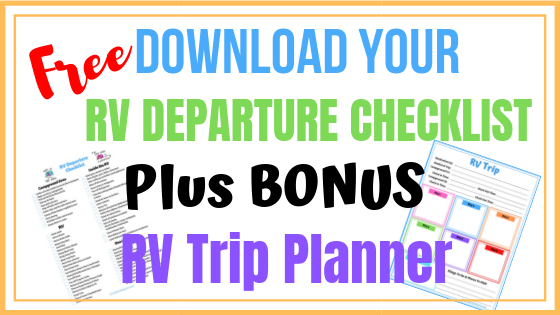 Outside The RV Checklist
Gather all trash, bottles & cans to take to the dumpster (this can begin the night before!)

Make sure fire is extinguished – if you were having "coffee by the fire" as we do!

Pack up the EZ Up (Pop Up Tent) – again – could be done the night before!

Pack up the chairs

Clean the grill and put away

Wipe off the table cloth & put away

Put clips holding down table cloth away

Citronella Candles

Sweep off the outdoor rug/fold up
Tip! We use these handy bins to pack up the table cloth, table clips, Bic lighters, fire starter logs, etc. They store easily in our RV storage area!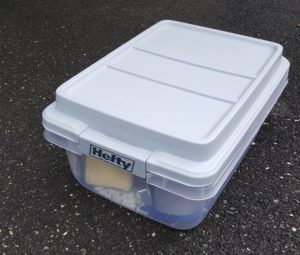 Close Awning

Put the bikes on the bike rack before hitching up the trailer & make sure they are secured!

Empty the water from the cooler (this makes it lighter to lift into the back of the truck) I have a smaller cooler we use inside the truck on travel days!
The Best RV Departure Checklist For Inside The RV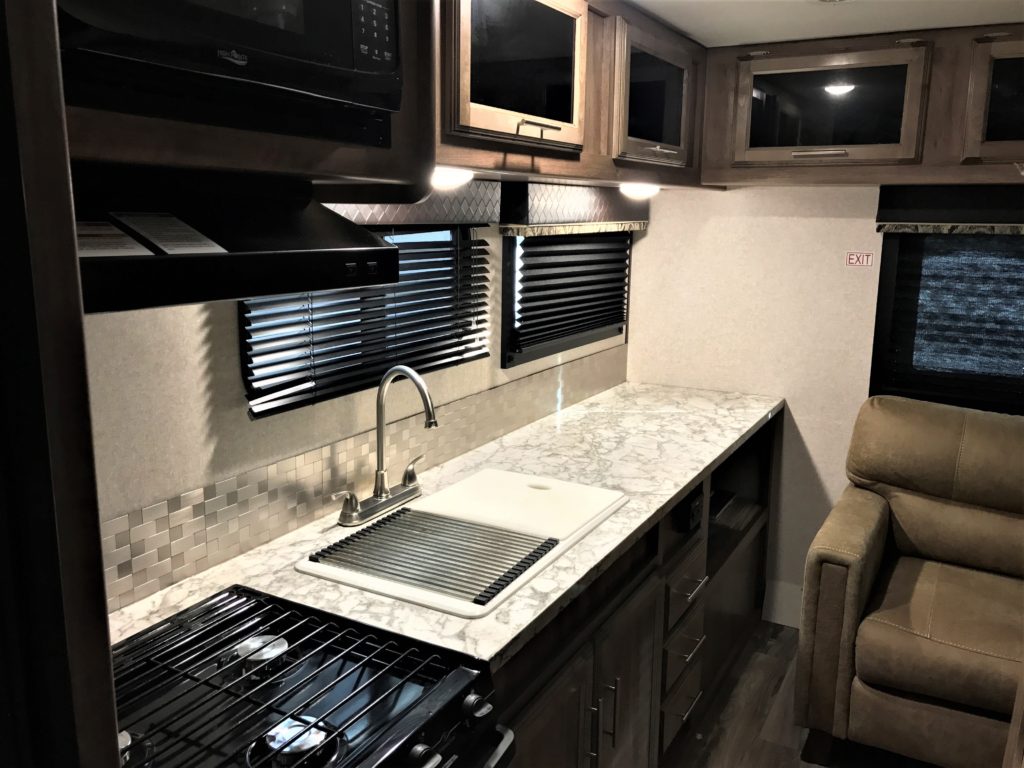 Wipe off and wash any pots, utensils or dishes

Store all pots, pans, dishes, coffee pots, other small appliances

Wipe off all counters

Check items in the refrigerator – secure then turn off the refrigerator

Take down dining room table (if booth) OR secure dining room chairs

Lower antenna

Remove all trash from kitchen & bathroom

Fold and store afghans, blankets & pillows

Secure any loose items in the bedroom

Check all cabinet doors

Check all windows are locked

Close all shades
Bathroom
Secure shampoos, soaps, toothpaste, toothbrushes

Secure shower door

Close vent

Latch sliding door from bathroom to bedroom
I just threw this picture in of Buddy WAITING for us to be finished! Isn't he cute on his Camping Bed?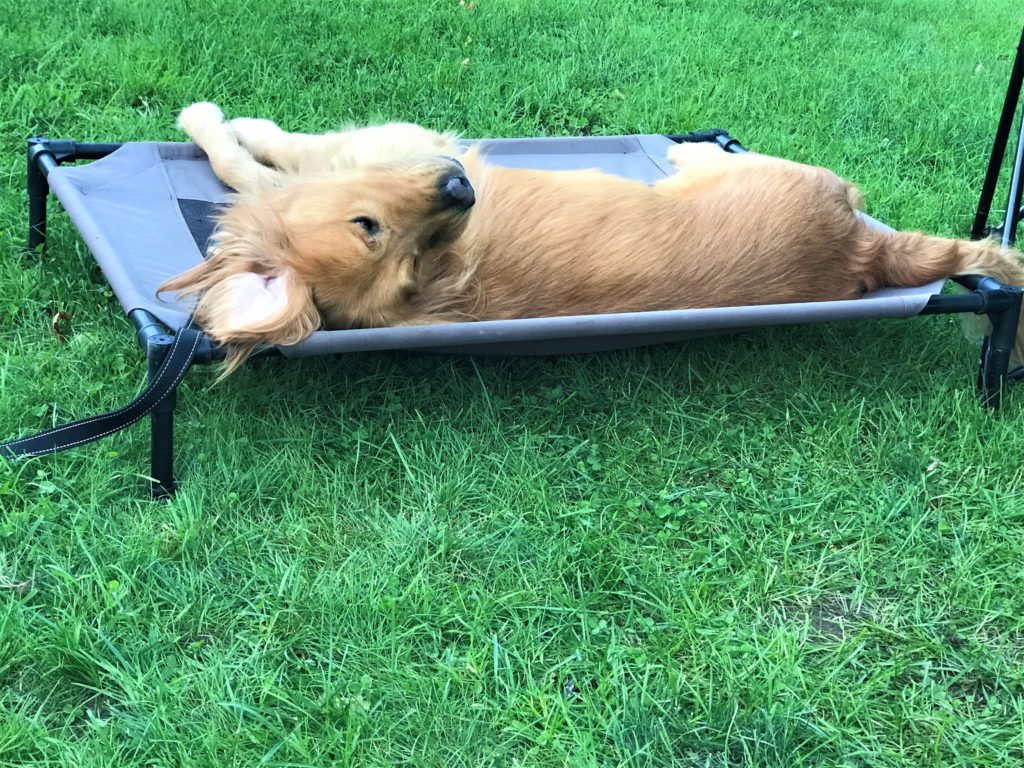 RV Departure Checklist – What You Need To Do For The RV
After everyone is finished using the bathroom in the trailer and everything is cleaned up around the campground:
Empty Black Tank

Empty Gray Water

Black Tank Flush

Drain hose and put away

Make sure both valves are closed

Store Green hose

Use Outdoor shower hose to wash off hands

Wrap Up Portable water hose and put bungee cords around it

Load all into the back of the truck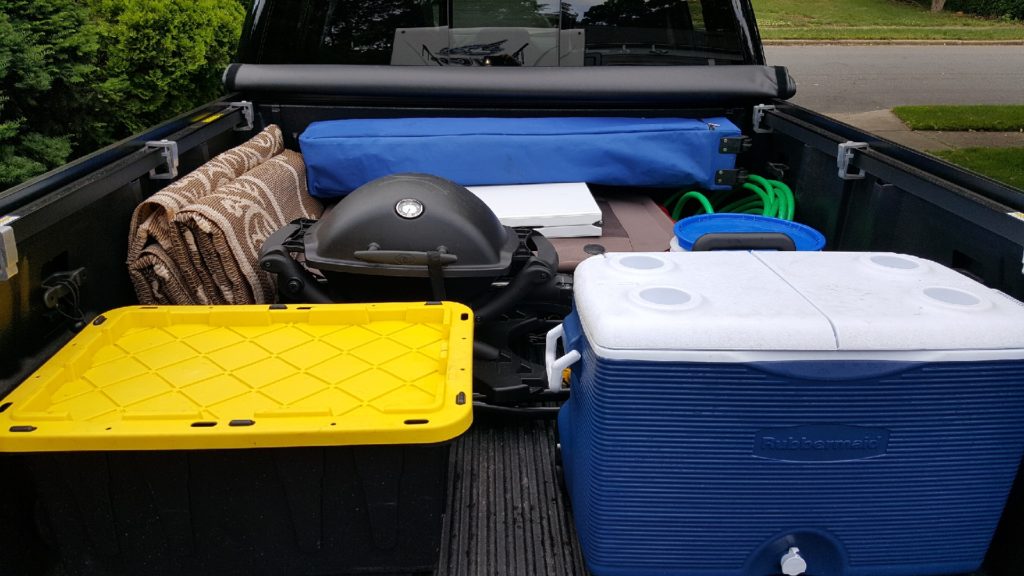 Related Reading: You might enjoy my article
How To Organize Your RV Camping Items in the Back of the Truck
Hitch up the Travel Trailer

Use the jack to raise and lower the trailer (you will need to keep your electric plugged in so you can do this!)

Attach the Sway Bars

Secure Chains

Secure Brake Cable

Lock Hitch

Once hitched up — unplug electric

Put chocks away

Store away the wood planks used under the jack

Lock the hitch

Turn off water

Make sure you remove the Water Pressure Gauge and store

Turn off Propane Tanks

Remove Surge Protector & Store

Remove & Store Cable for RV
We don't put Buddy into the truck until all of this is completed.
One of the LAST things we do at the campground is to take the stake out of the ground. Buddy loves to go camping with us!
Here he is while we have Coffee By the Fire!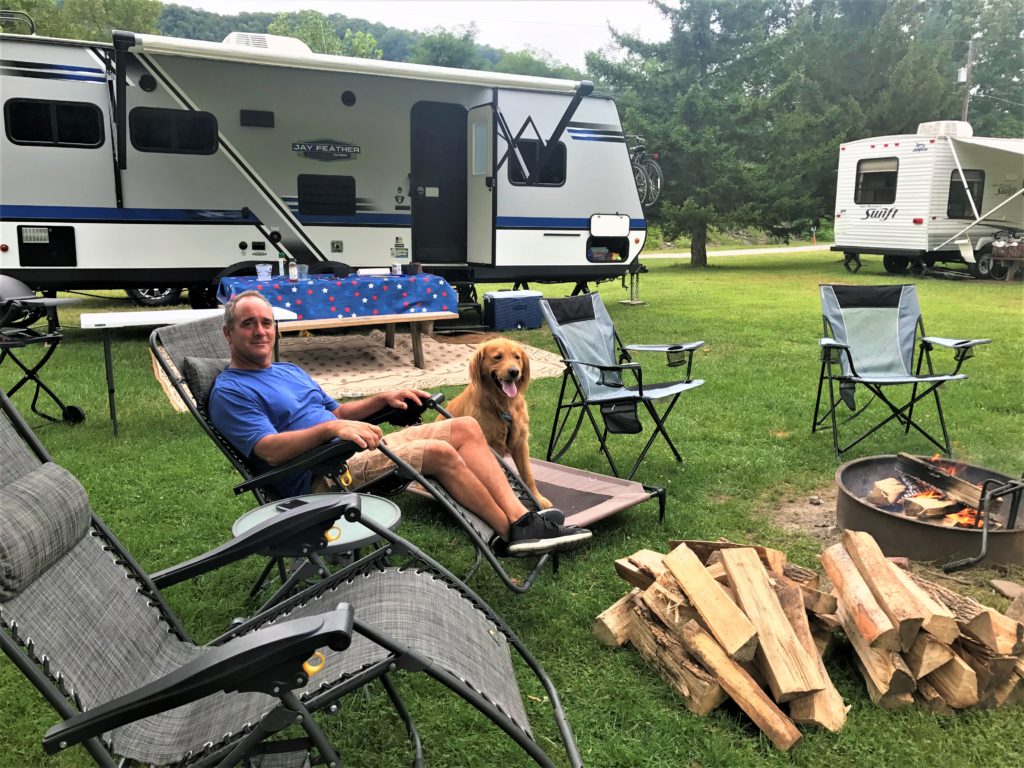 Antenna Down

Steps Up

Lock door and all compartments

Check Tires

Check brake lights, turn signals, headlights & windshield wipers

Fasten cover over the truck bed

Close outside vent
If we're NOT at a Full Hook-up Site we take our blue boy to the dump station to empty our gray water before we secure the campground.
Leaving the Campground
Drive To dumpster

Drive to dump station

Dump black tank

If there is no hose at the dump station, take the green hose off the back of the truck and flush out the black tank

Roll up hoses and store

Make sure all valves are closed
Be sure to pack your snacks and drinks and put them where you can easily get to them for your trip home.
Also…if you are heading to a new town or campground, plug in your destination in your GPS and route before you leave in case you lose your cell signal.
This way the Route is already programmed and your GPS won't stop giving you the directions!
Why You Need An RV Checklist For Departure
Tom & I have come up with what we like to call…ONE LAST CHECK.
Can you guess WHY we came up with this list?….
Yep! We have forgotten or we have seen other campers forget to do these things!
ONE LAST CHECK
Check all doors & storage doors are locked

Check the steps are up

Check the antenna is down

Check the hitch is locked

Check you are UNPLUGGED from the electric

Check you have removed your Water Pressure Gauge from the spigot

Check you have removed the chocks

Check your truck bed cover is closed

Check all valves are closed

Check brake lights and turn signals

Check that you have GAS!
You can find the Entire RV Checklist Printable HERE! PLUS A FREE RV Trip Planner!

Now you are all set to head to Your Next Adventure!
Do you have any stories or tips about YOUR RV Departure?
I would LOVE to hear them!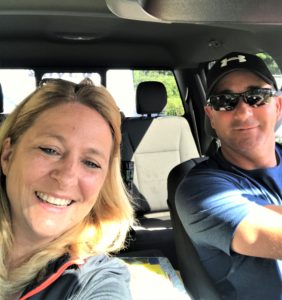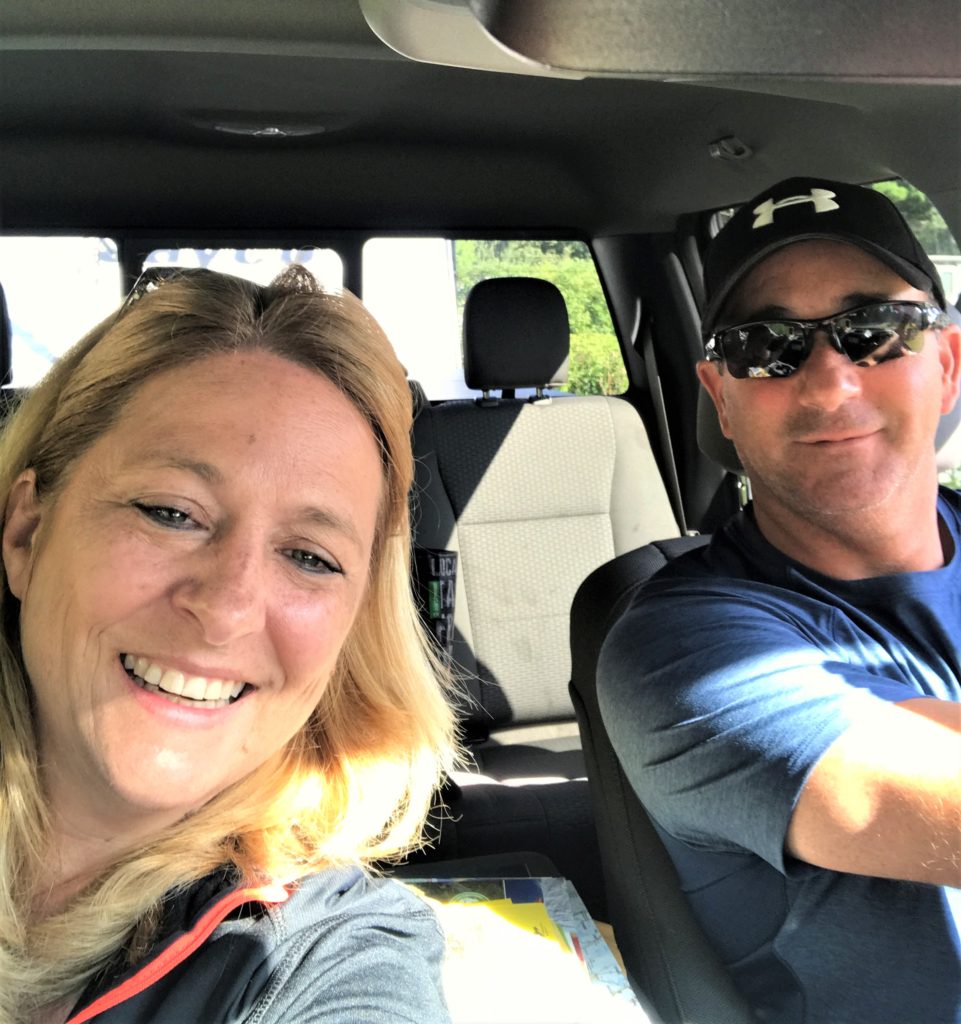 Please Join My Email List!