Last Updated on January 17, 2023 by Lori
While Branson, Missouri is a great place to visit any time of year, if you haven't experienced Christmas in Branson, you're missing out on making some wonderful new Christmas traditions for you and your family.
Here are the top things to do in Branson at Christmas that the entire family will love!
This post contains affiliate links which means if you click on a link and make a purchase, I will earn a commission at no additional cost to you. Please see our Disclosure Policy for more information.
Where To Spend Christmas In Branson
There are so many things to do in Branson during Christmas – from Christmas light displays and live musical Christmas shows to Christmas shopping and spreading Christmas cheer – Branson seems to come alive during the Christmas season.
When I was young, we spent many family vacations in Branson. At the time, there were just a handful of live music and comedy shows, Silver Dollar City amusement park, and swimming and boating on Table Rock Lake.
Today, Branson has over 100 shows and is a year-round destination for all ages.
This past summer, our family visited Branson and found so many things to do that we decided to return to Branson to see all the Christmas festivities!
Related Reading: Top Things To Do In Branson All Ages Will Love!
You might be thinking, "Can't you see everything you need to see in just one visit to Branson?"
I have found that there is always a musical variety show you haven't seen, a winery you might have missed, a restaurant you ran out of time to try, or just relaxing and enjoying the beautiful Ozark Mountains.
And, now, having experienced all the Branson Christmas attractions, well it's something you just can't miss!
Our Favorite Things To Do In Branson At Christmas
Kringles Christmas Shop
Grand Village Shops
2800 W 76 Country Blvd, Branson, MO 65616
Open M-Th 10-6; Fri & Sat 10-7; Closed Sundays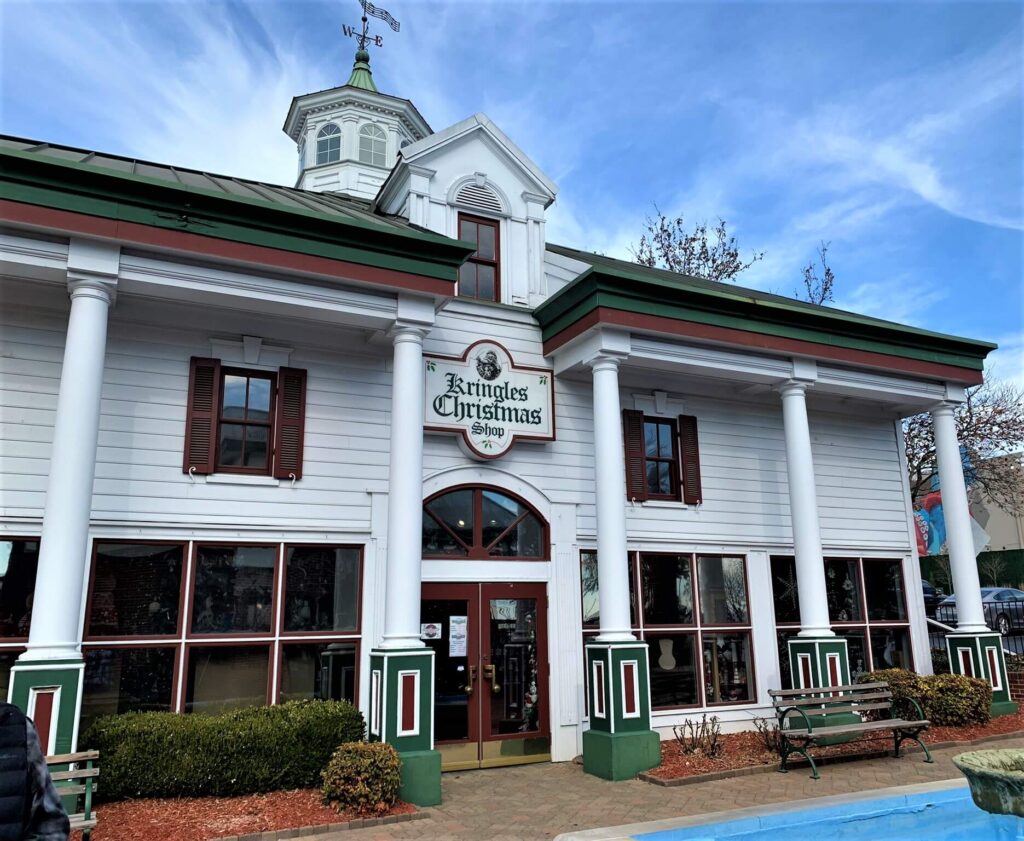 Have you ever seen 9,000 sq. ft. of Christmas? Kringle's gift shop is the largest year-round Christmas store in Missouri.
As I stepped into the store, I was a little overwhelmed with just how much Christmas there is to see! I didn't know which way to look first.
The Christmas decorations were beautiful!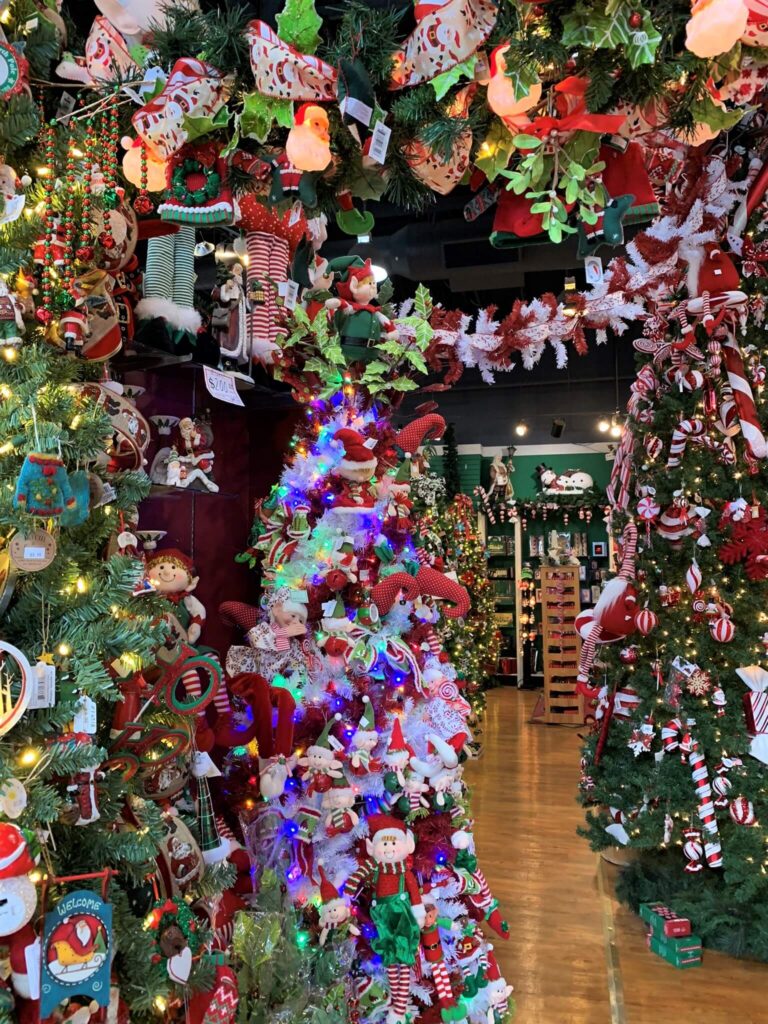 I first concentrated on the various Themed Christmas trees. There are over 100 themed trees in the store – trees decorated with ornaments for transportation, dogs, occupations, sports teams…and on and on.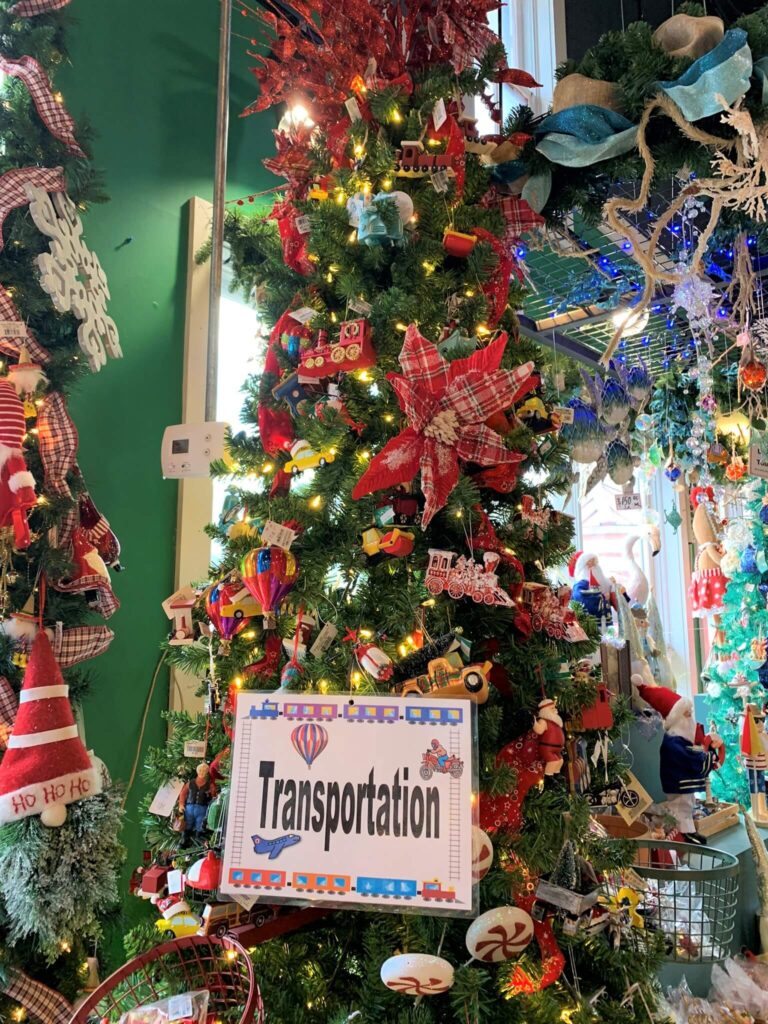 And, if you love Nativity sets – they had those too. They were absolutely beautiful!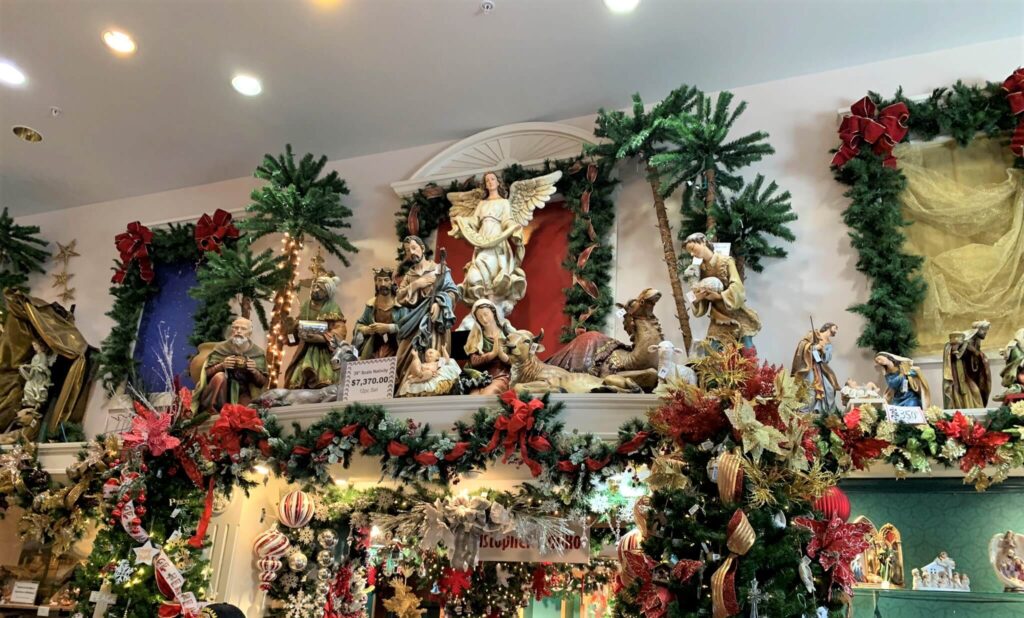 Stop by the Grand Village Shops to do some Christmas shopping – or at least to see all the beautiful Christmas displays at Kringles!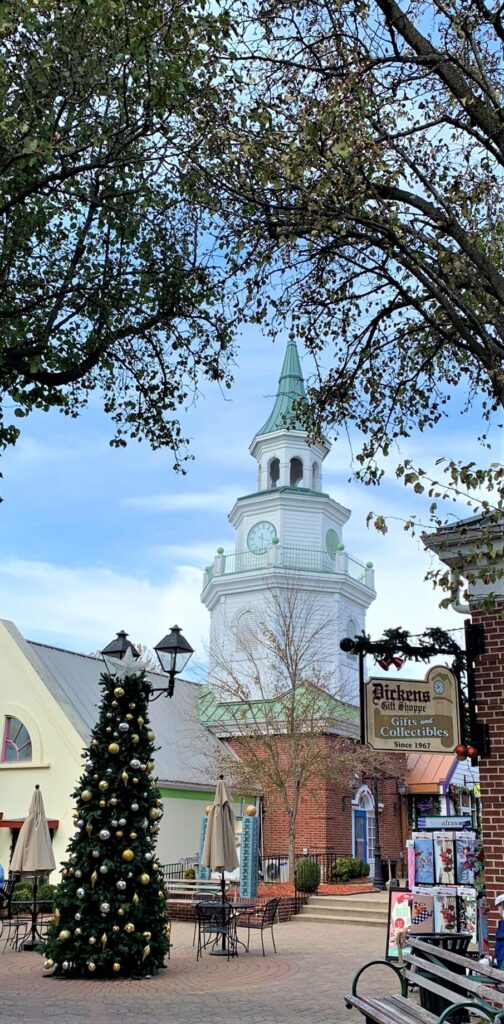 Dick's 5 & 10 Store
Located in Historic Downtown Branson
103 Main Street
Branson, MO 65616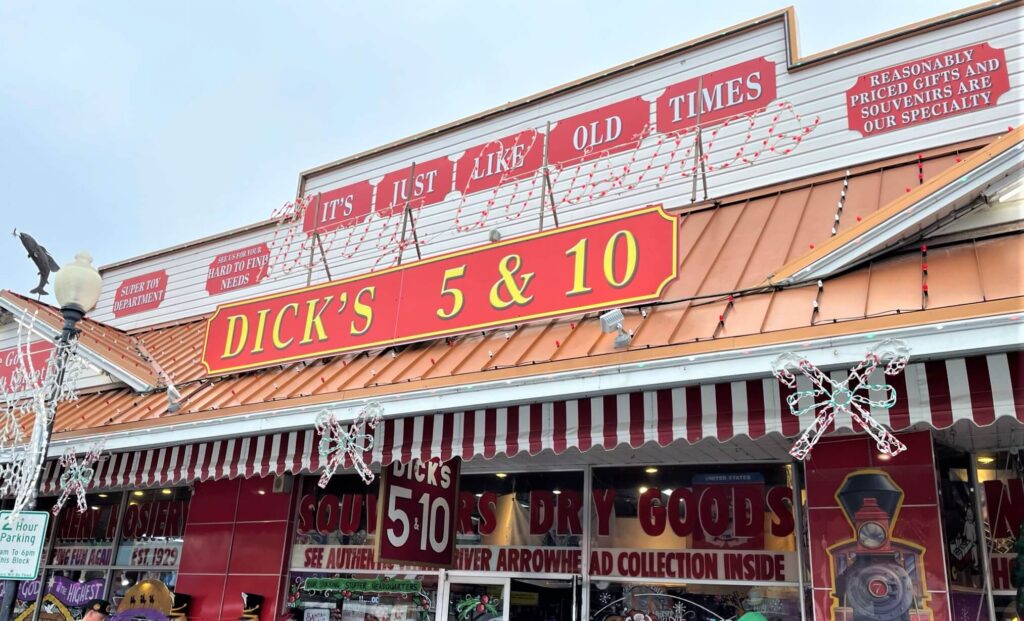 No trip to Branson is complete without visiting one of the last Five and Ten Stores in America! Since 1961, Dick's 5 & 10 has been open in Branson.
The store has grown to a 10,000 sq ft store with over 250,000 items – and a candy aisle that you can't believe (My favorite aisle to visit!)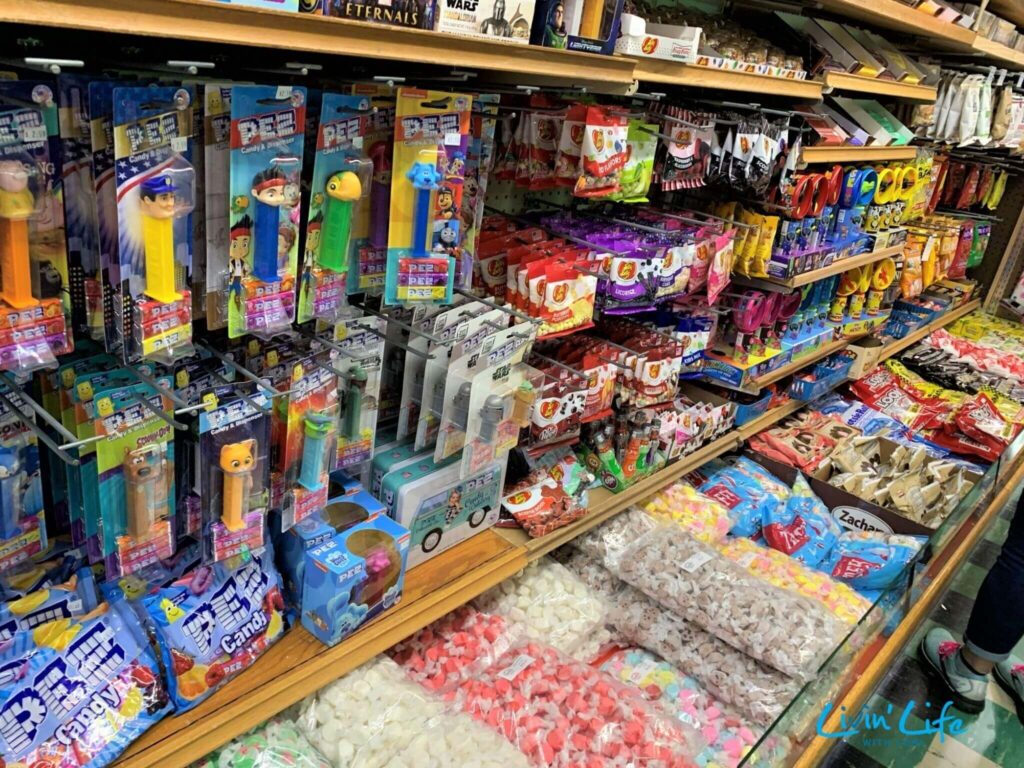 During Christmas, Dick's 5 & 10 has an entire aisle dedicated to Christmas items. I purchased several Christmas ornaments that I just love!
You have to see and experience this old-time Christmas tradition in Branson!
Pro Tip: There is FREE parking in a parking lot behind the store! No need to drive around searching for street parking.
Showboat Branson Belle
4800 Historic Hwy 165, Branson, MO 65616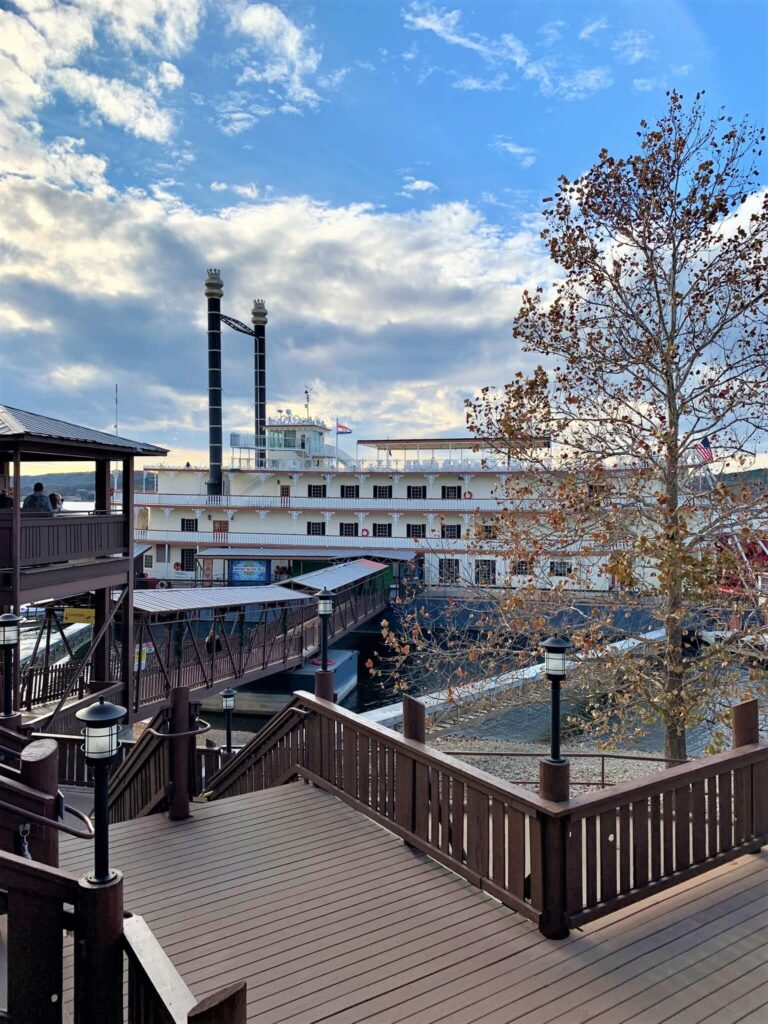 As many times as we have been to Branson, we had never been on the Showboat Branson Belle. We loved it so much and were happy that we didn't miss it!
The Branson Belle is also known as America's Most Entertaining Christmas Cruise!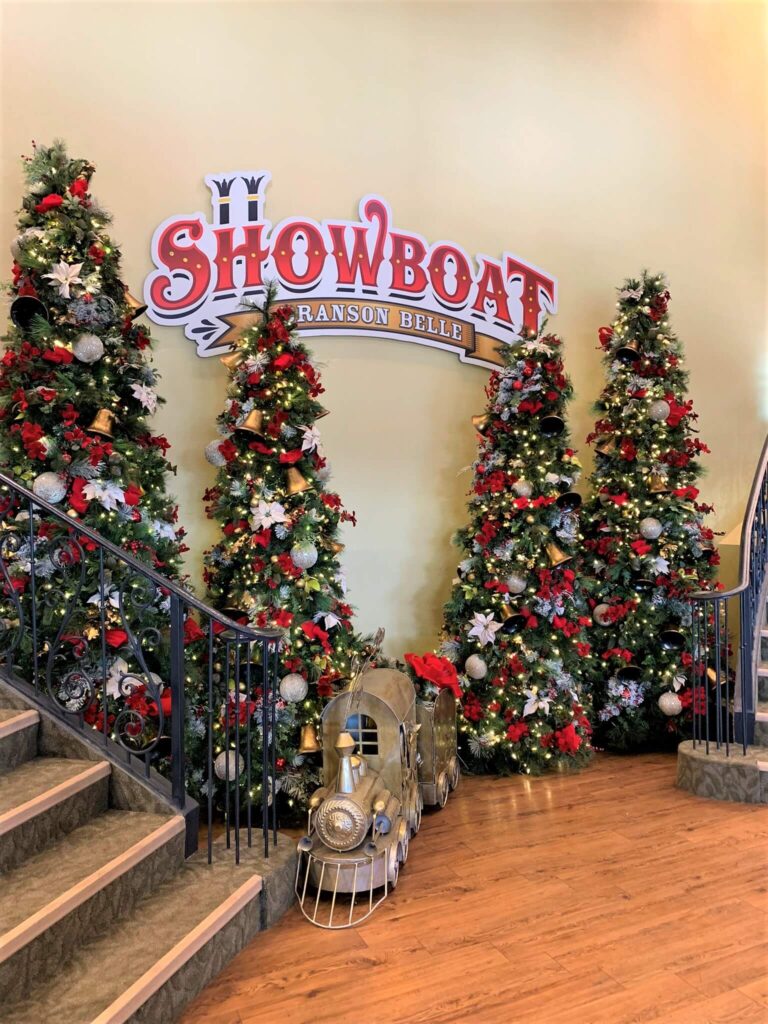 There are two types of tickets you can purchase:
General Seating: A banquet-style seating that comes with a standard 3-course meal.
Captain's Club: Priority boarding begins 1 hour before cruise time and includes a selection from the Captain's Premium menu.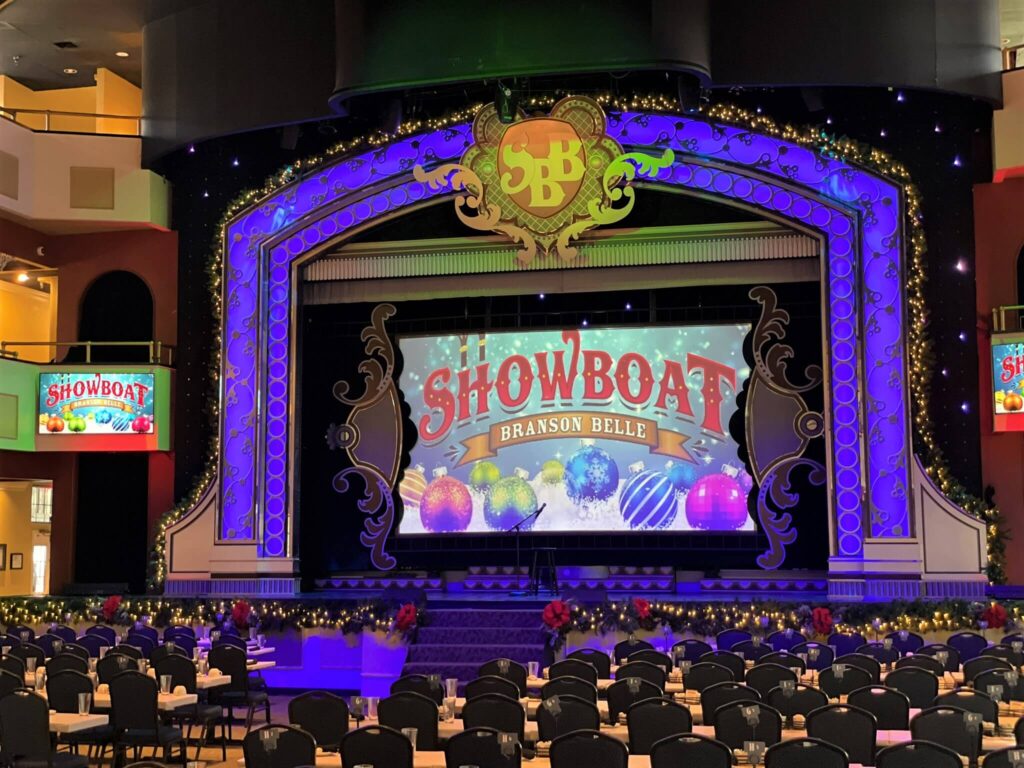 We decided to purchase the Captain's Club tickets for our family, which turned out to be the best thing for my elderly father, who has trouble walking distances.
We got to the dock area about an hour before cruise time and only had to sit a few minutes before the Captain's Club ticket holders were called to board.
We did not have to stand in the long general boarding line. After taking our premium seats, our waitress came to take our order. We had a very nice selection for dinner with all of us opting for the Rib Eye. And the desserts were delicious too!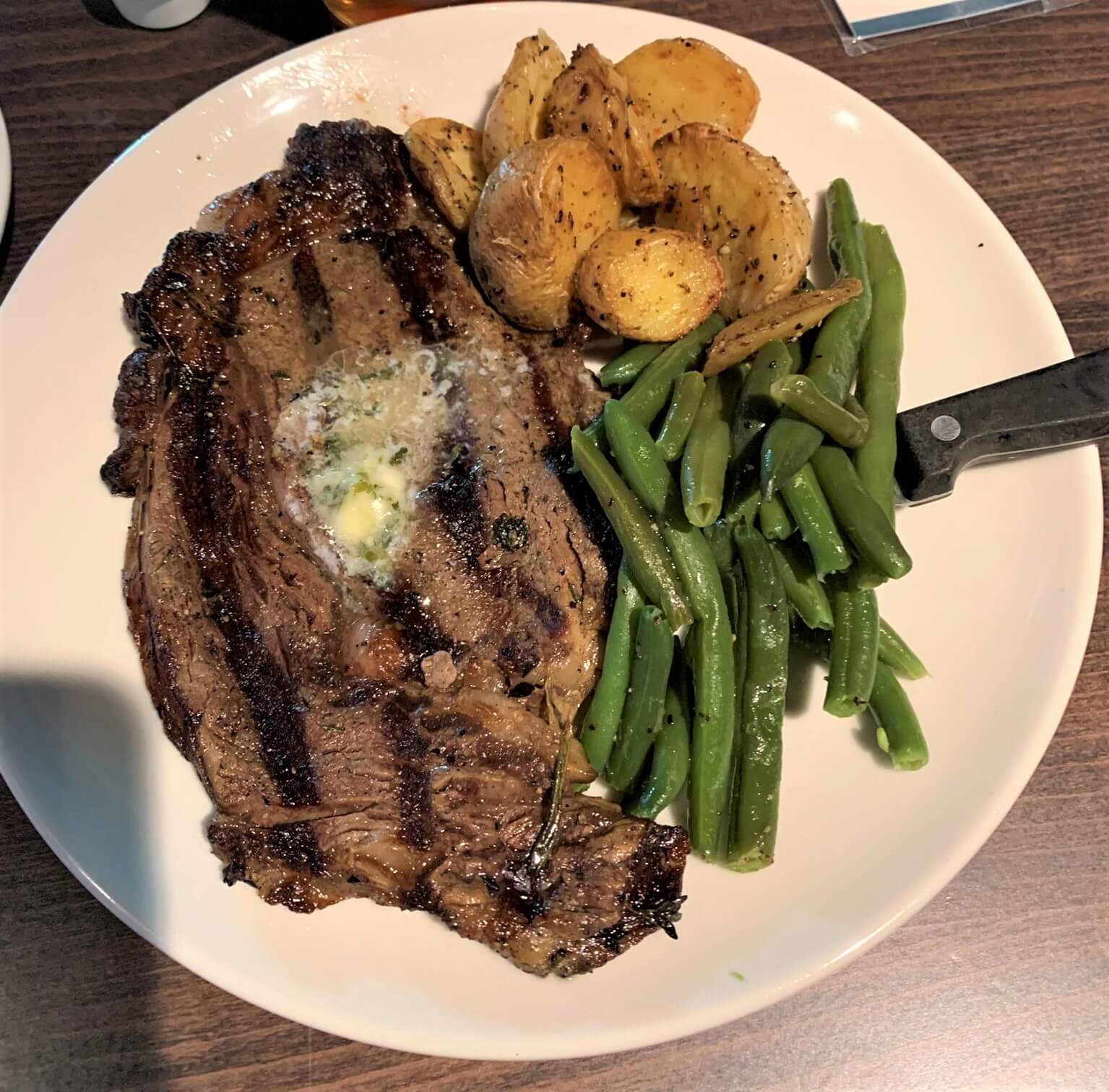 The Showboat Branson Belle is a great way to see Table Rock Lake and is a must-see while in Branson at Christmas!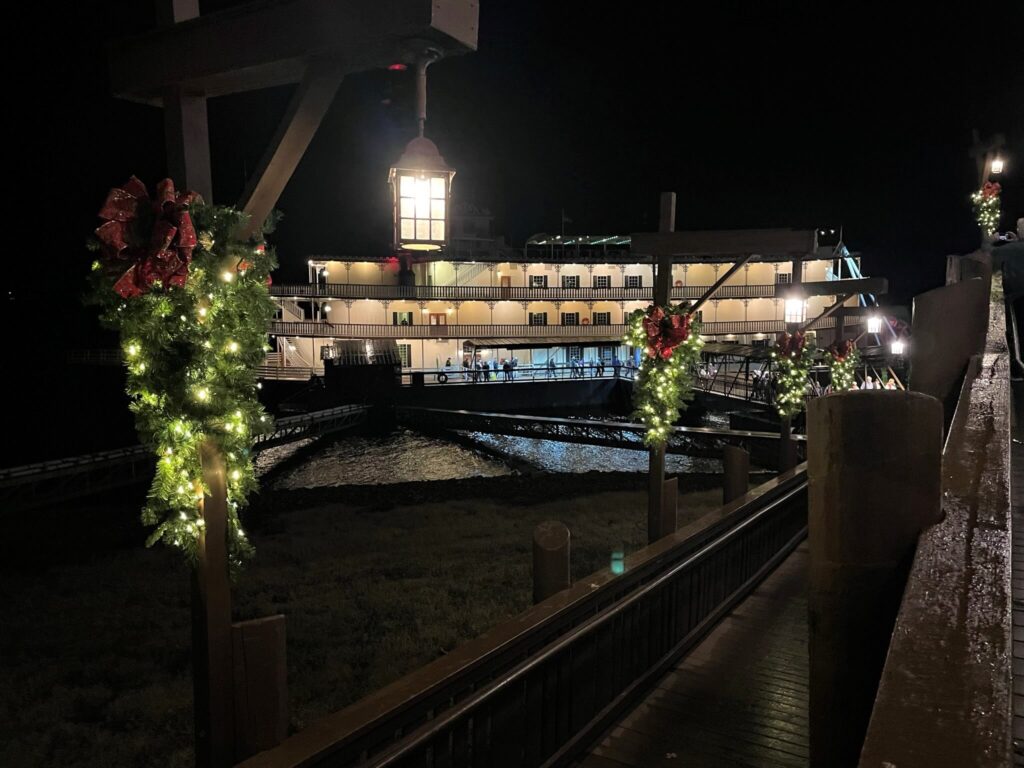 Sight & Sound Theater
1001 Shepherd of the Hills Expy
Branson, MO 65616
800-377-1277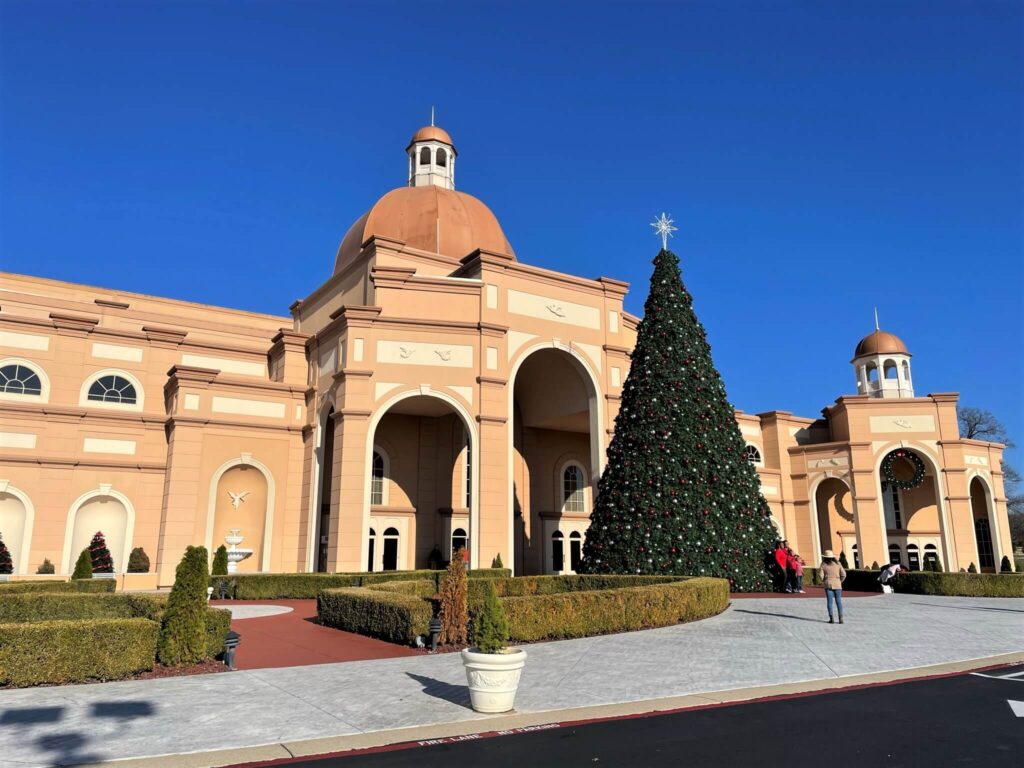 When we visited Branson in the summer, one activity on our to-do list was to see the live performance of "Jesus" at Sight & Sound Theater.
These live theatrical productions are like no other show in Branson with live animals, and amazing singers telling one of the stories from the Bible.
We saw that during Christmas, the show would be Miracle of Christmas. We decided then that our family would return to see this show during the Holidays.
Pro-Tip – Purchase your tickets early! Shows almost always sell out at the Sight & Sound Theater!
During Christmas, the fountain is replaced by this beautiful Christmas tree. The show is one of the best shows we've seen in Branson.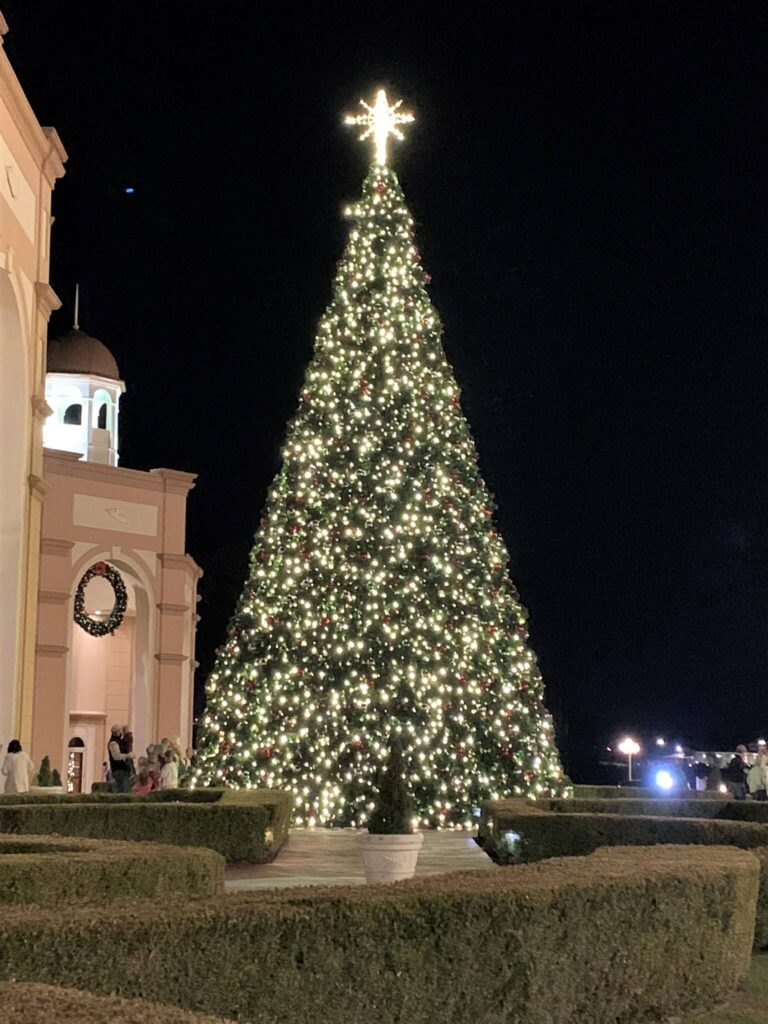 Shows at Sight & Sound Theater change every two years. There are two theaters – the original theater in Lancaster, PA, and in 2008, they opened the theater in Branson.
Don't miss seeing a show at the Sight & Sound Theater!
Top of the Rock Golf Cart Tour
150 Top of the Rock Rd
Ridgedale, MO
If you want to see the beauty of the Ozarks, one of the best ways to see it is on a golf cart tour through Lost Canyon Cave & Nature Trail.
The two-and-a-half mile golf cart ride takes you into the Bat Cave (where you can stop for a drink!), view amazing waterfalls, covered bridges, and panoramic views of Table Rock Lake.
We took the Top of the Rock Golf Cart tour in the summer, but I wanted to see what the views were like in the winter, so I added it to our Christmas in Branson itinerary!
Pro-Tip: There is a $10 charge (credit card ONLY) to enter Top of the Rock. So be prepared!
Taking The Top of the Rock Golf Cart Tour In The Winter
Not knowing how cold it would be on a golf cart, we dressed for winter, and away we went!
We were happy to see the golf carts had covers on them with zippers that you could either close all the way or, as I did, left my side open so I could take photos.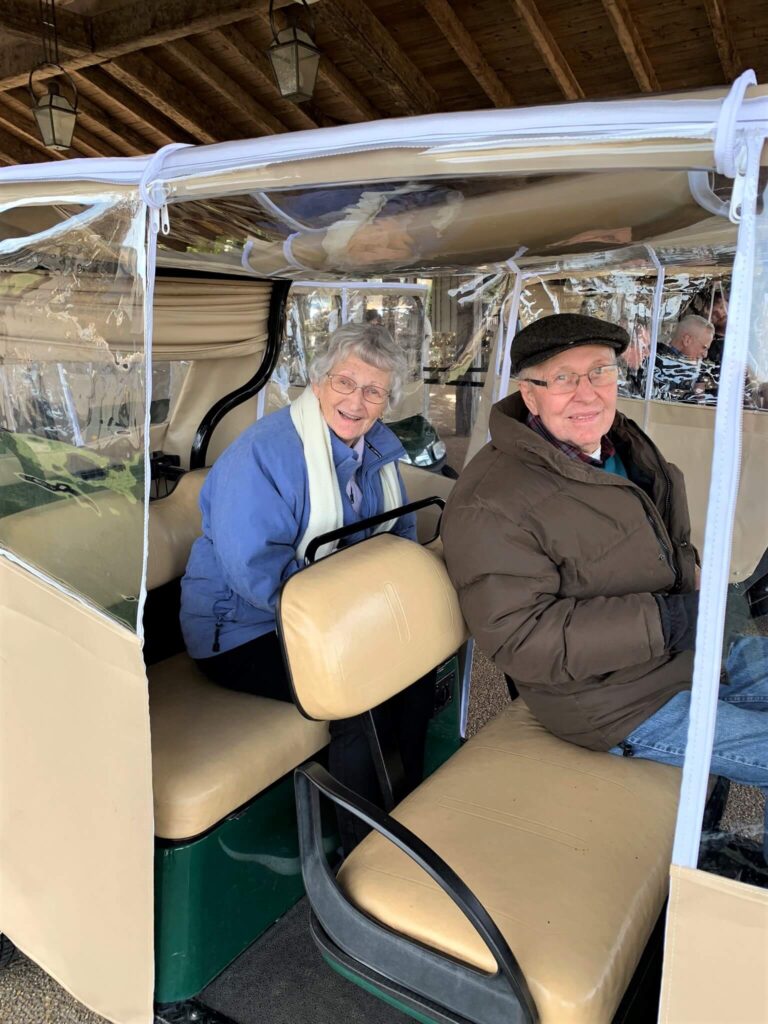 The covers did a great job keeping the wind out. We happened to get a nice sunny day (for the winter time), but when we returned to have dinner at Big Cedar Lodge, we saw many people enjoying the golf cart tour in the heavy rain as well!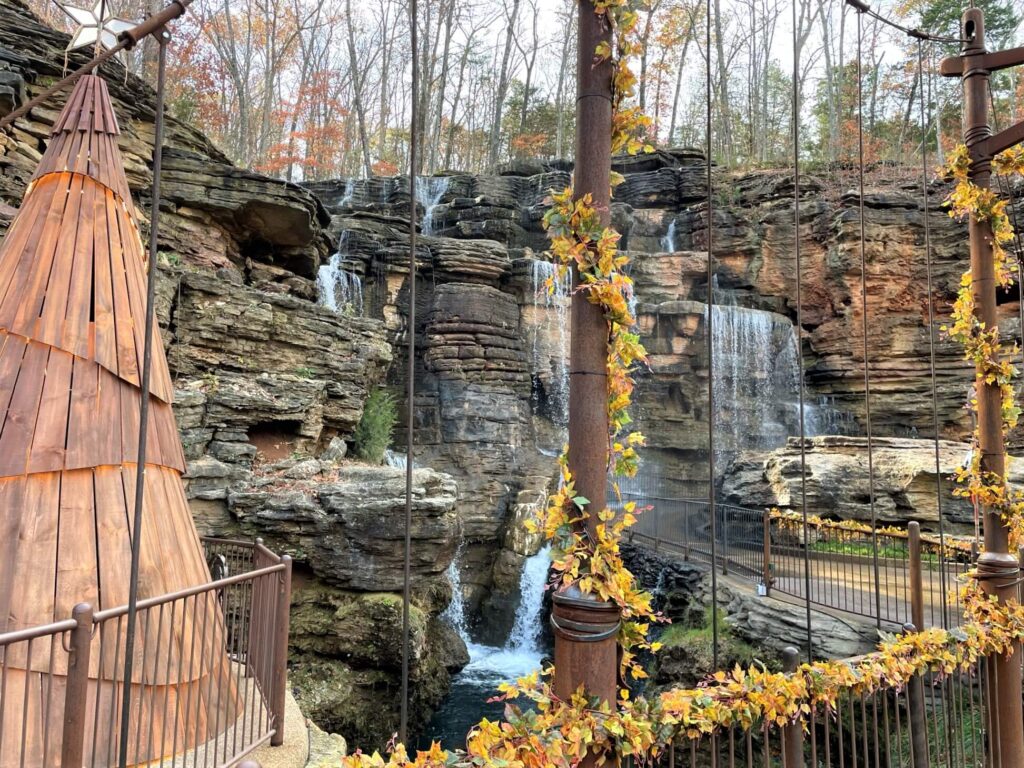 During the holidays, Lost Canyon Cave & Nature Trail is lined with lights for Christmas time! There are polar bears and even Rudolph and Santa are high above the Bat Cave!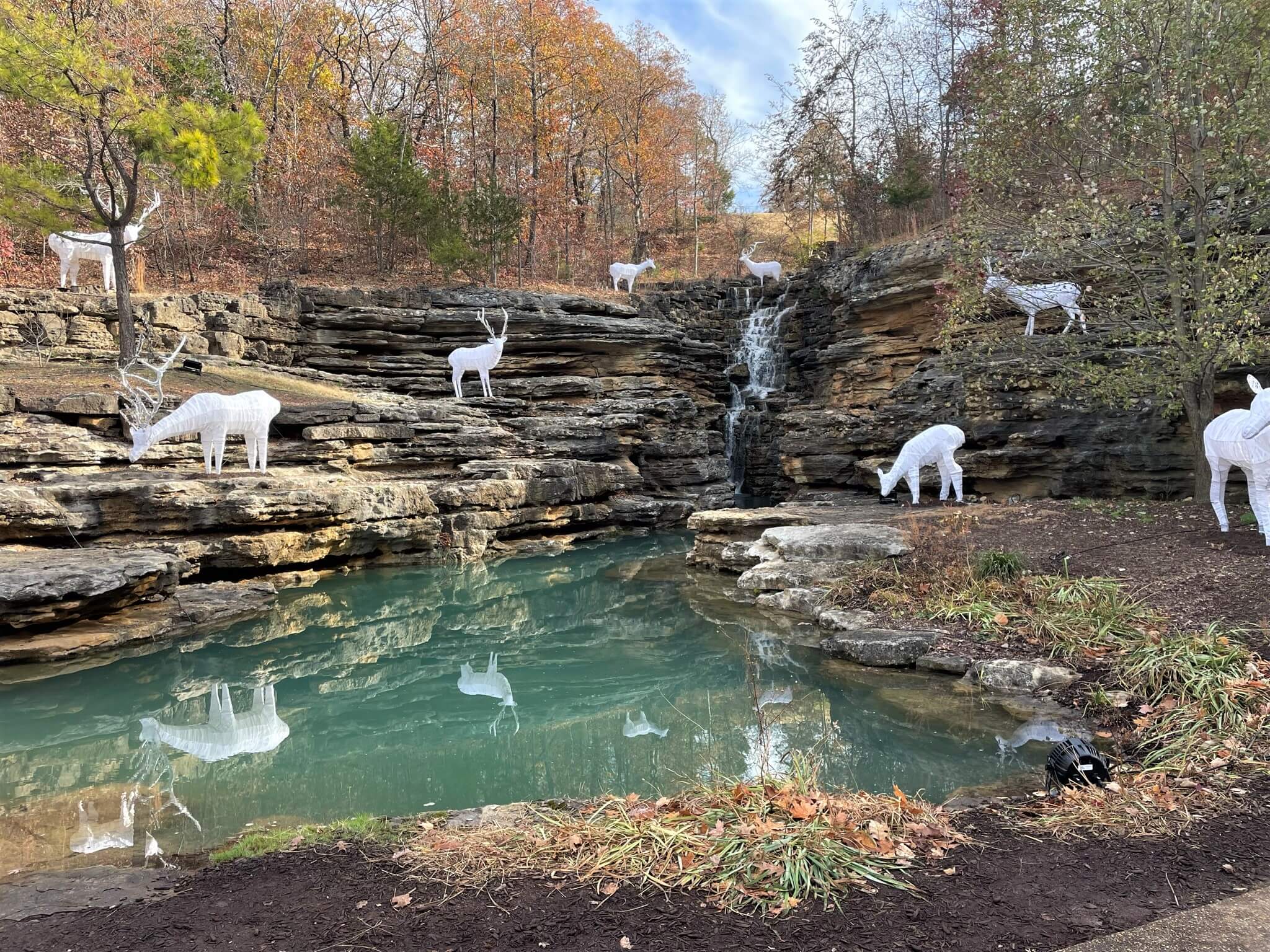 Top of the Rock Golf Cart Tour is fun for the entire family and you can take the tour all year round. They only close for ice and light
Here's more information about Top of the Rock and their new Lost Canyon Christmas Cart Tour.
FlyRide
Located at Beyond The Lens!
3115 W 76 Country Blvd
Branson, MO 65616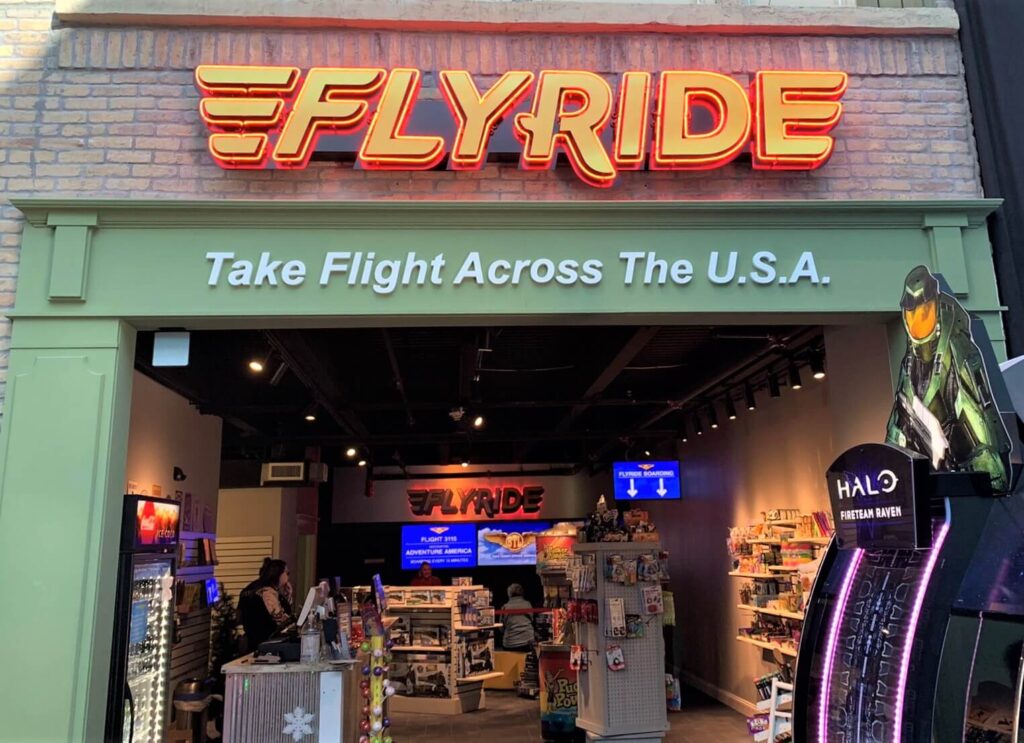 One of the attractions we missed in the summer that I knew my parents would enjoy was FlyRide. It is a ride with full-motion seats that dip, turn and soar. Depending on the show you choose, you may also get spritzed with a little bit of water too!
For the holiday season, you can choose between The Polar Express – Journey To The North Pole or Flight Across America.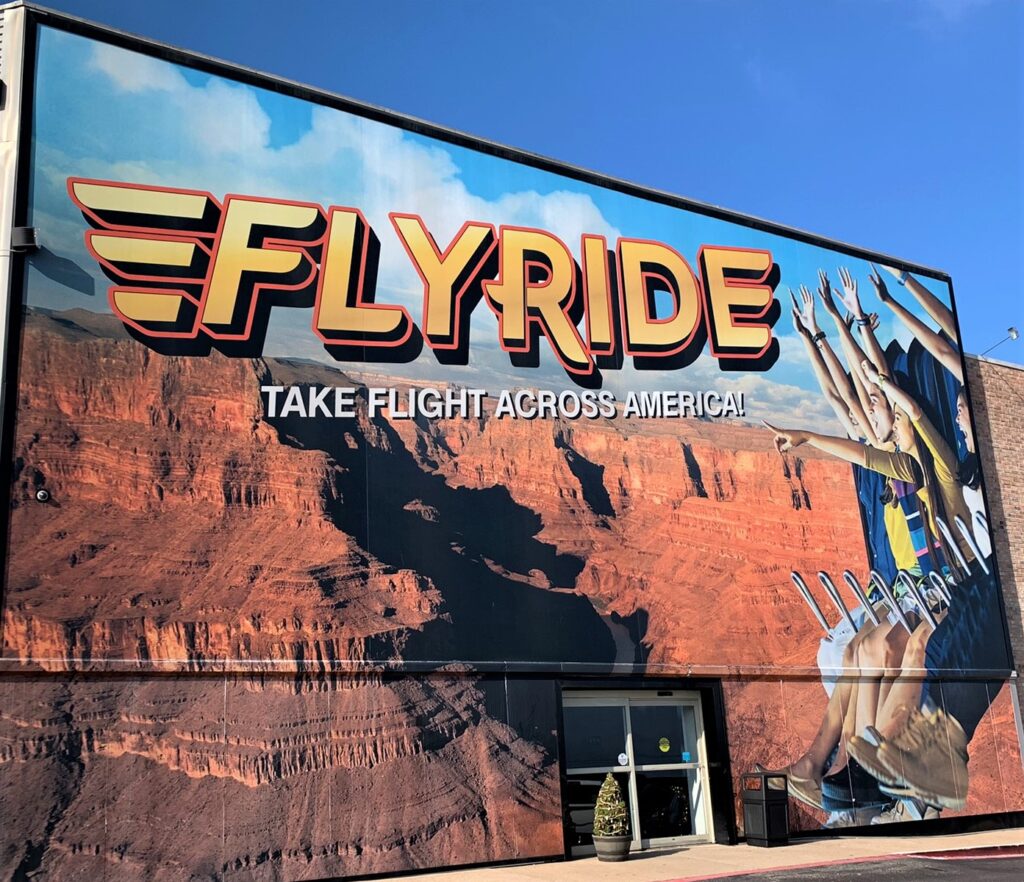 We chose Flight Across America, which took us to National Parks and other well-known iconic landmarks in America.
We loved it! If you're looking for things to do in Branson for adults – FlyRide is one Branson attraction to add to your list!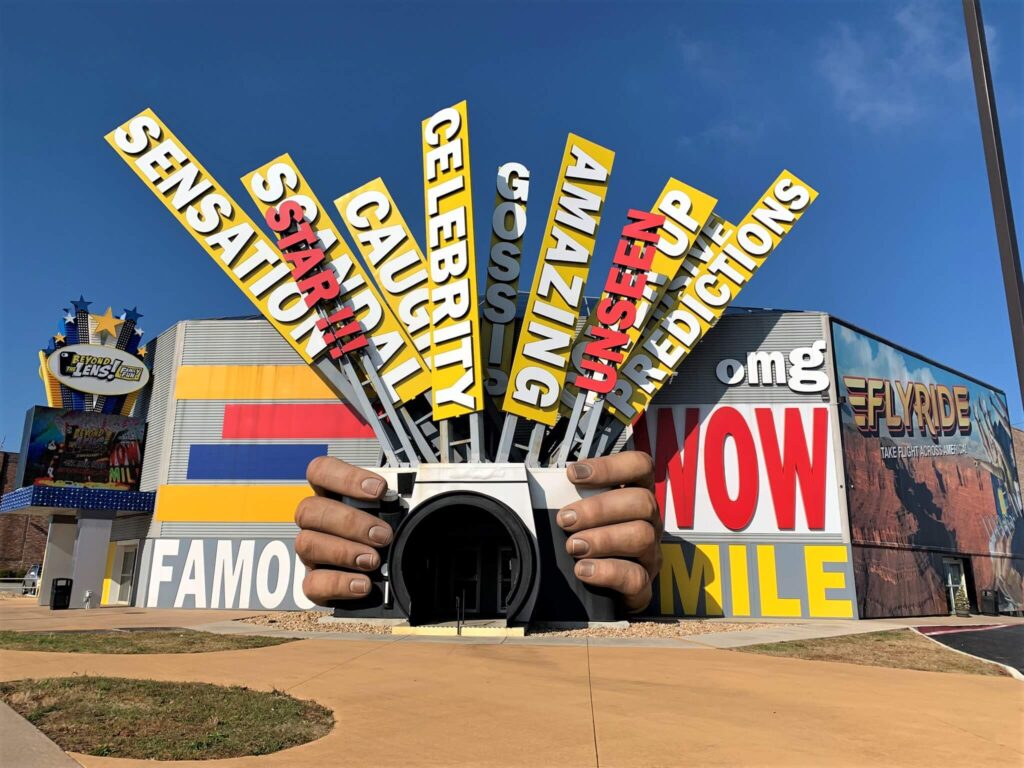 Ozark Hills Winery
601 State Highway 165
Branson, MO 65616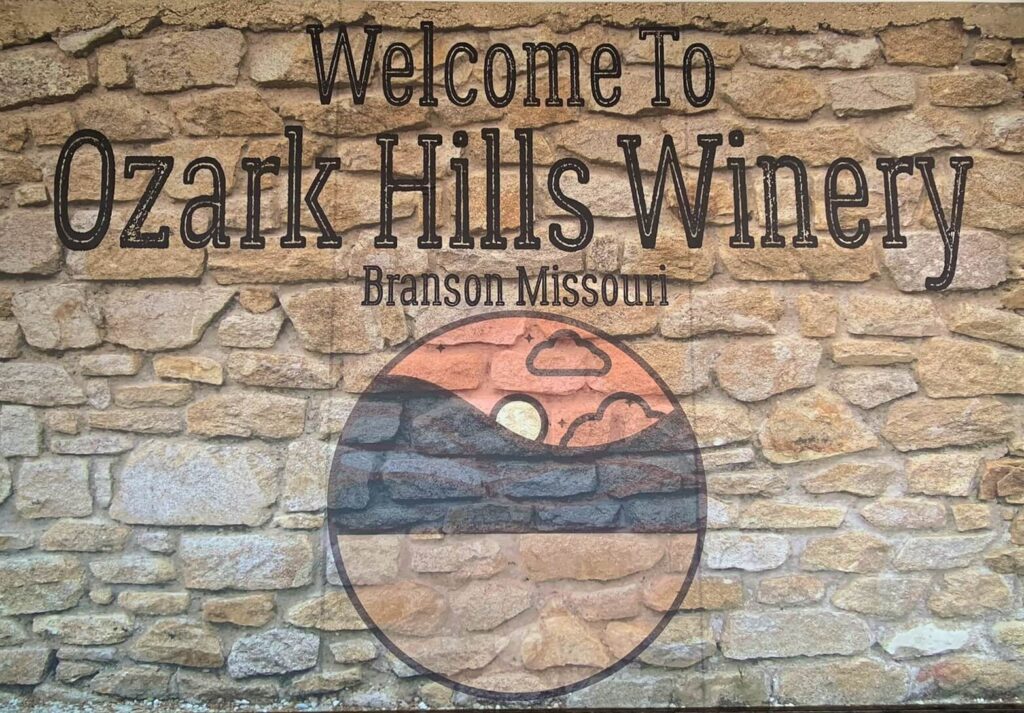 Since the history of moonshine runs deep in the Ozarks, you might be interested in stopping at Ozark Hills Winery to take a tour of Whiskey Jack's Moonshine Still Museum!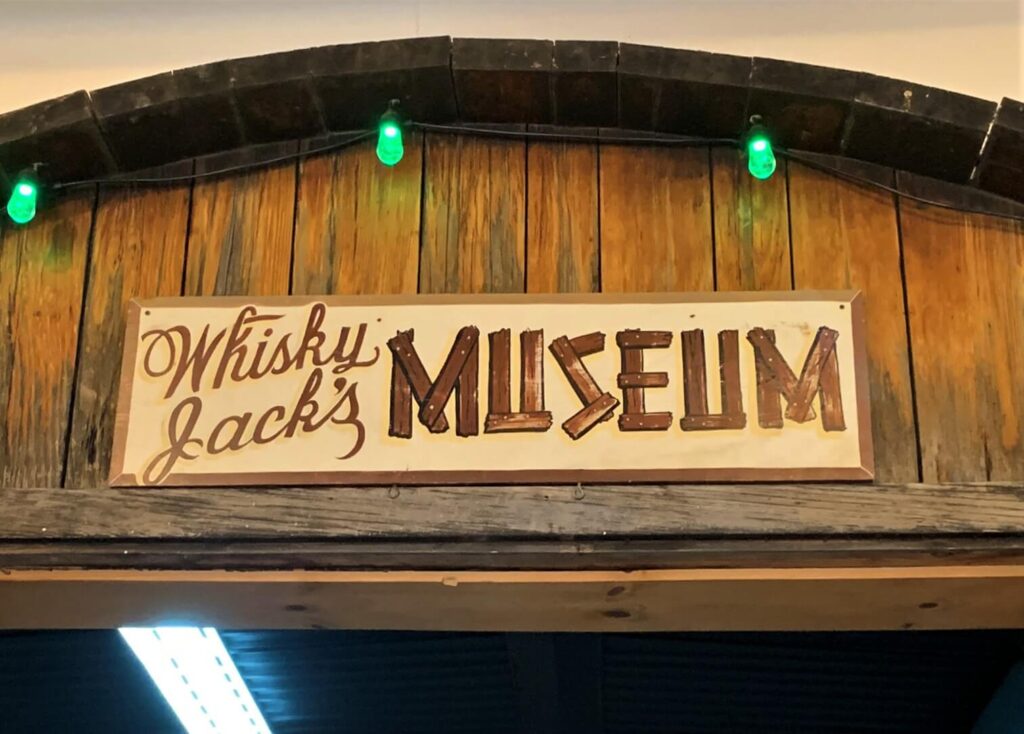 This trip to the Ozarks wouldn't be complete without going to a winery in Branson. I decided to add Ozark Hills Winery because of the interesting online description of the Moonshine Still Museum.
Tours are free, and tastings are $5 per person; however, if you purchase a bottle of wine after the tasting, the $5 fee is waived.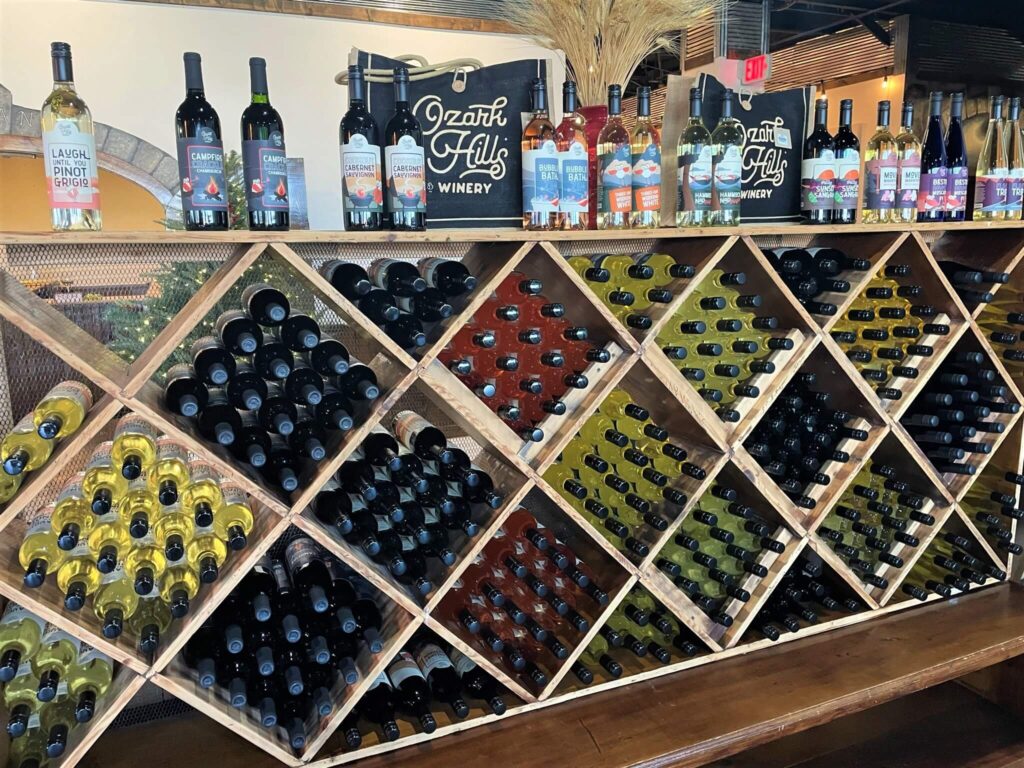 We only had to wait a few minutes in the lobby area of the winery before Dalton came to get us for the tour and tasting. While waiting, we checked out the cute displays of wines and this awesome truck on display!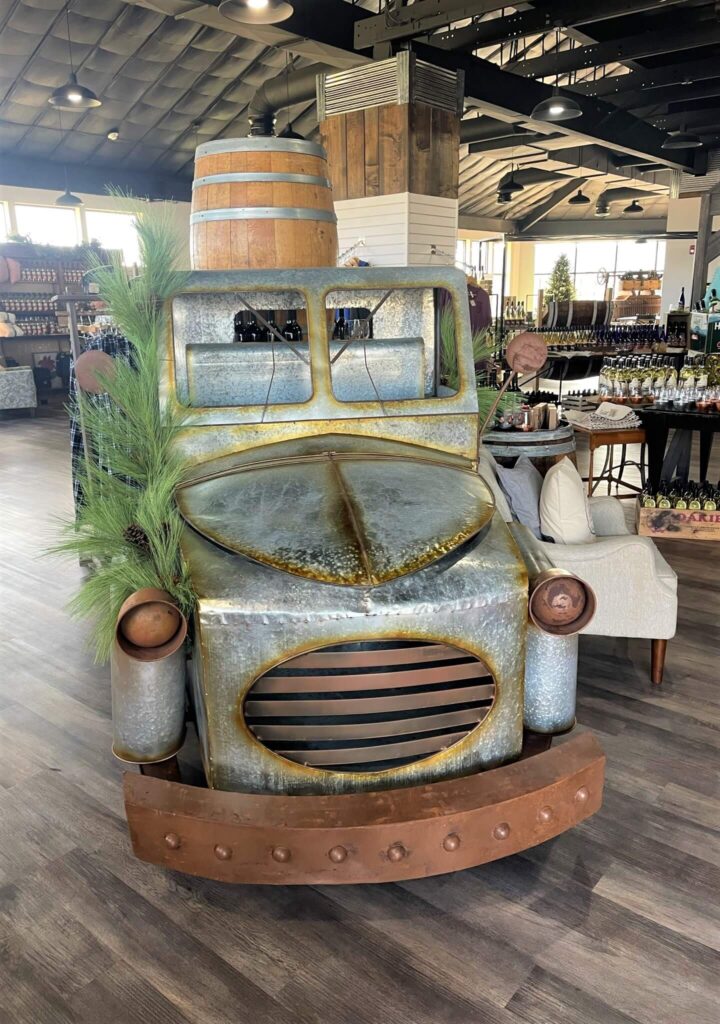 Dalton was well-informed not only about the history of the Ozarks and moonshining, but he was also very informative about the wines we chose to taste.
Their wines have fun unique names such as Laugh Until You Pinot Grigio, and Bestie Brunch Moscato – just two of the favorites that we tasted!
If you love wine tastings, you'll want to make a stop at Ozark Hills Winery!
Pink Jeep Tour Adventure
3310 76 Country Blvd.
Branson, MO 65616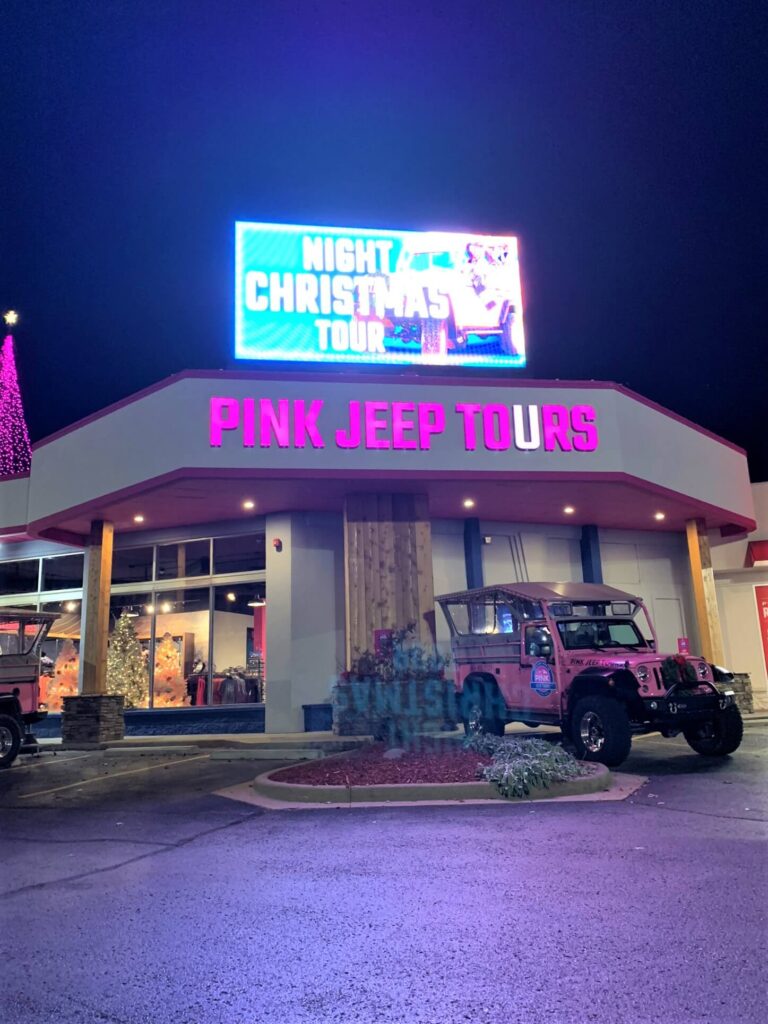 You've probably heard of the Pink Jeep Tours in Sedona, AZ, but did you know they are now in Branson, Missouri?
The Pink Adventure Tours in Branson opened in April 2022 with several different tours to choose from.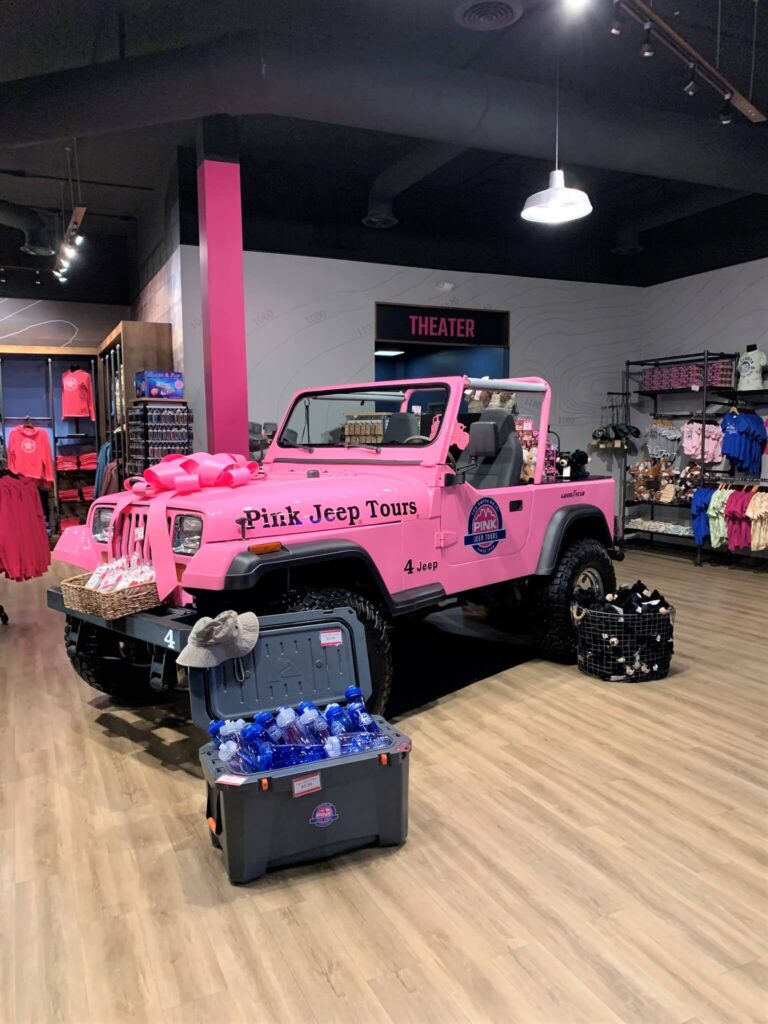 We decided to take the new Branson Christmas Tour one evening.
Pro-Tip: While the jeeps are enclosed, be sure to take extra blankets because although the Jeep is enclosed and the heat is on, those riding in the back of the Jeep were still cold!
We saw many families carrying blankets and wished we had done the same!
The one-hour tour takes you to the privately-owned
Baird Mountain. The owner hand-cut metal scenes and placed the up the drive to the top of the mountain.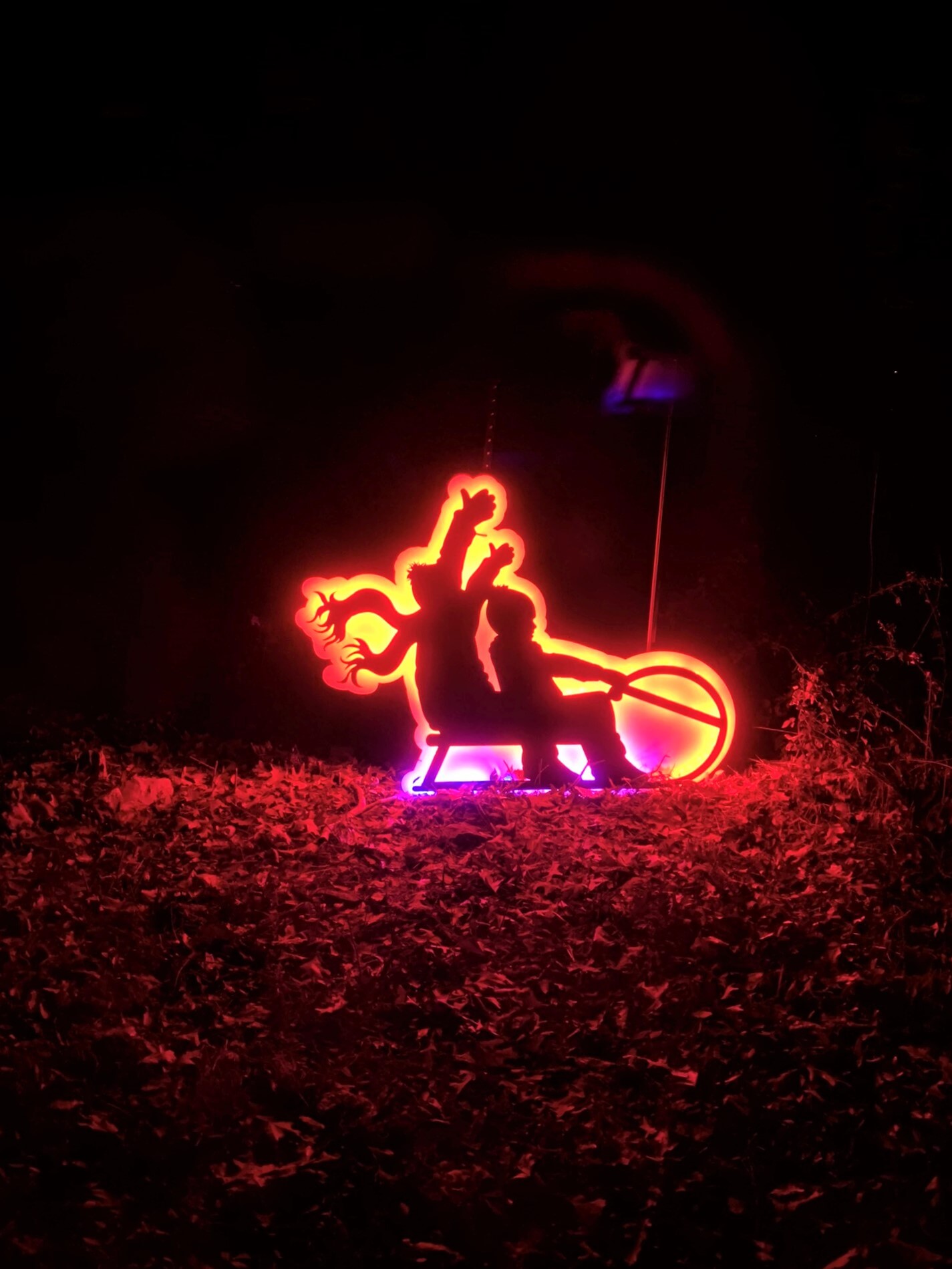 At the top were a traditional Ozark cabin decorated for Christmas and the tallest nativity scene in the state of Missouri.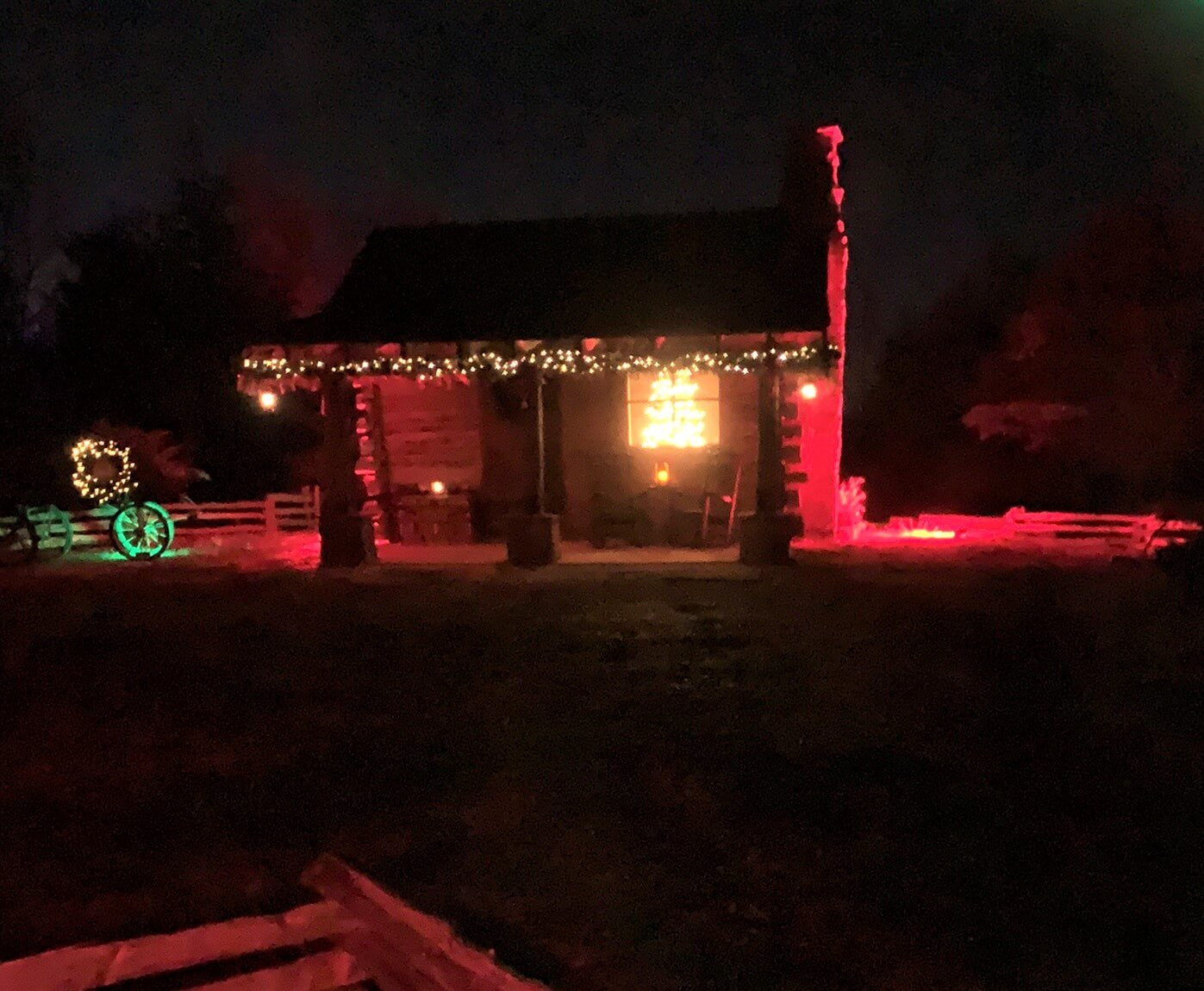 Thoughts about the Pink Jeep Tour
We loved the idea of this tour. While waiting for your tour to begin, they served hot apple cider – which was very delicious! The Pink Jeep was decked out for Christmas with a wreath on the front and Christmas lights hanging inside for a bit of light.
We were a little disappointed that there weren't more lights lining the roadway up the mountain; however, as more and more lights are added each year, I think this tour will grow into something that will become a Christmas Tradition in Branson.
Other Branson Holiday Lights Tours
The Promised Land Zoo has a huge drive-thru lights display along with a Candyland Courtyard and the VIP Yeti Express – a 45-minute Safari-bus tour through the lights and animals with one of Santa's helpers.
Branson's Lights of Joy is a drive-through light display near Sight & Sound Theater. The animated displays are grouped into distinct Christmas scenes such as a Christmas Safari, Santa's Village Penguin Holiday, and the 12 Days of Christmas.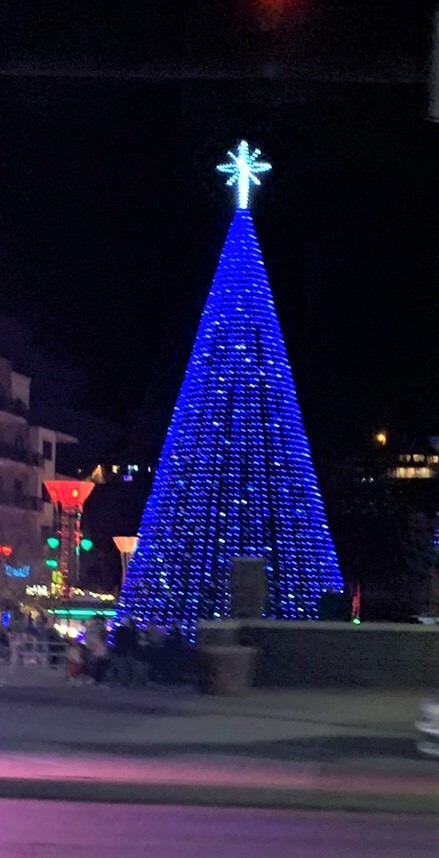 Christmas in Branson Landing
One of the best free things to do in Branson at Christmas is to see the fountains at Branson Landing. From the holiday tree to Santa's Wonderland at Bass Pro Shops, there's nothing more festive than to see the lights at Branson Landing at Christmas.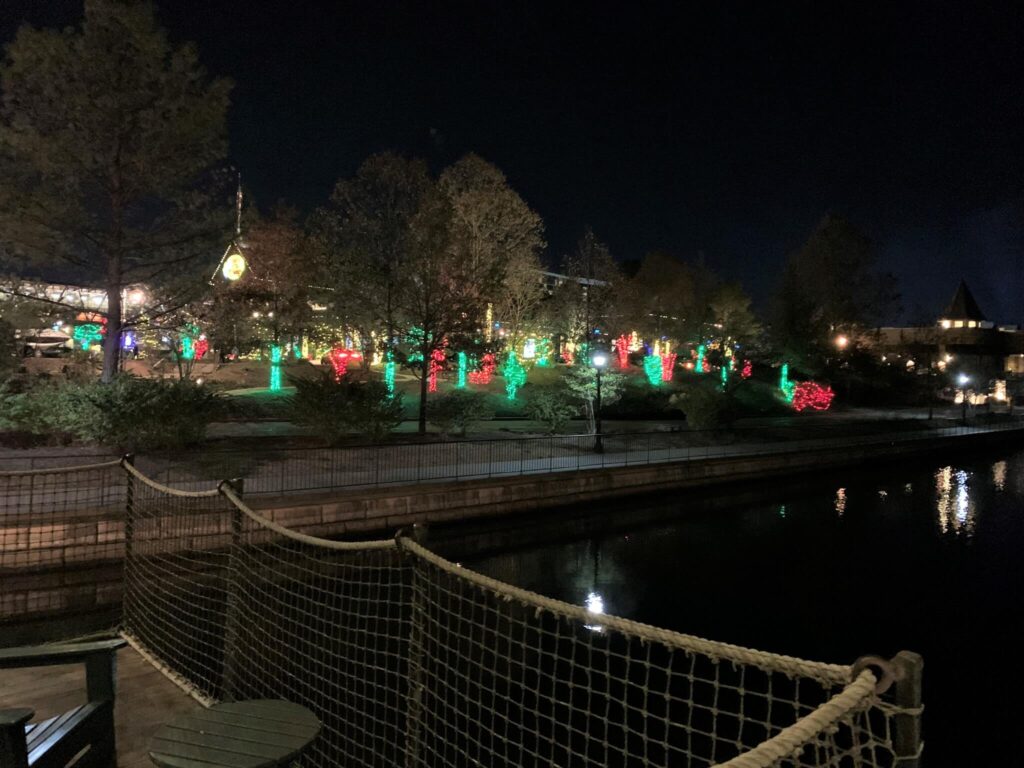 Big Cedar Lodge
If you're looking for a nice resort experience while staying in Branson, Big Cedar Lodge has everything you're looking for! Set on 4,600 acres, the resort is known as America's Premier Wilderness Resort. Johnny Morris, the founder of Bass Pro Shops, created the rustic luxurious resort for families so they could enjoy the great outdoors.
You can choose to stay in a cabin, cottage, or Lodge and dine in one of their many restaurants.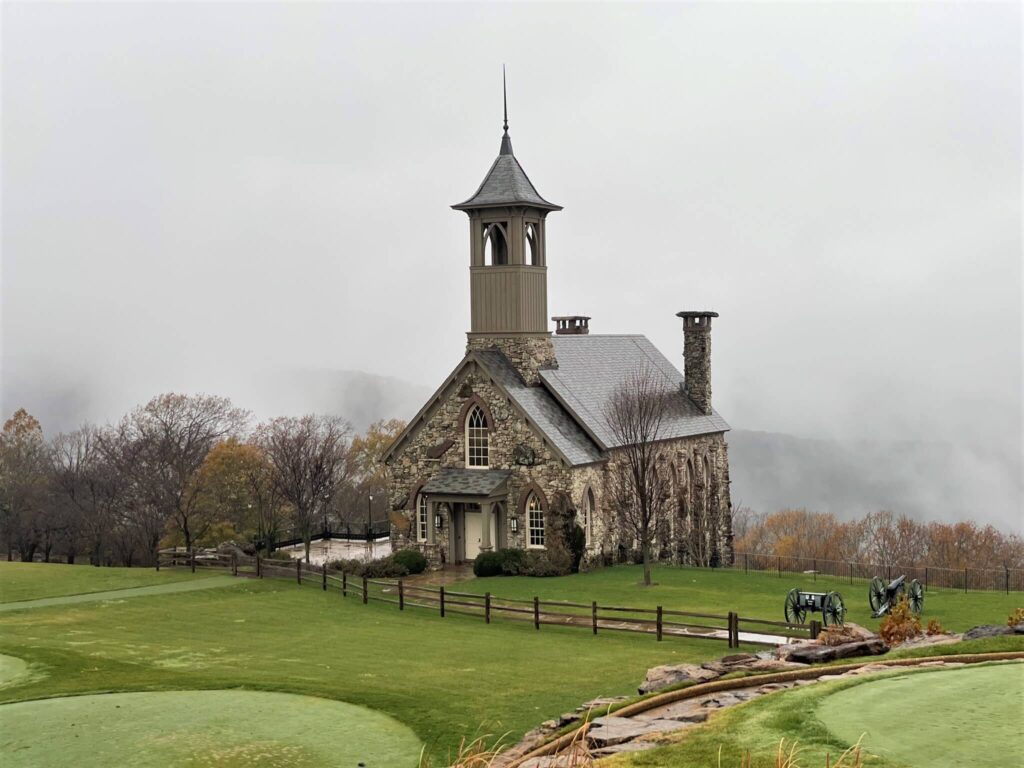 There are also award-winning restaurants at Top of the Rock. We ate at the Osage Restaurant for Thanksgiving and it was delicious!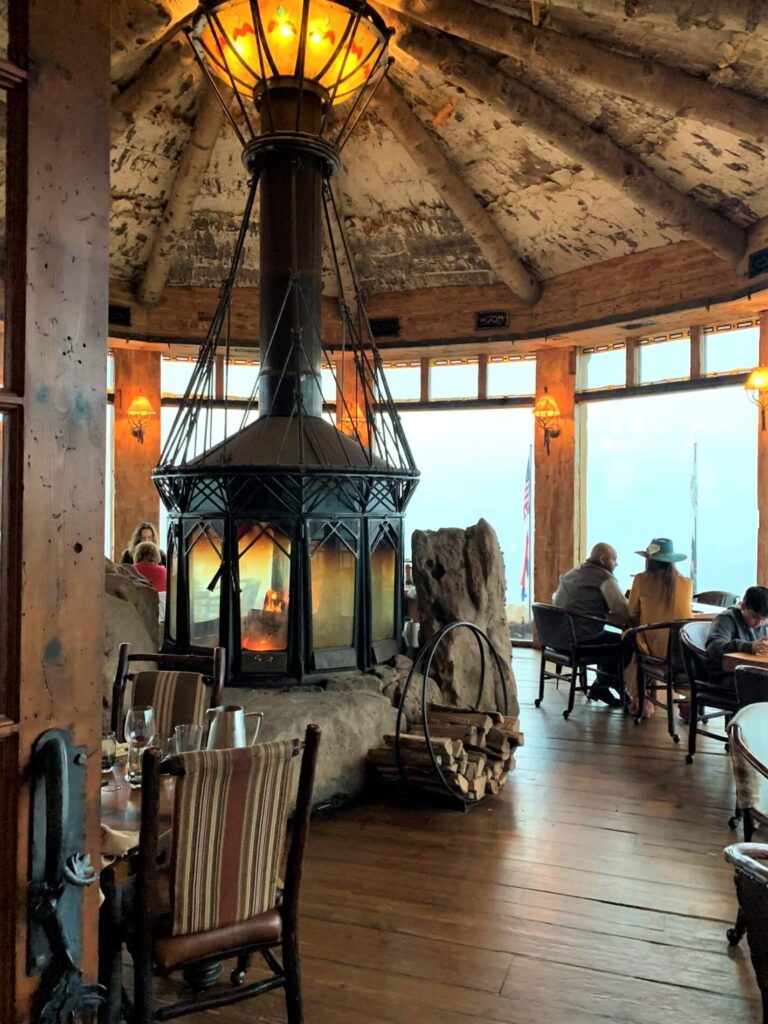 Pro-Tip: Make your reservations early if you want to dine in any of the restaurants at Big Cedar Lodge or Top of the Rock!
Other Branson Attractions At Christmas You Won't Want To Miss
Branson Ferris Wheel
3345 W 76 Country Blvd
Branson, MO 65616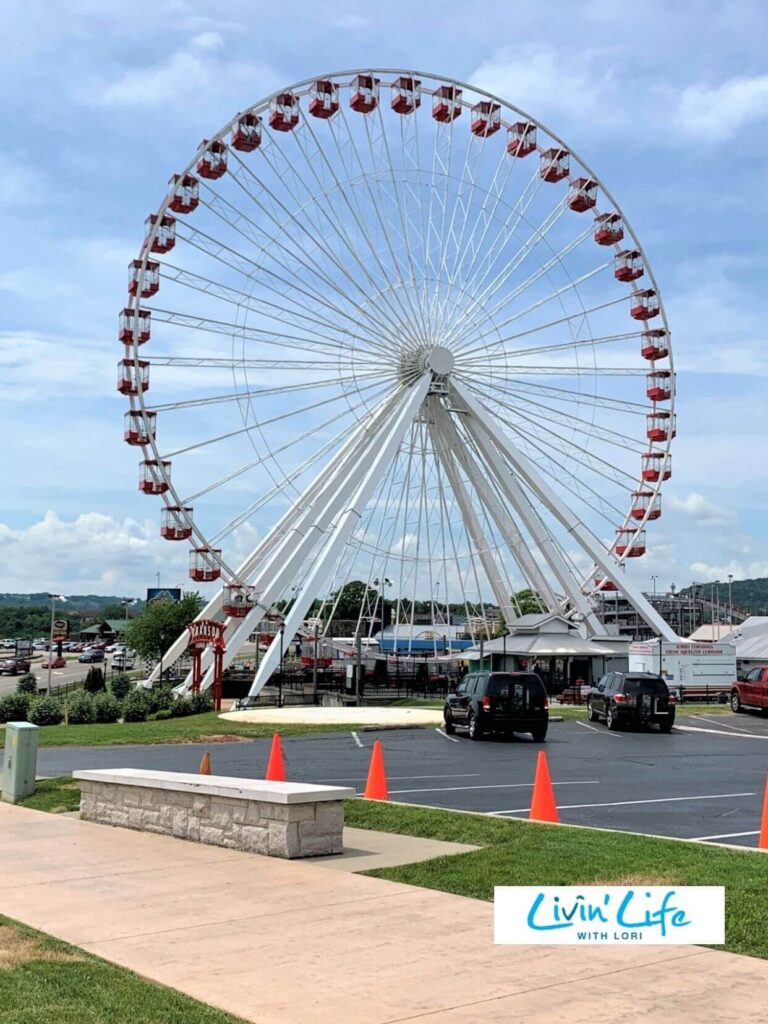 You can see the Branson Ferris Wheel from a distance as it lights up the sky in Branson. With its 16,000 LED lights, the 240-person Ferris Wheel has been in Branson, Missouri since 2016.
During the winter months, the Track Family Fun Parks installs a real ice skating rink under the lights of the Ferris Wheel! So, while you're there, take the family to the ice skating rink and make it a new Christmas holiday tradition!
Branson Scenic Railway
3345 W 76 Country Blvd
Branson, MO 65616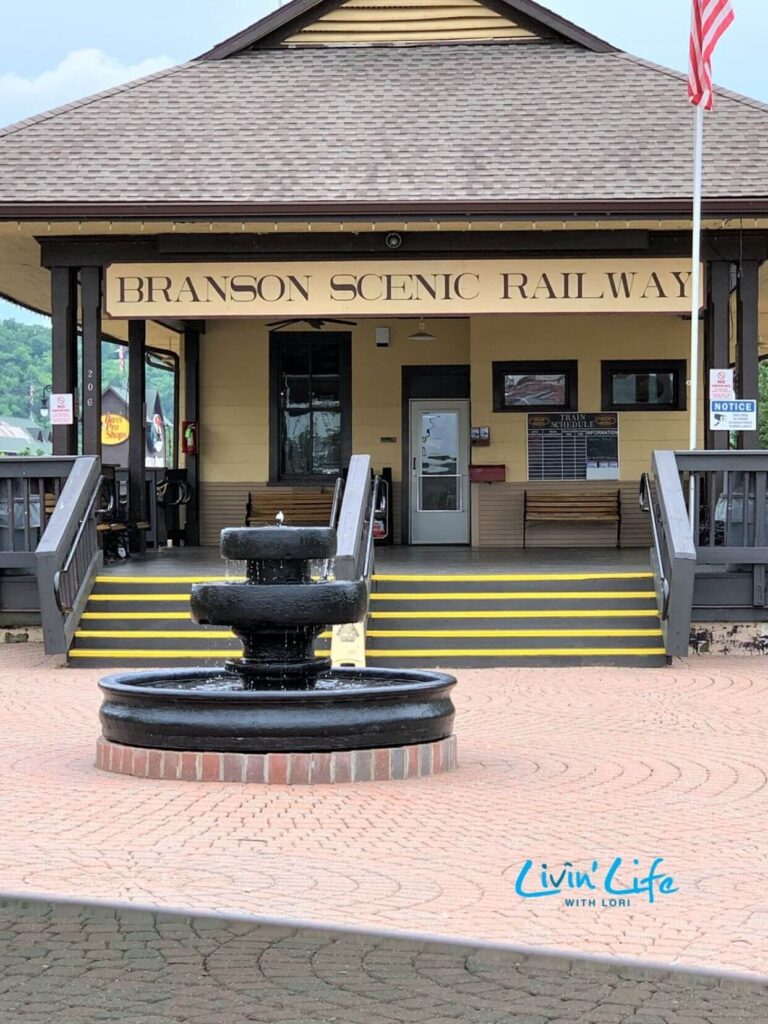 During the holiday season, the Branson Scenic Railway becomes The Polar Express(TM) train ride taking you on a North Pole Adventure to pick up Santa Claus.
There are cookies and hot chocolate served during the ride while the story is read. Santa visits each car handing out a special gift to passengers.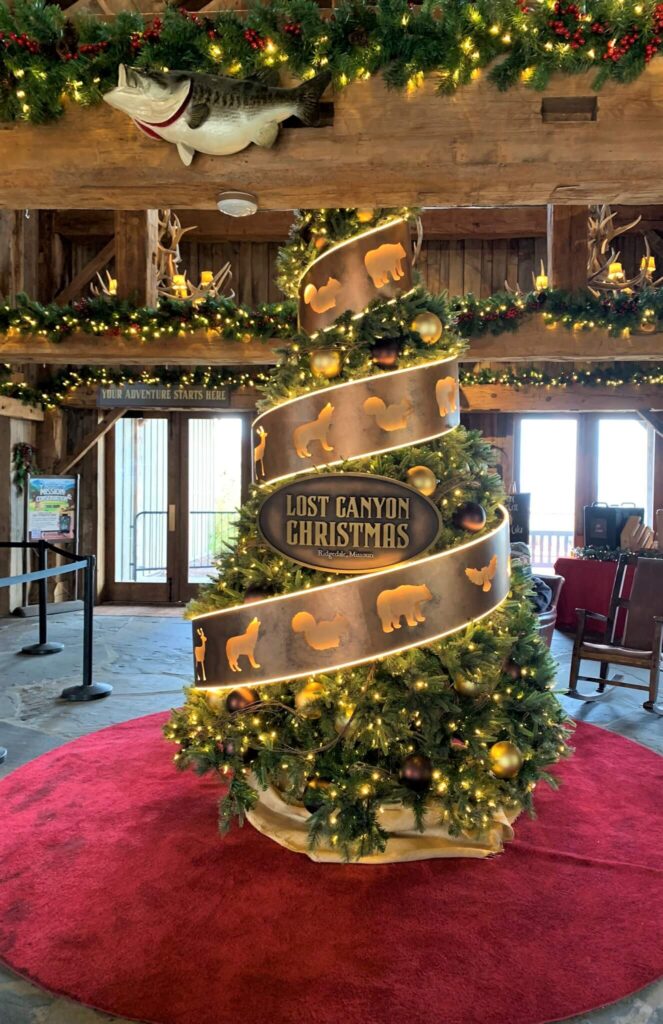 Christmas in Branson is a special time when you can make new Christmas traditions and experience all that Branson has to offer from a different view. There are so many things to do in Branson at Christmas, you've got to visit at least once to see for yourself!
You Might Enjoy These Posts On Branson, Missouri
19+ Fun Things To Do In Branson All Ages Will Love