Last Updated on October 10, 2022 by Lori
One of the most popular cruise ports on an Alaska cruise is Ketchikan, Alaska. Located on the southern tip of Alaska's Inside Passage, Ketchikan is known as Alaska's First City because it is the port of entry for ships entering from the south.
When we were planning our Alaskan cruise, I wanted to find out – were there things to do in Ketchikan for free? Do you really need to plan an excursion while in the port of Ketchikan? Absolutely not!
In fact, it may surprise you to learn just how much there is to see and do in this historic Alaska town! Here are the top things we found to do in Ketchikan, Alaska from the cruise ship that will keep you busy all day long!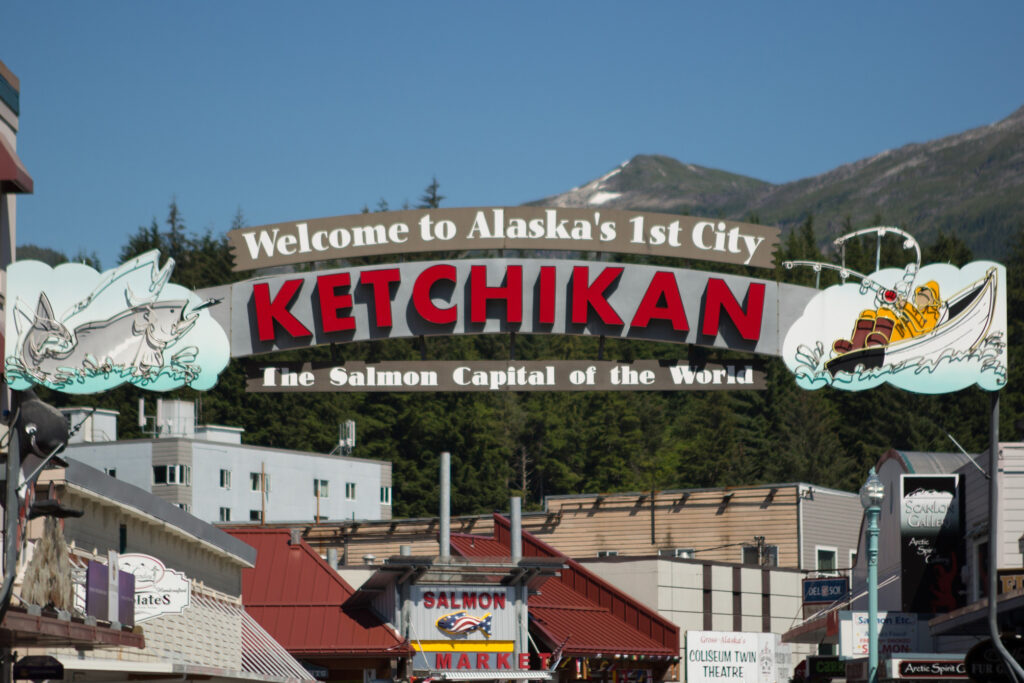 This post contains affiliate links which means if you click on a link and make a purchase, I will earn a commission at no additional cost to you. Please see our Disclosure Policy for more information.
What To Do In Ketchikan On Your Own
Ketchikan, Alaska, was the first cruise port on our Discovery Princess Alaskan cruise. I'm not sure why we didn't book an excursion for this port, but after speaking with some of the other passengers who did, I'm so happy we took the time to explore all the Ketchikan attractions on our own.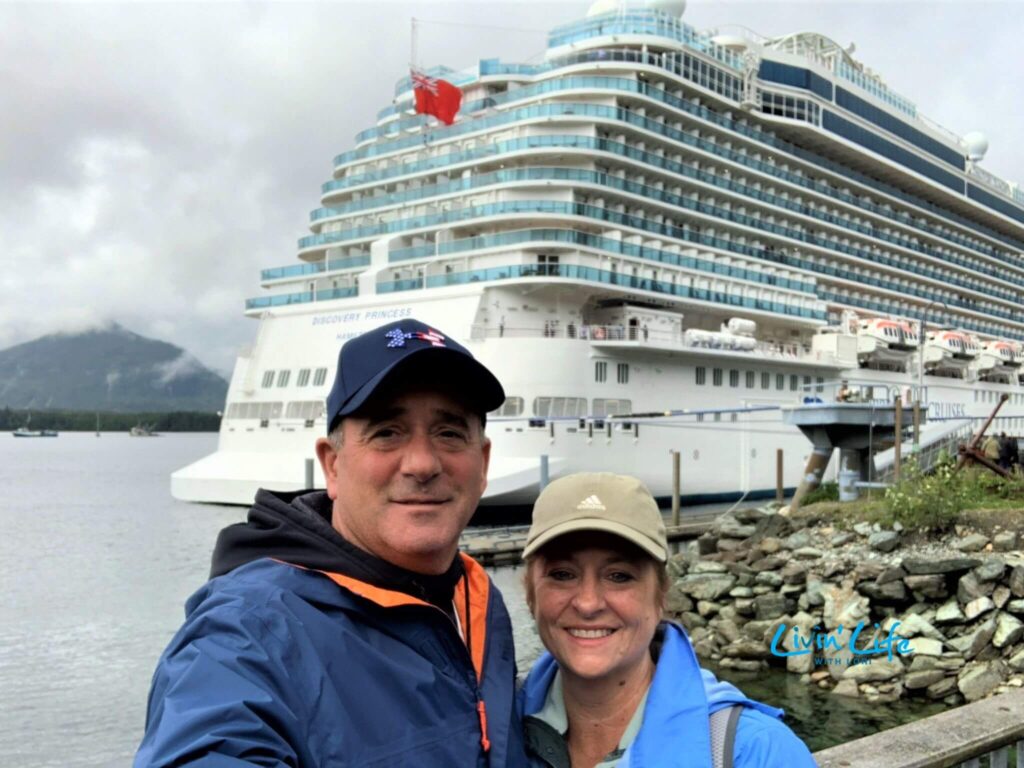 You might enjoy reading our Top 15 Cruise Tips To Know Before Taking An Alaska Cruise On The Discovery Princess
Views of Ketchikan, Alaska From The Cruise Ship
As we docked in Ketchikan, I loved looking at this colorful town from the ship. The unique houses, many brightly colored, built on the hillside on wooden stilts, are typical homes found in this area.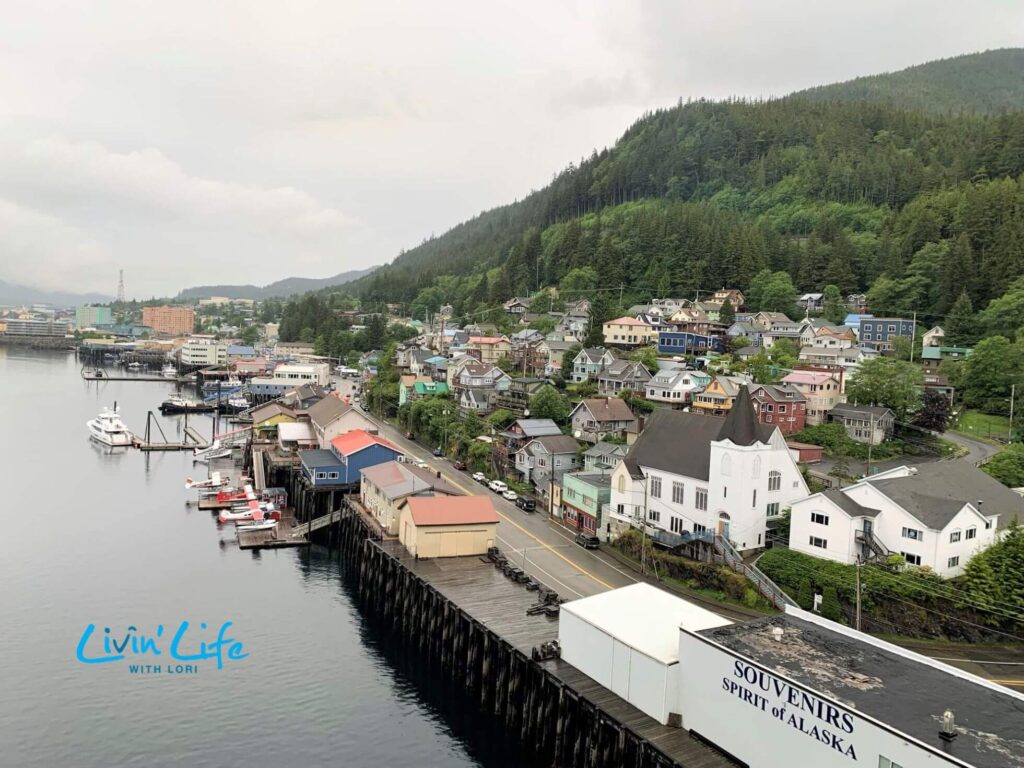 Best Things To Do In Ketchikan
After getting off the Discovery Princess, we saw how busy this port was! The Ruby Princess docked just behind us and we saw other cruise ships in the distance coming into the harbor.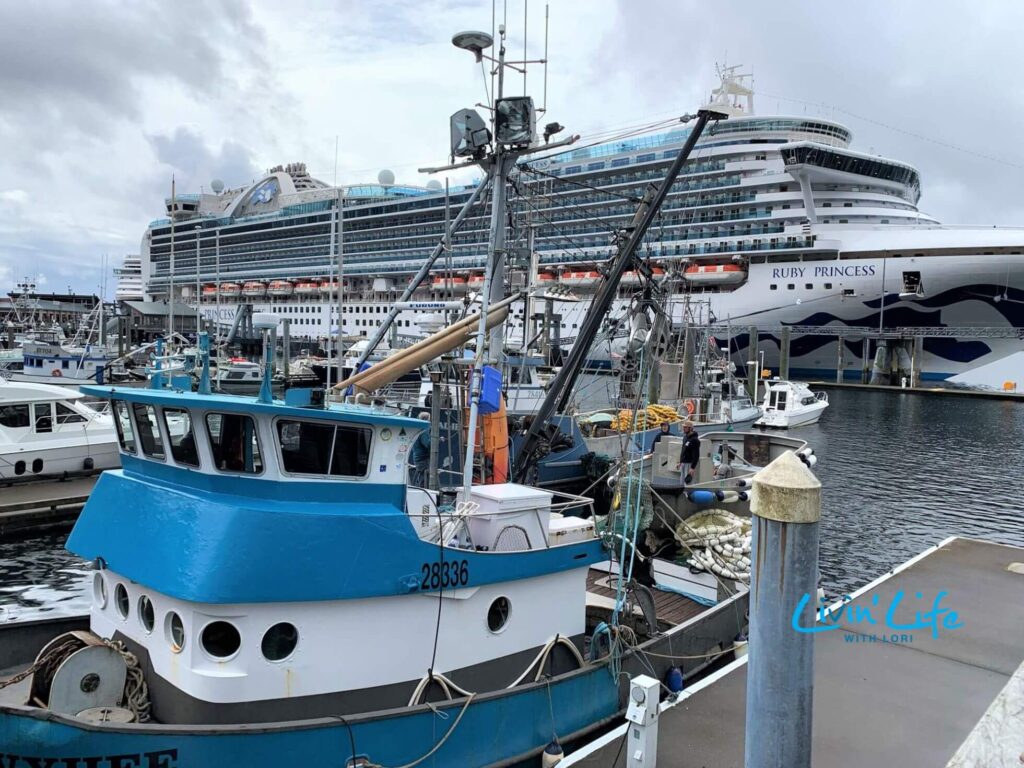 As you leave the dock, you'll find many shops where you can find Alaska souvenirs, t-shirts, and hats making it the perfect place to do your shopping in Ketchikan, Alaska!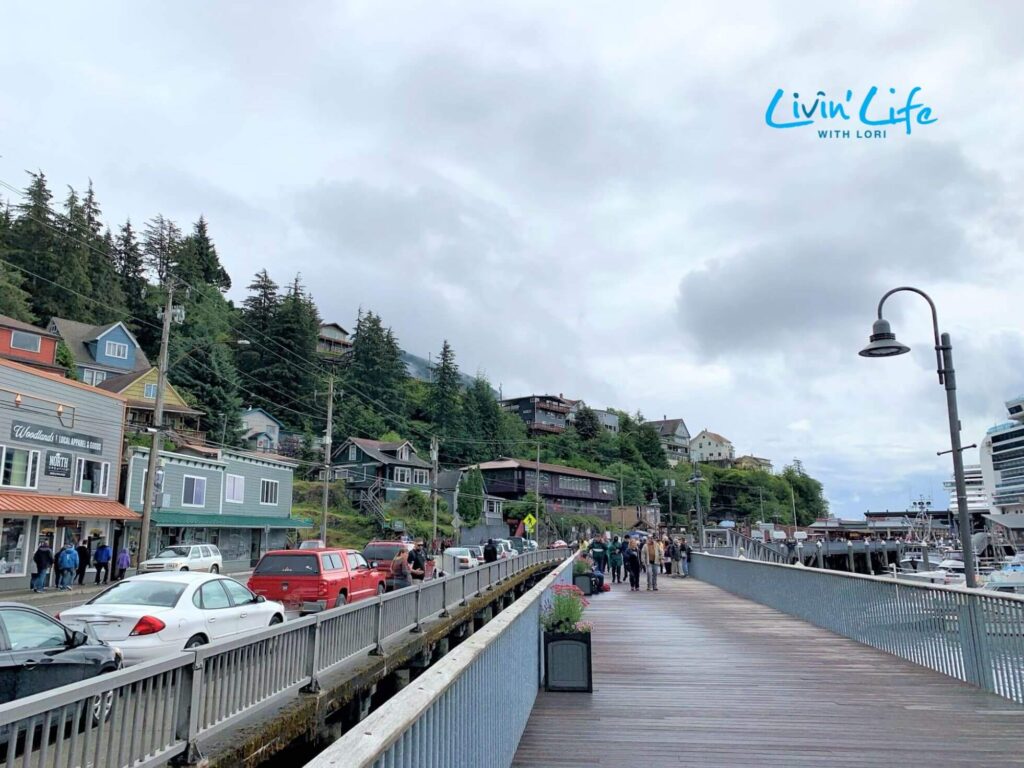 Walking along the boardwalk, the first thing that caught my eye was this huge Bald Eagle monument.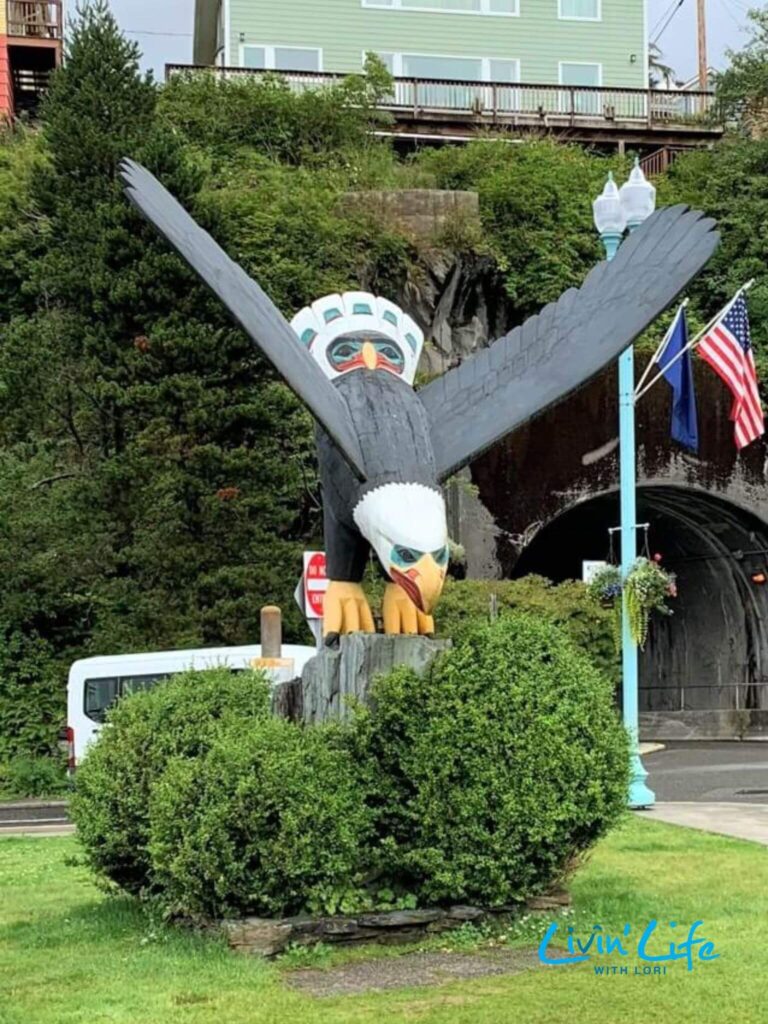 Upon Thundering Wings is a cedar monument by Nathan Jackson depicting the Tlingit Native origin of Ketchikan's name. This chainsaw carving stands 15 feet tall!
Making our way towards downtown Ketchikan, we noticed the Ketchikan Visitors Bureau, where you can get a city map and use the restrooms before heading out.
You can also just take a look at the sign map (like we did) to get your bearings and decide which direction you want to go! And, of course, take a selfie!
One place I knew I wanted to find was Historic Creek Street. As it turns out, it's only about a 10-minute walk to Creek Street and wasn't hard to find following the directional signs posted throughout the town.
Totem Poles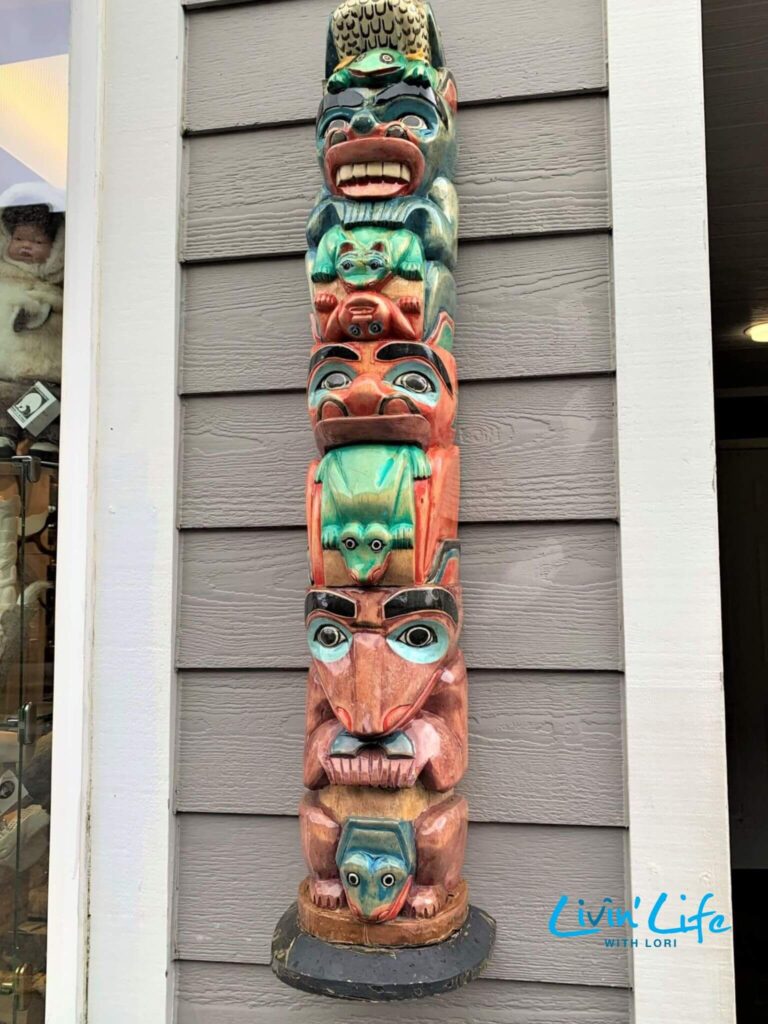 Ketchikan has the largest collection of totem poles still in existence anywhere in the world. There are more than 80 totem poles throughout the area with some of the oldest listed on the National Historic Register.
Those are carefully preserved at the Totem Heritage Center which is about a 15-20 minute walk from the docks.
The Totem Heritage Center (located to the left of the Creek Street entrance) and the Tongass Historical Museum, (located in town on Dock Street), are full of Alaskan history and should be on your list of Ketchikan Alaska attractions!
You can take the FREE Downtown Shuttle (during the summer) from the cruise port to both museums!
Saxman Totem Park
Approximately two miles south of Ketchikan is Saxman Totem Park, which hosts the most standing totems in one location. The 25 Totem Poles are authentic replicas of totems left behind by Native Alaskans.
You can walk around the open-air port for a $5 fee or take a guided tour to learn about each totem pole.
To get to Saxman Totem Park, take the free downtown shuttle or city bus to the park.
Chief John Totem Pole
At the intersection of Dock Street and Mill Street near the entrance to Creek Street, be sure to stop and see Chief John Totem Pole.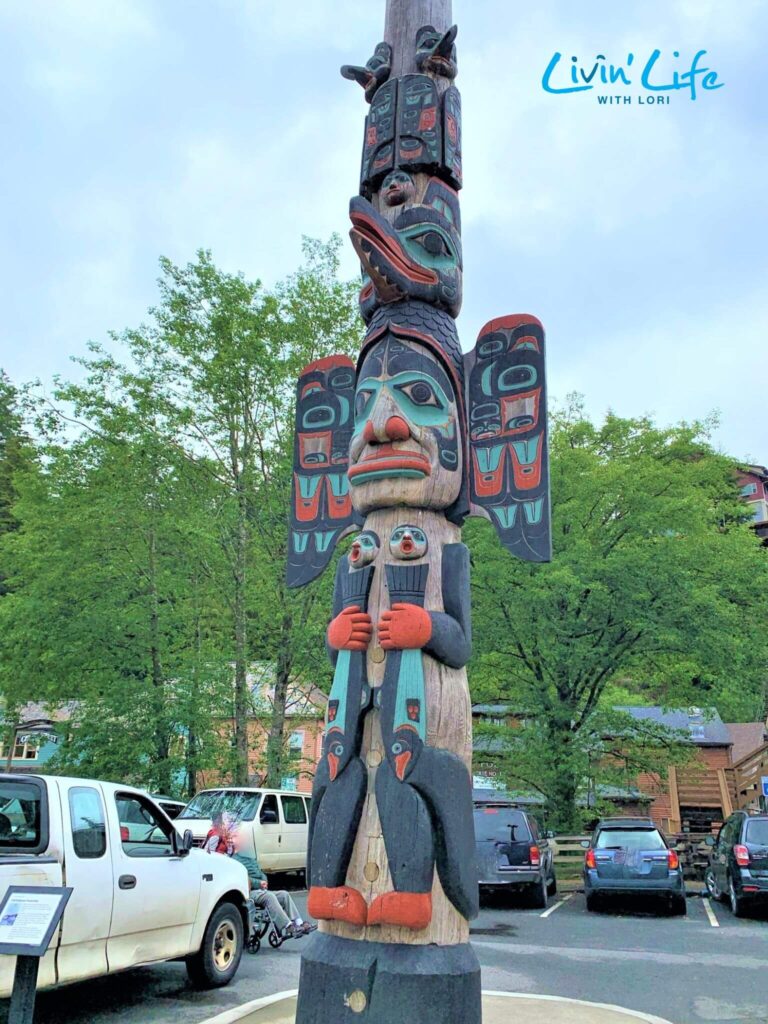 This historic 55 ft. pole is carved from a single western red cedar log and was the first authentic totem pole to be raised in downtown Ketchikan in over 50 years.
Creek Street – Ketchikan, Alaska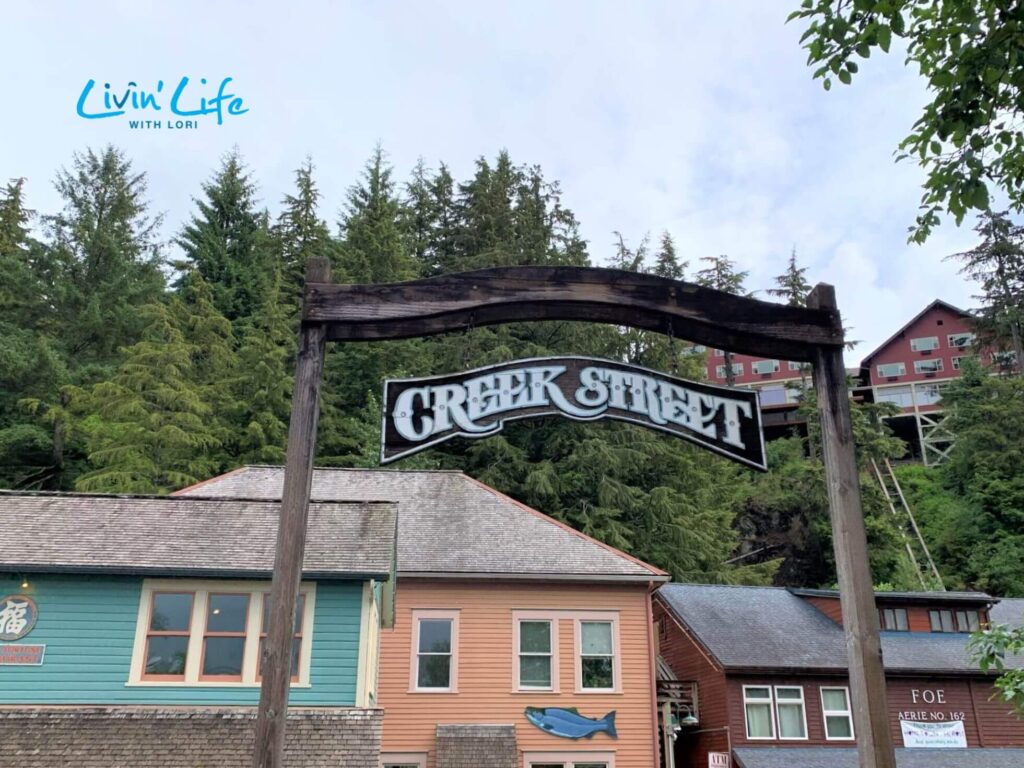 Creek Street was once known as Ketchikan's famed red light district and home to Dolly's House, a parlor owned by Dolly Arthur, the city's most famous madame in the 1930s.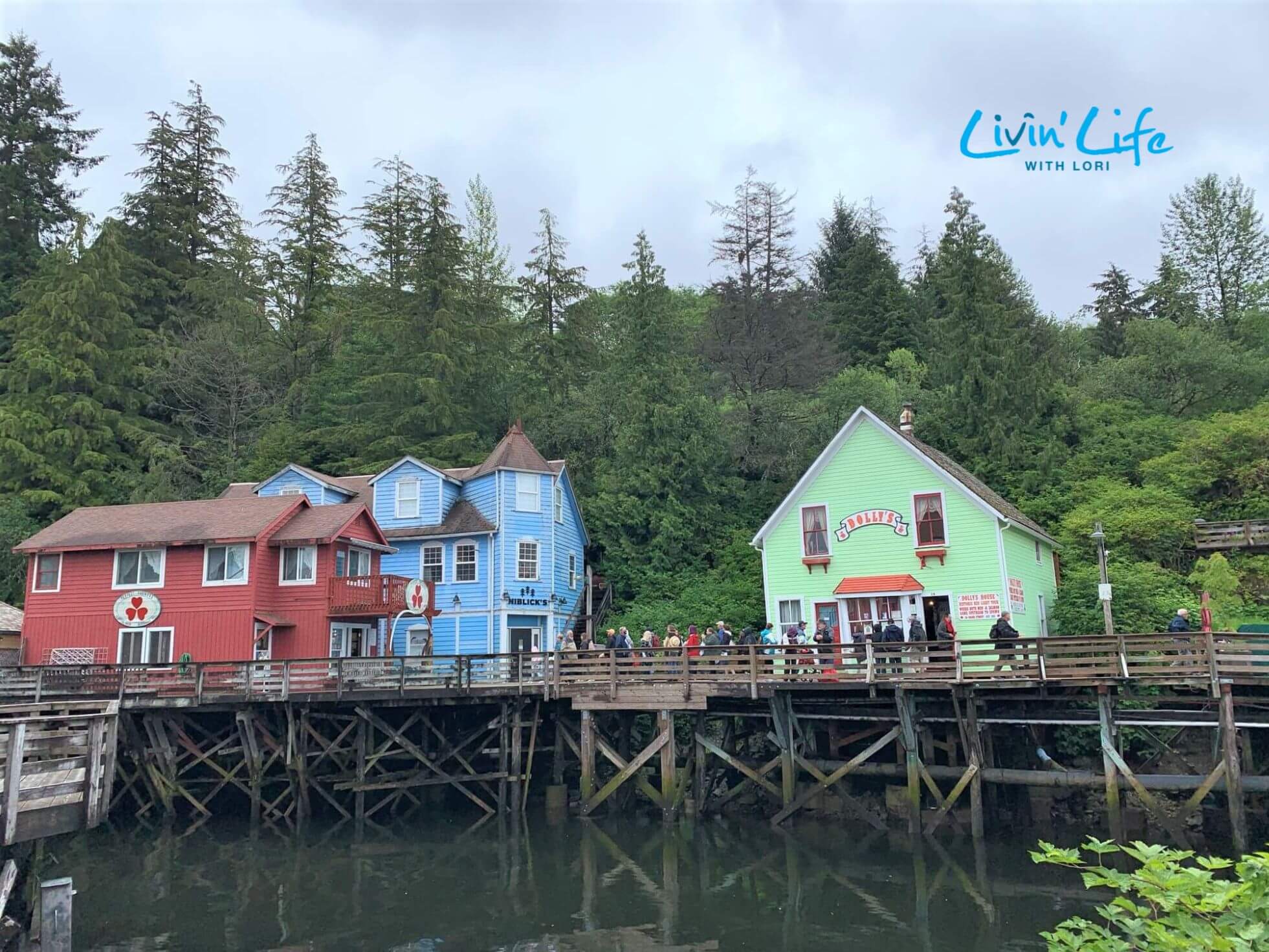 During prohibition, bootleggers would wait until high tide to row their boats into Ketchikan Creek to smuggle booze through trap doors built in the bottom of houses.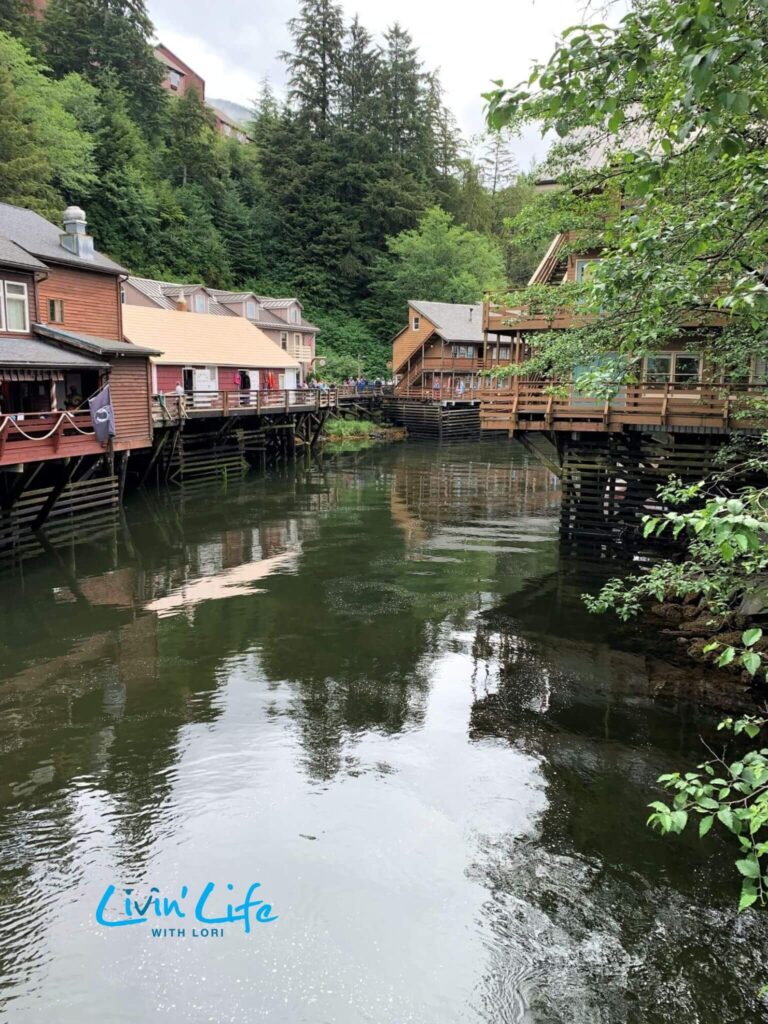 Today Creek Street is full of artisan shops, restaurants, and private homes.
I was surprised to find that Creek Street wasn't actually a street but a wooden boardwalk However, this boardwalk is an actual city street with no vehicles allowed.
There are also wooden "stair streets" and wooden trestles created to provide access to homes that were built uphill from the waterfront.
The brightly painted buildings and boardwalk make it one of the most photographed places in Ketchikan.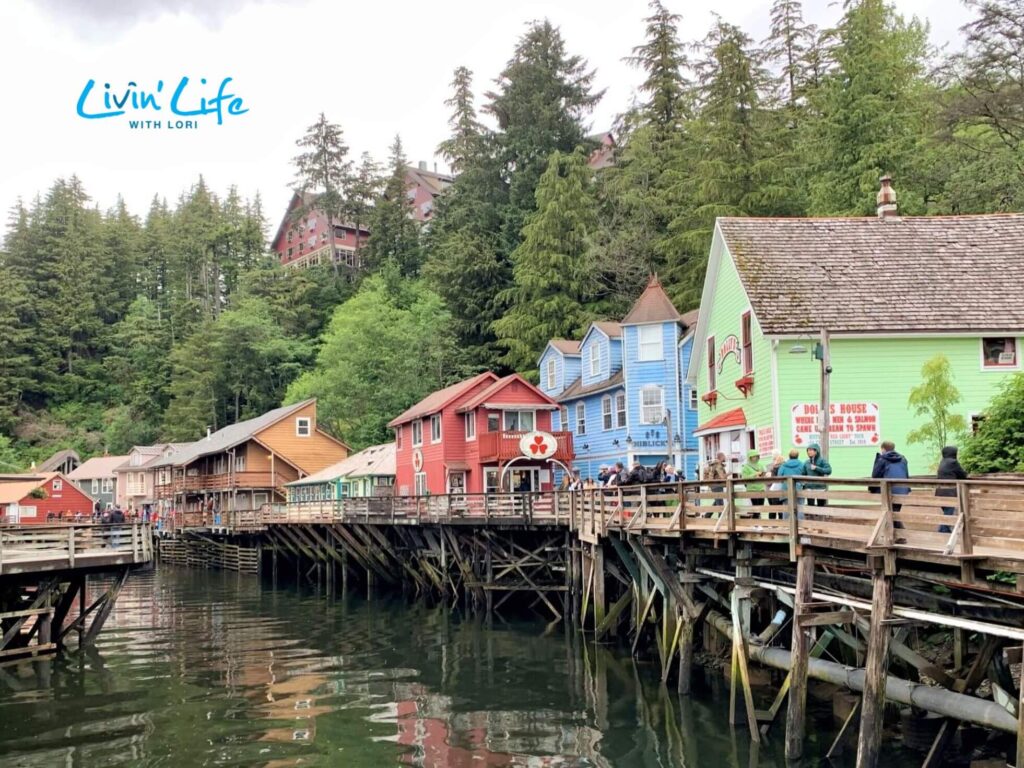 Following the boardwalk through Creek Street, you'll find Married Man's Trail.
Married Man's Trail was once a muddy path married men took to visit the working houses along Creek Street. Now the wooden boardwalk will take you up wooden stairs to a shady path along Ketchikan Creek.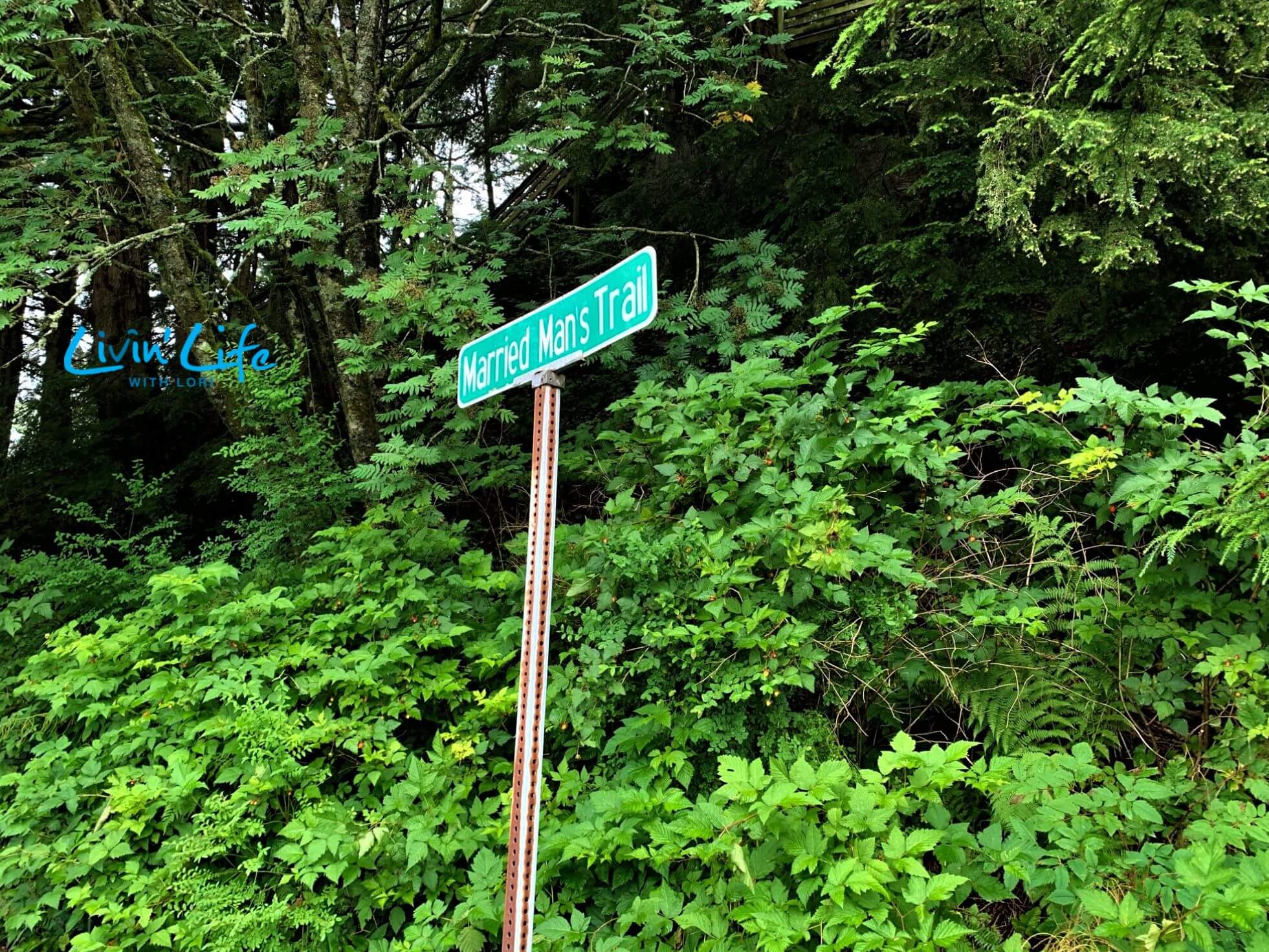 Ketchikan Creek
Salmon migrate to Ketchikan Creek from the ocean beginning mid-July to mid-September to start their journey upstream to calmer waters to spawn. Ketchikan Creek plays an important role in the life cycle of thousands of salmon each year.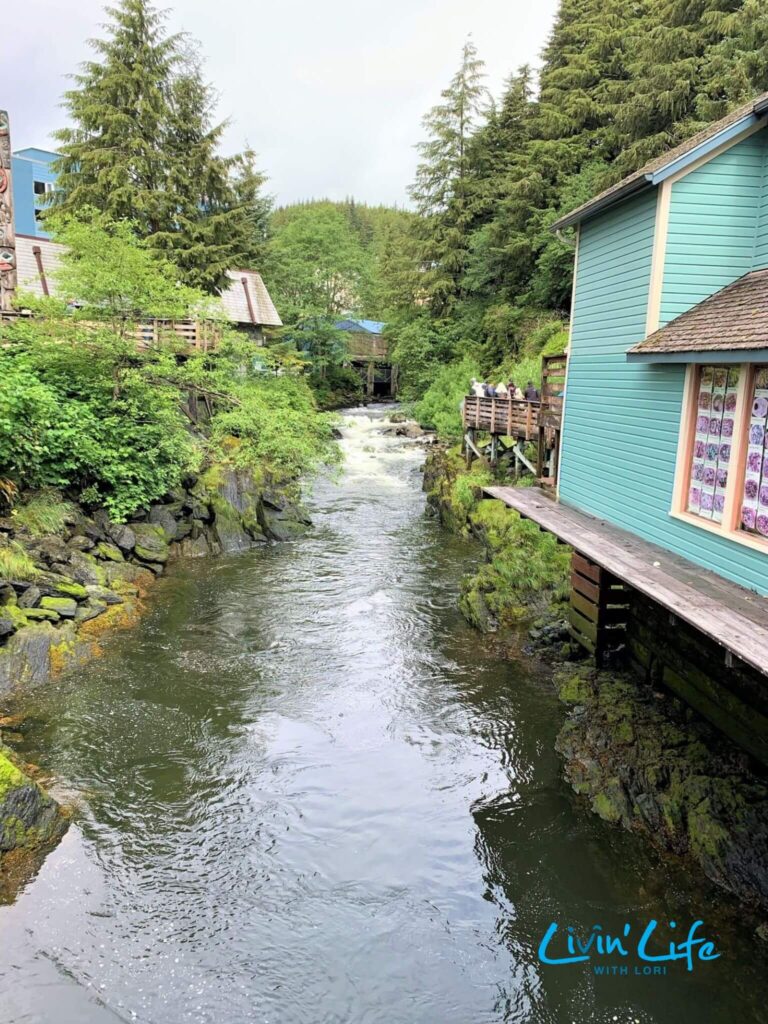 At the end of Married Man's Trail, you'll see the Salmon Ladder built by the town of Ketchikan to help the salmon migrate up the rapids.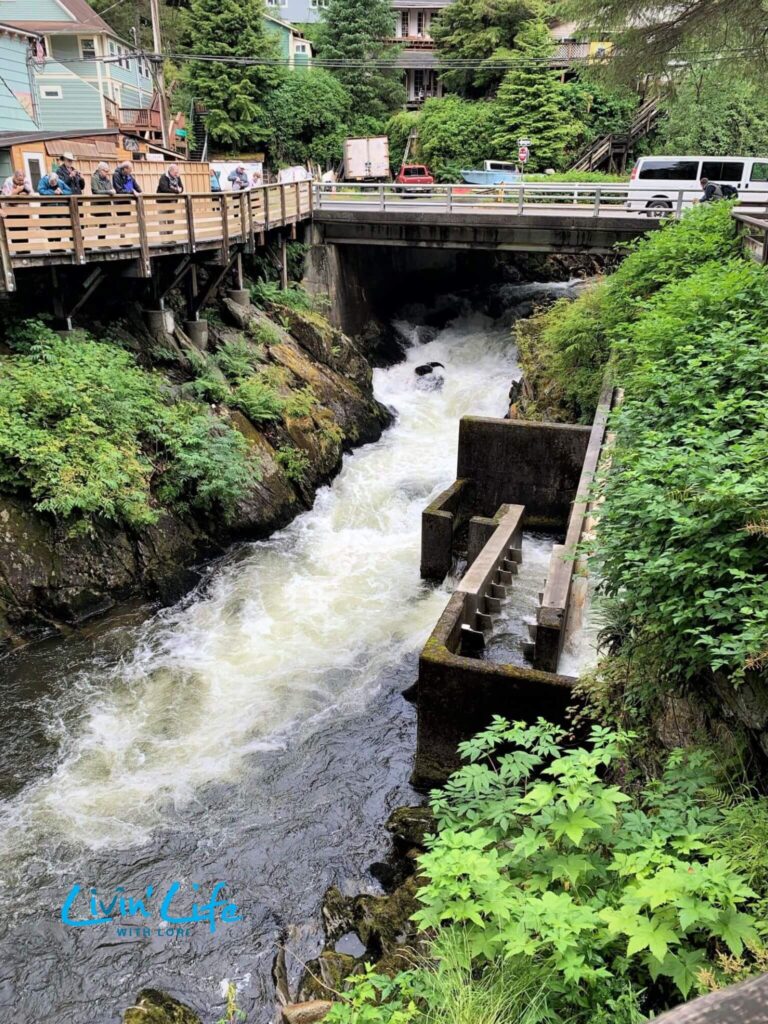 The Creek Street Historic District is listed on the National Register of Historic Places and is a Must-See in Alaska!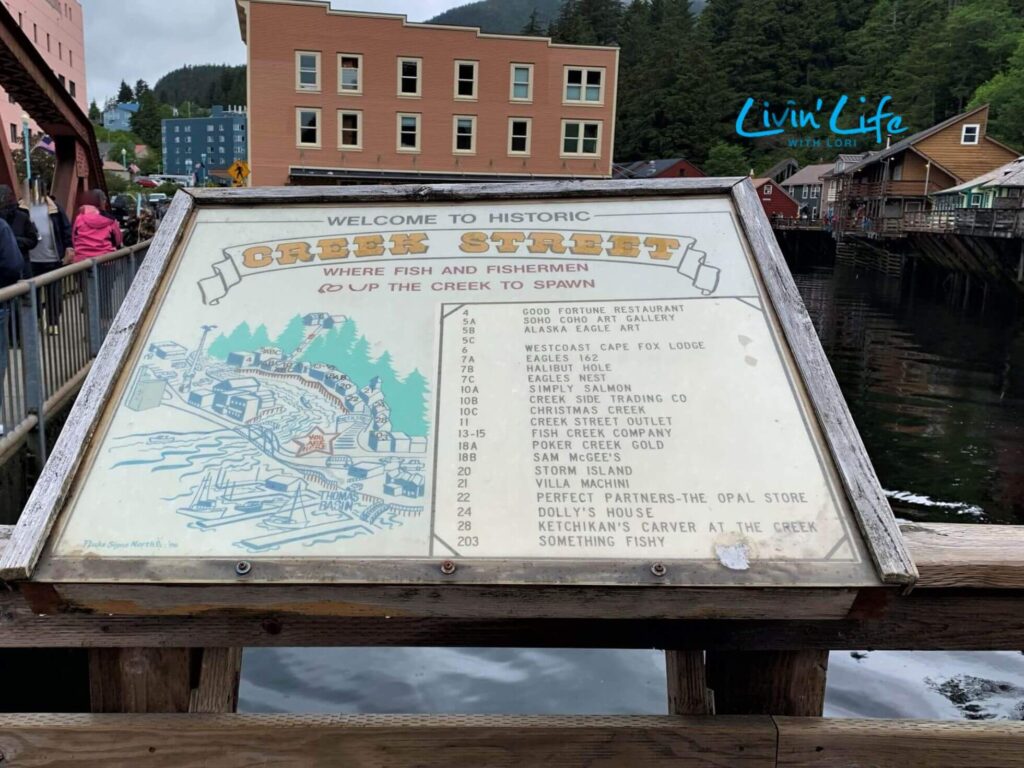 Another unique find at Creek Street is the Cape Fox Lodge Funicular.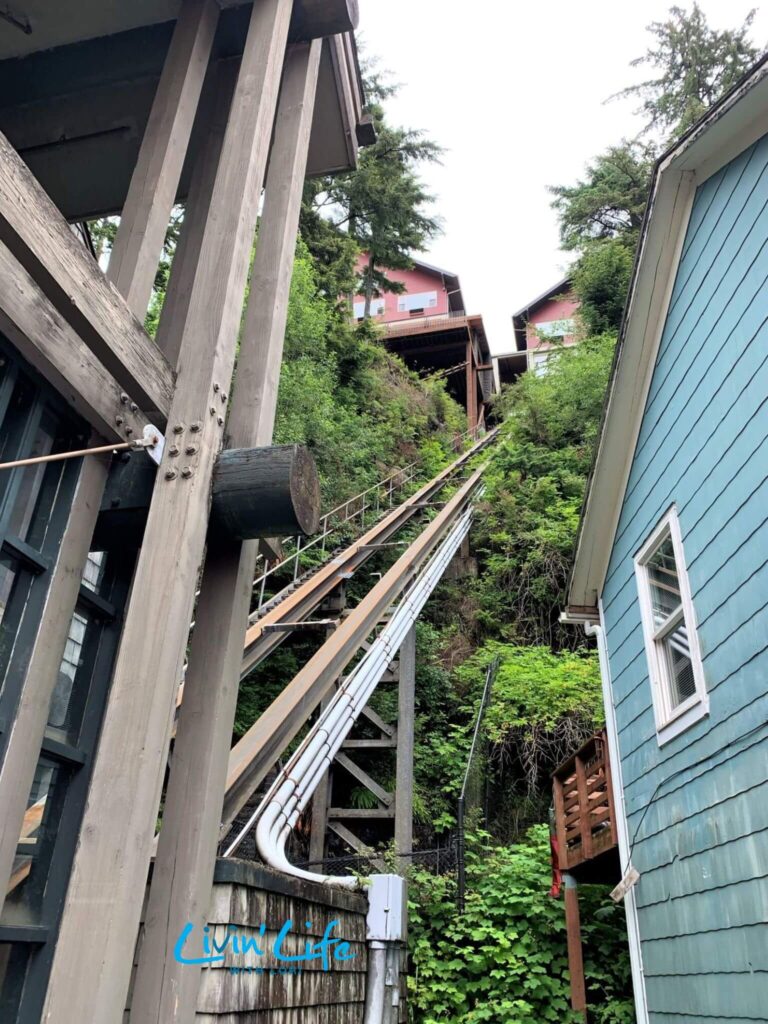 In recent years, the tram would take visitors 211 feet from the boardwalk up to Cape Fox Lodge on top of the hill for a fee of $2 then walk back down the hill through the woods.
I wish it had been running when we visited but was still fun to see.
Great Alaskan Lumberjack Show
Another very popular cruise excursion in Ketchikan is the Great Alaskan Lumberjack Show. While you can purchase your tickets through the cruise line, if they are sold out, you can try to purchase your tickets directly from the show and walk from the ship!
The show is located only one (1) block from where the cruise ships dock and is fun for all ages. While we didn't see the show, we spoke to many fellow cruises who enjoyed the show. You can learn more about the Great Alaskan Lumberjack Show and purchase your tickets on their website Alaskanlumberjackshow.com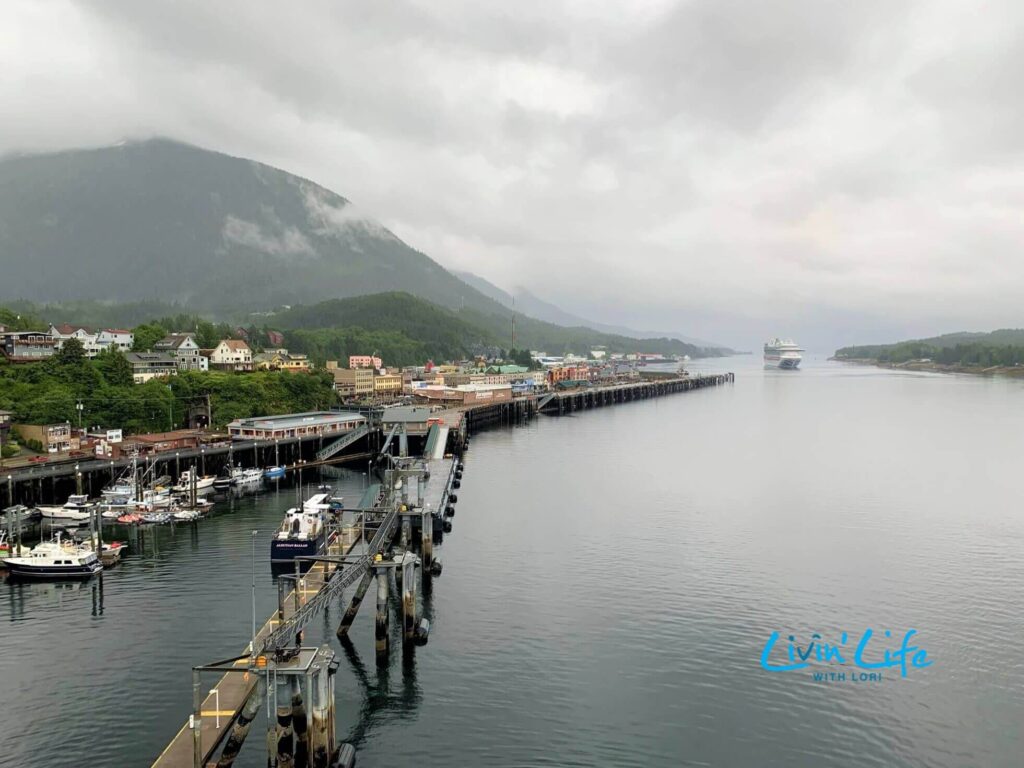 5 Facts About Ketchikan, Alaska You May Not Know
The only way to travel to and from Ketchikan is by boat or plane.
Dozens of Ketchikan residents live on islands or in remote areas with no roads. They use boats to commute to and from their homes to work, shop, and go to school.
Floatplanes are called "air taxis" because they provide transportation to and from Ketchikan to outlying communities.
Ketchikan is recognized as one of America's Top 100 Small Arts Communities.
Ketchikan International Airport is located on Gravina Island, requiring a five-minute ferry ride from the airport to town.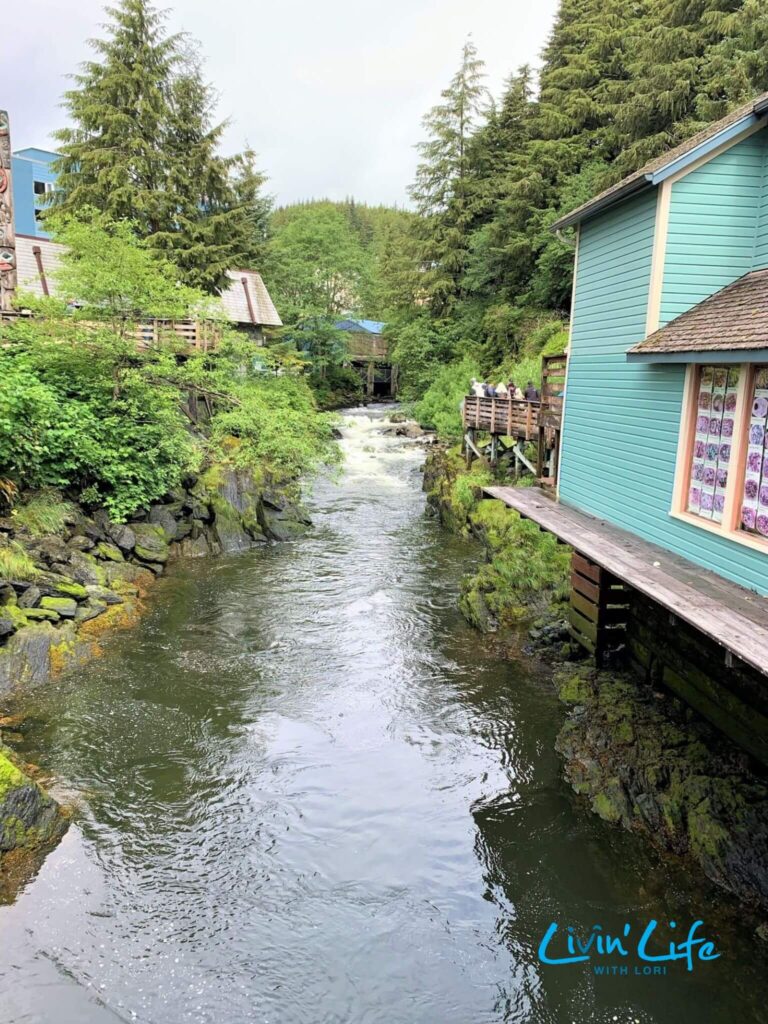 While there are some great cruise excursions to see and do while in Ketchikan – such as visiting Tongass National Forest, Misty Fjords National Monument, Totem Bight State Park, going sea kayaking, salmon fishing, etc., you can't go wrong with just walking around the town to experience the beautiful and historic Ketchikan, Alaska!
Cruising To Alaska? Here are more Alaska posts you'll love!
Take An Epic Adventure On The White Pass Scenic Railway – Skagway, Alaska
Fun Things To Do In The Cruise Port Of Juneau, Alaska
15 Cruise Tips To Know When Sailing On The Discovery Princess Alaska
Here are more travel posts you may enjoy!
19+ Best Things To Do In Branson Missouri
Top Of The Rock Branson Cave Tour
13+ Things To Do In Luray Virginia
11 Best Things To Do In The Great Smoky Mountains
How To Plan A One Day Trip To Niagara Falls New York
13 Fun Things To Do On A Weekend Getaway To The Catskill Mountains