Last Updated on June 26, 2021 by Lori
Here's a list of the Top 20 Must-Haves For Your First Apartment. This list will be all you need to make your first apartment into a home in no time!
Congratulations on your New Apartment!
It's so exciting! You're on your own…you can eat what you want…when you want…no one to tell you to vacuum, do the dishes, do your laundry – oh wait – that won't change!
You're still going to have to do those things!
But – you're starting from scratch.
You have absolutely nothing – no dishes, no silverware, no pots and pans, no bed, no couch…Yikes! You have no idea what you need to purchase!
New Apartment Essentials
I moved into my first apartment when I was in college. I had my grandmother's couch, my mom's dining room table and chairs, and my aunt's old bed and dresser.
I LOVED it! They were mine!
All mismatched – but who cared?
All my roommates and I needed was a place to sit, sleep and…study of course!
Today, many young adults never lived in an apartment during college. They either stayed in a dorm, joined a fraternity or sorority; or, maybe they lived at home and commuted to college.
This means they never accumulated their family's "stuff" to use in an apartment.
Both of my daughters commuted to college.
After college, one moved five hours away to begin her career and she moved into her first apartment.
My other daughter married and she and her husband moved into their first apartment.
Neither one of them had a CLUE what they needed!
So, having gone through this twice – Believe me––I have a pretty good idea of the things you're going to need!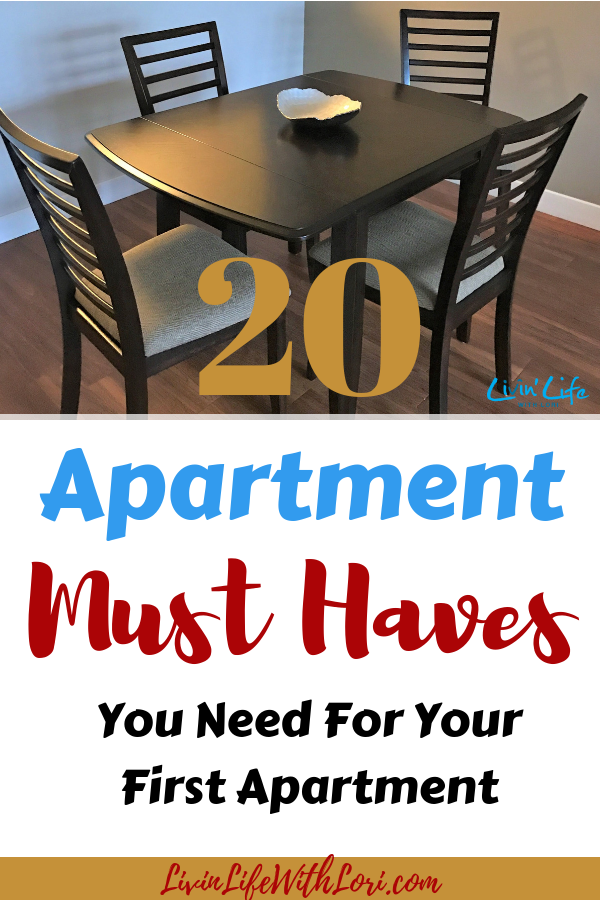 This article may contain affiliate links which means if you click a link and make a purchase, I will earn a commission at no additional cost to you. Please see our Disclosure Policy for more information.
The Top 20 Must Haves For Your First Apartment
1. Living Room Styles
You will want a nice comfy couch to sit on.
Make sure you know how large your room is before you go shopping!
Couches come in all sizes. The standard size is 94", but if you have a small apartment, you should consider purchasing a smaller couch or even a love seat.
You want room to move around in your apartment and don't want it to look cramped.
Options to consider are: couch with an ottoman, couch and matching love seat, couch and comfy chair, or even a sleeper sofa for those overnight guests!
There are so many styles to choose from too! You can mix and match living room essentials such as entertainment centers, coffee & end tables, lamps – so much to choose from it can become overwhelming!
Here's a great place to shop which gives you many categories to help you choose a look and style that's right for you!
You can even see What's Trending in Living Room as well as Tips & Inspiration to help you decide what might look the best in your space.
This Felton Tufted Sofa comes in various colors with options of a couch, chair and ottoman. The collection gives you different options for sitting and you can add a splash of color with pillows!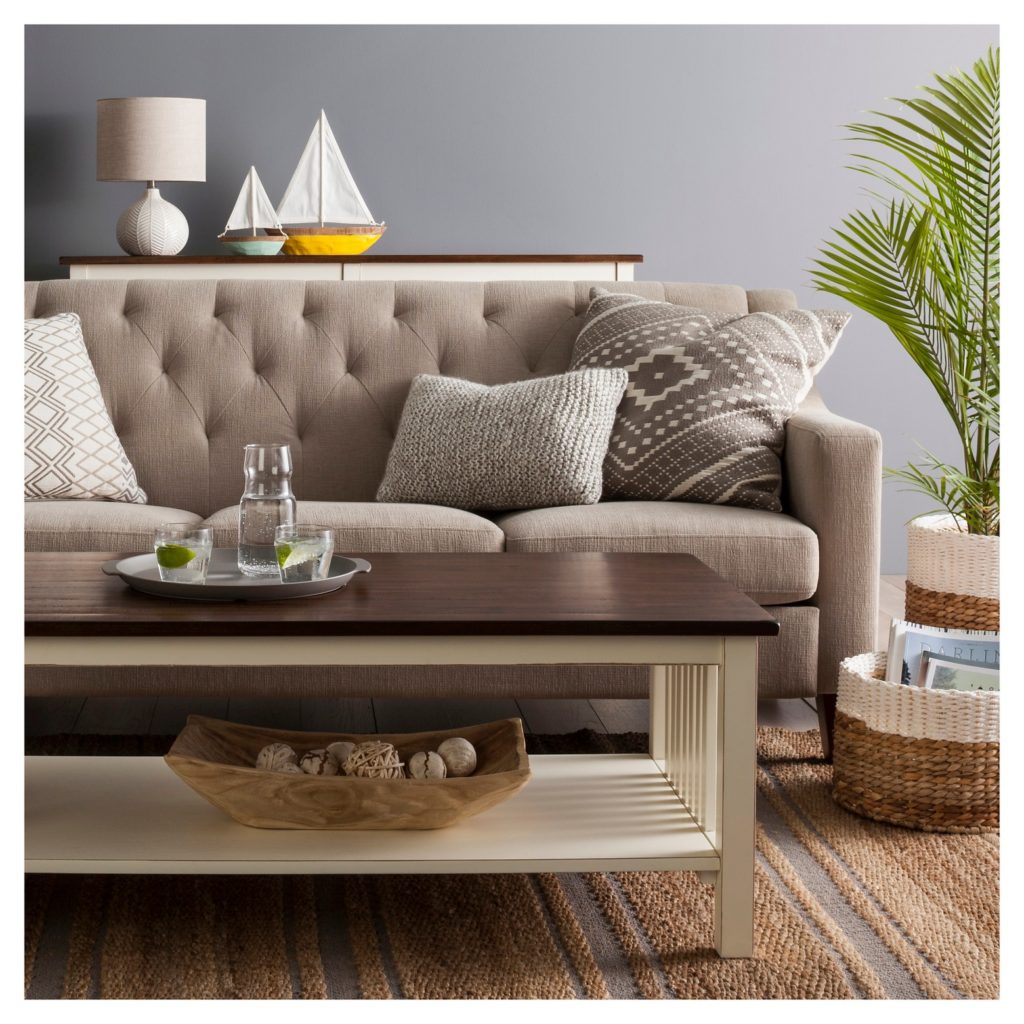 Remember – The delivery men may need access to the stairs. Even though you may have an elevator, the couch may not fit in the elevator. Be prepared to tip the delivery men accordingly.
2. Dining Room Options
There are many sizes of tables and chairs you can purchase. Is your apartment large enough for a kitchen table?
Those types of tables are styled differently than a table for the dining room. How large is your dining area?
My daughter doesn't have a dedicated "dining room" but there is a nice area for a table and four chairs.
She got this cute drop-leaf table and four chairs for their apartment.
When she needs more room, she can keep the leaves down.
When she has company, she can keep them extended.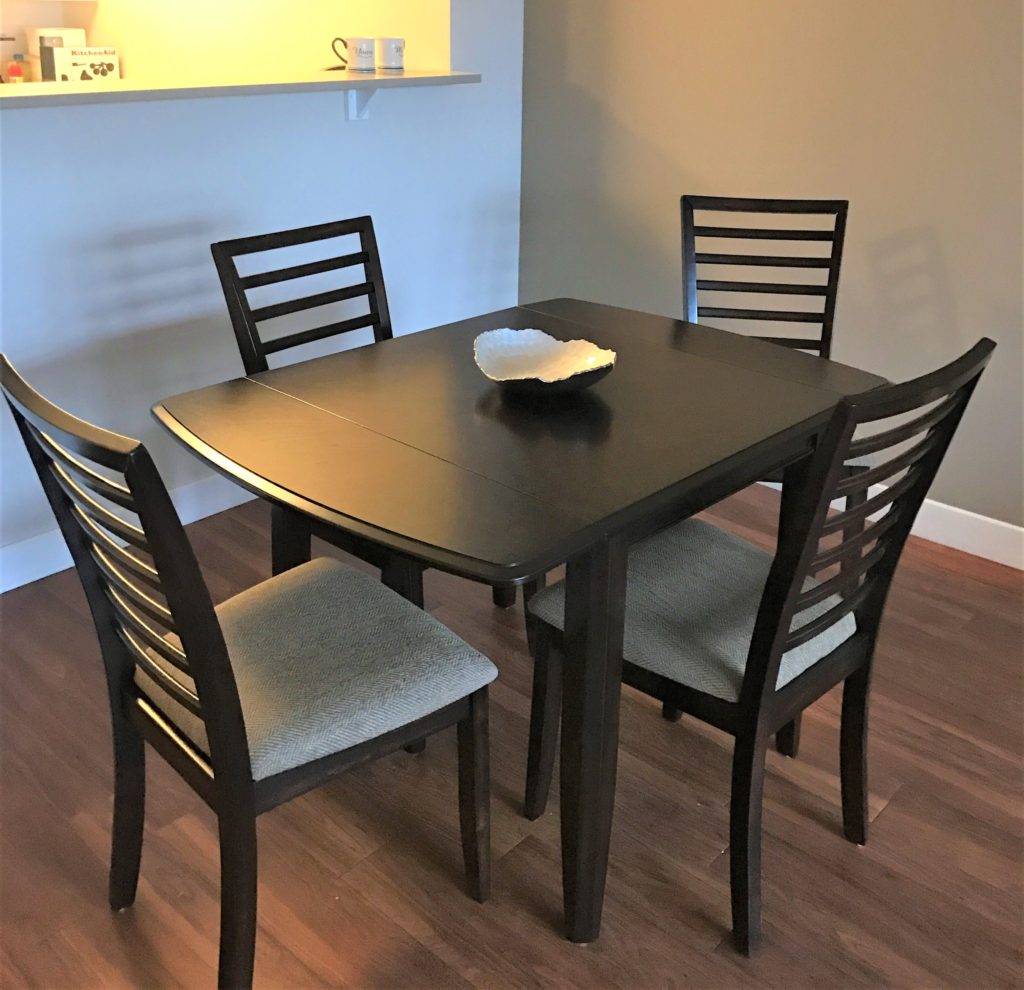 HERE are several options for Dining Room Sets.
There are so many styles of tables and chairs that you will be sure to find one that you will love.
Check out an entire selection of Dining Rooms HERE.
TIP – Remember to get placemats for your table. This will keep the tabletop from getting scratched.
3. Bedroom Ideas
If you haven't had time to shop for a bedroom set, make sure you at least shop for a bed. Getting a good night's sleep helps you wake up energized and refreshed.
Plus you feel so much better when you get a good night's rest.
Your mood is better…you smile more when you're not tired…you're not cranky…and you wake up ready for your day!
Before you go to the store, decide if you will be shopping for a King Bed or a Queen Bed.
Take a look at your room to determine what size will fit but more importantly consider your budget.
A King-sized bed may cost you more than a Queen-sized bed.
Also, remember when you shop, ask if the box springs is additional and if the frame is included as well.
HERE are some GREAT options for bedroom sets.
Again, the styles are endless!
TIP – Many times stores will advertise "Mattresses on Sale" and that's just what it is…the mattress.
Be sure the price they quote you is both the mattress and box spring and ask if they will throw in the frame in the price quote.
I sent the Newlyweds (my daughter and new husband) to the mattress store. I forgot to tell them that when they enter the store, most likely the salesperson would take them to try out the most expensive mattresses first.
Of course, these feel absolutely wonderful! But, when you're just starting out, make sure you have an idea on the amount you plan to spend on a mattress before you go shopping!
Luckily, I had given my son-in-law an idea of a price-range they should think about and he carefully guided my daughter away from those fabulous mattresses to those that were more in their newly-married price-range.
They found a great mattress – in their price-range that, according to my daughter, she "sleeps like a baby".
So, go into the store with a price range in mind…and stick to it!
Bedding
4. Comforter –
There are so many comforters to choose from! Be sure to purchase the correct size to fit your bed.
When you go to purchase bedding, you can either select from the "Collections" or you can choose "Bed in a Bag".
The collections are items that all go together to create an ensemble (see below).
A Bed in a Bag will come in 3, 4, or even 7 pieces.
This includes the comforter, 1 regular sheet, 1 flat sheet, 2 pillowcases, and 2 decorative shams or even 2 pillows.
HERE are some great options to help you choose your bedding.
TIP – Just be sure to read what comes with the set you purchase.
My daughter chose a very pretty comforter set but when she opened it, it only came with the comforter and 2 beautifully decorative pillows!
Once again, she had no idea it wouldn't include sheets.
This is a very pretty Comforter Collection which comes in Champagne (shown), Charcoal & Navy. These items you purchase separately so if you didn't want the pillows or shams, you don't have to purchase them.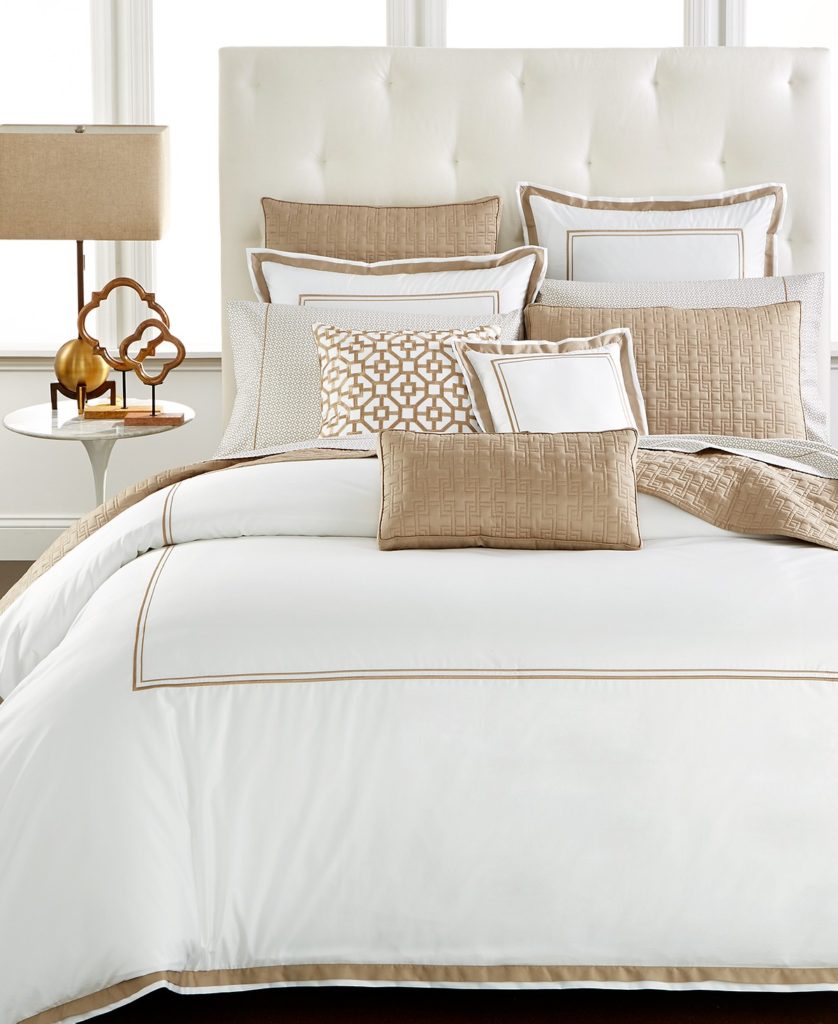 5. Sheets
Now that you have your bed, and have chosen your comforter it's time to purchase sheets. You should really purchase two (2) sets of sheets if possible.
Then when you put the sheets in the laundry to be washed, you can put the other set of sheets on the bed.
So, when it's 10:30 p.m. and you want to go to bed you won't have to wait until the sheets are dry so you can put them back on the bed! (I know…I'm talking from experience!)
You can get some GREAT DEALS on sheets HERE
These Cozy Sheets are made of 550 Thread Count and are 100% Supima Cotton.
They come in a 4-piece set including one flat sheet, one fitted sheet and two pillowcases.
As you can see, there are many colors to choose from. Sheets don't have to perfectly match your comforter set – but they can complement the color you choose.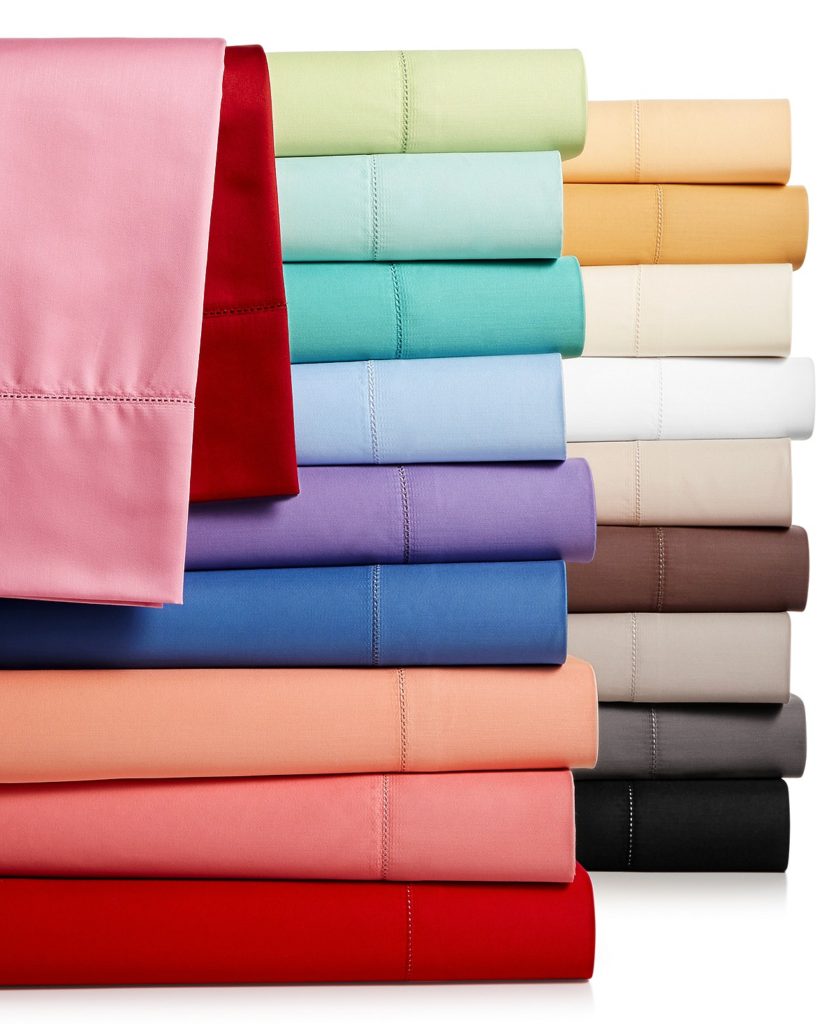 Bathroom Essentials –
6. If your shower does not have a shower door, you will need a Shower Curtain.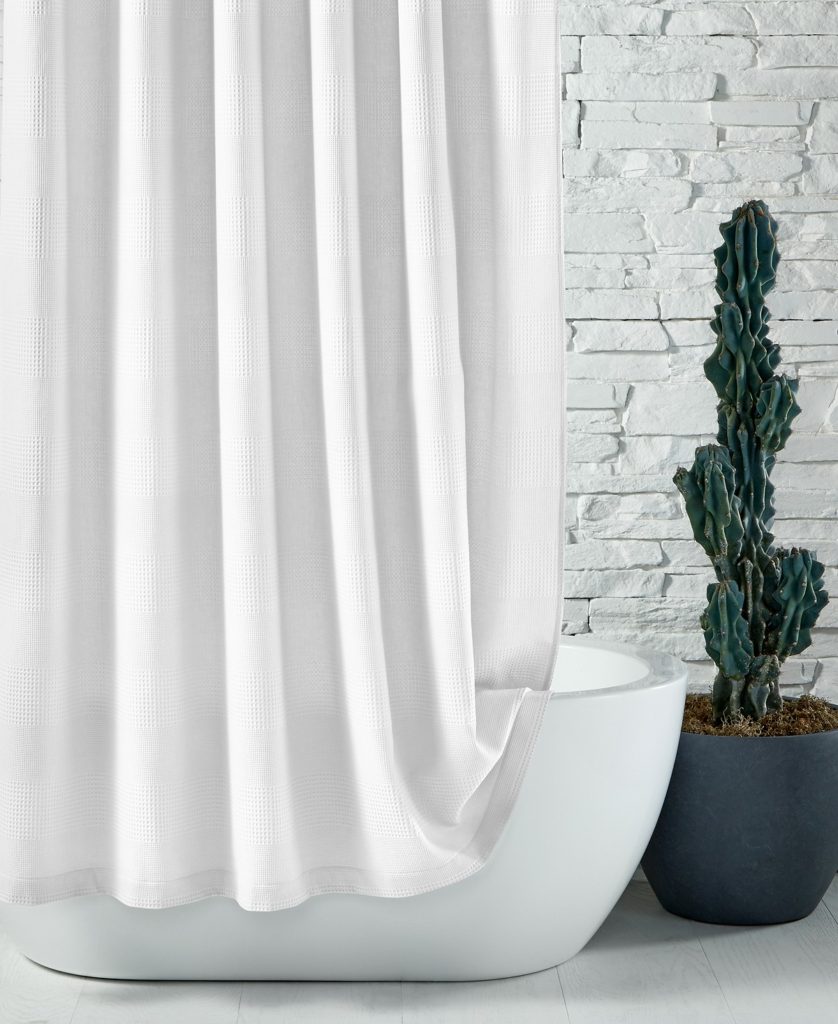 If you purchase a cloth-type shower curtain like the one shown above, you should purchase a plain liner too.
This way, the water is held inside the tub/shower and the cloth shower curtain doesn't get wet and need to dry out each time you shower.
HERE are more ideas for Shower Curtains.
TIP – Take a look at the apartment to see if it comes with a shower rod and hooks to hang up the shower curtain.
If not, you need to purchase both to hang up your new curtain!
7. A Bath Rug –
This Bath Rug comes in many colors and is skid-resistant so that you don't slip and fall coming out of the tub or shower.
You could purchase the white shower curtain and complement it with a colored bath mat!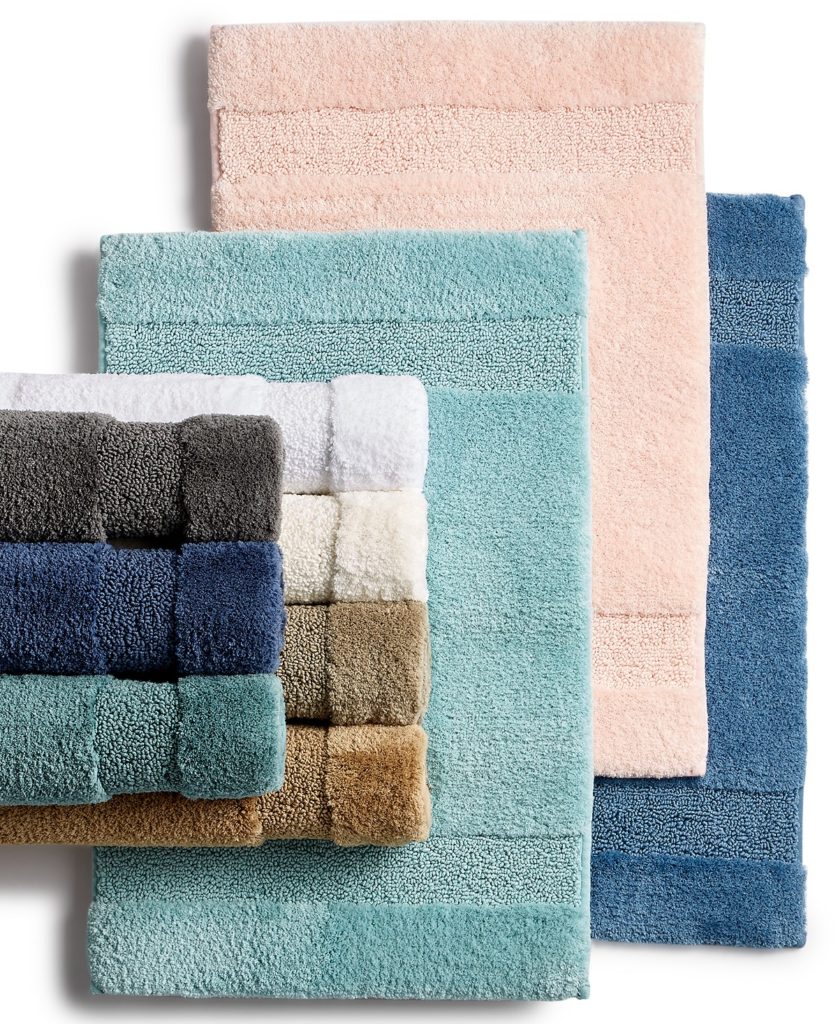 8. You'll need a toilet brush and even a plunger. I know! I know!
But…you won't want to be without it!
This Brush and Plunger Combo works well.
We purchased this for both of my daughters.
9. Towels/hand towels/washcloths.
First, decide the size of towel you want to use. Many young people don't realize that there is a Bath Sheet (the largest) and a Bath Towel.
For my daughter – the Newlyweds – I recommended purchasing at least six towels (three for her and three for her husband) to start.
Purchase at least four matching hand towels and six washcloths.
This is completely just a recommendation – you will figure out your needs after the first week!
These Bath Towels are soft and come in a variety of colors.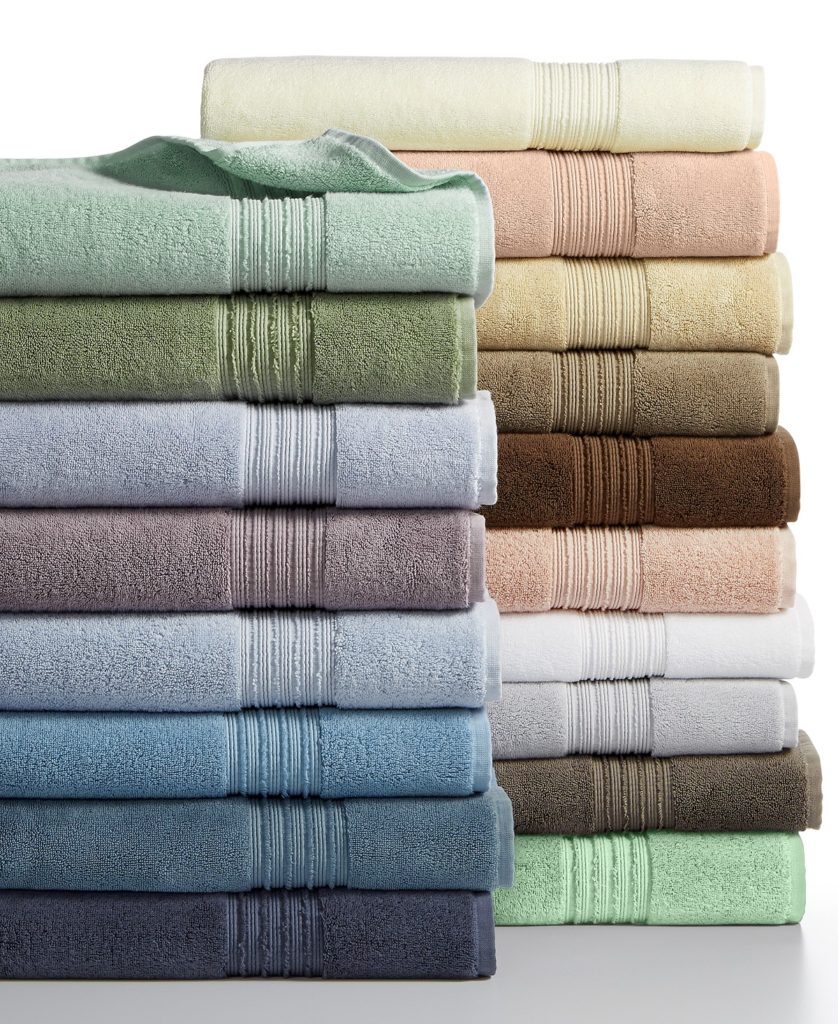 HERE are some more pretty & comfy towels to choose from!
10. Hangars – You'll Need LOTS of Them!
These Huggable Hangers are perfect for your closet because they are thin so you have more closet space. Also, they are "huggable" meaning they hug your clothes and won't slip off! This comes in a 40 count set and you won't believe the number of hangars you will need!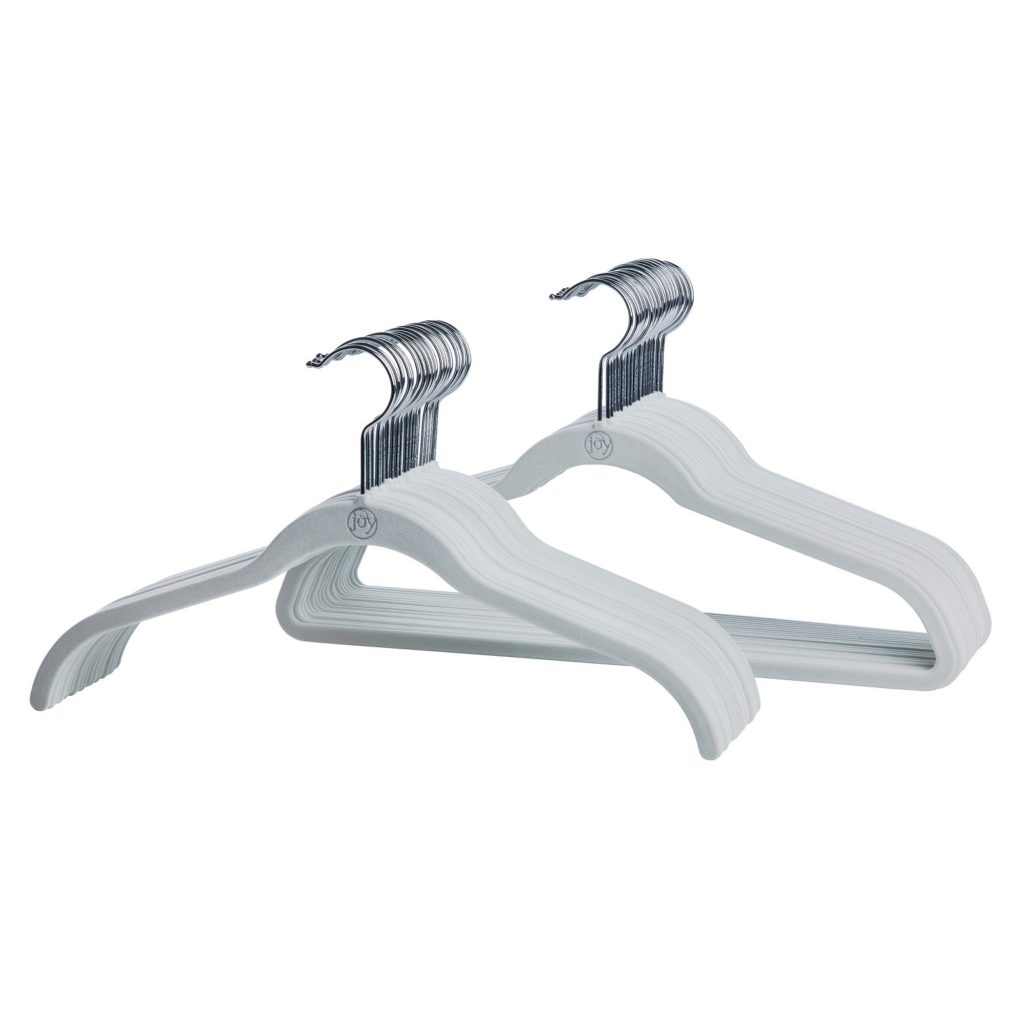 Kitchen Apartment Essentials!
We are half-way there! Now we will move into the Kitchen Essentials for your New Apartment!
11. Toaster
Having a 4 Slice Toaster works well so that you're not standing there waiting to make two sandwiches!
TIP – make sure the slots are large enough to toast a bagel.
12. Pots
I have had this set of Rachael Ray 14 Piece Hard Enamel Non Stick 14 Piece Cookware Set for over a year and it still looks great – and that's after heavy cooking!
This 14 piece set also comes with a cookie pan and three kitchen tools! And yes – I have the RED set! But my daughter has the teal-colored set and it is very nice too!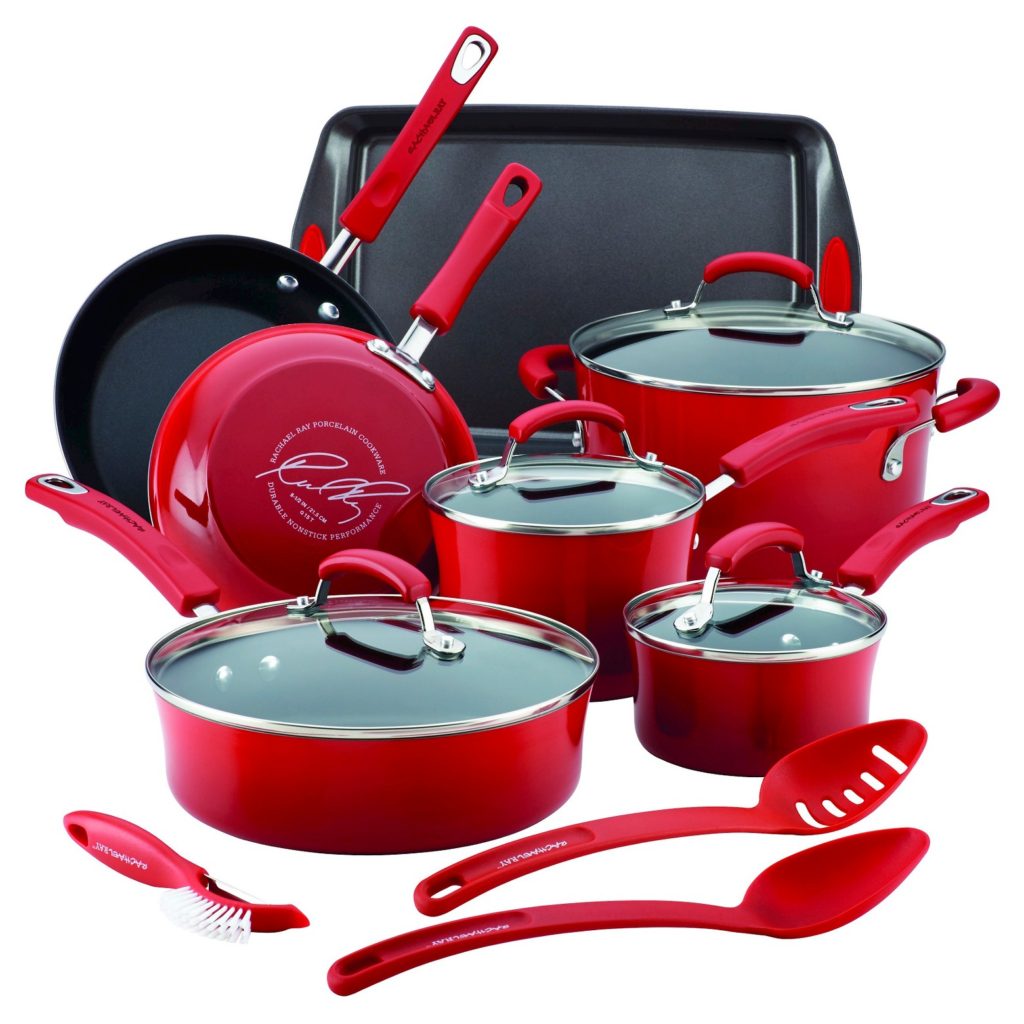 If you're into watching the Food Network, you may have seen one of my favorite programs – The Pioneer Woman.
I recently had the opportunity to visit The Pioneer Woman Mercantile & Lodge where they film The Pioneer Woman!
You can read more about my visit to The Pioneer Woman Mercantile & Lodge HERE
I have several of her cookware pieces, salt & pepper shakers, cutting board – even The Pioneer Woman Travel Mug!
I also love her Cookware. You should also consider this Pioneer Woman 24 Piece Cookware Combo Set when looking for cookware.
13. Coffee Pot
What can I say other than you will use this Keurig coffee pot morning, noon and night!
This Keurig comes with the large water reservoir so you can make six cups before needing to refill.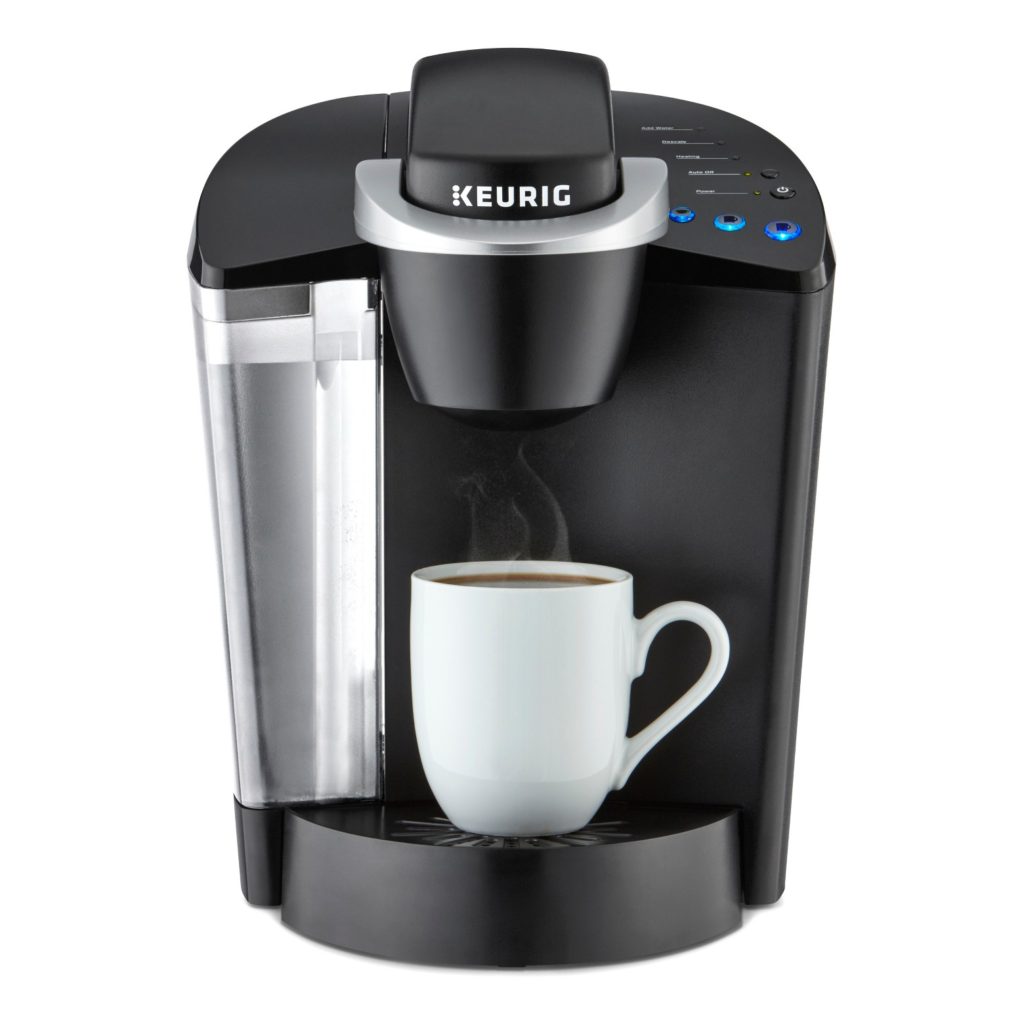 14. Coffee Carousel
And of course – how cute will this Keurig 36 K-Cup Pod Carousel look sitting on your counter?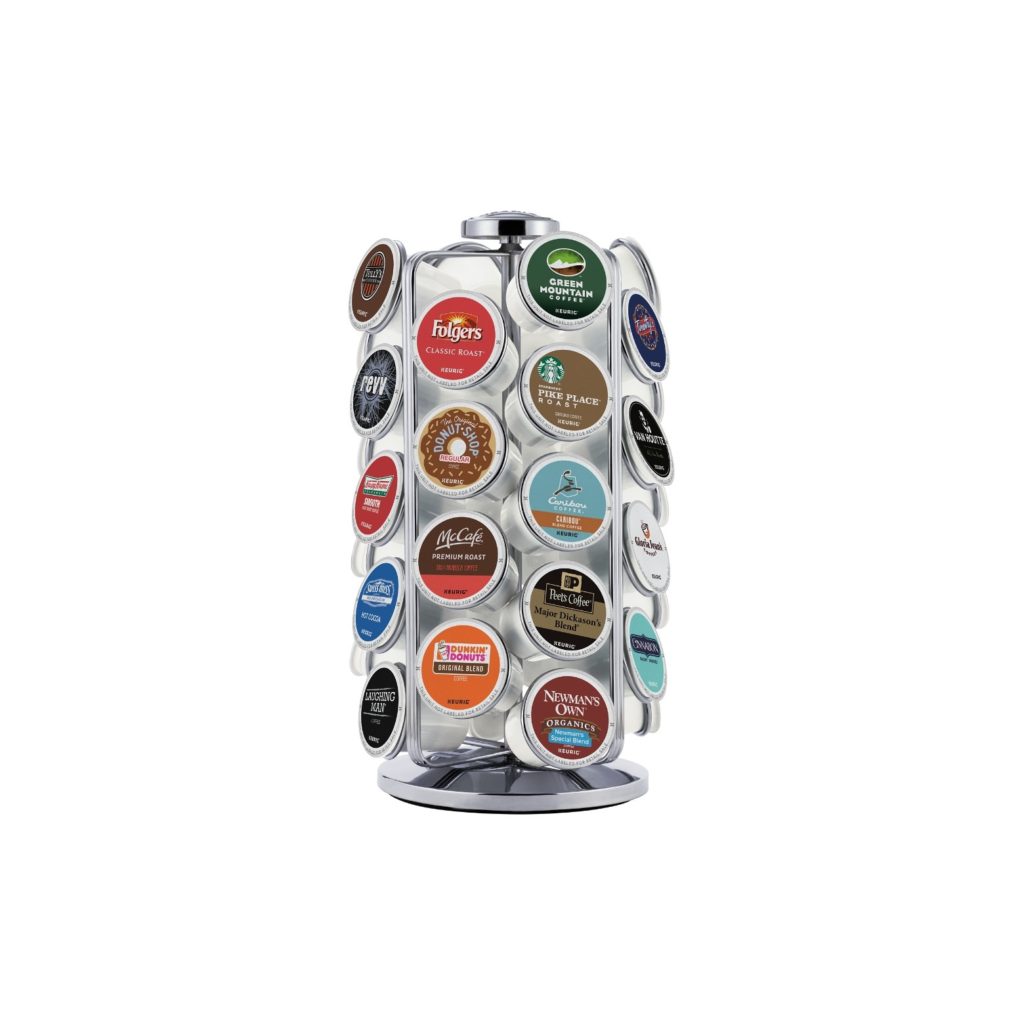 Now that we have the coffee taken care of – WHEW! We need a cup to put the coffee in!
Which leads me to…
15. Dishes
These Fiesta 4-Piece Place Setting is what my daughter chose.
They are great for every day and go right in the dishwasher & microwave. She chose them in Cobalt (shown below), but they also come in great colors like – Lemongrass, Tangerine, Shamrock, Sunflower & Turquoise!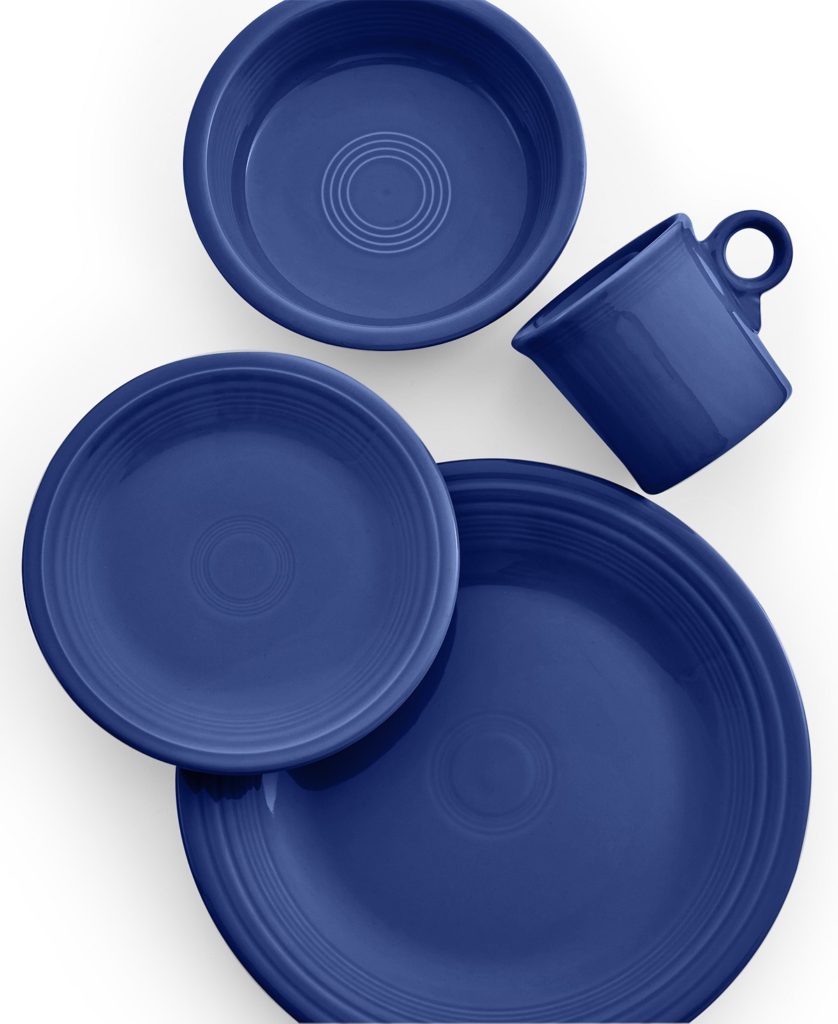 16.Silverware
This Oneida 20pc Silverware Set gives you four place settings – perfect for every day!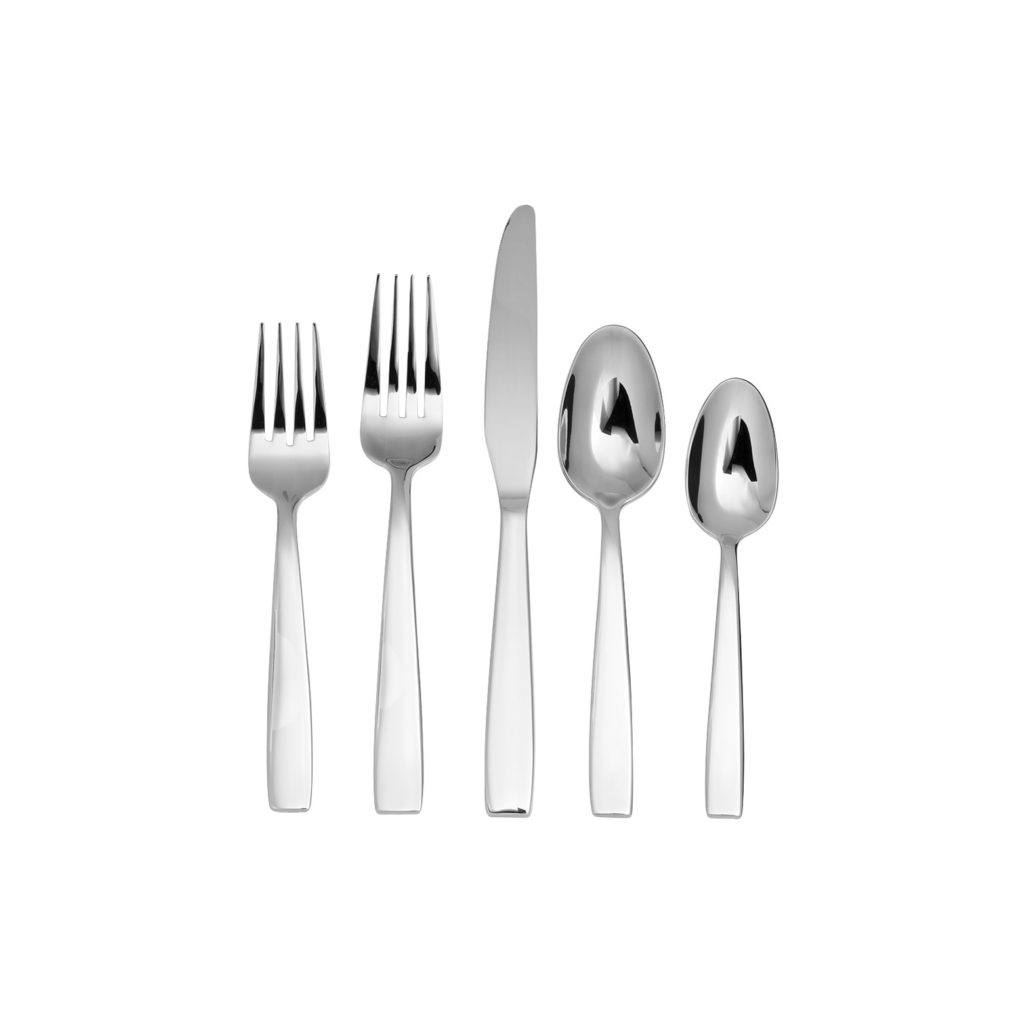 17. And don't forget that you will also need a drawer organizer for your silverware.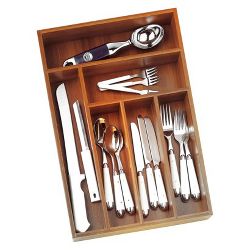 No…it doesn't come with the apartment!
Do you think either one of my daughters has one yet? I went over the other day and there was all her silverware just sitting in the drawer. Gotta get her one!
18. Vacuum
You need to pick up a vacuum that will do multi-surface floors so you can go from wood floors, laminate floors, tile floors, the bathroom floor to carpeting. This vacuum does it all!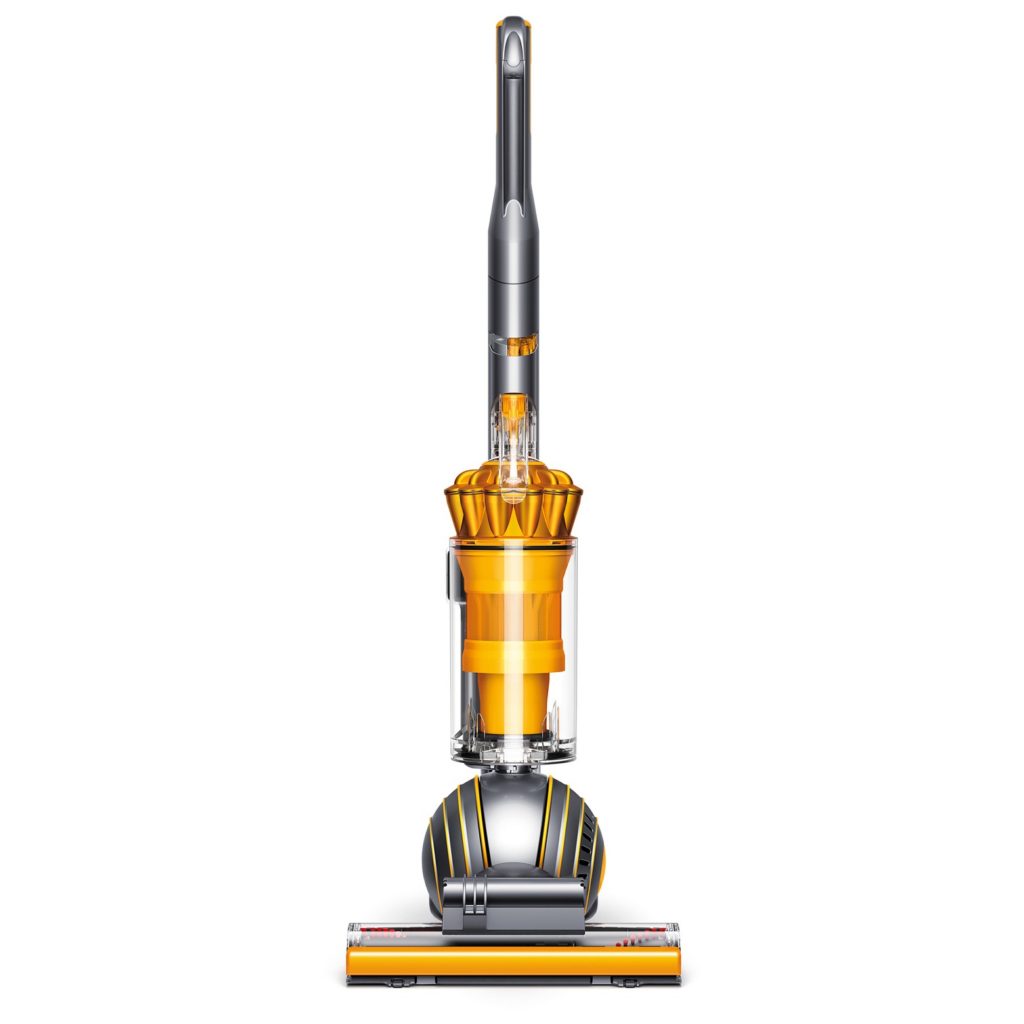 19. Glassware
These include: Drinking Glasses, Tall Tumblers, Short Tumblers, Wine Glasses, Juice glasses, Beer Glasses, Champagne & Flutes, Cocktail Glasses…the list goes on!
Choose the "glasses" you will use the most! tumblers
Wine Glasses
20. Can Opener
This can opener can open both pop-top and regular cans.
It is a Must-Have for your kitchen!
Well, I could go on…and on… but if you shop for these
New Apartment Essentials
you will be well on your way to enjoying your new home right away!
I would LOVE for you to join my email list!