This page was updated on 8/10/22
What Are Some Of The Camping Accessories That RVers Actually Use When Camping?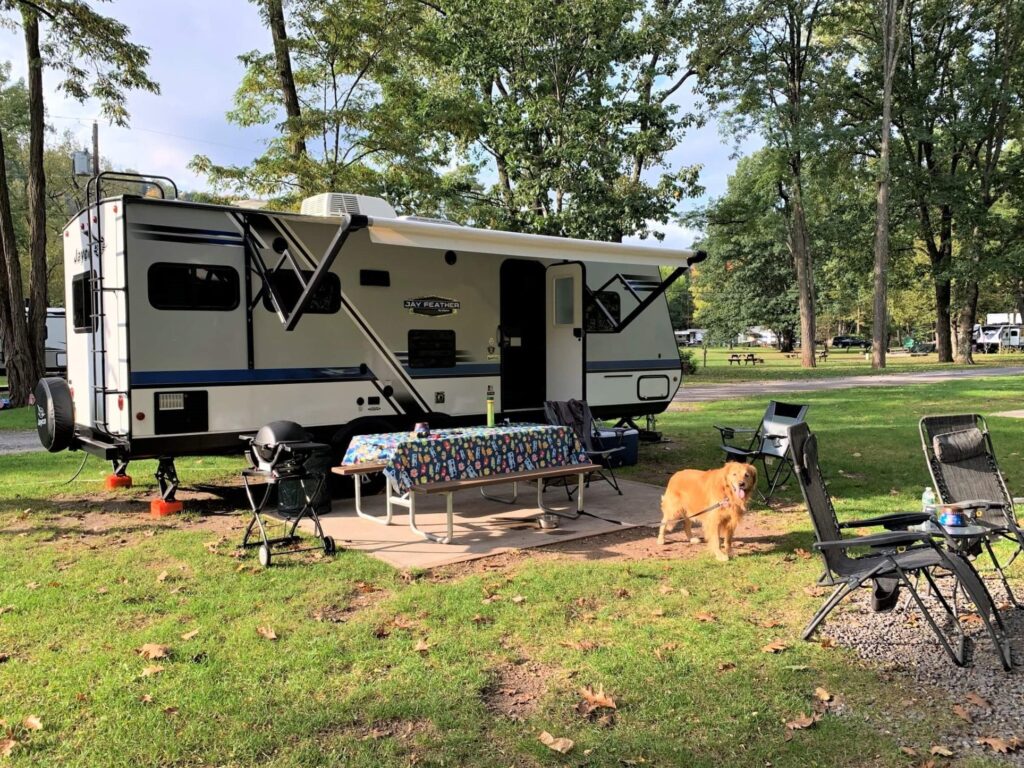 Campers are famous for making list after list of Must-Have camping accessories. But which ones are the BEST and have been tested over and over?
These are some of our camping and hiking favorite must-haves that we have used and love!
This page will be updated throughout the camping season to let you know how these camping favorites are holding up or whether they have been put in the garage.
This post contains affiliate links which means if you click on a link and make a purchase, I will earn a commission at no additional cost to you. Please see our Disclosure Policy for more information.
Best RV Camping Accessories
RVers are always adding to their RV Accessories! Whether you are looking for comfy camping items or RV essentials, these are some of the new camping purchases we made this camping season and how they are holding up!
RV and Camping Product Recommendations
This little socket will save you time and energy when raising or lowering your scissor jacks! Attach the socket to a cordless power drill and your scissor jacks will be in place in no time!
After dragging every shape and sized cooler for travel ball for ten years and three kids, I have to say we are kind of an expert in the "Cooler Department."
This is the best cooler for both travel ball and camping that we have used! Not only does it keep things cold, but it will keep ice for days!
Halo Bolt Air – Portable Emergency Power Kit With Tire Pump
The Halo Bolt Air will jump-start your car or SUV, inflate your tires and charge your phones! Plus it has an LED Floodlight to light up the area too.
If you don't need the air compressor, the Halo Bolt has everything you need to be safe on the road: LED flood light, battery jump starter, jumper cables, AC wall charger, carrying pouch, and 2x USB phone charger all in one package
We purchased this tire changing ramp to help change a flat tire on our travel trailer. The ramp allows you to change a flat tire without a jack and without unloading.
We chose this cordless 20v tire inflator portable air compressor in case we needed to inflate a low tire while on the road.
If there is one thing New RV Owners need to purchase – it's an RV Surge protector. This is the surge protector we own and use. We like it because it has a cover that protects the plugin from the rain.
Be sure to get the model that works with your specific RV (30 amp or 50 amp).
Whether you're looking for a mattress for your RV, or at home, this gel foam mattress is so comfortable – you'll be happy you bought it!
We purchased it for our guest room in our home and when my daughter comes home – she can't stop talking about how comfortable it is!
Looking for a new mattress for the RV or travel trailer? Check out this highly-rated gel foam mattress.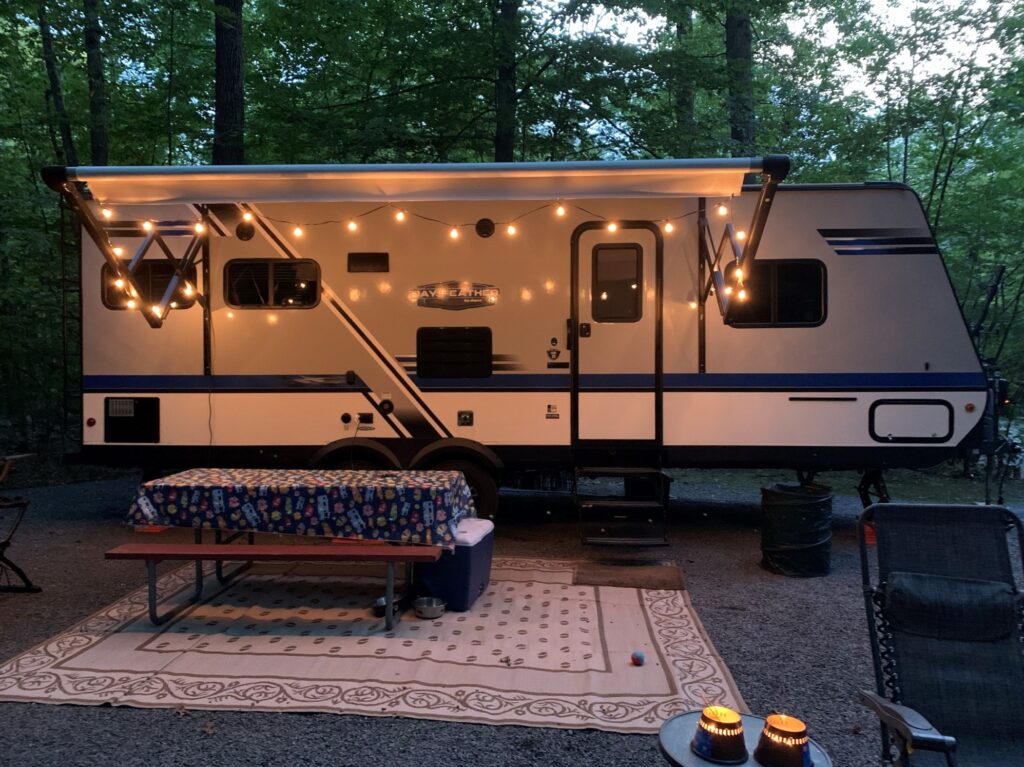 We purchased these outdoor lights at the end of last season. They have held up well this season too. I do put them back into the box each time we pack up. The package comes with two additional bulbs.
I love the warm light it gives off at the campground. Our travel trailer came with the blue led lights attached under the awning – not the extra little light I am looking for when sitting by the campfire!
We picked up this Tire Repair Kit after our truck tire got a flat on the way to the campground. Luckily, our truck TPMS alerted us and we pulled into a gas station just as we were pulling onto the Expressway!
The repair station was closed but they called someone to come to plug our tire. The man came with this toolkit and plugged the tire in no time. We purchased this repair kit and carry a portable air compressor with us in case it happens again!
You know when you're sitting at the campground and see another camper have something and your husband turns to you and says, "Why Don't I Have One Of Those???"
Yes, that really happened. I can honestly say, this Handy Little RV Tool is the BEST tool for those who have a travel trailer and have been lifting that hitch out of the truck for years!
My husband LOVES it!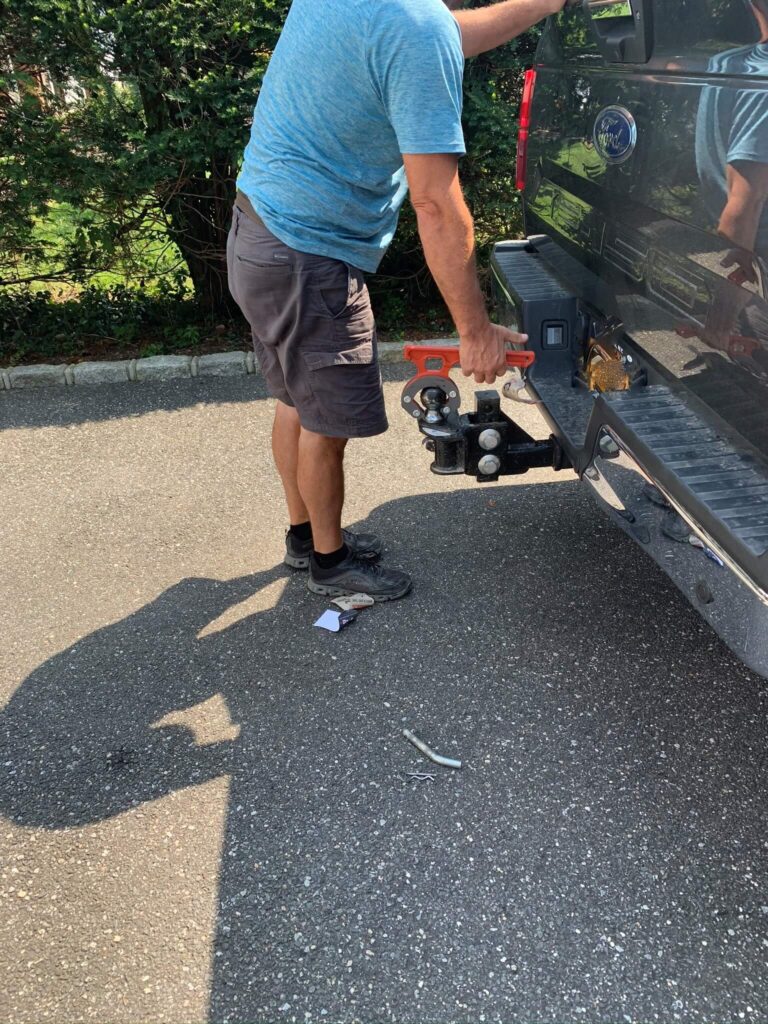 We have camped with these zero gravity chairs for over five years! What we love about these chairs is that they come as a set so you get 2 chairs in the order. They also have a removable tray with two cup holders, a phone holder, and a tablet holder.
This is the #1 RV accessory that we have used both camping and in the backyard! No more going in and out of the camper to get things – just add them to your caddy and carry everything out at once!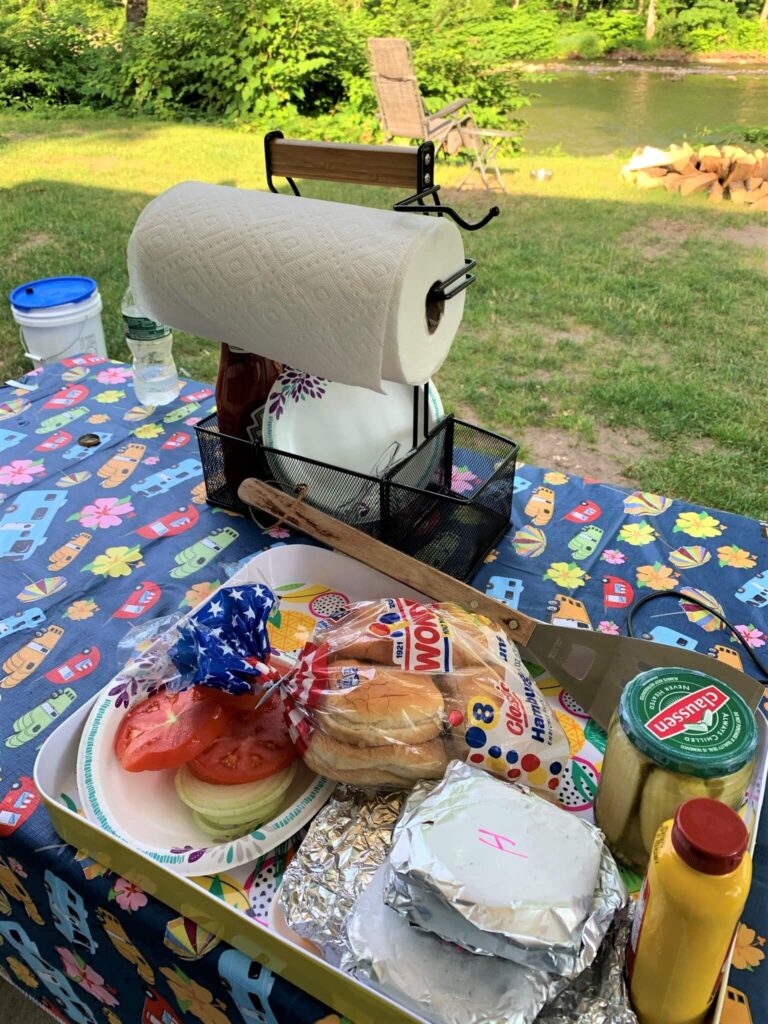 This is what we call a Camping Essential now!
Reflective Warning Road Safety Triangle Kit
While we haven't had to use these yet, we saw plenty of them being used along the road to warn motorists about breakdowns during our 9-day, 2,700-mile camping trip! These are always good to have!
Cute Retro Happy Camper Table Cloth
I can't tell you the number of times campers came up to me to ask "Where did you get your tablecloth?" Even my daughter loved it!
It was left out in two torrential rainstorms and did not smudge!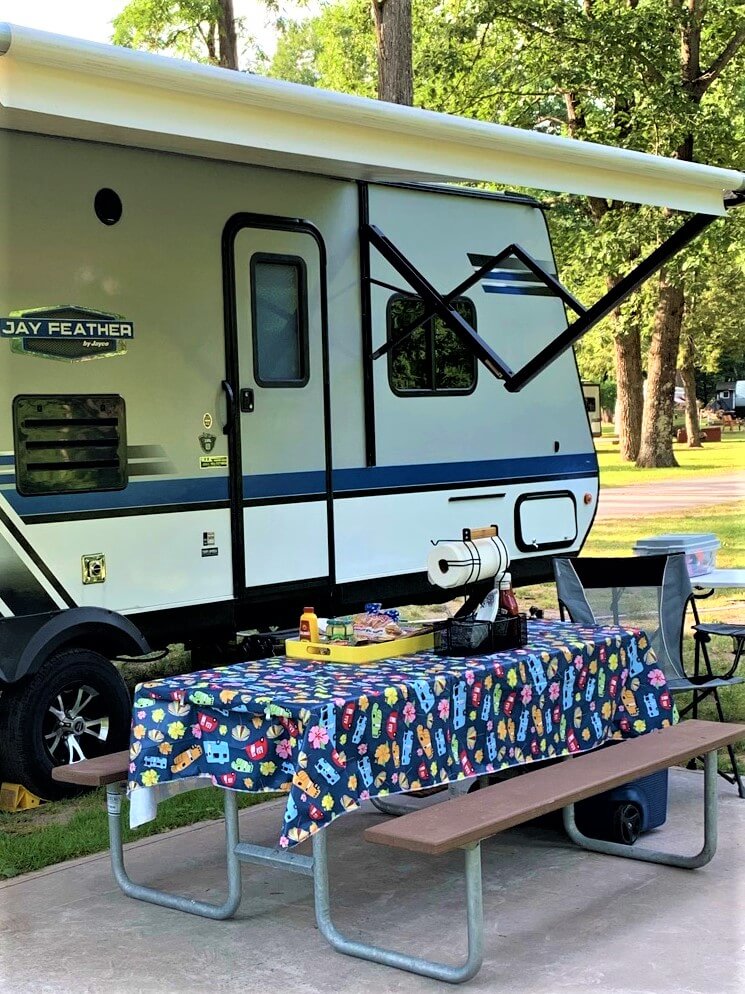 If you're camping where there are flies, these are perfect for the campground – or even the backyard!
Tire Pressure Monitoring System
Want peace of mind while on your RV trip?
Get a Tire Pressure Monitoring System or also known as a TPMS.
We chose the GUTA Tire Pressure Monitoring System. We found that other reviews were correct in that GUTA TPMS can be a little complicated to initially install.
However, once we got it installed on our RV tires, we definitely had peace of mind knowing that we could see it measuring the tire pressure and temperature of our RV tires.
Our pull vehicle already came with a TPMS for the truck tires, so we just purchased the 6 sensors thinking that we would have backup sensors if we lost one or one of the sensors stopped working.
GUTA RV Tire Pressure Monitoring System, RV TPMS, 6 Sensors, 7 Alarm Modes, 14 Days Battery Life, 80ft Sensing Distance, Large Screen, for RV, Trailer, Coach, Motor Home, Fifth Wheel,
A Battery Operated Telescopic Fan
Knowing we would be camping in a more southern region that we were accustomed to, I asked my Aunt & Uncle who camp in the south if they had any recommendations to keep the bug away.
They both said, "A FAN!"
Thank goodness I listened! This battery-operated fan worked perfectly to keep those pesky flies away while we were eating!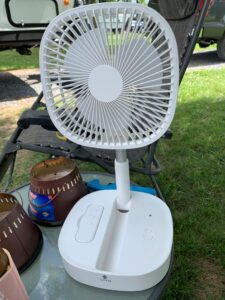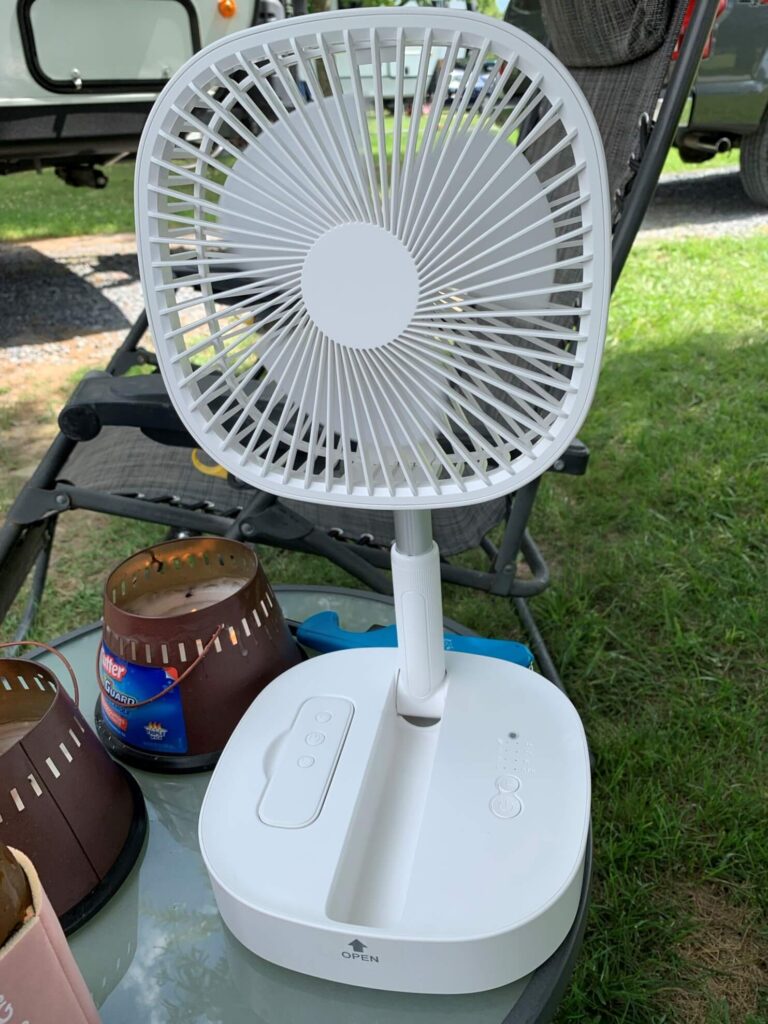 I could adjust its height and move it from the picnic table to the small table next to my zero-gravity chairs!
Read more about how this fan kept the flies away at Outlanders River Camp in Luray, VA this summer!
This fan an A++ purchase!
Favorite Hiking Gear
My daughter got me this day pack for our cruise to Alaska. It worked out so well, I now take it on our camping trips!
It's perfect for day hikes when you don't need to carry a lot of stuff but still need the hiking necessities.
It comes in great colors too!
Check out this Day Pack HERE