RV Camping Journal & RV Log Book – Printable OR Black & White Paperback!
The RV Camping Journal and RV Log Book will keep all your camping memories in one place!
Log up to 20 Camping trips in your Camping Journal that you can print out or purchase a black and white paperback!
This post contains affiliate links which means if you click on a link and make a purchase, I will earn a commission at no additional cost to you. Please see our Disclosure Policy for more information.
Ultimate RV Camping Journal & RV Logbook
This Camping Journal and RV Logbook has everything you want to remember all your Camping Adventures!
Does this sound like you?
"What was that campground we loved so much with the amazing views?"
"Remember the campground with the huge sites and cement pad that was so nice when it started raining?"
Or maybe you want to remember the campground where you got stuck by the dump station or couldn't squeeze into the site with your rig!
Do you try to keep track of all your camping memories in the "Notes Section" of your phone?
After 4-5 years, you find you have to continually scroll to the bottom of the list to add your camping trips! (Believe me, I know this one!)
Maybe you try to try to write down your trips in a spiral notebook.
But then forget to write down key things about the campground, or forgot many of the fun things you did.
You travel to amazing places and camp in some awesome campgrounds.
But, at the end of your camping season, you can't remember which campground had which amenities!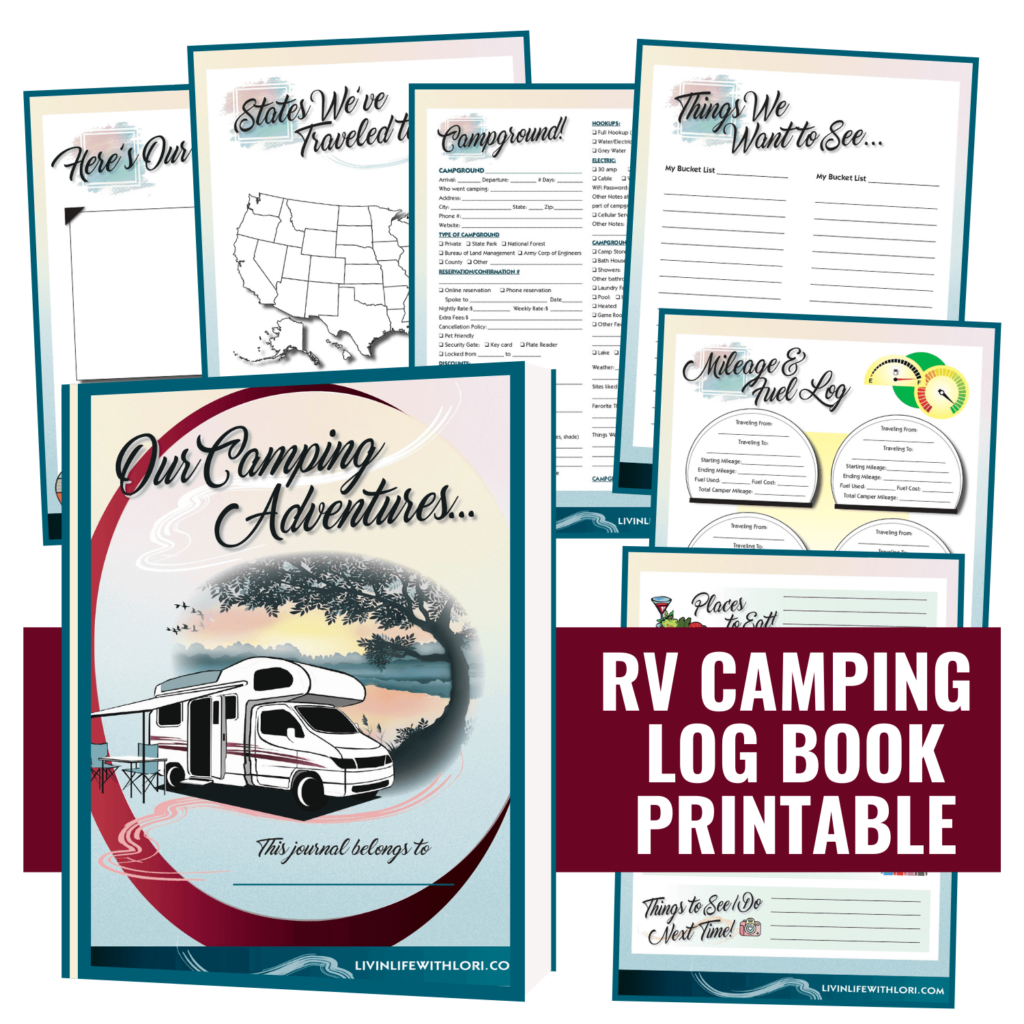 The Camping Journal & RV Logbook Includes Prompts To Write Down:
Fun Things You Did
Places You Went
Fun Stories To Tell
Bucket List Ideas
Nearby Grocery Stores
Places To Eat
People You Meet
Things To See & Do Next Time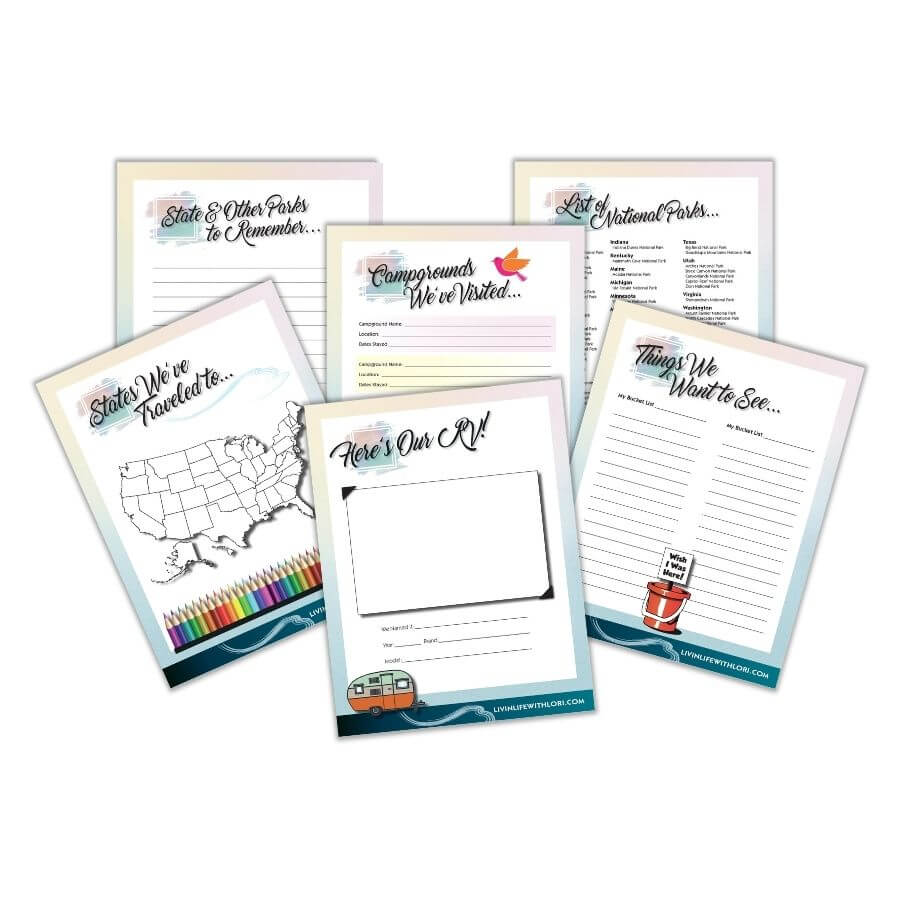 Along with details of each Campground:
Campground Amenities
Discounts
Campground Policies
Hookups
Favorite Things About The Campground
Things We Didn't Like About The Campground
Campground Rating
Trip Notes
And MUCH MORE!
Log ALL your Camping Adventures into this Ultimate Camping Journal
Camping Adventures Keepsake
The Camping Adventures Journal is the PERFECT Keepsake for all your RV Travel!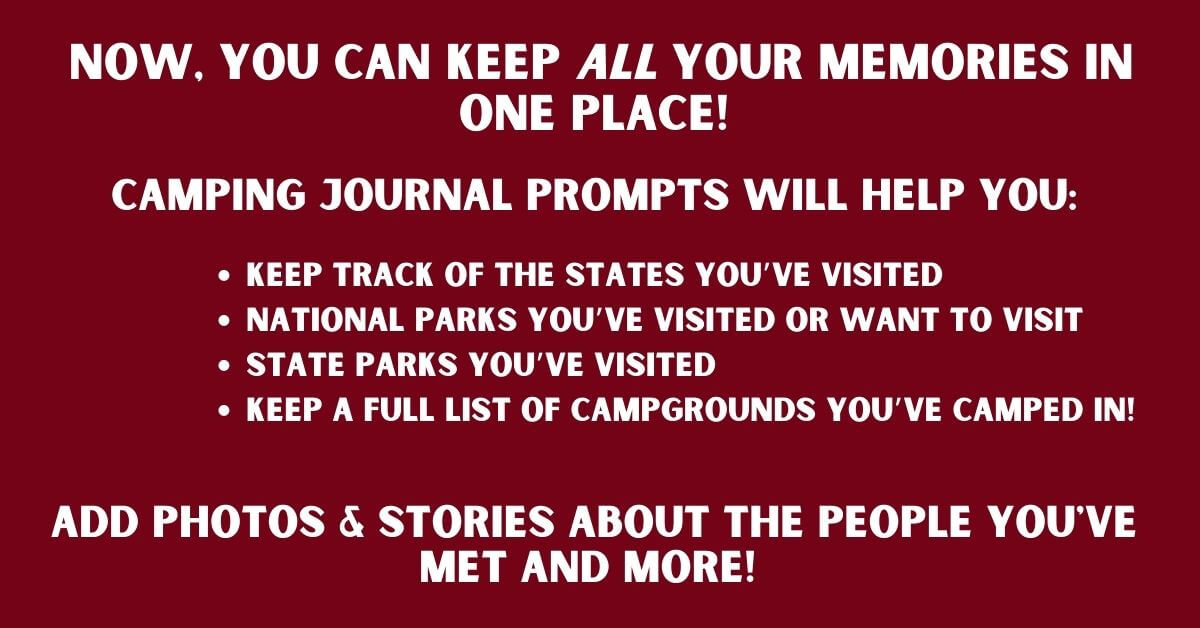 Our Camping Adventures Camping Journal & RV Logbook Printable Includes: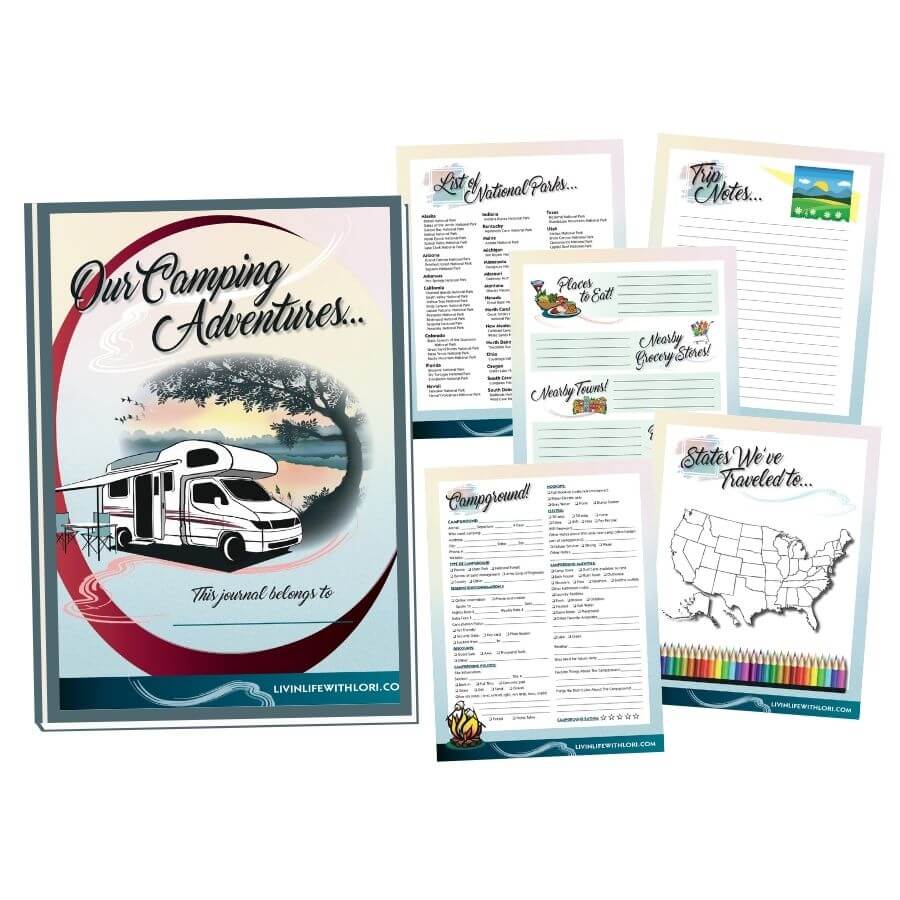 80 Color Printable Journal Pages
And Includes…
20 Camping Trip Log Pages
After completing these 20 camping trips – just print out additional Campground Log pages to add to your binder!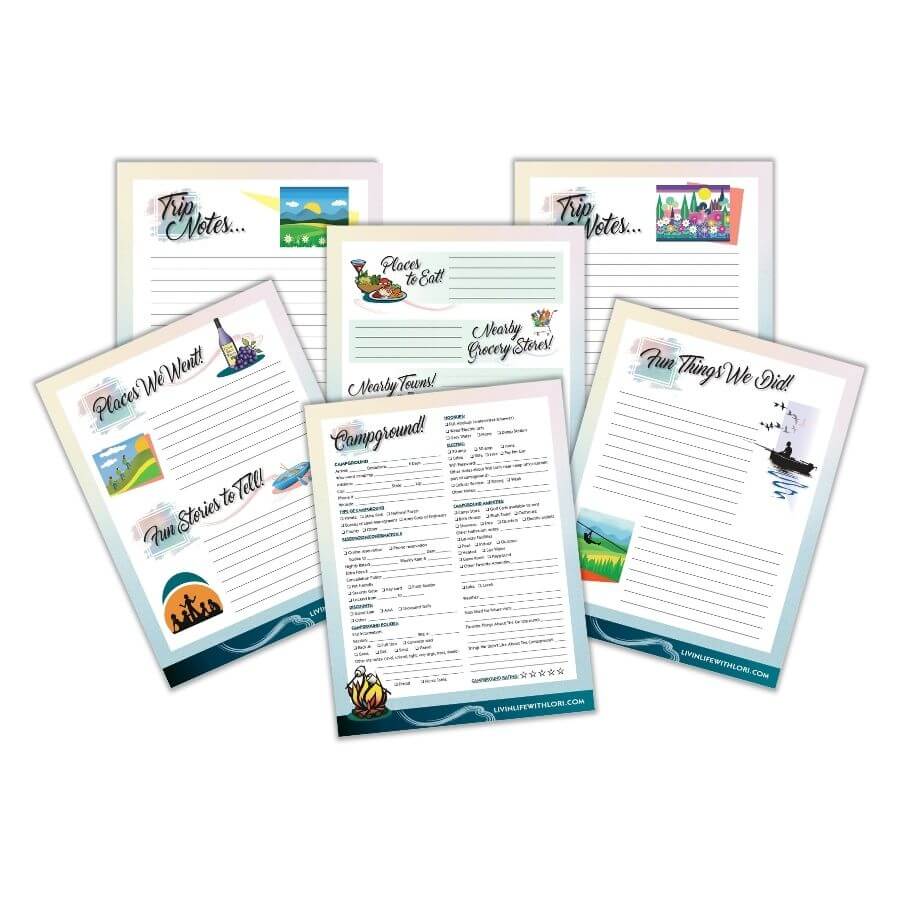 Our Camping Adventures Is Now Available In Paperback!
If you love writing in a paperback journal, this Black & White paperback Camping Journal & RV Log Book version is now available!
This 175-page journal will log up to 20 Camping Trips!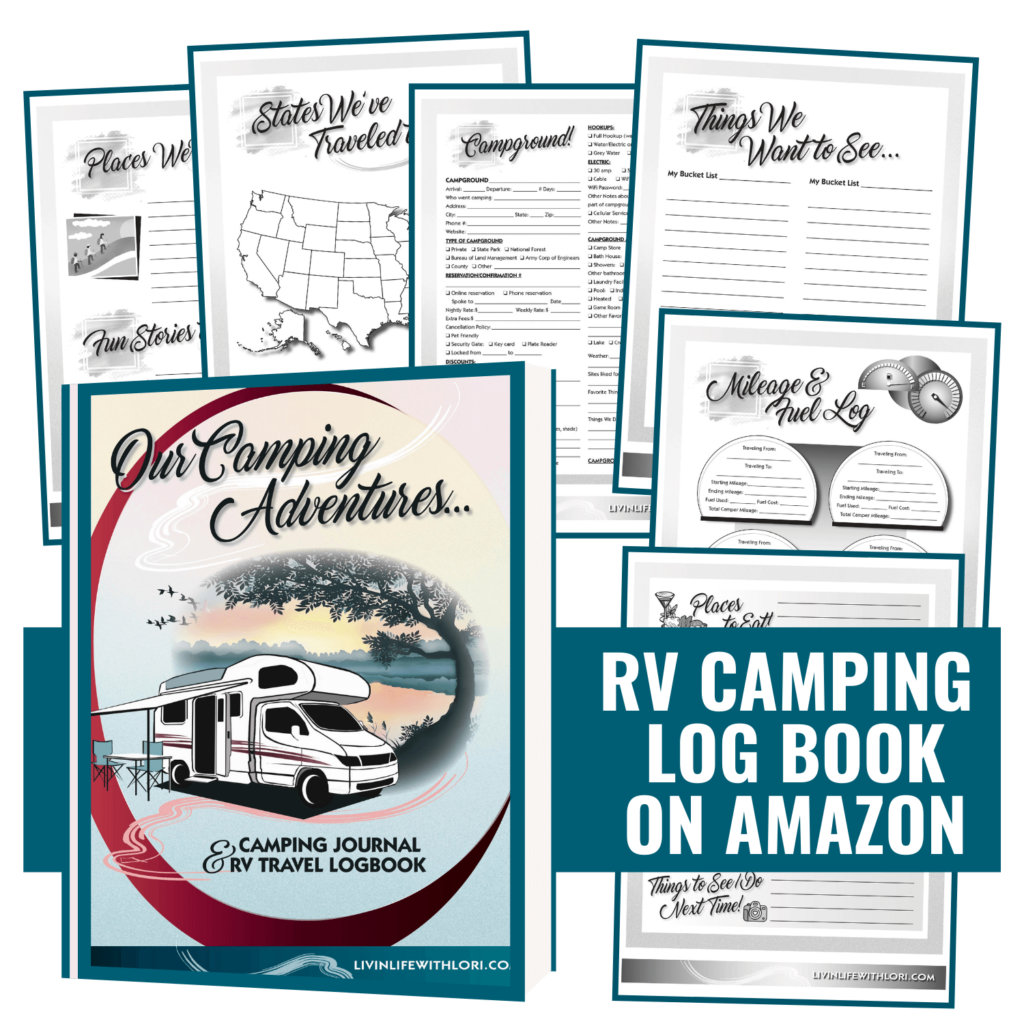 FAQ
Do I Have To Print Out All 80 Pages for the Printable?
Not At ALL! That's what is so perfect about this Camping Printable!
You can set your printer to print one (1) page, five (5) pages, or as many pages as you need for each camping trip!
We've included 20 Camping Trip Log pages as a convenience to you!
How Long Do I Have Access To The Printable Camping Journal?
After purchasing the Camping Adventures Journal, it will be delivered to your inbox – so you will have lifetime access to print the pages over and over – at your convenience!
What If I Am Unhappy With The Printable Journal?
I hope you will LOVE the Camping Journal! Unfortunately, because you can immediately download the journal, it is yours forever. For that reason, we do not offer refunds.
How can I print out the Camping Journal?
After purchasing the journal, you will receive a PDF file which you can download to your computer. This is a digital file – nothing will be mailed to you.
Depending on your printer, you can set your print options to print the Camping Journal in Black and White OR print the pages in color.
Your choice!
Because the journal includes 5 journal pages to log your camping memories for 20 Camping Adventures, you can choose to print all the pages for your trip – or just a few!
How Can I Get The Camping Journal & RV Logbook?
Just Click The Buy Button Below to purchase the Our Camping Adventures Journal Printable or the Paperback version!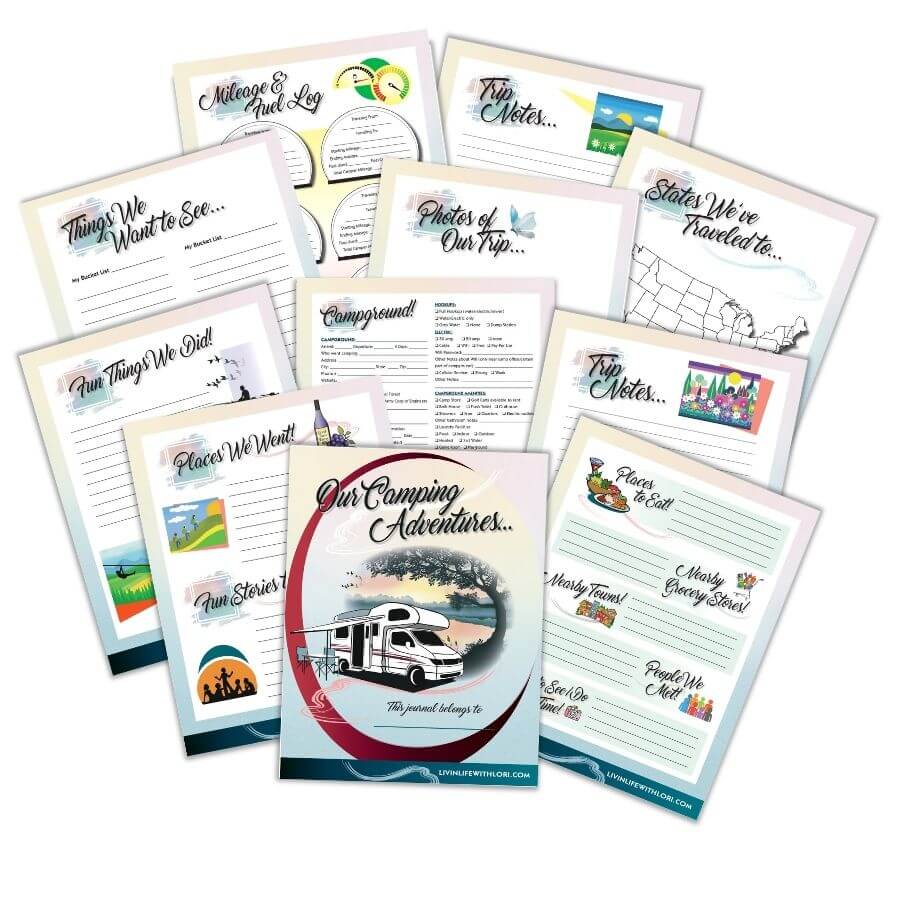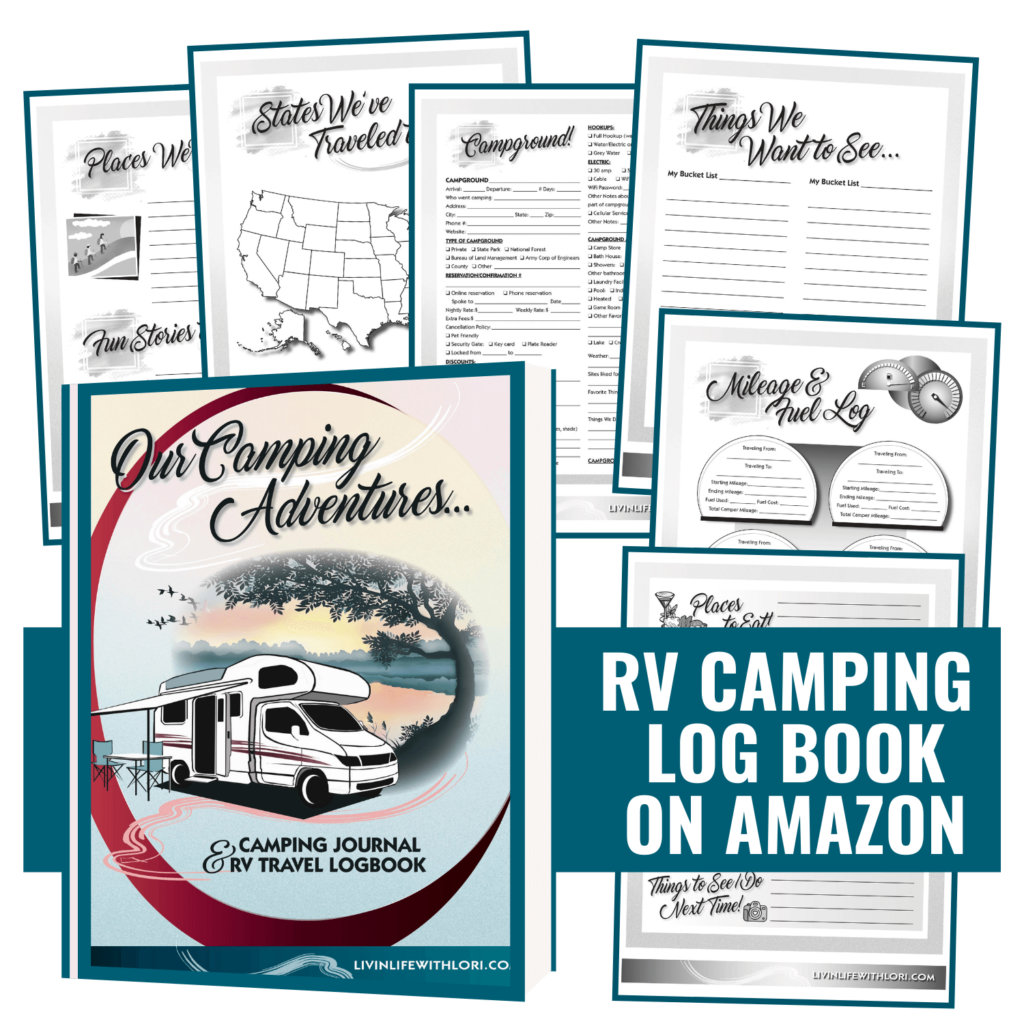 Camping Journal Printable
After clicking the link, you will be directed to the payment screen. Please Note: You do not need a PayPal Account in order to purchase. You may use your credit card for payment.
This is a digital file meaning nothing will be mailed to you.
**Our Camping Adventures is copyrighted and intended for personal use only. The printables may not be shared or distributed beyond the original purchaser.