Give your favorite Camping Dad a gift that he will Love! These RV gift items don't fall under the list of "RV Must Haves" but are specially meant for men who love to camp and sit back, relax, and enjoy the campground!
Gifts For Every Dad Who Loves Camping
Here are some of our favorite gift items that are the hottest gifts for dads who love camping!
These ideas for camping gifts are in no particular order, so sit back, take your time to scroll through, and decide on your favorite!
This post contains affiliate links for your convenience which means if you click on a link and make a purchase, I will earn a commission at no additional cost to you. Please see our Disclosure Policy for more information.
Best Father's Day Gifts For Dads Who Love Camping
As an Amazon Associate and member of other affiliate programs, I earn from qualifying purchases.
Does your Dad love to sit by the fire? Well, have you heard of a "Smokless Fire Pit"?
I was amazed when I saw this fire pit at the campground! There we were at the campground - me sitting under the awning while my husband was trying to start a fire. It was was spritzing rain so a fire would be nice to have as we sat outside the trailer.
Across the way, our camping neighbors came out of their trailer, set up their chairs, and poof! They had their fire going!
What was this amazing fire pit?
Check it out!
Have you purchased a new mattress since owning your RV?
If not, why not get him a new mattress or a new mattress topper to replace the one that came in the RV!
Choosing a mattress is not easy though! You will need to figure out what size of RV Mattress you will need to fit your RV or camper trailer and then decide on the type of mattress you want to purchase.
Check out these comfy RV Mattresses and Mattress toppers that are perfect for the RV!
Photo Credit: Omaha Steaks
If you don't have a lot of time to plan your meals, why not order some delicious steaks to be delivered? Omaha Steaks has more than just steaks, they have seafood, chicken and desserts too!
My daughter enjoys ordering Omaha Steak's complete meals including skillet meals and her favorite - the single-serve meals!
There is something he'll be sure to like at Omaha Steaks!
One thing I know for sure...it's NOT fun packing up the campsite in the rain! Our best purchase for my husband (and me too!) was raingear.
We love our rain jackets and on our Wish List are rain pants too!
Here's the Rain Jacket we have and Love - maybe your Father will too!
This quiet, lightweight generator is the Champion 3100-watt RV Ready portable inverter generator. The generator will run for up to 8 hours at 25% load. Featuring Quick Touch Panel and Economy mode, it's your perfect portable power solution.
Yes - it's true! You can cook ANYTHING on a Blackstone Griddle!
We LOVE our Blackstone Griddle and take it camping with us all the time! We have the 17" Blackstone which is sometimes too small for the crowd we feed at the campground, so we are actually thinking of upgrading to a larger size grill.
There are different sizes that will suit anyone's needs - choose from the 17", 22" or a 36" Blackstone (great for those who are seasonal campers!)
Read my Review of the Blackstone Griddle to see if it is worth the money!
Dads (and most everyone else) love to swing in a hammock and there is nothing more peaceful than lying in a hammock at the campground!
This Double Cotton Hammock comes in lots of colors to choose from and includes a frame & carrying bag too!
My son got me the Alpha Moon Chair last Mother's Day! We take it every time we go camping. It's easy to fold and unfold and is extra roomy and nice!
I also love it because it has a cup holder on the side and the back of the chair is high so that you can rest your head back while sitting. It's Big & Comfy and comes with a carrying case!
The LevelMate PRO is a wireless vehicle leveling system that accurately reports how much height is required to reach a level position and tells you where that height is needed.
It wirelessly connects with your smartphone or tablet, where an easy-to-use app displays the needed leveling information.
LevelMatePRO was designed for use with both drivable and towable vehicles. You can monitor leveling data as you pull into a site, allowing you to pick the most level spot before you park.
One of our favorite things to do is to have our binoculars when we go hiking and camping! These binoculars are great for bird watching, travel, and wildlife watching - all things a Camping Dad loves to do!
Dad will LOVE this YETI Rambler 14 oz Mug, Stainless Steel, Vacuum Insulated with Standard Lid.
Unlike traditional camp mugs, this double-wall vacuum-insulated body protects hands from hot or cold contents while keeping coffee, chili, oatmeal – you name it – well-insulated
The mug's wide opening means contents are easily accessible but will cool quicker. That's why the mug comes with the standard Rambler 30 oz. Lid
The full-loop Triple Grip Handle is comfortable for wider hands, so you can fit your mitts fully around your morning joe!
Any fisherman will love this water-resistant and durable Fishing Tackle Cross-Body Bag.
There are 3 components in the main pocket for clarifying your stuff and 3 external zippered pockets for storing your daily necessaries.
The Left pocket is perfect for your water cup/bottle, and the right pocket for the tools, such as pliers. Best choice for outdoor life enthusiasts.
These are the hiking boots that we both have! We love them because they were so comfortable right out of the box, they are lightweight and waterproof.
We've had them for several years now and they are still holding up!
These gift ideas for guys who love camping will definitely make them Happy Camper at the campground!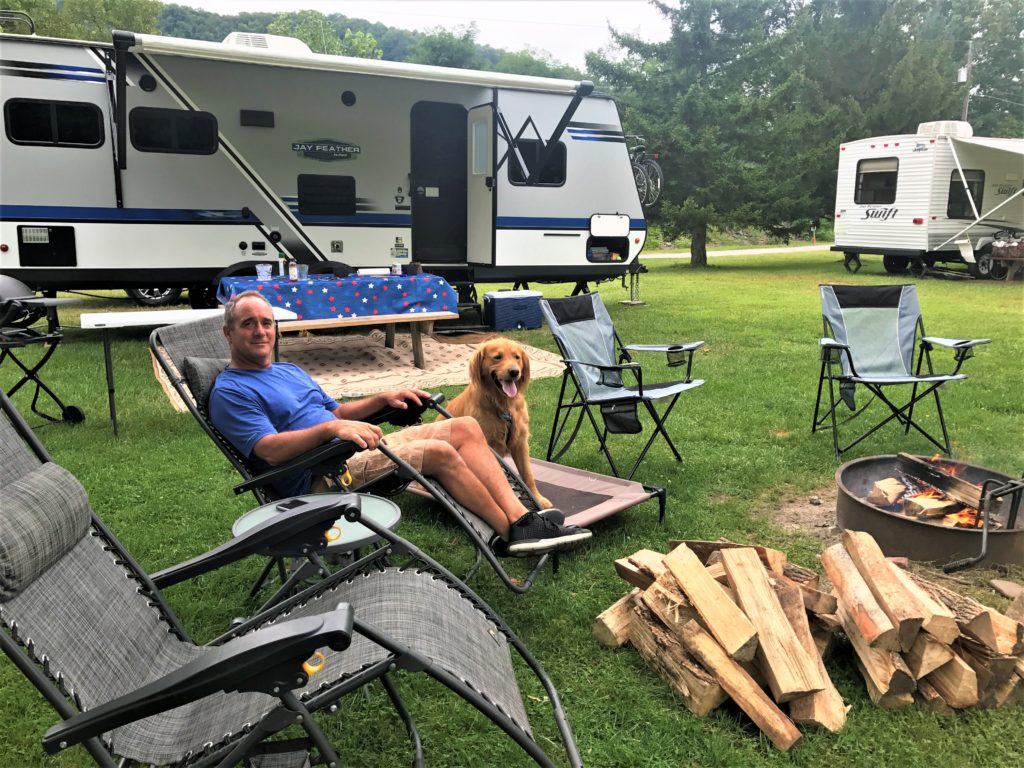 Here's my husband & Buddy, our Golden Retriever enjoying camping in the Catskill Mountains of New York!