Last Updated on December 21, 2020 by Lori
Have you heard of "The Vacant Chair?" Ask anyone in the small town of Hiawatha, Kansas and they will tell you, "It's famous!"
Yes, The Davis Memorial has been seen on Ripley's Believe It Or Not television show, featured in Newsweek, Life, and People magazines, and named a finalist in The 8 Wonders of Kansas.
It is also listed on the National Register of Historic Places. But it's not just the memorial that has brought tens of thousands of visitors to this small town in northeast Kansas, but the mystery of the story behind its creation that is the real story.
The Davis Memorial – Hiawatha, Kansas
This post may contain affiliate links which means that if you click on a link and make a purchase, I will receive a commission at no additional cost to you. Please see our Disclosure Policy for more details.
If you're planning your vacation and your trip takes you anywhere near northeast Kansas, you have to make time to stop at one of the most unique monuments you've ever seen!
Mr. Davis commissioned The Davis Memorial in 1930 after the death of his wife, Sarah.
The 11 life-sized statues, crafted from Italian marble and granite and covered by a 50-ton marble canopy, depict Mr. and Mrs. Davis during five stages of their lifetime.
Located in Hiawatha, Kansas, a small farming community located in northeast Kansas, The Davis Memorial was constructed during the Great Depression.
It was said to have cost more than $200,000 – which at that time was an astronomical amount to spend on a gravesite!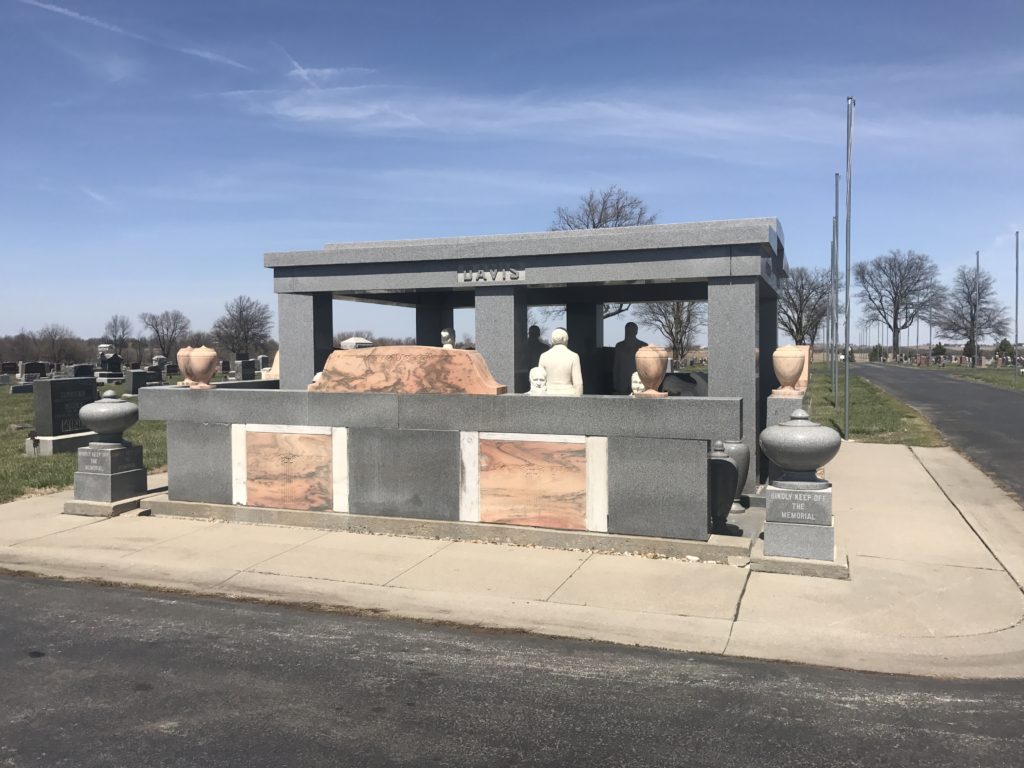 But more than the visual aspects of the memorial is the story behind it –
Why did Mr. Davis spend every last penny on this massive monument which angered the community so much that no one but the funeral director attended his funeral?
It's a question that we may never know the answer to…
History Behind The Davis Memorial
According to The Davis Memorial "story", John Wilburn Davis moved to Hiawatha in 1879 and fell in love with his boss's daughter, Sarah.
Sarah's family did not approve of John but eventually, they were married.
John and Sarah settled on a 260-acre farm north of Hiawatha.
They were hard-working, frugal, and childless. When Sarah passed away in 1930 at the age of 92 her burial site was marked with a simple headstone that reflected the quiet life she and her husband had led, despite being very wealthy.
Soon after her death, John replaced the "Davis" headstone and began to erect the massive memorial.
He commissioned two statues depicting he and Sarah around the time of their 50th wedding anniversary.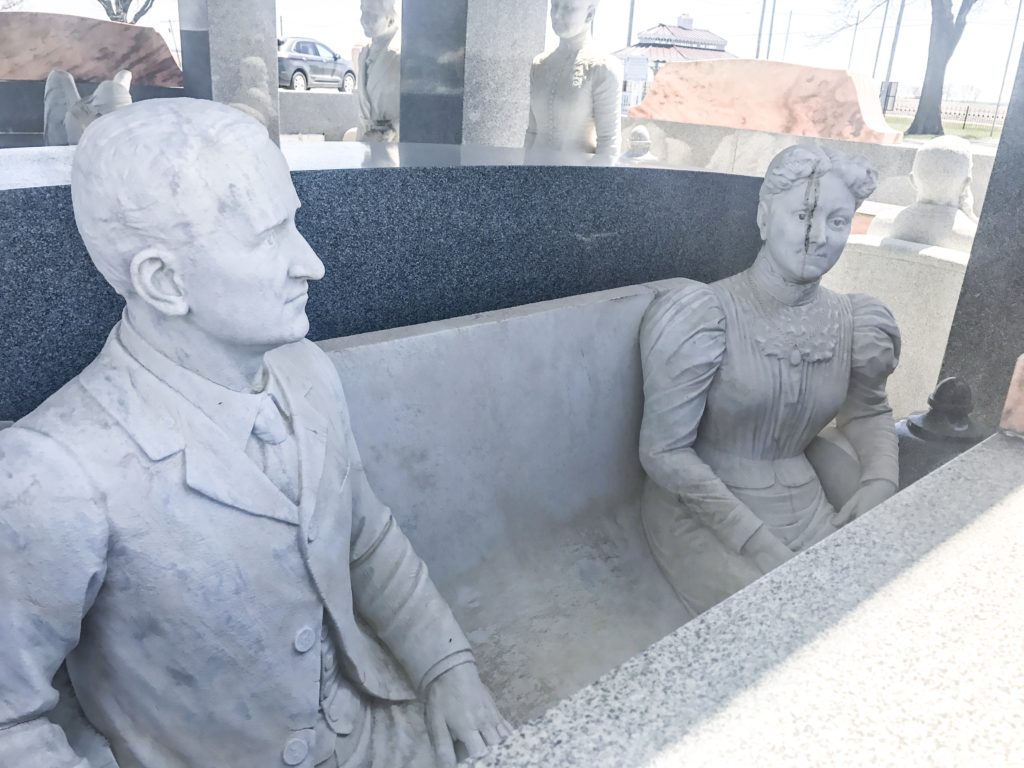 He decided that he wanted to commission additional statues and soon there were 11 statues in all. Community leaders were angry.
They wanted Davis to underwrite the hospital and swimming pool – but he ignored their requests saying that it was his money and he would spend it any way he pleased.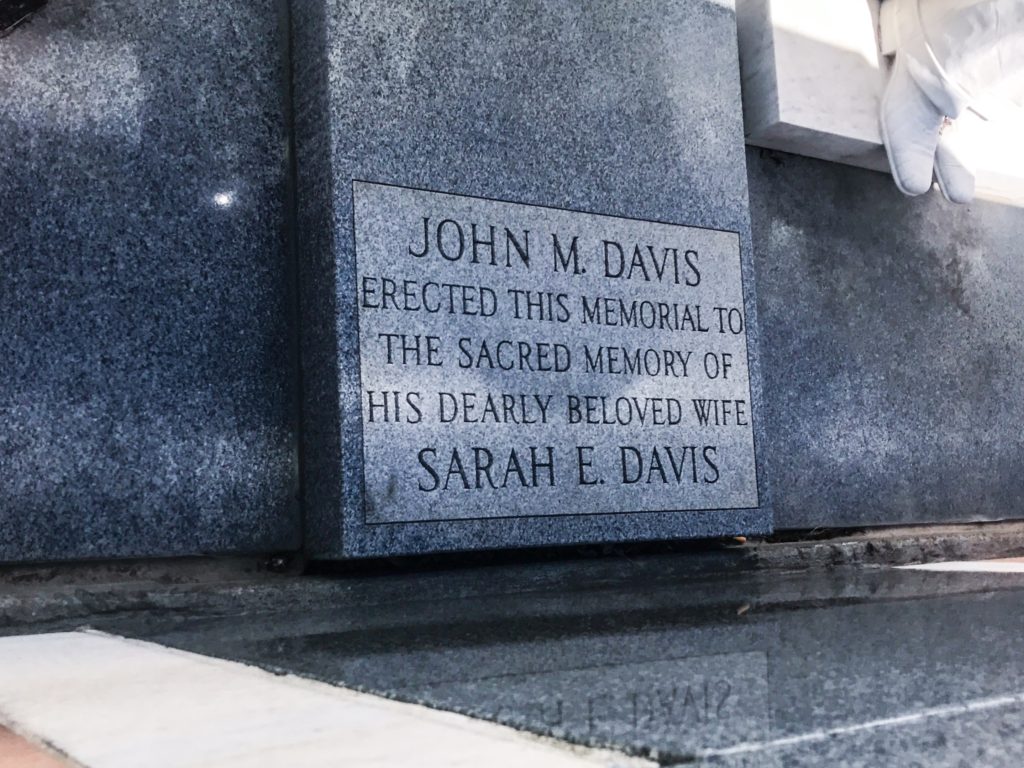 Davis continued to watch over his memorial into the 1940s and even had a marble and granite wall erected to discourage visitors from walking among the statues.
At times, he would greet visitors to the monument to give them tours.
Through it all, Davis never wavered in voicing devotion to his Sarah.
This is where the story gets a little fuzzy…
John and Sarah sitting in an overstuffed chair. Note John is missing his left hand which some say he lost in a farming accident and others say he lost it to infection.
Note the details in all of the statues – making them life-like.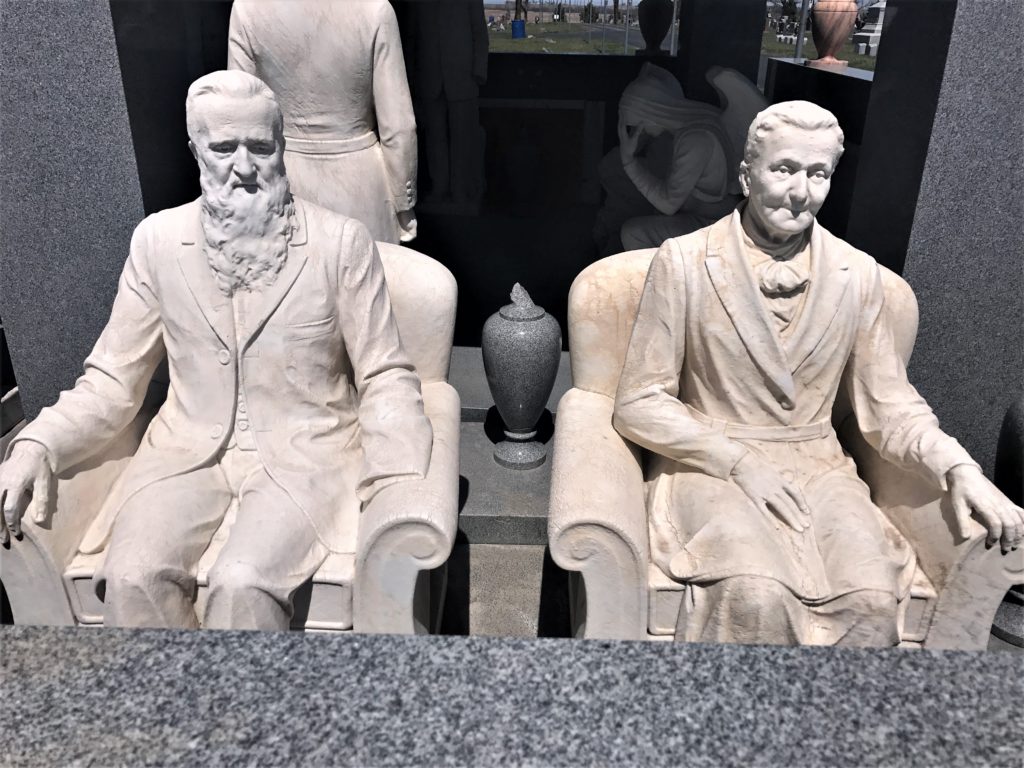 Here's a photo of John at the time of Sarah's death. Beside John sits The Vacant Chair depicting the death of Sarah.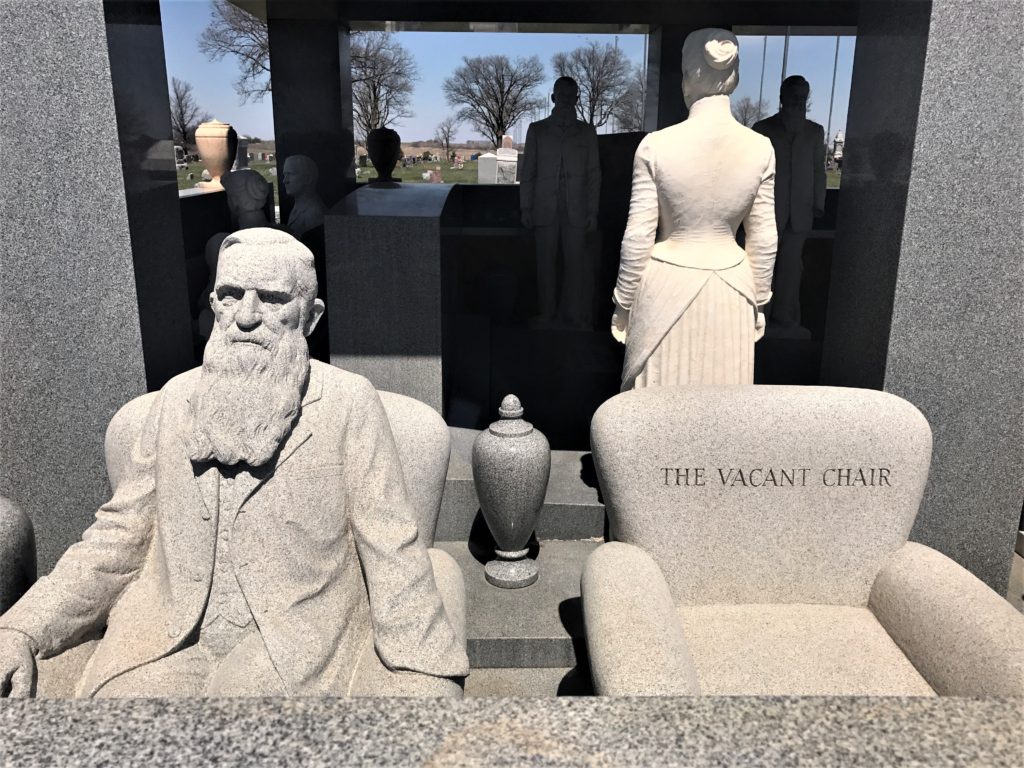 The final two statues John commissioned depicted himself and Sarah as angels over each other's graves.
Unfortunately, vandals removed John's head.
Why Did Mr. Davis Build The Davis Memorial
There are different versions of why John Davis built this extravagant memorial.
Stories that have been handed down from generation to generation depict a different life between John and Sarah.
Some say he didn't treat his wife very well.
She actually didn't leave her money to her husband, but instead, the money was to bury both of them and the rest to build the hospital in town.
Also, many suspect his generous gift was intended more like a slap in the face to his wife's heirs than it was a tribute to Sarah.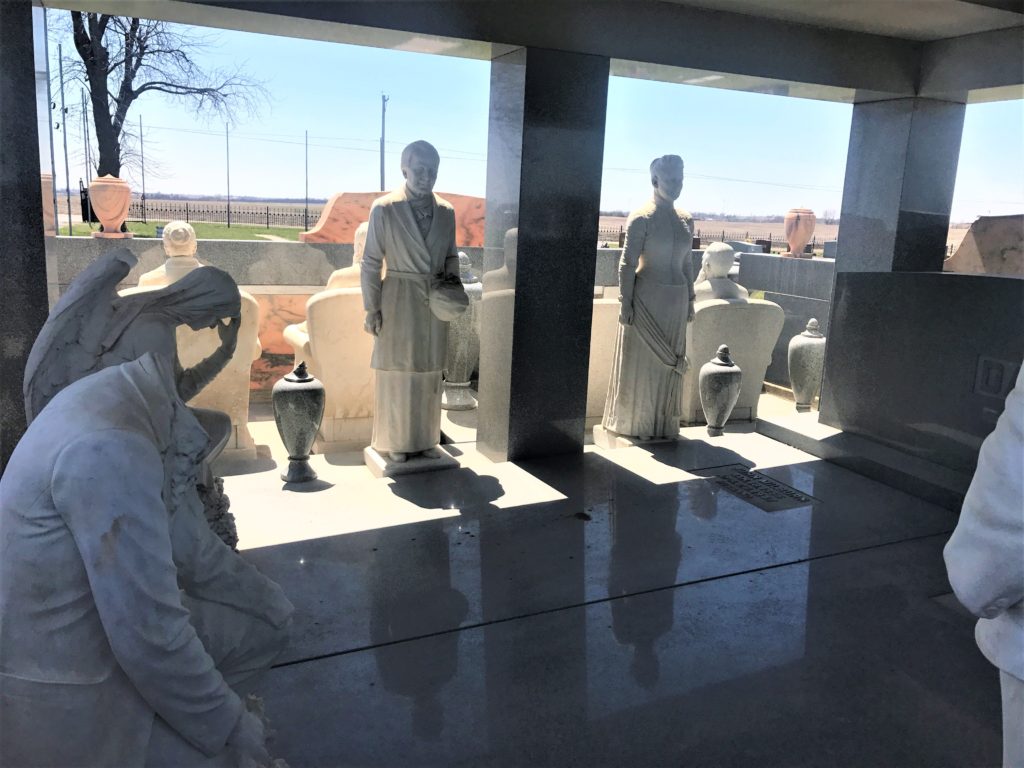 Davis died in 1947 and was buried next to his wife under the marble canopy.
It is said that since he spent all of his money on the extravagant memorial to his wife, he lived a pauper and the townspeople had to pay for his funeral.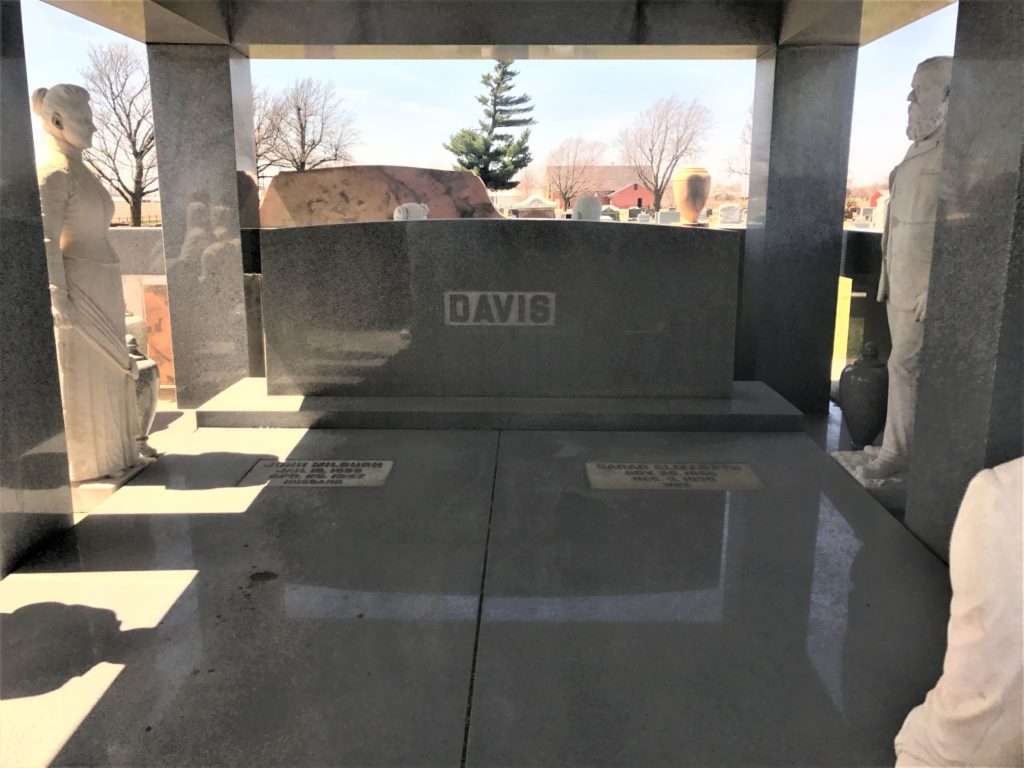 The irony is…that The Davis Memorial has benefited the community in that each year tens of thousands of visitors come to Mt. Hope Cemetery to view the marble monument and hear the story of the eccentric creator.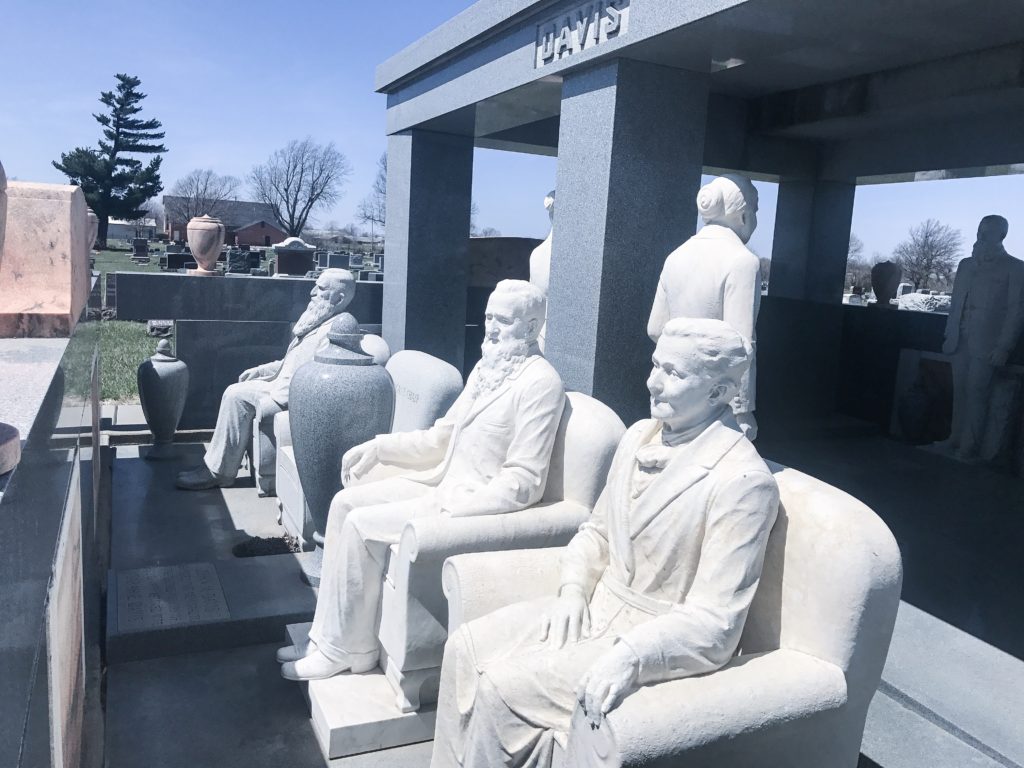 The Davis Memorial was named to the National Register of Historic Places in 1977.
If you are traveling near US 36 Highway through Kansas, be sure to follow the signs to The Davis Memorial.
It's just a short distance from the highway to Mt. Hope Cemetery where you can see this one-of-a-kind monument.
It's a Must See in the Mid-west!