This post may contain affiliate links. Please read our disclosure policy for more information.
[social_warfare]
Are you tired of the same 'ole hamburgers & hot dogs on the BBQ? By the end of the summer, we are all "hamburger & hot dogged" out! One day we were packing for a weekend camping trip and I was figuring out dinner for the three nights we would be away. As I patted out the hamburger patties, wrapped them in foil and put them in the freezer I thought, "What else can I cook?"
Since we weren't going to be gone for long I thought, "What about bringing salmon?" If I add veggies, that can be a healthy meal I can make while we are away. I began looking for easy BBQ recipes and remembered my father-in-law who had made salmon in a foil packet and said how great it turned out.
Needless to say, the salmon packet was a big hit while we were camping. I cut veggies and placed them in a separate packet and it made a delicious meal. I have since made this meal for BBQ's at home as well and it makes for a quick and easy Summer BBQ!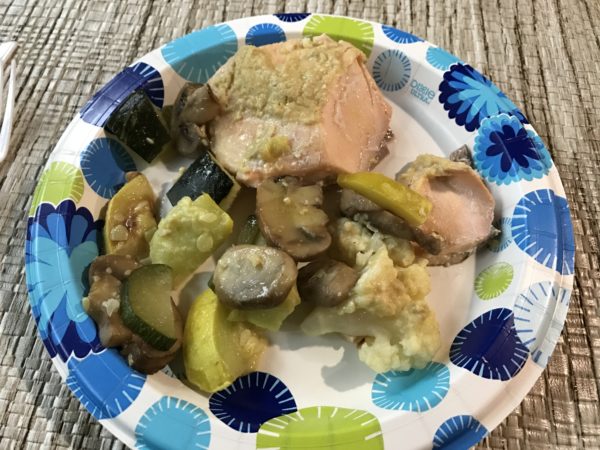 | | |
| --- | --- |
| | |
Spread Dijon mustard and garlic mixture onto salmon pieces

Place Salmon into a tent made from heavy duty foil

Place veggies into a tent made from heavy duty foil

Drizzle Olive Oil over veggies. Sprinkle with salt & pepper.

Place foil packets onto BBQ grill.

Cook until Salmon is flaky and the veggies are tender.