Last Updated on September 15, 2021 by Lori
What are the best clothes to take camping? Knowing what to wear camping and packing the right clothes to take camping can sometimes make or break your camping trip! But when you're a new RVer, it can become overwhelming to remember everything you need to take with you.
Here is a great list of the top 5 clothing must-haves for RV Camping that will help you be prepared for all types of camping weather!
BEST CLOTHES FOR CAMPING
Our first season of camping was definitely a learning experience for both of us.
We really had no idea what we were doing!
My parents had been RV camping for over 30 years, but they started their camping after I had married and moved to the east coast. So, of course, I asked them a million questions about what we were going to need.
My husband had always wanted an RV. When he was young, he had one of those Winnebago campers that he played with dreaming of having his own someday.
As we got ready for our first season (now 3 seasons ago!), I began to put together a list of Must-Have items that all new RVers will need to get started with their new RV.
Here's that post of the 20 Must-Haves For New RVers.
The first few times we went camping, we were always concerned about packing food, drinks, making sure we had all the essentials for the camper.
When we actually got to the campground, I realized there were a few "comforts of home" that I needed to remember so that I could enjoy our time camping!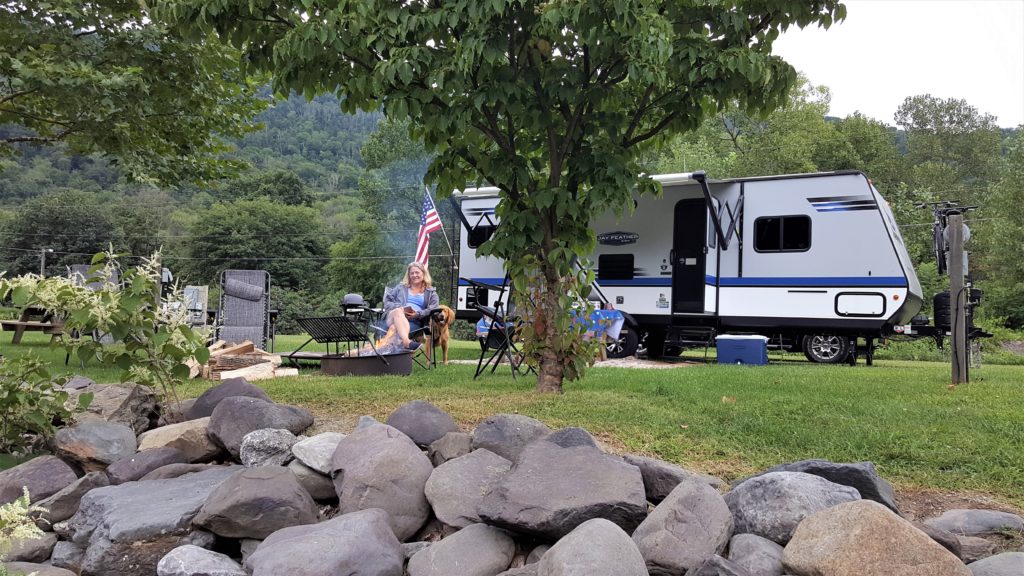 Of course, there was a reason behind this…
You guessed it – the very first time we took our new trailer along with our entire family camping – it RAINED.
As the campground neared, the skies darkened and just as we were pulling into our spot – the skies opened up!
It was then that I whipped out my cell phone and started my list: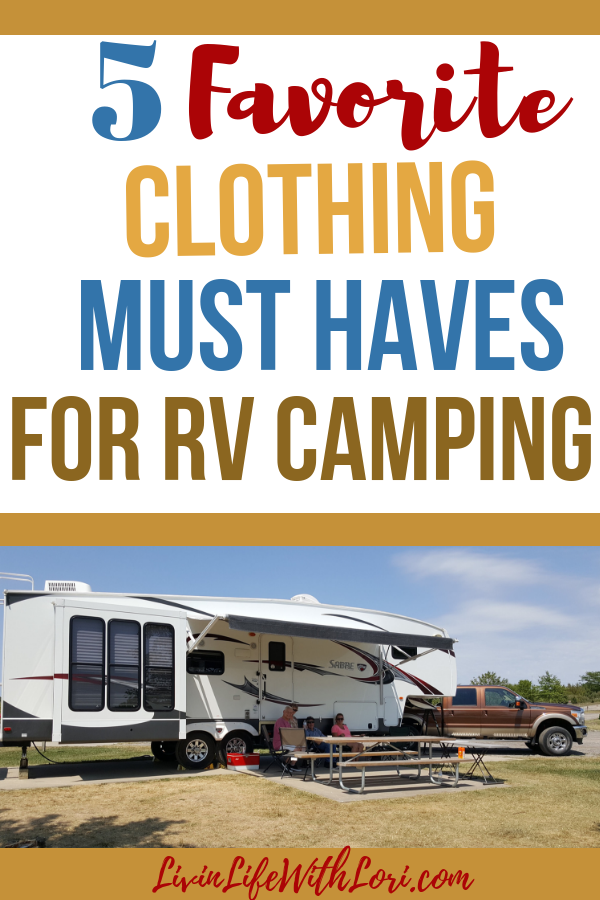 This post contains some affiliate links for your convenience which means that if you click on a link and make a purchase, I will earn a commission at no additional cost to you. Please see our Disclosure Policy for more information.
The Best Clothing Must-Haves for RV Camping
And, guess what the number one item is on my list?
A Rain Jacket.
This is one of the best items I have ever purchased. I love this rain jacket because it is light-weight, has a hood, and keeps you dry.
I wear it every time it rains.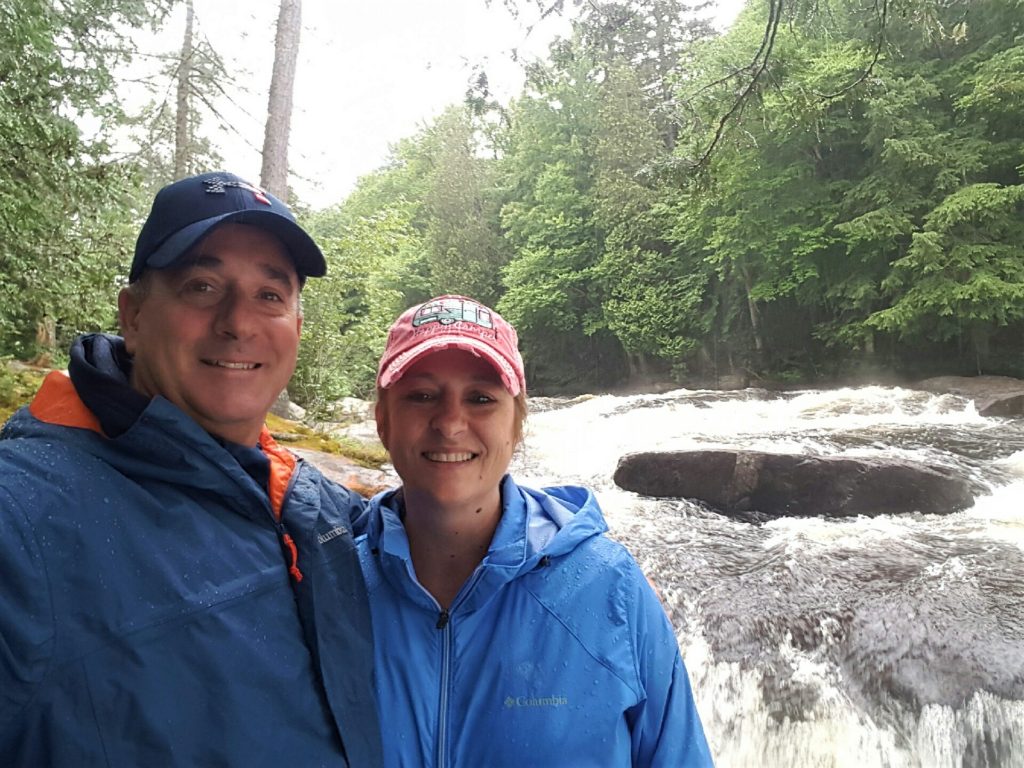 These are the BEST rain jackets! We have had ours for three years now! What we like about them is that they dry very quickly!
I can't tell you the number of times we have had to pack the trailer in the rain. Something no RVer LOVES to do — but when we're finished packing up, we can take these off and lay them out in the truck and they are dry in no time!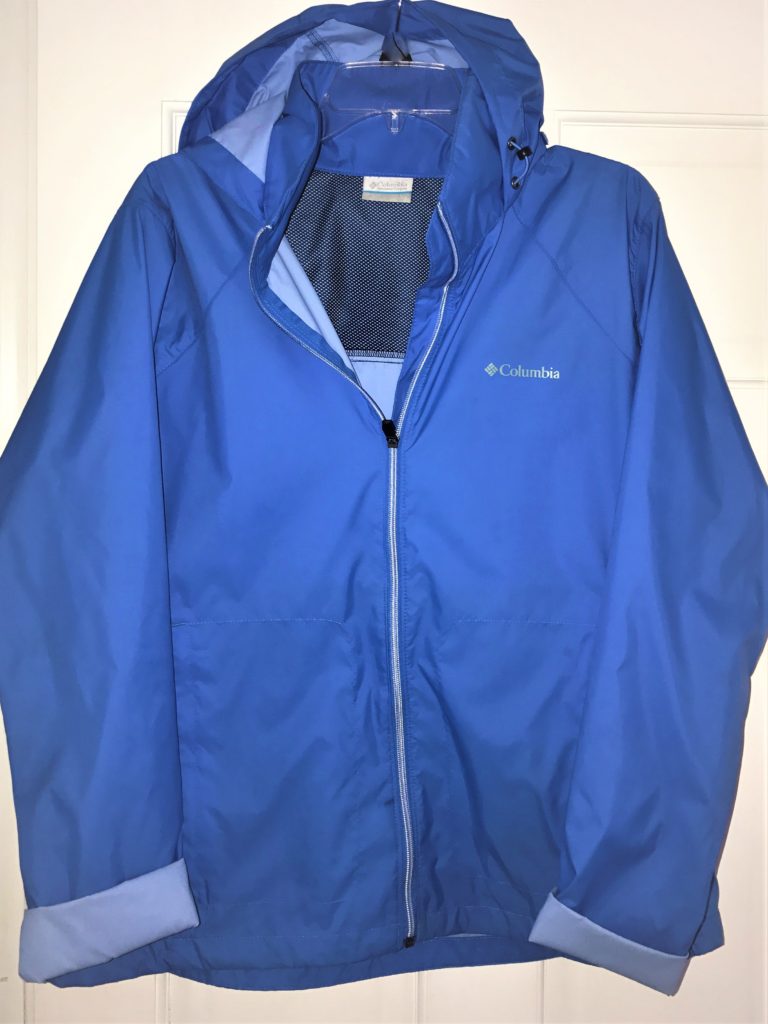 Once my husband saw MY rain jacket – he wanted one too (see the photo of us above)!
This is the rain jacket that I got him. It is very similar to mine.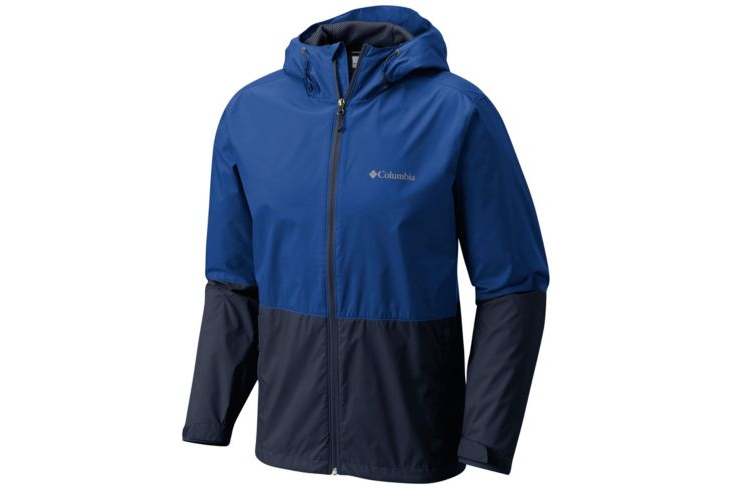 Here's where you can shop for this type of rain jacket.
THE BEST CAMPING CLOTHES
Rain Boots –
The second item I got were rain boots.
Of course, there are several styles including short boots, tall boots, duck boots – you can choose your own favorite! This is the pair I have and love them!
They are lightweight and comfy – and cute too!
I actually purchased a pair for my mom to take her little dog out and she loves them too!
You can get these fun rain boots here: Rain Boots
Looking for something more "functional"? Try these Duck Boots! They are warm and lightweight.
These Women's Duck Boots will definitely keep your feet warm and dry when you're trying to set up or breakdown your campground in the rain!
Fleece/Sweatshirts –
I like to bring both a Light-weight & Heavy-weight sweatshirt.
This is my favorite lightweight 1/2 zip fleece because not only do they come in various colors, they can be layered with other shirts and can be used all year long.
There are so many to choose from!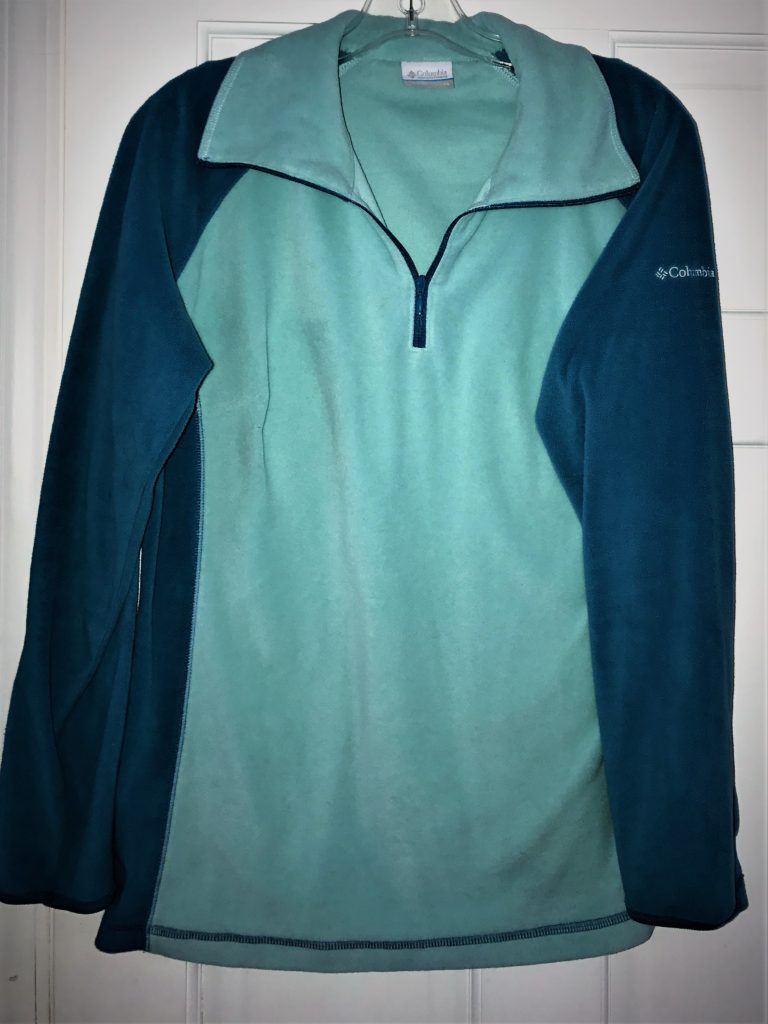 And if you follow my Blog, you will see me wearing this fleece – A LOT!!! Here I am at Lost River Gorge.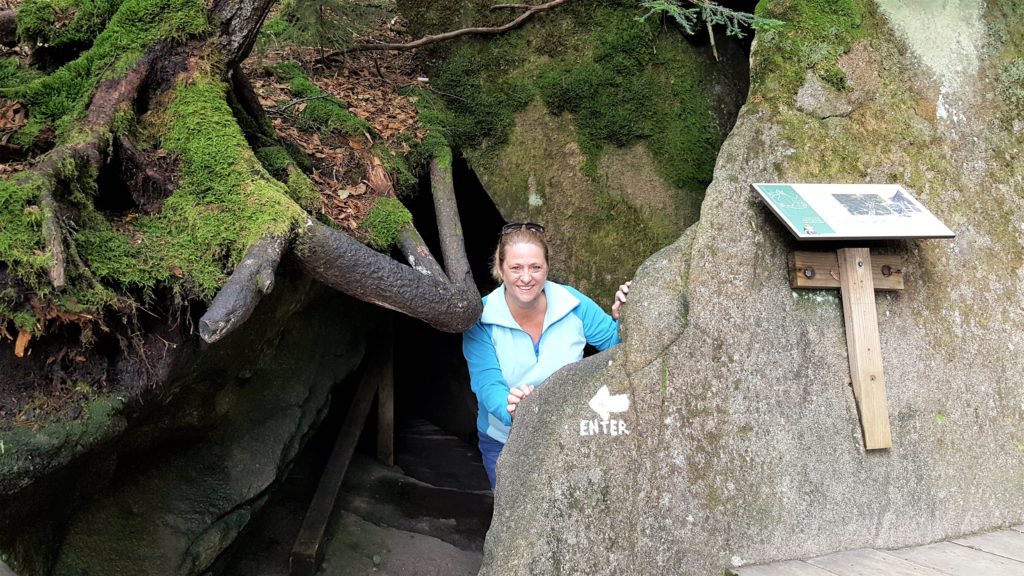 You can get this lightweight 1/2 zip fleece HERE
I also like the Full Zip Fleece Jackets so that I can wear layers.
Here's a photo of me wearing another one of my Full Zip Fleece Jackets at Acadia National Park in Maine.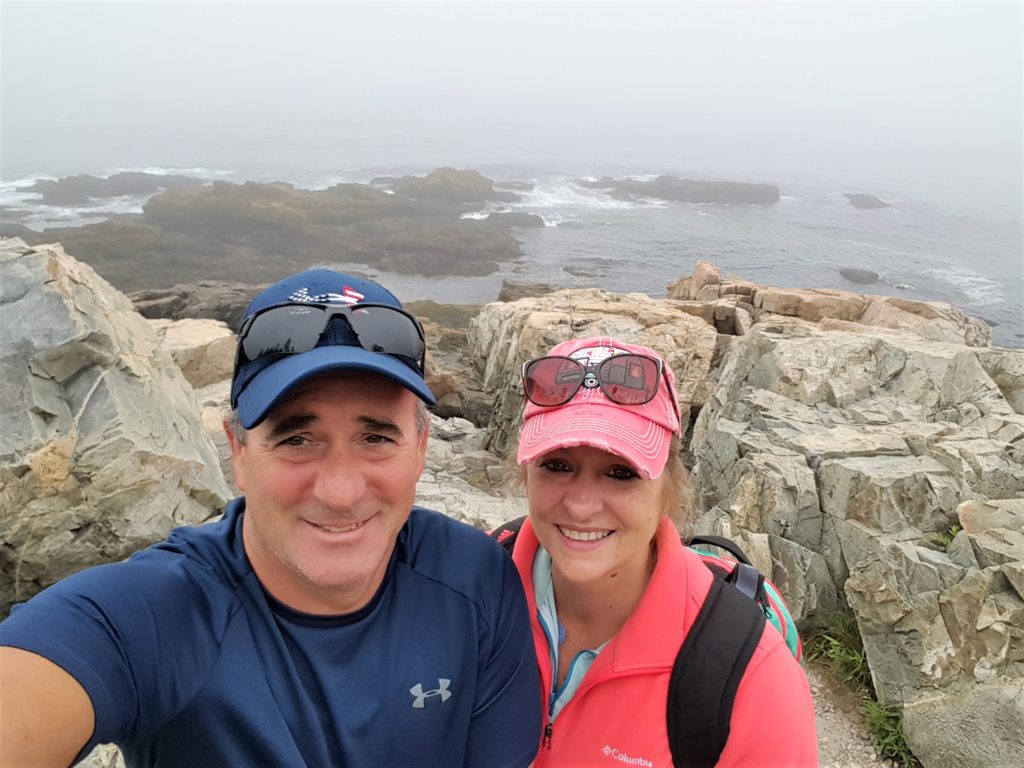 I bring several sweatshirts along with my because – ok – I'll say it…by the third-day camping, I don't like to put on a sweatshirt that I have worn for two days by the fire pit!
So, I have these in several colors!
You can get these Full Zip Fleece Jackets HERE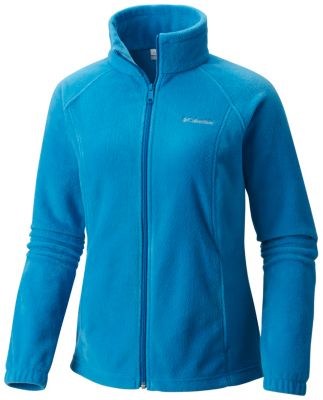 Warm Boots – While sitting by the fire, I like to be nice and warm so I always throw my pair of warm Ugg Boots in the storage area.
Even if it is summertime, I like to have my feet be warm.
These are my favorite mainly because they will keep your feet warm and dry. I've had these FOREVER!
Rain, Snow, Summer, Fall – The best boot you can ever buy.
You can get these classic UGG Boots here
BEST BOOTS UNDER $25
I also have these boots in tan & black. They keep my feet nice & warm too!
Be sure to check out these warm boots that are great for your budget!
Related Reading: Have you been camping in the Fall? Do you know what to Wear Camping in the Fall?
Check out my post What To Wear Camping In The Fall
What To Wear RV Camping
Finally, you have to have Camping Sleepwear!
I thought I was the only person who likes camping pj's but I can't tell you how many people I see at the campgrounds wearing them!
There's even an RV Facebook group dedicated to RV Pajamas!
When I was visiting my parents in Kansas I found these cute RV Pajamas !
I love them! They are so soft and comfy too!
Click here to get these RV Pajamas!
Have you seen these "This is How We Roll" Pajamas?
Or maybe it is HOT where you are…here's another RV Camping sleepwear Shorts Set and Tank you might like.
They are so cute!
I'm sure you as you continue camping, you will make your own list of "Must Haves" but for now…don't forget these items so you can still enjoy the campfire in ALL types of weather!
What are some of your "must-have camping outfits" when you go camping?
Let me know!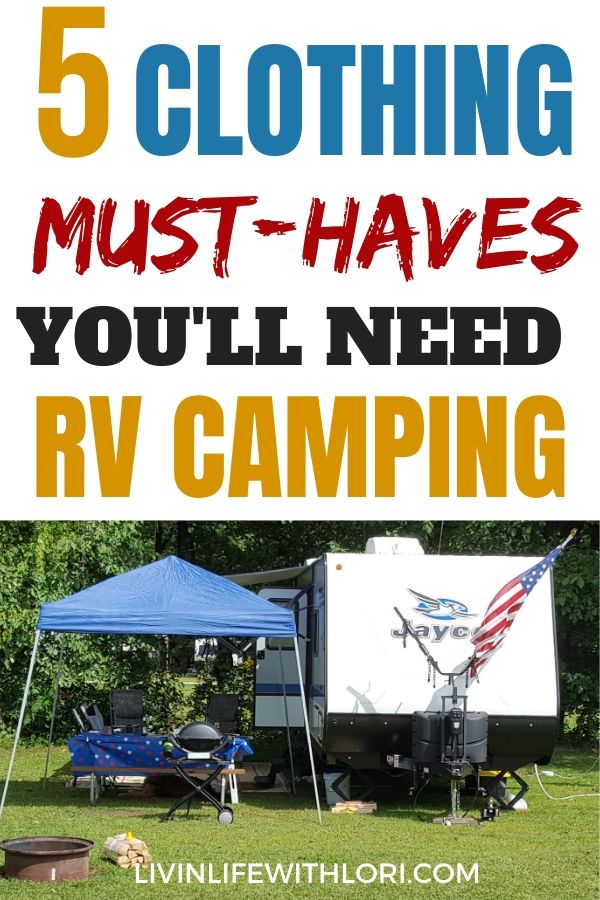 Need help getting organized for your RV Camping Trips?
I have put ALL of my checklists together and created an entire
RV Camping Checklist Bundle!




Learn More About The RV Camping Checklists Bundle HERE