Last Updated on January 5, 2021 by Lori
Do you have that ONE place on your Bucket List that you've always wanted to visit? Most people have at least one place that they would love to visit during their lifetime.
For me, of course, I have many places on my Bucket List that I want to visit…but there was one thing that I really wanted to see – and that was to travel to Washington DC to see the Cherry Blossoms.
Trust me – these magnificent trees will not be a disappointment! There are the traditional places to view them which are very crowded during this time but we found a less crowded area that I want to share with you where the trees are just as beautiful!
What Month Do Cherry Blossoms Bloom In Washington DC
I had heard how beautiful the Cherry Blossom trees are when they are in full bloom for years.
So when my daughter took a job in Washington, DC, I thought…now will be my chance to see the Cherry Trees!
But the Cherry Blossoms do not bloom at the same time each year.
There are many factors that affect when, exactly, they will bloom. One year they might be at peak bloom in March, then the next year it will be April. The average peak bloom date – that is when 70% of flowers of cherry blossom trees are open – is April 4.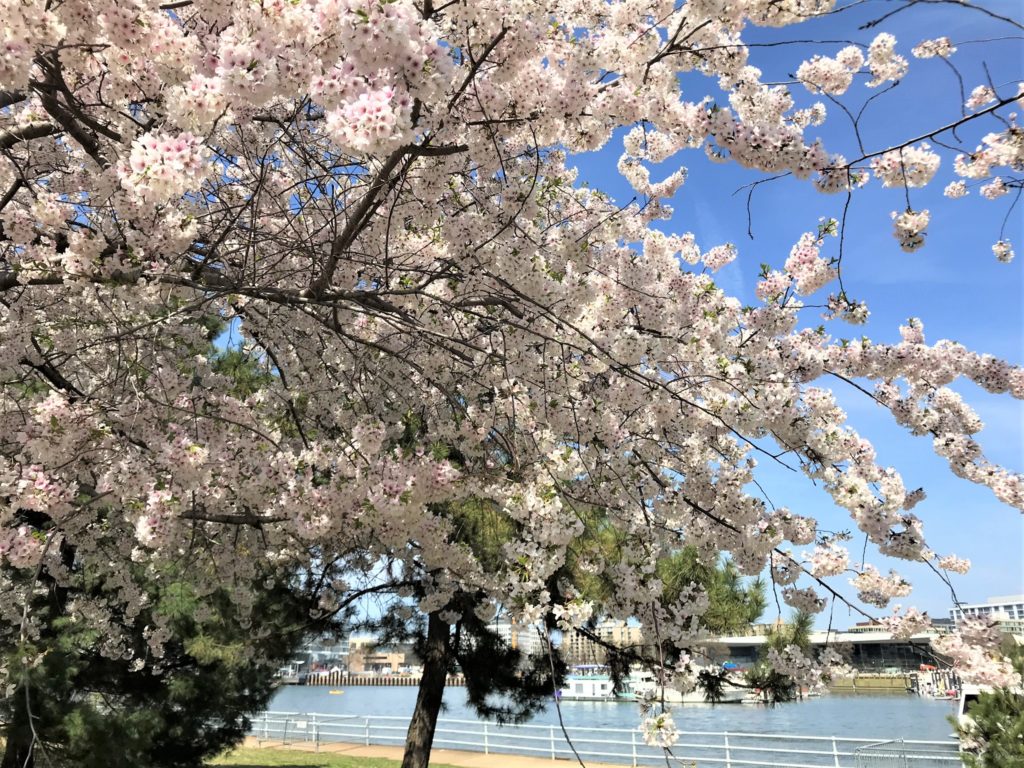 Every time I would say, "Let's go to DC to see the Cherry Blossoms," I was either too early and they hadn't even bloomed yet, or I was too late and they were finished blooming.
I always seem to miss it each year – until this year.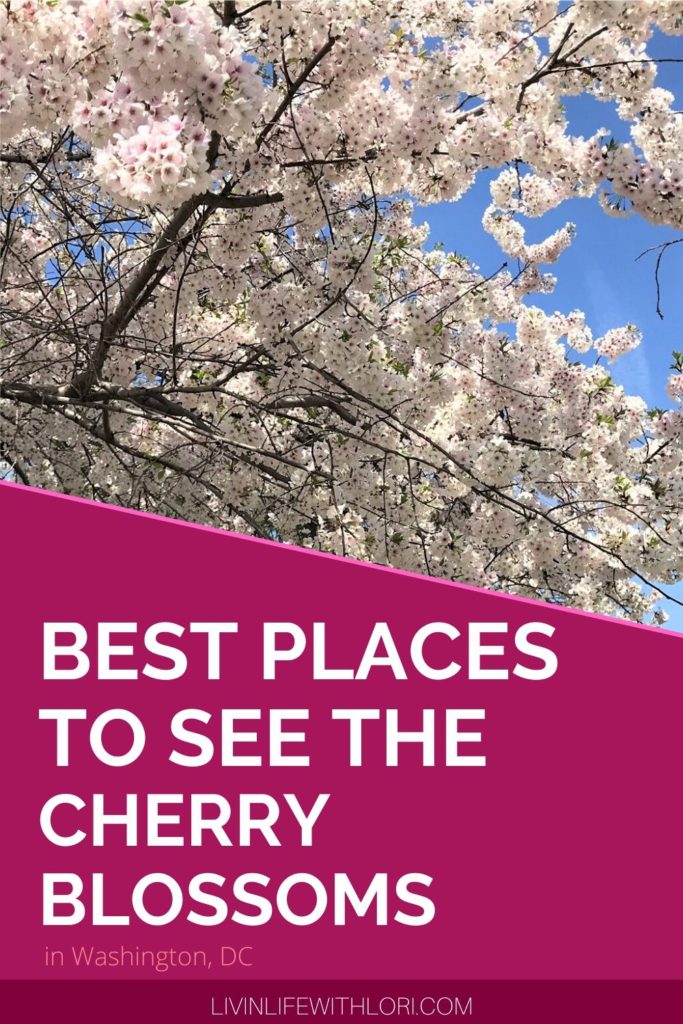 This post may contain affiliate links for your convenience which means that if you click a link and make a purchase, I will earn a commission at no additional cost to you. Please see our Disclosure Policy for more information.
National Cherry Blossom Festival- Washington DC
The National Cherry Blossom Festival is from March 20 – April 11, 2021.
My first time seeing the cherry trees in Washington DC was amazing.
My daughter happened to text me in early March to say, "Hey, I'm not traveling the first weekend in April – why don't you come for a visit!"
My first thought was…"When are the Cherry Blossoms blooming?"
What do you know…they would be at their peak blooms that very weekend!
I couldn't wait. The Cherry Blossom trees did not disappoint. They were simply amazing – and when viewed together – it is spectacular!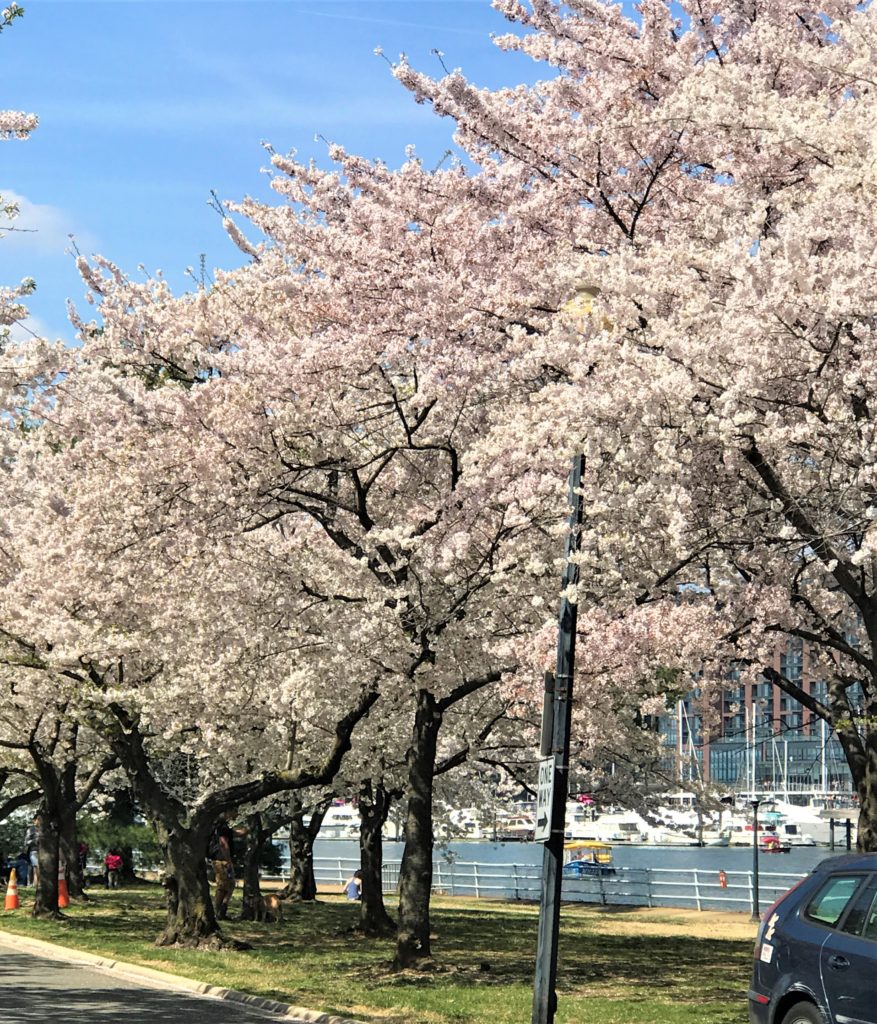 History of The Cherry Trees in Washington DC
There are many places you can view these beautiful trees which were a gift from The People of Japan to The People of the United States in 1912.
Unfortunately, when the first donation of approximately 2,000 trees arrived in Washington DC in January of 1910, it was discovered they were infested with insects and nematodes.
The City of Tokyo agreed to a second donation of over 3,000 cherry trees consisting of 12 varieties of trees which arrived in Washington on March 26, 1912.
On March 27, 1912, First Lady, Helen Herron Taft and the Viscountess Chinda, wife of the Japanese Ambassador, planted two Yoshino cherry trees on the northern bank of the Tidal Basin.
At the conclusion of the ceremony, The First Lady presented a bouquet of "American Beauty" roses to Viscountess Chinda.
Washington's renowned National Cherry Blossom Festival grew from this small ceremony to what it is today.

Best Times To View The Cherry Blossoms
The Cherry Blossoms in Washington DC usually hit their peak blooming period in late March to early April. The National Park Service's Head Horticulturalist predicts when the peak bloom date will be which is defined as the day when 70% of the Yoshino Cherry blossoms open.
You can find out this year's prediction HERE.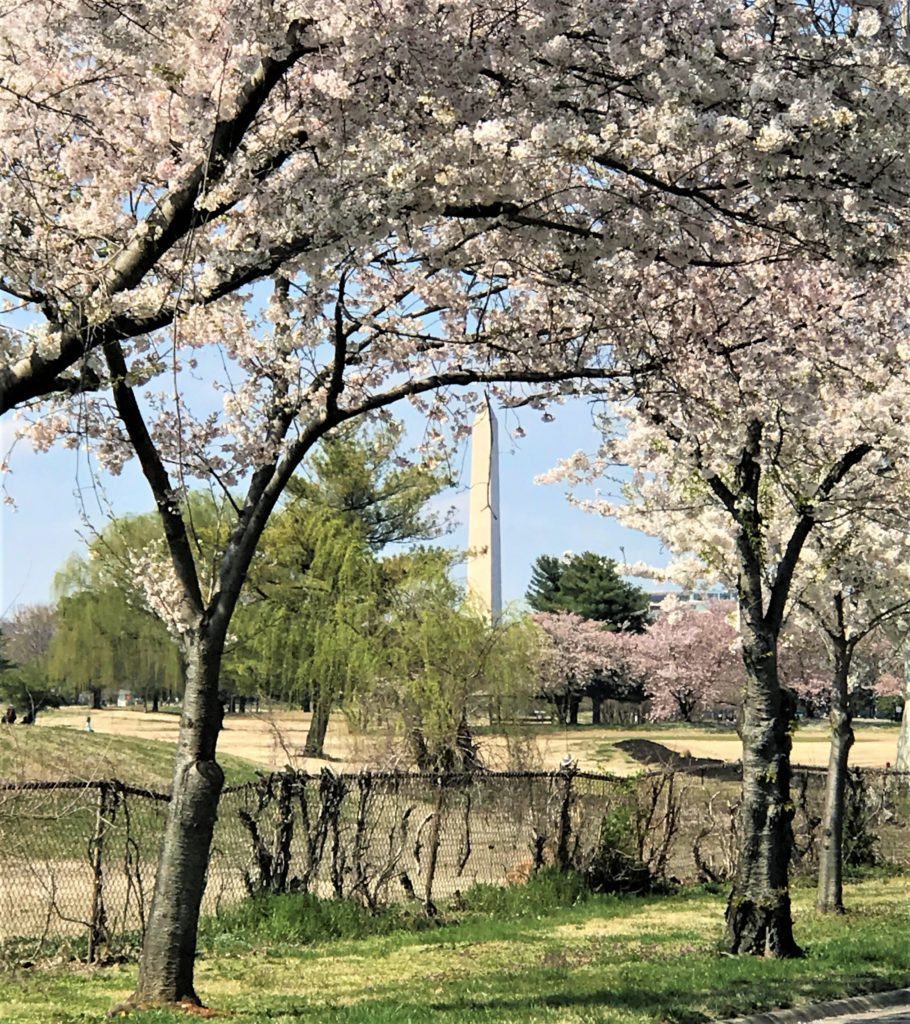 The National Cherry Blossom Festival is scheduled at the end of March with festivities running through mid-April so that the trees will be in full bloom during the festival.
Where To See Cherry Blossoms in Washington DC
There are many places to see the Cherry Trees in Washington DC, but the most popular location is the Tidal Basin – West Potomac Park, where you can walk the Tidal Basin Loop Trail.
The Tidal Basin is also where the First Cherry Tree was planted.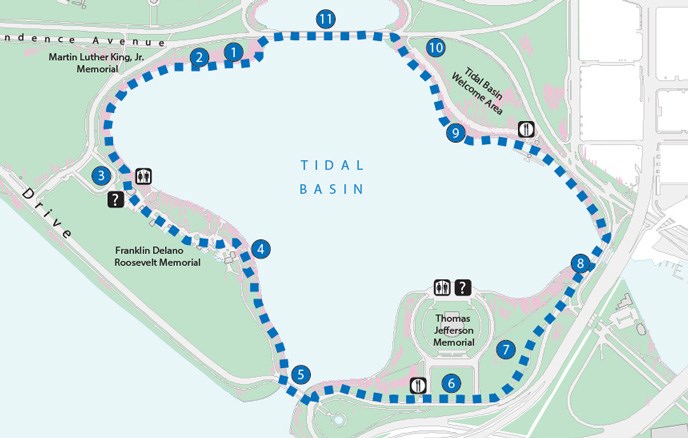 This is probably the most visited place to view the Cherry Blossoms – and will be crowded!
However, while walking the Tidal Basin Loop, you will not only be able to see and take photographs of the beautiful Cherry Trees, but you can visit some amazing memorials along this trail:
The FDR Memorial

The John Paul Jones Memorial

The Floral Library

The Japanese Pagoda
Other Places In DC To See Cherry Blossoms
Hains Point Loop – E. Potomac Park If you're looking for a "less crowded" location to see the Cherry Blossoms – this is it!
On the Grounds of the Washington Monument
National Mall – You will find small clusters of Cherry Trees
Dumbarton Oaks in Georgetown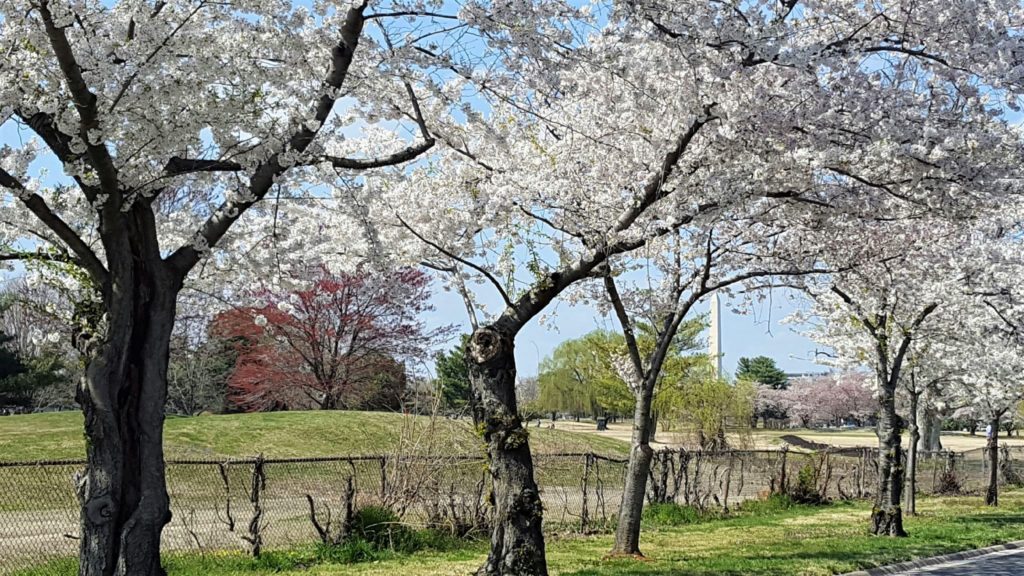 Can I Get To The Tidal Basin By Metro?
The closest Metro Station to the Tidal Basin is the Smithsonian stop. From there, it is a 10-15 minute walk to the Tidal Basin.
The DC Circulator Bus makes stops at the Jefferson and Martin Luther King Memorials right on the Tidal Basin. The Metro Bus has various stops at the National Mall which is about a 10-minute walk to the Tidal Basin.
Other Ways To Get To the Tidal Basin
We happened to be in Washington the first weekend in April which was during their peak season.
Since we had been to the National Mall area several times and knew it would be crowded, we first decided that we would have lunch in Old Town Alexandria, VA, and then take the Water Taxi to the Wharf.
From there, it is only a 10-minute walk to the Tidal Basin. By taking the Water Taxi, we wouldn't have to drive or try to find parking – which would definitely be a problem on a weekend during the Cherry Blossom Festival.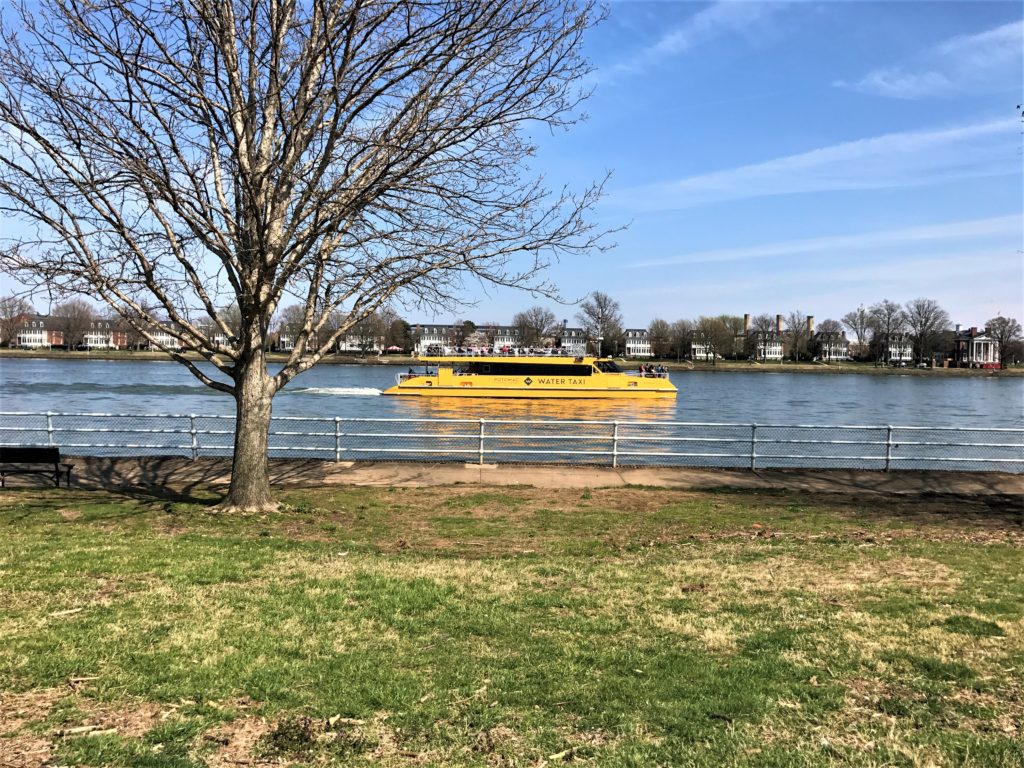 My Advice During Cherry Blossom Festival Weekend – BE FLEXIBLE!
We ate a delicious lunch in Old Town Alexandria at The Fish Market and walked around Old Town. If you haven't been to Old Town Alexandria, here are 5 Can't Miss Things to See in Old Alexandria!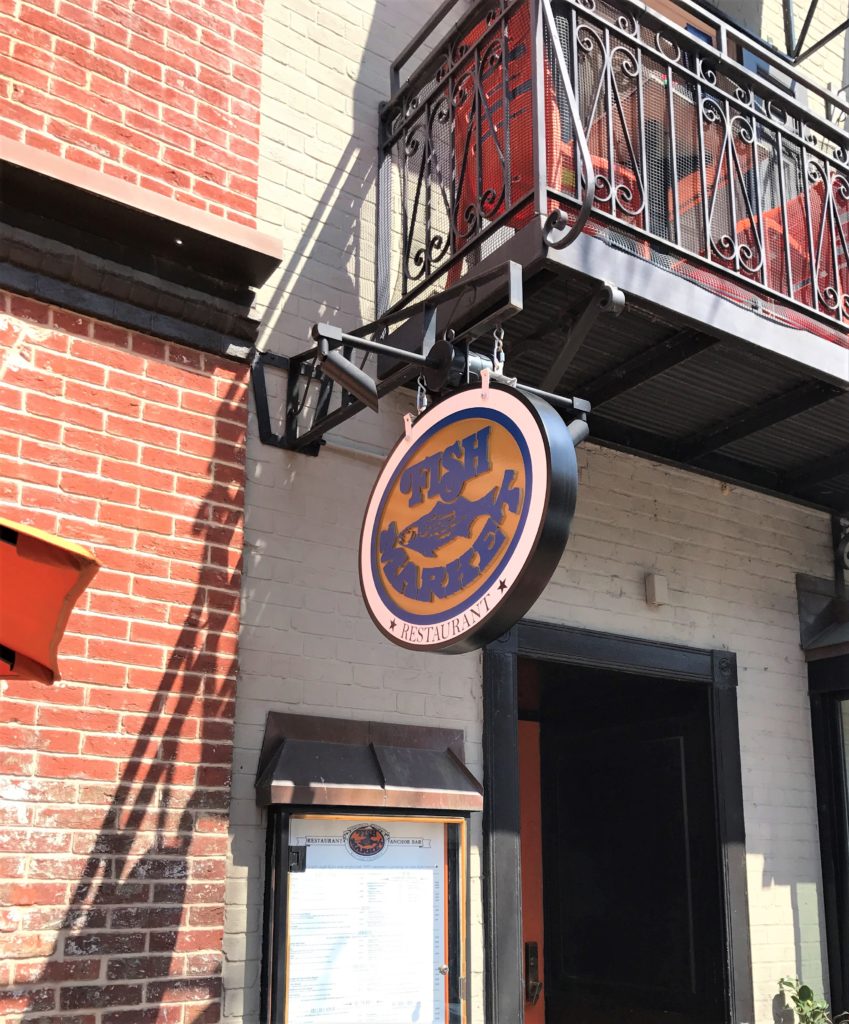 My daughter wanted to purchase the Water Taxi tickets online, but was unsure what time we might be finished having lunch – so after lunch, we walked to the pier to get in line for the Water Taxi.
That's when we learned that the 2:00 and 3:00 taxis were sold out! The next available boat was 4:00 – too late to do everything we had planned.
The Potomac River Boat cruises are a great way to see the sights! We've taken the Monument Cruise and my daughters took the Water Taxi to the National's Baseball game – all from Alexandria, VA!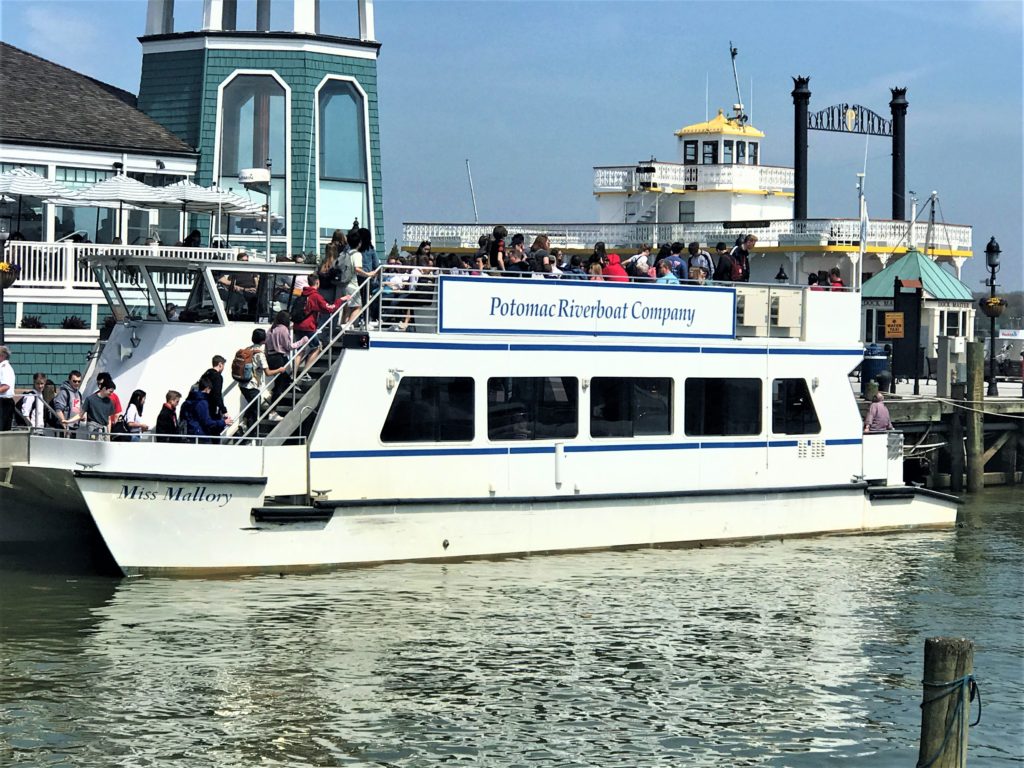 To learn more about the Potomac River Boat Cruises and Water Taxi click HERE
National Cherry Blossom Festival – "Plan B" – Hains Point Loop
We had also talked about driving to Hains Point Loop where I had read was a location that might not be as crowded as the Tidal Basin and we would also see some beautiful Cherry Trees blooming.
It was a short drive from Alexandria to the Hains Point Loop. Although there were a lot of cars, soon we were able to find parking – no problem!
Where To Park To See The Cherry Blossoms
As you enter the Hains Point Loop, Turn to the Left and you can find parking along the waterside!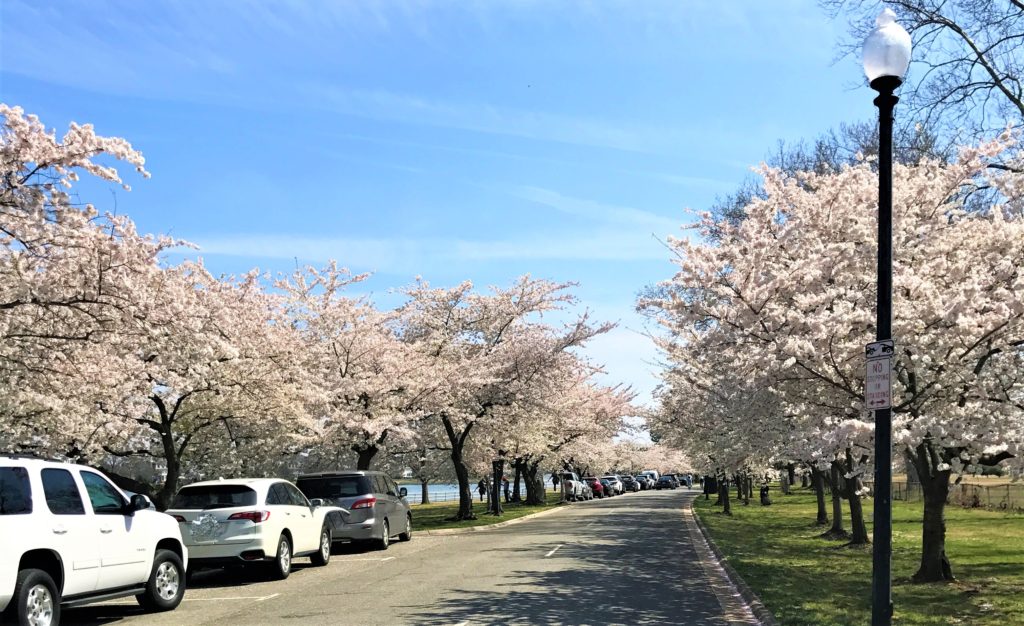 There were plenty of spots available on a Saturday afternoon! We had an awesome view across the water from the Wharf where we had been planning to take the Water Taxi.
Petalpalooza – National Cherry Blossom Festival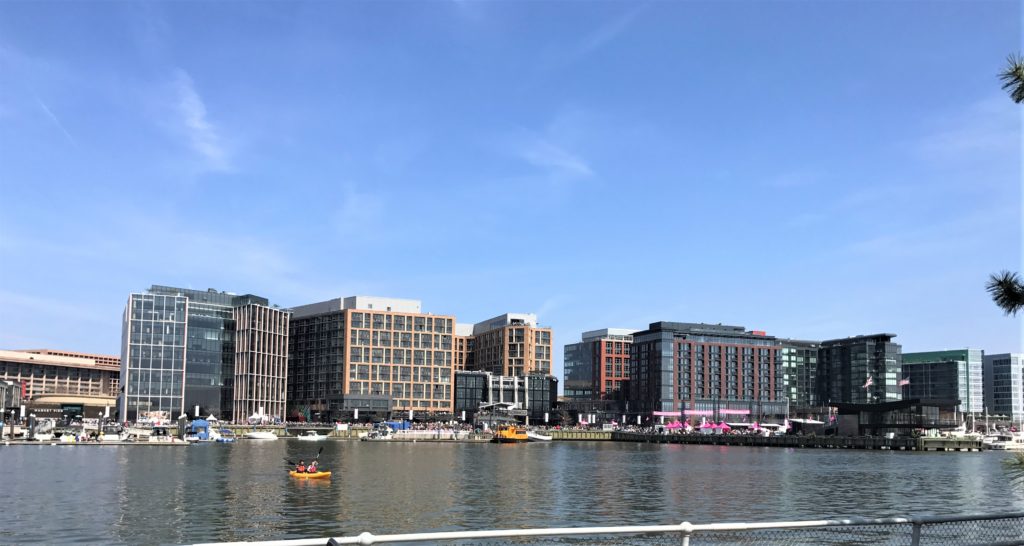 We had downloaded the schedule for the Petalpalooza Festival which included Live Music, activities for the kids, and fireworks during the evening.
It would have been fun to take the Water Taxi and see the festival but our Plan B worked out just fine!
You can see all the National Cherry Blossom Festival Activities HERE
Tip – During the Cherry Blossom Festival, Washington, D.C. offers great offers on hotels!
Check out Trip Advisor to find some of the BEST deals on hotels in the area!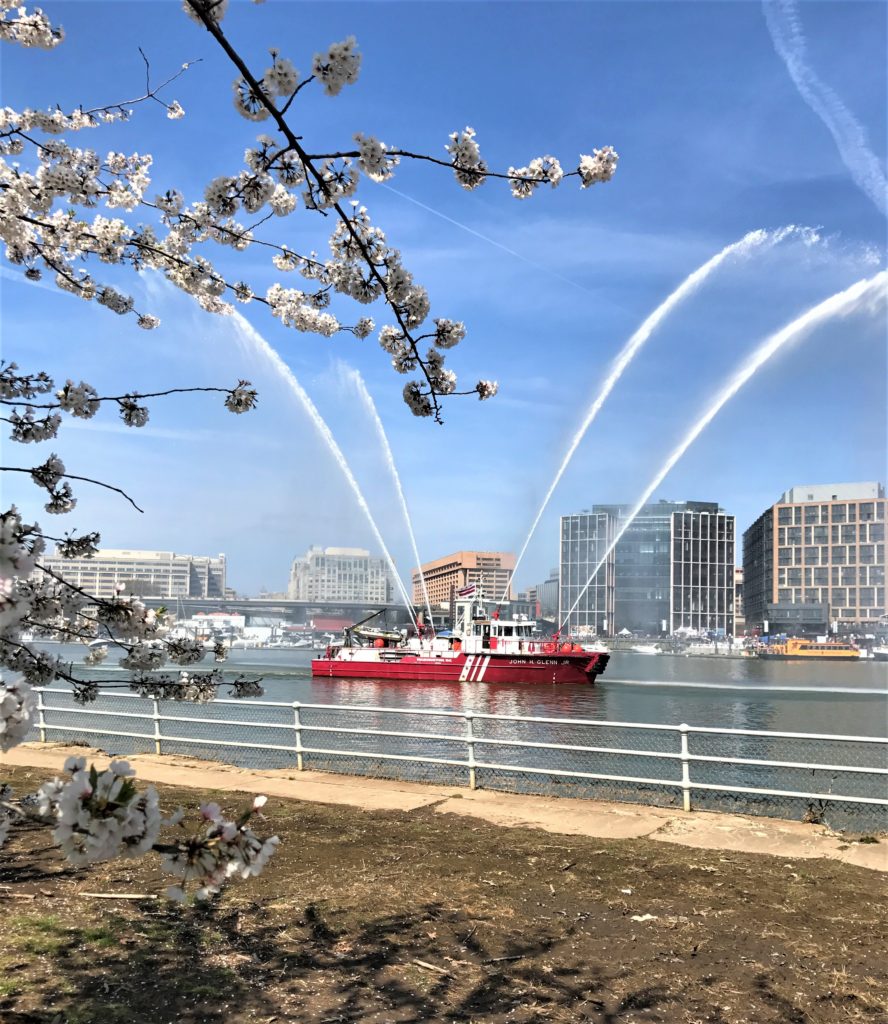 We loved watching all the boats going up and down the Potomac River while enjoying the beautiful Cherry Blossoms. This is a photo of the fireboat that I took through the trees at Hains Point Loop.
As you can see, the Cherry Blossoms in Washington DC were, indeed beautiful!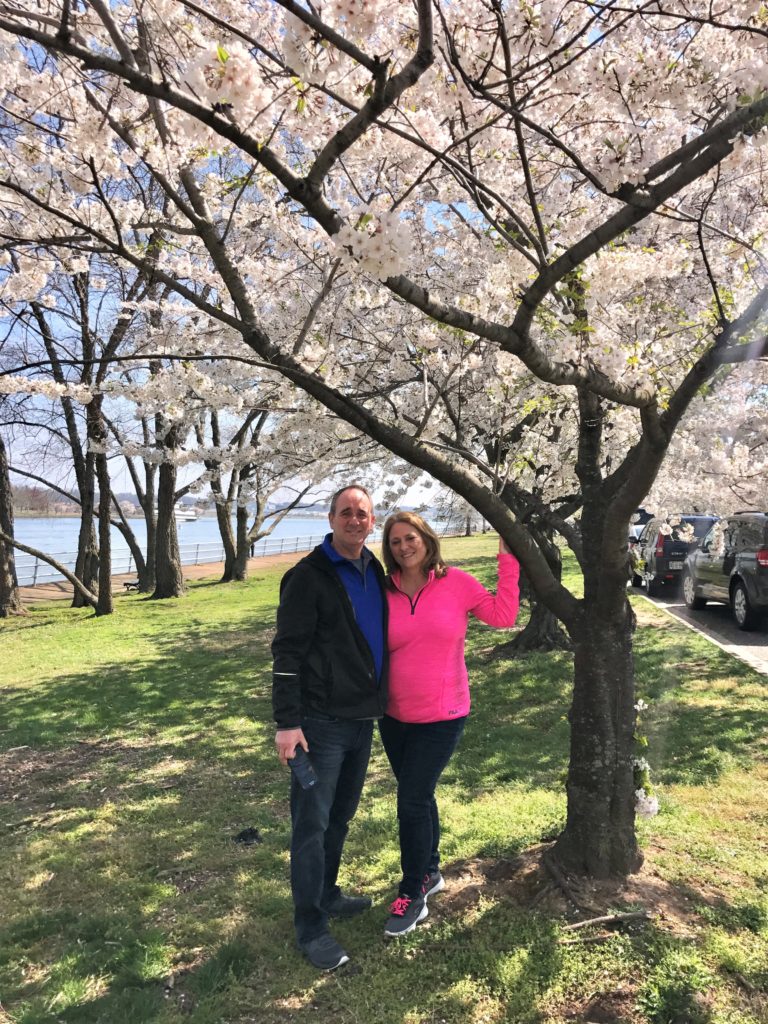 If this is one of the items on your Bucket List, I would recommend planning a trip to see them!
Here are more articles on Fun Things To Do In Virginia!
* Top 11 Fun Things To Do In Northern Virginia
* 5 Reasons You Will Love Old Town Alexandria Virginia
I would Love for you to join my Email List!